20 Days to a better you – Day 1
I'm on holiday in Europe at the moment, and this post was written and scheduled before I left. Hope you like it 🙂
It's raining, it's pouring, the old man may be snoring, but I'm not!
In my tangerine dressing gown and pink fluffy slippers (not a pretty sight) I am armed with camera at first light (well alright then, 6.30am, first enough for me!) in the garden, and marvelling at the droplets of rain on the last of the summer flowers.
"Don't fall in the pool!" Dave warned as I skirted the edge trying to get the best angle of dangle to bring to you these fresh, almost quaffable images of frangis, magnolias, hibiscus and a red creeper (above) I can't for the life of me remember the name of – anyone? It could be a Chinese trumpet creeper?
I love how the garish red geraniums below give the garden an exotic touch, even in the rain.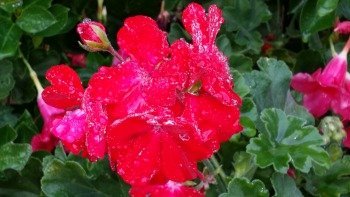 Being out in the drizzle made me think … it made me realise that what we think has a direct response on how our days will turn out. I could have thought : "Gah, it's raining!" But instead I thought: "Thank goodness it's raining!"
So for today's inspiration I charge you to:
Dance and open your heart to being aware that you have the power to decide what slant you put on your day.
Today it's grey and wet so I've told myself not to be woeful because it's raining, but rather to be glad because it's cooler, and the rain on the earth smells lovely, and the flowers look pretty and almost relieved.

The Inside Knowledge
When we decide that we are not going to be weighed down, or pissed off by circumstances, then we will have a good day.
When we assure ourselves that we are grounded and centred and living with purpose, then we will have a good day.
When we accept ourselves, love ourselves and celebrate what we have in this world, then we will have a good day.
Today it is raining, and I'm listening to the voice that says, "It's beautiful. Go dance in the rain, don't wait for the storm to pass."
As Bob Marley said: "Some people feel the rain, others just get wet."
I'm going to feel the rain today, how about you?
Today I've taken inspiration from a book called "Until Today" by Iyanla Vanzant – it's a thoughtful book aimed at giving reassurance and inspiration.
P.S. If you're interested in Bali holidays or creating a Balinese Garden – you might find these posts helpful.

What to do in Bali: 29 Awesome things to see do in Bali

Balinese Gardens: How to create Balinese Gardens without going to Bali

Bali: Bali the Split gate to heaven and hell

Bali Style Backyards: How to create a Balinese Garden in your backyard

Bali Holidays: Why take holidays in Bali when you live in Western Australia

Broome or Bali? : Why basking in a Bali resort in Broome is good for you
So go on, have a think … What reason will you give yourself to have an Awesome day today? Scroll on down and tell us in the comments section for Day 1 of 20 Days to a Better You.
Until next time,