I've been absolutely bowled over and humbled by the 60th birthday messages I've received on my very special Big 0 day! So I thought I'd share some with you, and compile a useful resource of 60th birthday messages and also some present ideas too.
In a following post, I'm going to create 10 Pinnable quotations for you to use on Pinterest.
Thoughts on Turning 60
Thank you everyone who sent me messages, flowers and presents – I'm truly grateful, and feel very celebrated.
Although I have to admit I've been dreading turning 60! Don't ask me why, but being in my sixties sounds so much older than being in my fifties. Perhaps it's because it's the pensionable era. I don't know.
Thank you Facebook too – it's at times like this that I'm so appreciative to be reunited with people around the world who I can't see in real life. Thank you for your kind, thoughtful and funny 60th Birthday Messages.
Aside Note: If you'd like to see pictures of what we got up to on the actual day and more of the beautiful Cape Lodge – check out the pics I'll soon be putting up on the Lifestyle Fifty on Facebook page. (Please "Like" or "Follow" my page on Facebook).
Anyway, thinking about being another year older I've decided that I'll hang on to Dolly Parton's words on turning 60:
"I'm not sixty, I'm 'sexty'!" she said.
And if you're 60 or over I hope you'll put on a bit of lippy and a pretty dress – and remember that quote every time you feel a little invisible.
By the way. You are so Not Invisible!
60th Birthday Messages
If you're stuck for ideas about what to write in a greeting card for someone turning 60 (or older for that matter) I thought it might be a good time to share some funny 60th birthday wishes, and some heartwarming messages too.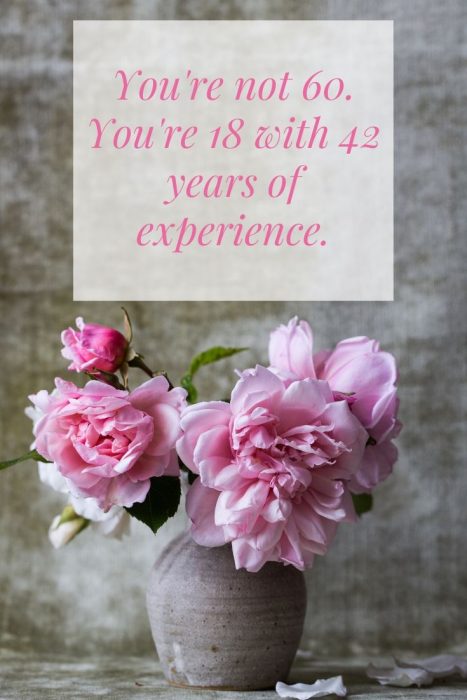 60th Birthday wishes
"The best birthdays of all are those that haven't arrived yet." Robert Orben
"Our birthdays are feathers in the broad wing of time." Jean Paul Richter
"Whatever with the past has gone, the best is always yet to come." Lucy Larcom
The quotes above are shared from a handy little book entitled: Keep Calm You're Only 60 by Summerdale Publishers 2011. If you'd like to have a few more smiles buy the book.
Thoughts on Turning 60
I'm very fortunate to have just had a wonderful birthday in South West Australia with He Himself.
Dave treated me to champagne, a night away and dinner, and the lovely hotel management at Cape Lodge made sure there were birthday balloons in the bedroom.
Just the thing for a late night game of hand-balloon-tennis in the bedroom (seriously, yes, we did, with our shoes as the net). #sonotsixty!
When we lay on the bed exhausted by balloon tennis, after a lovely meal and a couple of glasses of champas, I started thinking about what turning 60 means.
Although my thoughts are not deep or philosophical, here's what immediately came to mind.
It's a great privilege to have another birthday, no matter what number it is.
I really do subscribe to the idea that you are as old as you feel.
Some mornings when I get out of bed and feel my joints creak and ache as they get into their working positions, I do feel my age, but at heart I am still 25. How about you?
How lovely it is to be past the age where I cared what everyone thought of me. These days I might pay heed to helpful advice or constructive criticism, but deep down I don't give a fig what people think about me. I believe their business is not my concern 😉
It's great to know that I'm actually over the empty nest syndrome and that my children have grown into kind, independent adults who need me sometimes, but only on their terms and when they say so. This lets me off the hook from any overbearing feelings of responsibility which of course I felt when they were smaller (and in their teens!).
I'm happy to be 60 because it's leading to the years where I'll have a little more time to pursue different interests, and perhaps stretch my capacity a little more. I'm looking forward to using this extra time to become more helpful to the Lifestyle Fifty community and our 'near' society as a whole.
When can I get my free bus pass?
Now I'm sixty I can wear purple and swear! LOL! There is a funny side to getting older.
Now I'm sixty I'm more than ever aware that time is not a given.
I'm going to focus everyday on making the most of the everyday minutes, paying attention to nature, being in the moment with my loved ones, and not wishing my life away in any respect.
Are you sixty? Even if you're not … what thoughts about getting older and not wasting mid-life could you share with us in the comments?
Pin and save this post for later … and don't forget to check out the next post which has 10 Pinnable images each with a separate inspiring or funny quotation.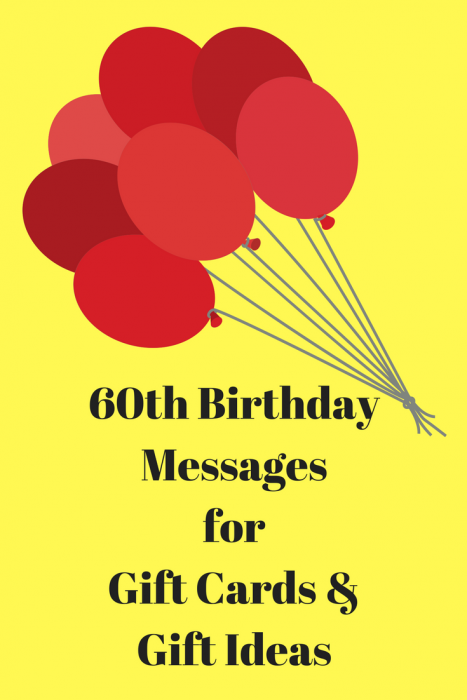 "Lifestyle Fifty Website is a participant in the Amazon Services LLC Associates Program, an affiliate advertising program designed to provide a means for sites to earn advertising fees by advertising and linking to Amazon.com.