Not everyone wants to travel alone, but sometimes circumstances dictate that we need to. At other times it might be a conscious decision to leave the rut of routine and responsibility and head off with no more than a backpack or suitcase on your own without anyone else to think about.
Whichever camp you fall into to, I think you'll enjoy this guest post by Michela Fantinel who's been travelling alone for 25 years, as she discusses the whys and the wherefores and offers tips so that you can – Just Do It!
Solo Travel after 50 by Michela Fantinel
Solo Travel is the best life experience! I believe that every woman should try at least once in her life. I've been travelling for 25 years and I can say I've become addicted to it 🙂
Are you feeling called to travel? But is fear of going alone holding you back?
In reality solo travel is easier and more fun than you may imagine! When you step out and hit the road fear will quickly dissipate. And you will start loving your company more than ever!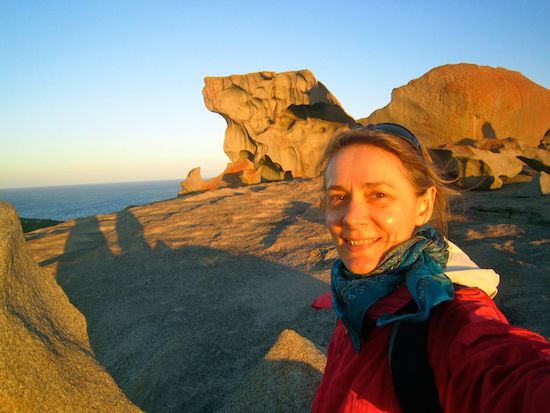 "It's beautiful to be alone. To be alone does not mean to be lonely. It means the mind is not influenced and condemned by society." Jiddu Krishnamurti.
Why travel solo?
Solo travel is empowering. When you travel alone, everything is up to you.
When you need something done, you just do it and follow through. You become more accountable and self-confident. You are aware of your environment and this makes you strong. Most importantly you decide how to do things. You naturally attract attention for help, information, advice or just a chat. This is definitely the best part of solo travel. You will see how easy it is to strike up a conversation with strangers, to create connections and make new friends.
People will be kind and generous to you! People will love you!
If you are thinking of going solo, here are a few tips to get you started with your first solo adventure.
1 First time solo?  Start small
Don't put too much on your plate. You don't have to start with a challenging Round The World trip.
Start with something small. Choose a place you feel called to, with activities you love. For some, it may be a city trip, for other sport lessons, a hiking trail or an outdoor adventure, a photography workshop, an exotic spa-wellness retreat or maybe volunteer work.
You might also like: 10 Reasons to book a cycle cruise holiday
2 Avoid un-supportive criticism
If you want to start travelling solo you need a positive environment. There is nothing worse than people who pity you or try to talk you out of your solo project. Un-supportive comments, criticism, and judgements will come up all the time, but these will only contribute to hold you back. Listen, respect and go your way. Surround yourself with like-minded people who support you emotionally.
"I think it's very healthy to spend time alone. You need to know how to be alone and not be defined by another person." – Oscar Wilde
 3 Create a supportive network
If I look back to when I started travelling solo, I'm amazed at how things have changed. The number of female solo travellers is increasing enormously and that's great. Do connect with other women, who share the same enthusiasm for solo adventures. Solo Travel is all about freedom and networking. Find a group or a solo travel forum on the internet. I can recommend the Australian based BroadsAbroad, a new international travel network for women, above 50 who love to travel on their own. You can sign up for free to share thoughts, ideas, projects and meet up and also stay with like-minded women.
4 Where to Stay – Meet the locals
I remember how lost I felt lost in a huge hotel room, in New York. It was my first solo trip abroad in the 90s. Nowadays there are more accommodation options: From budget hostels to rooms in private homes, to home-stay in farms.
Hostels and private rooms are good for cities, a home stay can be a good choice in rural areas. Hostels offer kitchen facilities, and communal areas, ideal to meet fellow solo travellers. In the last years I have discovered private accommodation as a more intimate way of meeting the locals and I really enjoyed it. If you don't mind looking after someone else's house and pets, then house-sitting could be your thing. Happy House Sitters and Aussie House sitters are good membership sites for Australia.
5 How to stay safe – Trust your instincts
When you are alone you must feel comfortable. If, for any reason, you don' feel comfortable, then leave the place. Use common sense. Trust your instincts. They always show you the right way. Before leaving to a foreign country research your area and make sure the place is safe. Be respectful, stay with the locals and ask about the do's and dont's. Adjust to the local environment, as much as you can. If the place has a strong cultural and religious background, blend in by wearing their clothes and eating their food.
Tip: Back-up your safety tactics. Don't forget travel insurance.
6 How to find the best deals – Be well organised
Travelling solo does not have to cost a fortune. Hotels are the most expensive way to stay as a solo woman, but you can ask whether the single supplement can be waived. Make bookings at least 2-3 months ahead to get the best deals. For car rentals, book the smallest car available, you may be lucky and get a free upgrade to a higher class. I can recommend Sky Scanner for the best flights deals and Drive Now for cars deals.
For hotel price comparisons and to find the best hotel deals around the world click Here.
"Loneliness adds beauty to life, it puts a special burn on sunsets and makes night air smell better." Henry Rollins
7 Solo Travel Blues – welcome the "Feeling lonely" syndrome
No matter how much you love travelling alone, chances are you are going to feel lonely, sooner or later. It's all part of it and you should treasure those moments! You can look for the buzz and hang-outs. In cities, go to a shopping mall, a walking area, a trendy cafe. Visit a museum or an exhibition. Exercise: Jog, hire a bike, go to a fitness centre. Strike up a conversation with a stranger. Get in touch with your women travel network and arrange to catch up for a coffee.
Solo travel can be daunting, scary, challenging and fascinating at the same time, I know.And that's why I love it so much. No matter how and when in your life you decide to start travelling alone, take the challenge! You will be amazed how your solo travel adventures can open up infinite opportunities.
Want to know more?
Read more tips and advice about solo travel on ZigaZag.
About the Author: Michela Fantinel is a Solo Traveller, Author of Rocky Travel, a Blog for women who love to explore Australia solo. She has recently published a book: "Your Australia Itinerary" – The Ultimate Guide For Female Solo Travellers To Australia. Follow Michela on her adventures at Facebook and Twitter
This post contains affiliate links whereby a small commission is earned on purchases made from them, but at no cost to you. Read the full disclaimer.
Now it's your turn!
So Lifestylers – do tell us: Have you ever travelled alone? How was your experience?