Updated 26th March 2021.
I receive many emails from women over 50 who ask me for style tips about what to wear on different occasions. They want to develop their own chic style without spending an arm and a leg.
In addition to wanting to know more about how to achieve a casual chic style, they ask me for advice about:
…. because sometimes around midlife, especially after 50, we can lose our connect with what once suited us, and what could suit us in the future.
How to look chic and elegant
Always have good quality basics in your wardrobe
Buy for your body shape – don't just follow fashion trends
For each outfit you put on make sure there is one major focal point (not many)
Buy an amazing fitted jacket that goes with workwear as well as jeans
Keep your shoes looking in tip top condition – otherwise ditch them
Have a regular hair trim (and colour)
Make sure your nails are clipped and buffed
Alway feel confident in your underwear – opt for the best washable incontinence underwear such as my favourites at Modibodi.
Chic style clothing
Chic is a French word and has connotations of glamour, of the French Riviera and Monte Carlo, and has also been applied to social events, situations, individuals, and modes or styles of dress.
Chic style means classy with a bit of sass; wearing cashmere jumpers, a chiffon blouse, a fabulous go-to dress, wide legged pants or a perfectly tailored jacket with something less classic for a casual chic style.
Advice from a top stylist
While I'm always happy to help based on my own knowledge, I'm always delighted when the experts contact me with advice about styling from which I can learn too.
Today's post is by a much more talented fashionista than me – the very lovely Kirsty Milligan, a personal and brand stylist.
Kirsty is sharing some super-helpful chic style tips on how to be stylish in our 50's and beyond.
Super style tips for staying stylish after 50
Julianne Moore, Anna Wintour, Arianna Huffington and my personal favourite Helen Mirren are women who prove that timeless style is accessible at any age. They are women who just refuse to be invisible.
The good news is that it's not all about money and labels.
Style isn't a price tag. It goes much deeper than that.
Style is all encompassing, it's not just one thing. It's not just a jacket or a shoe. Not just a hairdo or a trend. Timeless style is an overall presence and regardless of age, weight, height, size or shape, stylish women have one thing in common. Confidence.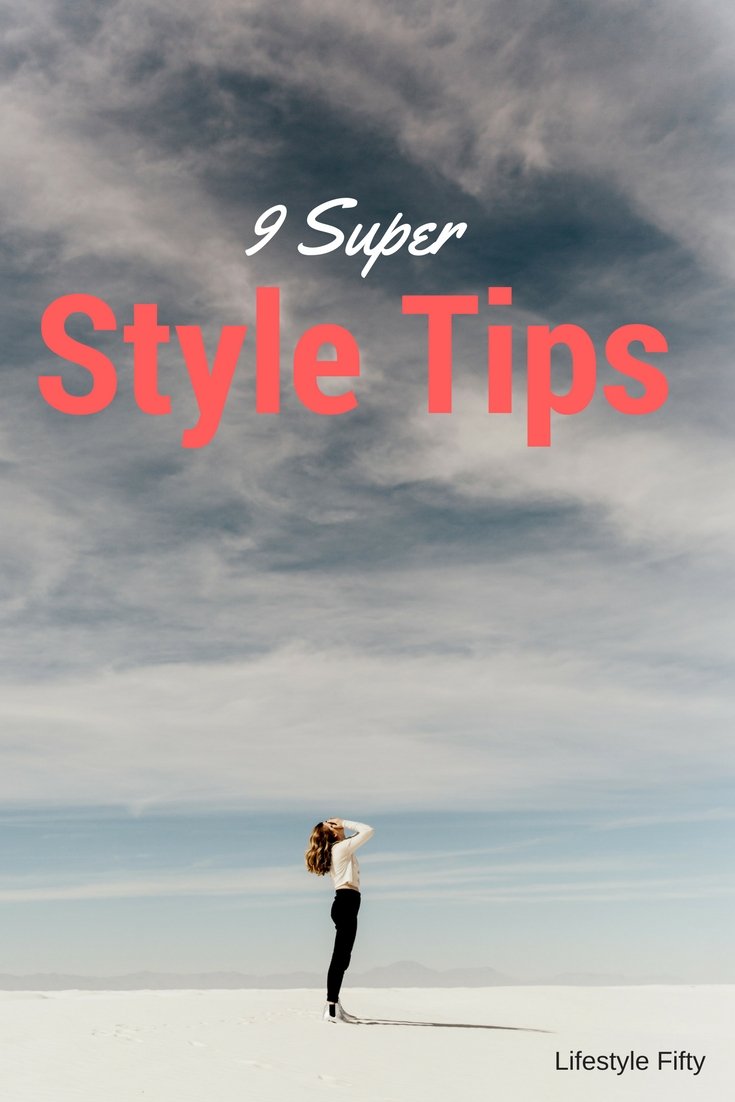 What does chic style mean?
Chic style is really all about mixing something classy like a tailored jacket or cashmere jumper with something casual like a pair of jeans.
What is a chic style dress code?
To achieve a chic style think about the little things, because usually it's just little things that make the BIG difference.
The way an outfit is put together, the cut of the pant, the fit of a jacket. The fashionable accessory teamed with a classic garment.
A chic style dress code means that you can get creative; wear something that is classic or fashionable and set it off with an item that is distinctive or perhaps even vintage.
How to look chic and modern
We've all looked at someone else and thought, 'How does she do that?'
We want to look and feel like the woman who looks effortlessly styled, fresh, chic and modern, at any given moment, no matter the occasion.
These women always seem comfortable in their own skin, as well as their clothes.
And the trick to developing a chic style? It's about knowing yourself as much as anything else, and daring to mix something modern, sassy or extravagant with something more traditional.
Looking for more style? You might also like:

How to Wear Leggings for Women Over 60

Super Wardrobe and Style Tips for Women Over 45

Best Slip on Sleeves for under Dresses for great arm cover

5 Ways to look 5 Years younger than you really are

How to wear ponte pants and look a million dollars

Casual winter outfits to keep you snug this season
How to dress elegantly after 50
Each one of us has our very own style personality. It's a mirror of our true identity and it reflects what we truly love to wear.
Unfortunately, because we tend to look for external rather than internal gratification, most of us aren't being true to our own style personalities.
We wear things that look good in a catalogue, on a hanger or even on someone else instead of wearing things that truly look good on us.
Whatever your size, shape or age you can dress with style and confidence.
I'm 45 years old, have three-month-old twins, run my own business and am project managing a house build.
Even though my stomach muscles separated during pregnancy, I have little to no sleep and I still look four months pregnant, every time I walk out of the house I make sure I look fresh and feel confident.
As a result, I know a few things about how to style yourself happier than you've ever been before.
If you want to be stylish over 50, if you want to be stylishly chic or develop a casual chic style, then read on.
Casual chic style guide
Chic style stores
Vivienne Westwood knows we can be stylish after 50!
After all, we women of a certain age are currently in fashion, so to speak.
Vivienne Westwood, Dolce & Gabbana and Diane von Furstenburg are all attempting to attract a mature woman, just to name a few.
Even Fast Fashion has realised that we are the new target market. After all, we've worked hard, we're smart, brave and bold. And we have our finances together.
That's why you can walk into any Fast Fashion store (Valley Girl, Temt, H&M, Zara, Topshop, Forever 21etc.) and find plenty of pieces that suit a middle-aged gal.
Fashion over 50 – Trash this style myth
Let's break a myth right now, being stylish over fifty doesn't mean dressing to look like a twenty year old to look fashionable. It means dressing with elegance, charm and grace with equal parts of spunk, sass and wit. This might in turn make you look younger, but there's a difference to dressing in order to appear young.
It's always wise to ensure you have some amazing basics in your wardrobe.
Understanding your body shape is crucial to choosing the right shapes for you. This, and a few of my favourite tips and tricks will have you looking and feeling gorgeous at any age.
How to be a super stylish woman
That Dress
There must be a least one stunning 'go to' dress in your wardrobe. A short sleeved, knee length sheath dress, well shaped at the waist is perfect. Lace overlay is great as the top layer smoothes over any lumps and bumps.
I like Review for feminine lace frocks. Another favourite is the DVF wrap dress – stunning on all figures. Try Aussie Leona Edmiston, plenty of choices with short, long and ¾ sleeves.
You might also like : What's so great about Jersey Dresses?
2. The Perfect Pant
A straight, wide leg pant is not only the most flattering on most figures, but also the most versatile.
One of my favourite tips to elongate legs is to always wear the same colour shoes as pants. This will make you look taller and thinner – You're Welcome!
Go for a straight leg crepe pant that will hold it's shape and smooth over bumps (we love that).
And remember to do the 'sit down' test in the dressing room before you purchase. Try Veronica Maine and Cue.
3. Far From Basic Blouse
Chiffon all the way.
Choose a V-neck with a tied bow detail for classic elegance. Ruffled is also wonderful. Ensure the sleeves are cuffed if long and a gather at the shoulder is a must. Shaped is best and can work perfectly with either pants or jeans.
Ralph Lauren is a favourite here, but also keep a look out at the Fast Fashion stores.
4. The Right Jacket
I love an amazing fitted jacket. It should go perfectly with your corporate wardrobe and your favourite jeans.
This piece is worth getting tailored if you need to. It's the piece you'll most likely need to dry clean, but it's also the piece that will be the most stunning and versatile of all the basics.
It needs to be shaped perfectly to your body. The lapels should be long and thin.
Two to three buttons at the most that are understated, not gaudy.
For most body shapes the length should be hip/mid bottom. The fit across the shoulders is crucial, and for most women a slightly padded shoulder is perfect.
5. Perfect Jeans
For the best jeans for women over 50, think about the following.
Opt for a straight leg jean.
Choose dark coloured denim, and be careful of embellishments like whiskers that go horizontally across your hips, they make you look wider.
Jeans West has a great price point and quality and the staff usually know their jeans.
You may think Guess is for a younger crowd, but try them out, their jeans are amazing – I wouldn't be without them.
6. Shoes, OhMyGosh! Shoes!!
Getting older is no good reason to wear 'man shoes'. You know the ones I mean. Those big, flat, wide ugly man shoes that turn your feet into mini canoes.
There are plenty of comfortable pretty shoes out there. Please give them a home!
Kitten heels are back, ballet flats are everywhere and low wedges are as stunning as they are comfy.
Try Wittner and Nine West, or even better go to Shoesofprey.com and design your own! Including heel height.
7. Classic Jumper
Too many times I see ladies in baggy, oversized jumpers. These will only ever make you look larger. Instead opt for a correctly fitted, classic cashmere jumper.
Try ASOS for a range of colours and prices. Camel is a traditional cashmere colour. I like cream and soft pink as well.
8. Underwear
Don't skimp on it just because you think no one will see it. We can all see the effects of it. Ill-fitting underwear leaves bumps and marks and is just uncomfortable.
But did you know that an incorrectly sized bra can make you look a dress size larger?
Get fitted for the right bra, and spoil yourself with new lingerie. There's nothing sexier than wearing French lace every day.
Try Oroton for fit and comfort, but if you're really serious and only French lingerie will do, go for Simone Perele.
Check out this post on Lifestyle Fifty for tips on fitting your bra correctly and the best bras to buy online.
How to dress younger at 50
There's dressing younger and there's dressing younger after 50. You have to do it right, or you'll get it really wrong! Dressing younger means looking classy and in doing so looking younger – it doesn't mean dressing younger as in wearing what your daughter wears.
But here's a fashion trend, that you both can rock …
9. The Jumpsuit
I heart jumpsuits! They are so elegant, comfortable, stunning, versatile, stylish, sexy… I could go on and on… From casual brunch to cocktails, a jumpsuit can take you anywhere.
Teamed with a tailored jacket the jumpsuit can even go from desk to date. There's plenty to choose from online.
Dispel myths – try out new looks, as long as they suit your body shape.
Ed's note: My take on dressing younger and doing it right – A floaty dress, modern sneakers and a colourful denim jacket I think are the perfect way to dress with casual chic style and a modern twist.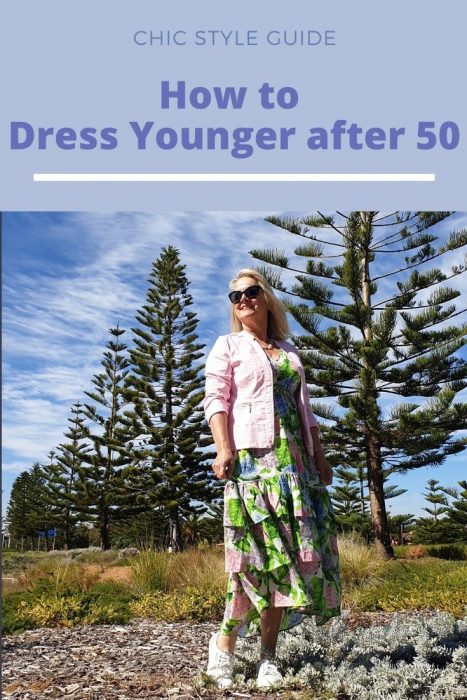 Simple style tips for women
Remember this is just the start of what could be your most stunning wardrobe yet.
Once you have these basics you can add your own flavour for a truly chic style with t-shirt, scarves, gloves, sunglasses and bags.
Every outfit should have one major focal point. Be it the sexy shoes, amazing women's jackets, stunning sequinned top or funky Prada glasses – one piece should ultimately stand out. Don't let your outfit fight with itself for attention – you'll get lost in the mix – eliminate items if necessary.
In the 'chic' quotes section on Wikipedia, Harper's Bazaar magazine referring to the "dramatic simplicity" of the day-wear of couturier Cristóbal Balenciaga, 1895–1972) stated "Elimination is the secret of chic."
Don't play it too safe.
Stylish clothes for over fifties means being confident in your choices and don't stick with what's expected.
I love a cashmere sweater with leather look leggings and ankle boots, or a leopard print handbag with a pink cocktail dress.
Don't look around for the next generation of style icons. It's us. Our lives, our experiences and our wisdom is the new sexy.
Fifty is no longer invisible. So go and turn some heads. That's what we do now.
Many thanks to Kirsty Milligan (personal stylist, brand stylist, media commentator and style workshop facilitator) for this post.
For more fashion posts on Lifestyle Fifty check out the Fashion Category on the Home Page.
Do you ever read the comments? I do! And I try to answer them all when I'm able. Leave a comment or your tips below, or ask any questions you might have. Over to you Lifestylers – got a style tip you'd like to share? Fire away …
DISCLAIMER: Lifestyle Fifty Website is a participant in the Amazon Services LLC Associates Program, an affiliate advertising program designed to provide a means for sites to earn advertising fees by advertising and linking to Amazon.com. If you purchase a product from one of these links it will not cost you any more, but Lifestyle Fifty will earn a small commission.