I've been keeping this under my hat, because there were times when I thought I might crack, or regret the decision, or fall completely apart. We kept on asking should we, or shouldn't we, and deeply pondered the advantage of living in the country.
You see, we've bought a little house 'down south' as they say in WA. Far from the  madding crowd. We're leaving Perth and heading for the southern region of South West Australia.
A modern country cottage under the big gum trees
I wasn't too sure about leaving Perth, city girl that I've become, but a tree change to the country is good for the soul and surely good for our time of life.
Aah, city life vs country life – which do you prefer?
Rural Living
Anyway, because I know some of you asked for some pics of our house after the previous Lifestyle Fifty Newsletter, I'm going to give you a glimpse of our new home, and hope that our little house will become a home into which we welcome many family members and friends. … perhaps one day I'll get to meet you too!
In true English fashion, I'd like to give our house a name – has anyone got any suggestions?
The house is on a bend, under peppermint and gum trees, with parrots visiting daily and the call of magpies in the morning.
Ringtail Parrots are also known as the Cloncurry Parrot, Mallee Ringneck Parrot, Port Lincoln Parrot, Twenty Eight Parrot and the Nyoongar people called the bird the Darlmoorluk. It's scientific name is, Barnadius zonarius.
So how about Barnardius Bend?
No?
What are your suggestions – I'd love to know in the comments section below 🙂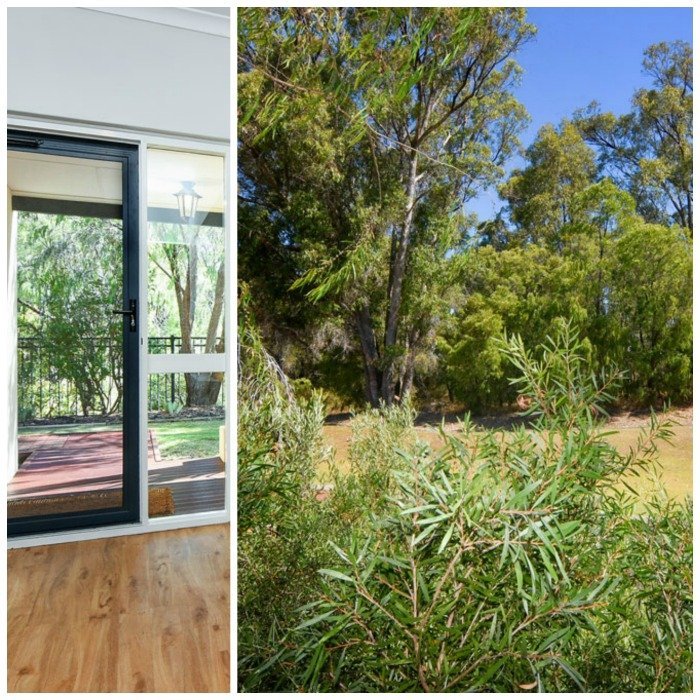 We are not so remote that you never see another car, and we are reasonably near to amenities. So this is not an official tree change in the true sense of the word. I think a true tree change means really remote regional doesn't it? But having said that, we are more in the country and nearer to the sea than we were living in a suburb of Perth.
And moving to the country has raised all sorts of questions about city life vs country life. Of course not everyone is lucky enough to get to choose, and I don't have research to prove if one really is better than the other.
Advantage of Living in the Country
I come from country stock. As children we lived miles from anywhere. On a farm. With sheep and ponies but not much disposable income. Life was simple and outdoorsy and I've kind of had an inkling I want to get back to that quasi innocence for quite a while. Living in the country is like getting back to a truer version of ourselves in many respects – we have less distractions without bright city lights.
Please Pin this picture if you're on Pinterest – Happy Pinning!
Living in the Country vs Living in the City
I think that life slows down a little. You don't have the expectations of the city upon you. You might have more time to read, or bake or grow veggies and get to know your neighbours.
No rush hour traffic.
The air is most likely cleaner.
There will probably be  nice walks in your neighbourhood without the background white noise of roads or railways. Perhaps even no planes?
You might feel inclined to get out and do more exercise in the fresh air, and take your camera with you – perhaps take photography up as a new hobby?
Perhaps you can go off-road biking on forest or country trails.
You'll most definitely be able to take off somewhere near to go camping if nights out under canvas and the silvery moon are your thing.
Adventure of the natural kind – there should be lots of that – from swimming in the sea, to kayaking on rivers to bushwalking.
Stars, so many stars.
Peace and quiet.
Cons of living in the country
I'll miss the variety of pubs and bars and restaurants and cafes in the city, but then again our bank balance won't miss them at all 🙂
I'll miss meeting up with friends in different locations, which in Perth never seem to be more than about 20 minutes apart in any direction, but I'm looking forward to renewing old friendships in the country and meeting for earl grey tea and home made drizzle cake in people's houses.
Oh Gee I'm going to miss the shows, and the concerts and the musicians in bars on a Friday night.
In the country you cannot get anything you want at any time of day – like Dim Sum or maybe even Pizza (if you're used to that!) but as we make our own, that won't worry us too much 😉
Public transport won't be as good or as plentiful.
Although there will be some, there probably won't be so many gym classes, yoga classes, or general interest courses to get involved in.
What's your preference? If you could choose and live anywhere, where would it be?
Oh, and don't forget to add your suggestions for a house name too 🙂
Until next time.