Sponsored Post via APIA.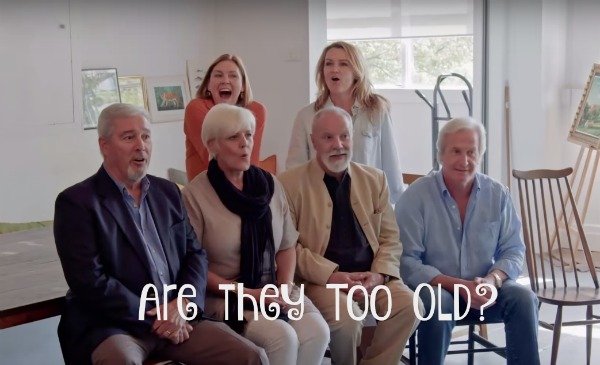 Whether we like it or not there is, and always has been, a stigma attached to growing old, especially around aging on the outside and the way we look.
In a youth-centric society, many people are dismissive of grey hair and wrinkles, and I'm not saying this is anything new. The thing is many people get wiser and more competent as they age, so it's the inside and how we think and perform which really should be more important, but the truth is that perceptions about appearance due to ingrained prejudice often triumph in the end.
Age Discrimination in the workplace
Although older workers contribute knowledge and skills based on years of experience and expertise, ageism still exists. Stereotypes about older people are a major factor behind discrimination when it comes to negative attitudes about 'use by' dates for older workers.
There are Australian Bureau of Statistics figures which show that more than 35 per cent of job seekers aged 55 and over stopped looking for work because they believed potential employers thought they were too old.
You'd think that with an ever-growing aging population Australia needs older people to continue working and contributing to economic growth, wouldn't you? The idea of people retiring at 65 is not cast in stone anymore, and surely in this century, more than ever before, the world needs to change the way it views older people and revalue their potential contribution to the workplace because we are living much longer.
Here's an interesting article about discrimination in the workplace and ageism in The Age.
Why could staying employed benefit you?
From various research I've been learning that there's a correlation between work and health. Staying challenged and busy in a work situation, it seems, can protect against both physical and mental ill-health as we get older. I know I've heard sad stories about people who die of a heart attack, or similar, quite soon after retiring having worked all their life for the so-called retirement dream.
Hidden prejudice unearthed
APIA, an insurance company providing insurance for the Over 50s has conducted an interesting social experiment which reveals hidden prejudice towards the older generation.
Watch the video below, and I challenge you not to squirm as the young people dismiss a dynamic and youthful group of older people (based on photos) as lacking in vitality and not having 'the right look'.
Spoiler alert: there is a racecar driver, a drone pilot and a personal trainer amongst the 'oldies'. At the end of the video the casting groups come face to face with the Over 50s talent and their latent prejudices and misconceptions about age are embarassingly laid bare.
APIA Video : The Right Look?
The social experiment was carried out together with a national study to uncover perceptions about those Over 50. The research found that two thirds of respondents aged Over 50 had faced age discrimination in their daily lives as well as feeling misrepresented in the media.
APIA Executive Manager, Geoff Keogh, says the statistics highlight a job to be done: "The research we undertook revealed some startling insights into perceptions of age in Australia. It's time to break through this stigma and start conversations around the topic. The social experiment highlighted an underlying prejudice that those involved may not have realised existed. Our campaign aims to demonstrate that life experience should be recognised and respected."
Glenn Ridge believes age should never define what one is capable of and hopes the findings will shift perception and encourage society to think twice before dismissing people who are still shaping the future.
"I've found that Over 50s continually endeavor to reinvent themselves and adapt to changing times and situations. Staying vibrant, relevant and open to new experiences is something that's important at any age, not just as the years add up."  Glenn Ridge, APIA spokesperson.
Too slow? Not fast enough?
If you've ever been told that you are too slow, or you don't learn new things fast enough, or even that you are not keeping up with younger workers, then there is help at hand because the  Age Discrimination Act 2004 protects individuals across Australia from discrimination on the basis of age in employment, education, accommodation and the provision of goods and services.
This post, including selected facts and video, are presented by APIA  but thoughts and opinions are my own.
What do you Think?
Have you ever been told, or been given the impression that you are too old for a job, or that your skills are outdated, or that it's not worth retraining because you are nearing retirement? Can't wait to hear your thoughts about this topic?