This is the second post in a 2 part series about barging in France. To begin at the beginning, please check out the first 3 days of the cruise aboard hotel barge Panache in the Champagne Region of France in this post : Amazing Luxury Barge Cruise in France.
Barging in France – Why we loved it
If you'd like to find out more about barge cruising with European Waterways you might also like this post which tells you all about why we loved it and why you will too : 13 Things You'll Love About a Barge Cruise in France.
European Waterways operate in 9 different countries in Europe and operate a fleet of 17 vessels.
I hope you enjoy this, the second instalment, and some armchair travel, and mostly that it inspires you to Go Barging in France!
Luxury Barging in France – Day 4 aboard Le Panache
Barging in France with European Waterways is fully inclusive of fabulous daily excursions, taking in the history and culture of the region, which might include a mini bus ride to a nearby town or attraction.
Our excursion on day 4 of the barge trip was to the pretty village Pierry near Epernay where we visited Champagne Henriot one of the oldest family owned houses in Champagne dating back to the 1700s.
Champagne Henriot and Chateau Les Aulnois
Beatrice, the public relations manager, took us on a private tour of the vineyards, and then we visited the18th Century Chateau Les Aulnois and enjoyed an exclusive tasting of Henriot champagnes followed by a tour of the manor house, the private cellars and lovely gardens.
The grape press dating back to the end of the 18th Century was a sight to behold.
Founded in 1808, Henriot has been family-owned since it was first created over 200 years ago. It's one of the few champagne houses to be able to say this. The Henriot family are natives of Lorraine but later moved to Champagne in the mid-seventeenth century.
It was a laughter filled, informative, happy start to the day with a glorious champagne tasting – during which I discovered my new favourite champagne!
Lunch was another treat. We dined at the beautiful La Briqueterie a Michelin Star restaurant where we had the most incredible gourmet lunch in elegant surroundings.
Chateau Thierry and Castle Ruins
We were back on the barge by mid afternoon, and enjoyed a leisurely cruise arriving late afternoon in the beautiful town of Chateau Thierry.
Cruising towards the town was idyllic, as about 30 regal white swans greeted Panache as we eased up to our mooring.
When the gangplank was lowered we walked through the town and on up countless ancient stone steps to the ruins of the old town fortications, and castle ruins which date back to Roman times.
Chateau Thierry played an important part in the defence of Paris in the First World War and there is an impressive memorial dedicated to American troops set high on a hill.
Dinner was again a lavish event on board courtesy of our inventive and talented chef Arnie and served by ever attentive hostesses Diana and Regina.
Barging in France – Day 5
What a day!
We were now deep in the Champagne region of France surrounded by vineyards.
After a slap up breakfast on board we were off on an excursion to the town of Epernay and an exclusive tour of the Moet et Chandon cellars.
Moet & Chandon tastings and tour
We drove along the famous, and extremely lavish, Avenue de Champagne, lined with grand mansions which we were told is home to the most prestigious wine producers in the region, if not the world.
Here you'll find Moët et Chandon, Mercier, Veuve Clicquot, Pol Roger and de Castellane among others.
As we walked around the town I couldn't help but think about the miles and miles of underground caves beneath my feet, stocked with the world's most covetable and expensive bubbly.
One of the best known Champagne houses in the world, Moet & Chandon was founded in 1743. We were guided around the vast underground cellars which are carved out the chalk to give the maturing wine the perfect temperature and humidity.
It was an eerie experience, in dim, gold light, and we were told to stick together in case we got lost! Lost in champagne. What a way to go, I thought!
This was followed by a private tasting of some of Moet's best vintages in an elegant private salon hosted by an experienced cellar master. Such fun, and very educational.
Fun Fast Facts
There are 28 kms of private cellars under the main Moet & Chandon family house in Epernay.
The three classic grapes used to create Champagne are meunier, pinot noir and chardonnay, many of the grapes are sourced from elite grand cru vineyards (a regional classification for vineyards that have a favourable reputation for producing great wine).
1 bottle of Moet & Chandon is opened every second around the world.
Napoleon visited in 1807 and was entertained in one of the grand salons. In 1810 he gifted a 1200 litre barrel of port from UK, which is a key historic item in the cellars.
It takes 1.2 kgs of grapes to make 750ml of champagne.
There are maybe 100 million bottles of champagne housed in the cellars – each bottle takes 2 to 3 years to mature.
The grapes are always harvested manually to avoid coloration.
The harvest takes only two weeks.
Around 60,000 grape pickers are employed each year.Only stainless steel vats used.
Moet & Chandon accounts for 10% of the world's champagne production and consumption, Veuve Cliquot comes second.
Brut is a term applied to the driest champagnes and sparkling wines, and we were told originates from the Brits calling a dry champagne 'brutal.'
Vintage depends on a balance of acidity and sugar and the perfect combination of conditions.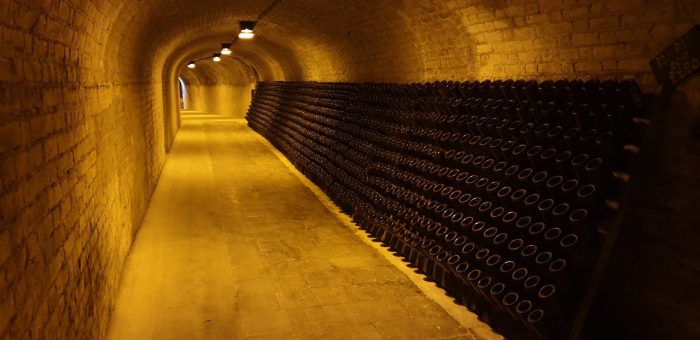 Cumieres and Gypsy Jazz
After a generous Moet tasting we were taken back to Le Panache where we had lunch on board, and a serene afternoon cruise along the tranquil waters of the Marne before we moored in a small village called Cumieres.
We had time to explore the sleepy village (by bicycle and foot) and enjoyed the relaxed country vibe. Cumieres is set on a hill girded on one side by the river and the other surrounded by vines. We returned at sunset to the barge for Florian had said he had a surprise for us.
At canape hour, as the sun was setting, with a glass of champagne in hand we were treated to a gypsy jazz recital by two incredible guitarists.
"Here we sit as the sun goes down on the River Marne in a small town named Cumiere deep in the Champagne region of France being entertained by two Gypsy Jazz musicians in the lounge of Le Panache, as we eat smoked salmon and caviare canapes and drink champagne generously poured by our lovely hostess Diana.
From the Chesterfield sofas to the elegant wood panelling, stylish blinds, luxurious cabins, and small works of art on the walls, Le Panache reeks of style.
Barging in France with European Waterways is all about style.
Life doesn't get much better than this."
Gypsy Jazz we found out is a genre of music that started in Paris in the 1930s attributed to Django Reinhardt.
Aurélien Bouly & Stéphane Morin entertained us for an hour. If you'd like to hear more of their music you can catch them on YouTube and Spotify.
Gypsy jazz, champagne filled tunnels, ripening vines, history revealed – what a day!
Luxury hotel barging in France – Cruise Day 6
Breakfast on board Panache, and another 9.30am start.
Into the minibus and off we went through gorgeous Champagne countryside to Reims.
Reims and the Gothic Cathedral
We visited the impressive 800 year old Reims cathedral, a Gothic masterpiece where the Kings of France were crowned. Afterwards we had some free time to wander around Reims grand squares and shopping arcades.
We travelled back to Panache for a buffet lunch onboard. Food and wine is such an important aspect of luxury barging in France with European Waterways and yet again we were bowled over by the selections of great food and local wines.
After lunch we cruised along the Canal Lateral a la Marne to our final morning in Conde-Conde-Our Marne.
Some of us cycled along the river path, enjoying the tranquil riverine and forest scenery, as well as the picturesque villages.
We watched the barge navigate a couple of locks, and cycled through wild flowers and sylvan scenery enjoying the peace, quiet and sunshine.
All too soon it was time to head back to the barge for our final night aboard and the incredible Captain's Dinner – the most gastronomic and incredible meal yet.
For the occasion we put on our best togs and spruced up to enjoy Arnie's piece de resistance along with some wonderful wines and champagnes.
Luxury Barge Cruise – Day 7
Our departure day was sad, as we'd had such a brilliant week and made great friends amongst the guests and crew to whom now we bid farewell.
After breakfast Florian drove us all back to the Westminster Hotel in Paris and from there Dave and I headed to the Gare du Nord to catch the Eurostar back to London.
What an incredible week it had been!
European Waterways
Rates and Cruises
Prices for a 6 night cruise aboard hotel barge Panache include all gourmet meals, fine wines, daily escorted excursions, local transfers and an open bar for the duration of the cruise. Full barge charters are also available for families and groups. Find out current rates and cruises here: European Waterways: Tel: UK 01753 598555 or Toll Free from Australia 1 -800-828-050.
Pins for Pinterest. Pin an image of your choice. Or Pin all of them!
Disclaimer: I travelled as a guest of European Waterways. All opinions are my own.