Why wear skinny jeans? What are the benefits of skinny jeans?
Are there any if you're not tall and skinny? Yes of course there are, and I say forget waif-like model stereotypes it doesn't matter what your shape, you can wear them whatever your shape 🙂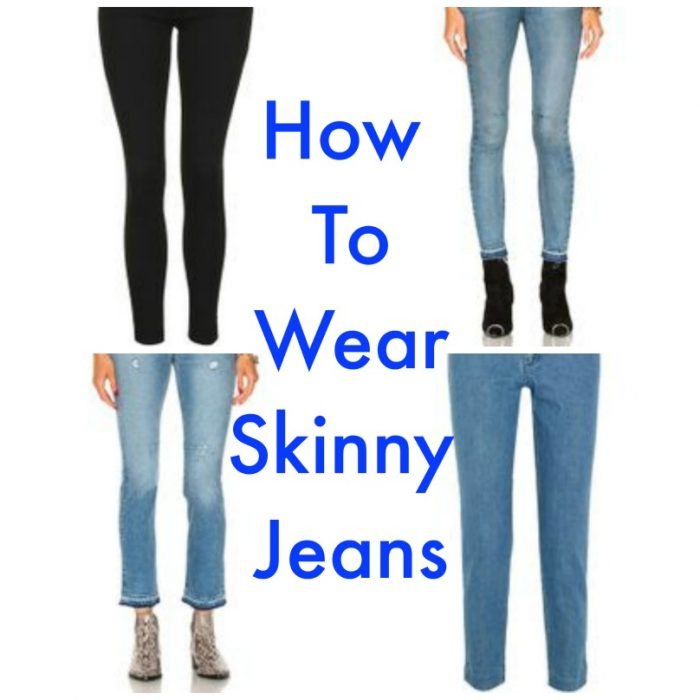 Multi-tasking wardrobe
A multi-tasking wardrobe is a hero wardrobe in my books. Not having to worry about what goes with what and always finding something to wear that fits and looks good. That's the ticket.
It's no secret that I have several pairs of skinny jeans, and I like to have a selection of easy wear tops and blouses to go over them – which gives me lots of choice without having to anguish about what to put with what.
The right pair of skinny jeans not only flatters, giving you a great silhouette, but they can also take you from daytime casual to cocktails with a little switch.
Find the jeans you love, and stick with that brand. If necessary buy them in black, navy and white.
Then all you need to do for a variety of looks is to switch tops and shoes.
For a casual daytime look wear a floral print top over your jeans, or perhaps top them with a longish plain coloured, loose fitting t-shirt and wear this with a tailored jacket which has a nipped in waist (wear the jacket open).
For nights out wear them with a snazzy block-coloured top (block colours can be so classy) maybe with a little bling for sparkle.
I'm a little bit in love with this showpony top in a beautiful rosy wine – it's in a lightweight fabric and has long sleeves – winning! I think it makes a great tran-seasonal piece for both the northern or southern hemisphere.
And on the shoe front, wear your skinnys with flats or sneakers in the day, and perhaps ankle boots or heels at night.
So here's how I transitioned from drab to (nearly) fab – from early morning workout in my gym gear, to 'let's do lunch' in my skinny jeans!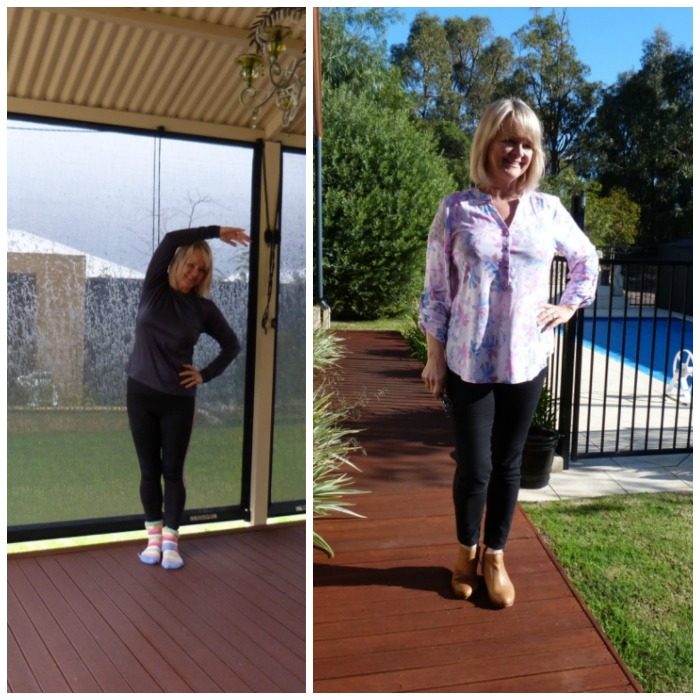 I'm wearing SALLi ankle boots in tan – my fave go to boots for Spring, a top from Target, and stretch jeans from Marks and Spencers. Online I've found a great selection of Skinny jeans here for you.
You might also like :

How to Wear Leggings for Women Over 60

How to achieve a simple, no fuss, economical style

Everyday Beauty Tips from a Middle Aged Mama
The benefits of skinny jeans
I know you're thinking that not everyone can pull off skinny jeans.
I disagree.
Who can pull them off, who can't, are they appropriate for your age?
I've heard it all – Blah Blah Blah.
I love skinny jeans, it's no lie.
Some people say to me, "Oh but I can't wear them. I'm too short, my legs are too stout, I'm a pear shape," or whatever.
But most of us have wobbly tummys, hips, booty and thighs by the time we get to our age.
And there's no need to cover it all up, or show it all off if you don't want to.
The benefit of skinny jeans is that they can give you the illusion of being long and lean, and the allure of a feminine silhouette if you pair them with the right tops and footwear for your shape and height. You don't have to buy them so tight that they are too snug around the waist, it's the bottoms that count.
I'm betting your legs look pretty okay from just above the knee down?
So the trick with dressing for your shape is to cover up the bits you don't like, and accentuate the things you like.
If you don't want to show off your arse with skinny jeans (I don't) then wear a pretty top which comes down over your butt, or maybe wear something longer, like a tunic which comes down further to dress length, to just above your knee perhaps? It's up to you.
Either way, you're giving the illusion of length. You're giving a nod to looking fashionable. And you will feel fabulous.
Pair your skinny jeans with a nice pair of comfortable leather boots, or turn up the bottoms and wear them with sneakers, which are really 'in' at the moment.
I'd love to know how you wear your skinny jeans.
Or has this post inspired you to try a pair?
Disclaimer : This post contains affiliate links from which I may earn a little commission, but at no cost to you.