I think I may have just found the most comfortable boots in the world. I've been tramping around South West Australia in my GERTY boots through Autumn leaves and country lanes, and my feet have been loving, not hating me (for a change).
You know when the shoe fits 😉 It just does.
And it feels great. Especially when you've got soft, finicky Pisces feet which complain and blister and bunion. Don't know about you, but comfortable feet make a difference to my day. If my feet hurt, then I do to, right down to my mood!
I've photographed my GERTY's with with jeans and cut-offs, but I know they make a flexible addition to wear with all sorts of outfits in your wardrobe. (You might also like: Super Wardrobe and Style Tips for Women over 45)
Anyway, here's the lowdown.
Comfortable Boots
These boots are called GERTY and they're from Homyped.
You can buy them online or at selected pharmacies (where you'll find someone to measure your feet correctly to get the exact fit.)
They have a leather upper and a removable footbed which allows for the use of full or regular orthotics.
The heel is a decent but stable 55mm – great for giving shorties like me a bit of height, but not so much that you feel unstable.
The foot form has contouring to cradle the foot and an anti pronation arch to realign the foot for improved posture and forward momentum (I added this foot-speak because I can really feel this comfort factor)
There's an inside zipper making the boots super easy to get on and off.
And, if you travel, they are airport scanner friendly. Yay! No more padding through security in socks.
The Homyped Difference
Homyped shoes are build on a legacy to deliver maximum support for all types of feet. I don't know anything about shoe-making but apparently they have technological features such as customised fitting to allow the use of orthotic inserts if required.
The anatomic footbed helps realign feet to their natural position and adjustable features for an optimum fit.
If that sounds a bit sort of salesy, think of it this way …
I don't know about you but when I'm out walking in anything more formal than trainers, the balls of my feet can get quite painful. But these boots have a metatarsal and plantar support zone to reduce the stress in this area. They also have torsion control to minimise sideways twisting for extra support and security.
Homyped also deliver high traction soles that provide secure ground contact and they offer plenty of space for toes to relax and flex. Then there's the surgical grade foam linings which contour and conform to the wearer's foot. (I can vouch for this – it really is like sinking my foot into a slipper rather than a boot.)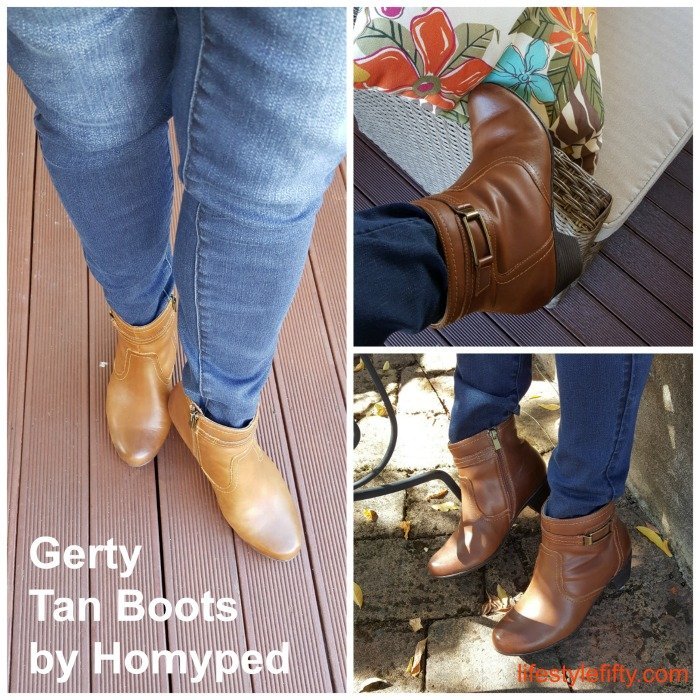 History of Homyped
Once upon a time, well around 1969 to be exact there was a little tannery business called Michaelis Bayley Ltd in Footscray, Victoria.
The vision was to design and manufacture high quality leather footwear and provide comfortable shoes for women with busy lifestyles.
Why Homyped?
The folks at Homyped work in collaboration with podiatrists and industry experts, as well as watching global trends in fashion.
Shoes and boots offer easy fastenings to pressure reliving linings, lightweight soles with engineered grip – and an ergonomic deep heel cup that gives you a firm hold and assures better stability as you walk.
The footbed can actually help realign your feet tot their natural position allowing you to move easily throughout the day.
Homyped also offer a range of different width fittings (so cool if you have wide feet like me).
They have multi adjustability options and they're designed and engineered in Australia.
Foot Care Advice from Homyped
Everyone's feet are different. Homyped warn that wearing properly fitted shoes is an important part of foot health and choosing shoes with generous wriggle room for your toes and correct width fittings can help ensure you have the best fit for your feet.
Protect your posture.
Did you know that an anatomically designed footbed can help cradle the heel, support the arch and cushion the metatarsal to help provide you with an overall improved posture?
Next time you step out, ensure your body is aligned correctly in good fitting footwear.
Why is sole support important?
For those who love to walk, wearing shoes with high traction soles will help provide secure ground contact.
Homyped can help reduce the stress on the ball of your foot with cushioning to the metatarsal and plantar areas as well as minimise sideways twisting in the shoe with torsion control shanks for extra balance and stability.
Keeping an eye out for these features when purchasing your next pair of walking shoes (as they allow your bodyweight to be evenly distributed across the sole of your feet) will make your outings even more enjoyable.
Please PIN this pic if you're on Pinterest 🙂 Happy Pinning!

5 Top to toe tips to keep your feet happy.
Go shoe shopping in the afternoon (when your feet are hot and should be at their widest)
Wash and moisturise your feet daily to prevent skin cracking, especially around the heel.
Trim your toe nails straight across. Avoid cutting too short or down the side as this can lead to ingrown toenails.
Keep on moving – getting regular exercise helps improve circulation in your legs and feet.
Love your feet – go on! They deserve it 🙂
You might also like:
Best Walking Shoes for Elderly
Best Travel Shoes and How to Choose Them
Disclaimer: No feet were harmed in the making of this post – nor did it damage my bank balance in any way because my Gerty's were gifted. Even if they weren't I would have bought them anyway because they are really really comfortable. I hope you think so too.