Today we share our capsule wardrobe planner and tips about how to create a capsule wardrobe when you're over 50. Why is this important? Because as we age it's easy to become invisible. When you believe you're invisible you stop caring about the way you look. Don't fall into the sloppy tracksuit brigade and lose confidence. Do follow these capsule wardrobe tips which will help you create a smart, comfortable, everyday-style collection of clothes in your closet.
Capsule Wardrobe List for Women over 50
Every woman over 50 should have a working capsule wardrobe.
It should consist of classic, well cut items in great fabrics which you can pull out at any time. Items which never go out of style, and which never let your wardrobe fall into the "I've got nothing suitable to wear" category!
The problem is that women over the age of 50 can either begin to care less about what they wear, or they become stuck in a style rut that dates back to when they were 30 or so.
It's easy to get stuck in a style rut. And it's easy to go on a downward spiral into not really caring what you look like anymore.
My Mum, right up until she was about 88 always cared about how she looked, and would wear clothes in colours that suited her, and she loved going out shopping for new styles. However, sadly to say her wardrobe was not in any way capsule and deciding what to wear was often an effort!
But that's not everybody, right?
I find myself thinking on many days, "I just want something comfortable to wear," and I'll pull out something that possibly doesn't look great on me but it's comfortable, and in all likelihood I'll then spend too long looking for something to go with it. My wardrobe is at these times disorganised, and probably has too many show pony pieces and not enough easy-to-wear, smart, comfortable pieces.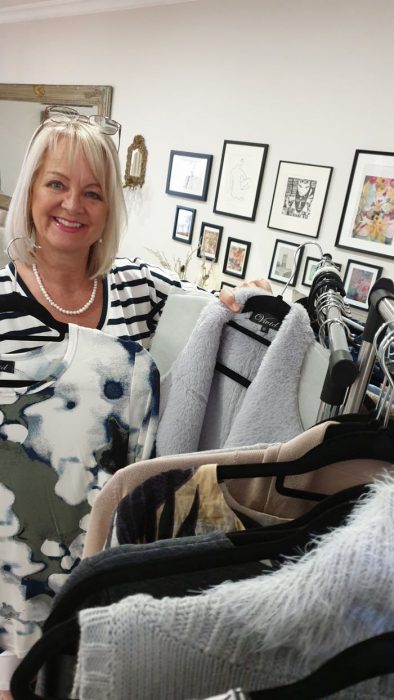 But when I have a working capsule wardrobe organised, it's easy, and I don't have to think too hard.
The trouble with creating a capsule wardrobe is that you need to buy, and then maintain, some of what I consider rather boring items of clothing. They are not in tropical colours with peacocks and diamante!
They are staples. Staple items which will mix and match with other hard working clothes in your closet.
When you have your basics organised, then you can add the show pony pieces, or accessories.
Here's my ultimate capsule wardrobe over 50.
Capsule Wardrobe Checklist
Here are our tips for a hard working basic capsule wardrobe. Use this list as an example capsule wardrobe and modify the garments to suit your lifestyle. You can, and should add a few show pony items that you love to this list. But no more than about 5.
A great fitting pair of jeans – here's the ultimate guide to the Best jeans for women over 50.
A fabulous white shirt with collar and sleeves.
A well tailored navy jacket.
2 x flattering, easy to wear, day dresses.
1 skirt.
A cocktail dress.
A bolero cardigan in a neutral colour.
A longer length cardigan in black.
A well fitting pair of ponte pants – here's How to Wear Ponte Pants and Look a Million Dollars.
A longer length blouse to go with the ponte pants.
A tailored pair of trousers in black or navy.
A smart blouse to go with the trousers.
A pair of capri pants (three quarter length) in a neutral colour (beige, navy, black or white).
A blouse to go with the capri pants.
3 x relax fit T-shirts – black, white, navy.
3 x T shirt vests – black, white, navy.
A comfortable pair of sandals.
A small wedge heel, classic shoe in nude.
A pair of leather ankle boots.
A silver pair of shoes for evening wear (silver goes with some many things and can be accessorised with silver jewellery and a silver evening clutch).
A pair of fashionable sneakers in white or black.
A gorgeous trench coat in black or camel (lightweight or heavyweight depending on where in the world you live)
Check out my full guide : The Ultimate Guide to Fifty Plus Women's Fashion
We at Lifestyle Fifty love all kinds of Ponte Pants, which are comfortable and a good base to start from. Check out some styles below.
Creating a Minimalist Wardrobe You'll Love
A minimalist closet might feel impossible, especially as we get older. I know I have a tendency to hoard clothes thinking that they will be useful again one day, but they may sit in my wardrobe for years before I either find an occasion to wear them or I chuck them out and take them to the charity shop.
Creating a minimalist wardrobe means editing your wardrobe to fabulous garments that will stand the test of time, hold up to many washes, not ball or snag, and still look great after many wears.
This type of minimal capsule wardrobe will probably last you a season, or perhaps two, and will need replenishing. But that's the joy of it – because next season you can think again, throw out anything tired and worn, and buy something new – rather than adding new stuff constantly to your existing wardrobe and creating just so much choice, a lot of which will appear to be random as your closet expands.
You might also like :
How to Make Extra Cash Selling Old Clothes Online
How to Organize a Small Closet
How to Create a Capsule Wardrobe
Build a capsule wardrobe to be proud of. And when I say build, I don't mean go out and buy everything new. Do take items from your existing wardrobe which will match other pieces. Think like a builder – you are creating blocks on top of blocks, all of which fit perfectly together. No item in a capsule wardrobe should be a total loner.
"Pare down your current clothes situation into a happy little 37 piece capsule wardrobe. Your 37 pieces should include: tops, bottoms, dresses, outerwear, and shoes. Your 37 pieces should not include: workout clothes, jewelry, accessories, purses, swimsuits, pajamas/loungewear, underwear, and the jeans you wear when you paint your living room."

Un Fancy
Capsule Wardrobe Dresses
When you're building a working wardrobe the dresses you choose need to be suited to your lifestyle.
If you're not going out to work anymore then do you really need the tailored dresses you have stored in your wardrobe? Wouldn't it be better to donate them to a charity shop so they can be worn by someone who truly needs them?
Perhaps you do need a fabulous cocktail dress, or a little black dress for occasion wear, I know I certainly like to keep something dressy in my closet. If you have one without sleeves and you are self conscious about flabby upper arms, then before you decide to throw it out, do consider slip on sleeves for under dresses. A fabulous arm cover up in mesh or lace might be all that you need to update a garment.
You definitely need an easy fit casual dress that you can wear for everyday occasions. If you love shift dresses, then have one of these versatile styles in your wardrobe, ditto jersey dresses preferably in flattering crossover wrap style.
Winter Capsule Wardrobe
The secret to transitioning your summer capsule wardrobe to a winter capsule wardrobe is layering, focussing on underwear, such as thermal vests, and stocking tights which can be slipped underneath like a second skin.
A winter capsule wardrobe should focus on thicker fabrics. Swap out the small bolero cardigan (so useful on summer evenings to cover your shoulders if you're wearing a summer frock) for a thicker, chunkier knit.
You can still keep in garments such as jeans with a crisp white shirt and navy jacket – just add a thermal vest underneath your shirt if it's chilly, and if necessary accessorise with a warm hat and scarf and pop your winter coat over the top.
If you buy anything new then winter colours like black, maroon, grey and navy are a safe bet, and should match up with existing garments in your wardrobe.
Dresses can be worn with petticoats and thick tights or stocking tights depending on the season, and topped off with a chunky knit cardigan, a warm scarf and your winter coat if you're going out.
Spring Capsule Wardrobe
Spring is a time of new growth and joy as we leave the cold dark days of winter behind.
For me a spring capsule wardrobe means bridging the gap between winter and summer by introducing some brighter colours.
You don't have to go out and replace everything, but you might like to swap out a couple of garments that you have in dark colours for something more springlike – think yellows, bright rose reds, baby blue and pink.
The trick to maintaining a capsule wardrobe year round is to swap out garments. Keep a thick chunky knot from wintertime for the colder spring days, but buy a new lightweight blouse in a brighter shade that suits your colouring.
Swap out the winter maxi dress, for a knee length dress, a midi dress in a pretty floral design, or an easy wear shift dress.
Classic capsule wardrobe
A classic capsule wardrobe will focus on age old classics such as shift dresses, brand name jeans, tailored dresses and skirts, fitted jersey dresses in block colours, and if you buy ponte pants then they should have some kind of classic detailing like decorative buttons at calf level.
Classic means ultra chic. Think French. Think maritime. Navy and white stripes. Coco Chanel. The overall classic look is pared down, minimal and very striking.
Work Capsule Wardrobe Tips
For working girls, a mimimalist wardrobe is definitely a pre-requisite for you need to be able to dress quickly and without too much over thinking.
You need a capsule collection of great fitting clothes – make sure you don't have a single item for when you lose a bit of weight! I know I know – we all do that. Just don't! Pare down your clothes to those that fit you perfectly.
Pret A Collection has this to say about capsule wardrobe basics …
The basics are the same for any age, but the fit is more essential. No one can see the size label on your clothes, you can even cut it off if you'll feel better, but everyone sees how the clothes fit.

Pret A Collection
How take a Capsule Wardrobe from Casual to Evening
Writing a capsule wardrobe guide for Styling You, I looked at trying to expand the idea of a minimalist closet to include clothes that would take you seamlessly from early morning to late at night! This post, "How to take a capsule wardrobe from casual to evening" has some of the best ideas for transforming your minimalist day wardobe into a drop-dead gorgeous evening wardrobe.
While Nikki from Styling You has this to say …
"Once your wardrobe is culled of less-than-fabulous items, it's time to get smart and create a capsule wardrobe that mixes and matches key pieces with each other."

Learn How to Create a Capsule Wardrobe to Simplify your Life
Get the basics right after 50
It's no good having a great collection of clothes if you don't wear them.
My mother in law said you must wear your best clothes everyday, not just on special occasions. But if you have any kind of light bladder leakage this can certainly put a damper on your decision about what to wear each day.
We all know that light bladder leakage can be a challenge for women, no matter what their age, although as we get older it can get worse. So it's important to feel confident all day in whatever clothes you choose to wear, and that means not only staying dry, but also not worrying about unsightly lumps and bumps emanating from the underwear department.
I believe that confidence goes hand in hand with style. Leak proof pants should very definitely be a part of your capsule wardrobe.
Find out more about the Best Washable Incontinence Underwear and where to buy the Best Leak Proof Pants.
Buy washable incontinence underwear here (it's sleek, sexy, reusable and better for the planet than pads!)
You might also like:
A Minimalist Wardrobe : Create Your Ultimate Capsule
How to Update Your Wardrobe (for a new stage of life)
How to Organize a Small Closet (If you have lots of clothes!)
Video How to Create a Caspsule Wardrobe
I hope you've enjoyed this capsule wardrobe plan, and look forward to hearing your thoughts and ideas too.
This post " Best Capsule Wardrobe Planner," contains affiliate links from which I stand to earn a small commission but at no expense to you. Any gifted items are marked with an *. Lifestyle Fifty Website is a participant in the Amazon Services LLC Associates Program, an affiliate advertising program designed to provide a means for sites to earn advertising fees by advertising and linking to Amazon.com. Please read my full disclosure here.
PIN THIS POST