Are you over 50 and looking to stay stylish? You won't believe the latest fashion trend taking centre stage! It's casual wear! Casual wear for women over 50 is a trend that's taking the fashion world by storm. Our grandmothers must be turning in their graves at the very thought of such a casual clothing movement!
With top brands vying for your attention and spending power, you'll want to check out the suggestions in today's blog post. We feature some of the trendiest, must-have pieces to help you create a chic and comfortable wardrobe!
As mature women over 50 we all have a wealth of life experiences and wisdom to share with the world.
But when it comes to fashion, sometimes many of us feel unsure about what to wear without looking either outdated or too young. Especially when it comes to casual wear.
For example, when it comes to casual clothing I used to choose sensible, baggy track suits, whereas my daughter would be in tiny crop tops and tight activewear!
The good news is that these days the lines have merged, fashion rules have relaxed, and what's good for your daughter is often probably great for you too. And now there are many online stores focussing just on casual everyday wear that is youthful without being overly young.
I've just discovered a fabulous new casual clothing line called XCVI which really illustrates that you can also wear garments your daughter might choose – without looking like mutton dressed up as lamb. And let's face it, who has hours to traipse around the shops deciding what is or isn't right these days?
There's a new kind of woman out there … She doesn't have time to shop anymore. She wants to know what and why and where and how.

Anna Wintour, Vogue
Lifestyle Fifty always aims to share with you the what and why, and where and how, of fashion over 50.
So today I'm featuring some 'get the look' ideas to show you how wearable, stylish, breathable and just downright easy to wear XCVI clothes are, as well as some other garments you can style them with.
XCVI say their brand equals 'fashion you can live in,' and I definitely agree with that.
Casual Wear : What & Why? Where and How?
In today's article, we'll explore some of the best ways to create a unique look with casual clothing that reflects your signature style.
We'll explore what actually makes a piece of clothing casual, as well as share some of the best tips for you to create a stylish look with some of the best casual wear on the market.
We'll show you how casual wear for women over 50 can be both comfortable and stylish.
Whether you're running errands, meeting friends, or off on vacation, there are plenty of options to choose from to suit your body type.
You don't have to fall back on tracksuit bottoms and old Tee's as we perhaps did in the past. These days casual and stylish go hand in hand.
Get ready to revamp your wardrobe with the latest and hottest trend in fashion!
Earn Points With XCVI On Every Purchase!
We'll also share some fashion tips and tricks to help you elevate your existing casual outfits from 'bleuh' to 'bang!'
Fashion enthusiasts believe that fashion is an art form and a reflection of one's personality, so if you want a new everyday look, and you want to wear trendy clothes, but the accent must be on comfortable, then keep reading.
What is The Best Casual Wear for Women Over 50 and Why?
Grab a cup of coffee, or a glass of wine, and let's get started to help you find your very best look in casual wear.
Understanding Casual Wear
Casual wear is the perfect blend of comfort and style.
It's the kind of clothing that you can wear every day, whether you're running errands, meeting friends, or just lounging around at home.
The best casual wear pieces are versatile, easy to wear, don't need ironing, and make you feel confident. Generally, they should also be breathable, which is a big plus for menopausal women.
Casual Garment Suggestions
Now that we've had a look at what casual wear actually is, let's have a squizz at the best options when it comes to separates.
Here are some pieces that I think should be a part of every woman's everyday wardrobe:
T-shirts: A classic t-shirt is a must-have. It's comfortable, versatile, and can be dressed up or down depending on the occasion. Teamed with jeans it presents a classic casual chic look.
Jeans: The perfect pair of jeans is a staple in every woman's closet. Denim jeans, black jeans, and blue jeans are versatile. They can be dressed up or down, and they are the ultimate symbol of comfort.
Sneakers: Sneakers are not just for the gym anymore. They've become a fashion statement, and the best part is they are incredibly comfortable. Pair them with jeans or a dress for a chic, modern, comfortable look.
Leggings and Ponte Pants: Leggings are the ultimate comfort wear. They are one of those fashion trends which have become very popular, and you either love them or hate them! They're perfect for lounging at home or running errands, and Ponte Pants can be dressed up for a great look when you're dressing up for a night out.
Sweaters: A cozy sweater is a must-have in every woman's closet. It's perfect for the colder months and can be dressed up or down.
Shorts. Shorts are a popular choice for casual wear during the warmer months. They come in various lengths, from short to knee-length, and in a variety of styles, from denim to cotton and from solid to patterned. Shorts are perfect for outdoor activities, such as picnics, beach trips, or walks in the park. Pair them with a simple t-shirt or tank top, and you have a comfortable and stylish outfit that'a perfect for any outdoor occasion whatever your age.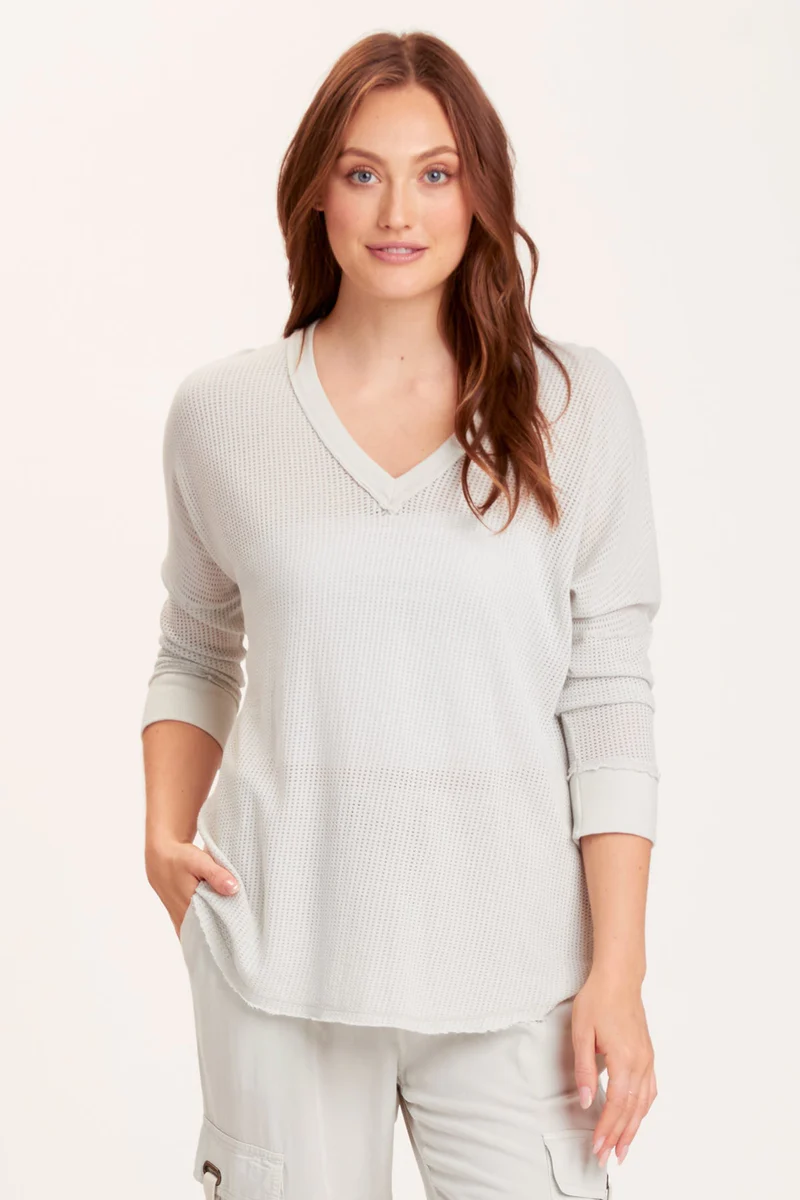 Maxi Dress: A maxi dress is the perfect summer casual wear. It's comfortable, stylish, and can be worn to a variety of events.
Denim Jacket: It's a good idea to invest in a good casual denim jacket because this will be something you'll keep for a long time. A denim jacket is a timeless piece that can also be dressed up or down. It's perfect for layering and can be worn in any season. Make sure you find one in a perfect fit because it will provide a touch of great style for years to come. It could be your best friend when it comes to styling up many items of your casual attire.
Casual Wear Fashion Tips and Tricks
Now we've looked at some of the best casual wear pieces let's delve into some easy-to-implemnent fashion tips and tricks to help you elevate your casual outfits from ho-hum to hero!
Accessorize: The best accessories can make or break any outfit. They add personality and can help you stand out. Some great accessories to consider are sun protective hats, wide brims or peaks. A colourful scarf or a hair tie are also great to wear with casual outfits.
Layer: Layering is a great way to add dimension and depth to a casual outfit. Try layering a sweater over a t-shirt, or a button down shirt over a vest, or a denim jacket over a dress.
Try and find clothes that don't crease – you'll wear them more! If they do crease then stick to linen which is breathable and a great material for casual wear. Just live with the creases!
Play with Color: Don't be afraid to play with color. It can be tempting to stick to neutrals, but adding a pop of color can take an outfit to the next level.
Invest in Quality Pieces: Investing in quality pieces will save you money in the long run. You'll have pieces that will last for years and won't need to be replaced as often.
Dress for Your Body Type: Knowing your body type and dressing accordingly will help you feel confident and comfortable in your clothes.
Sneakers are a must-have staple in the shoe department. So too are sandals you can walk in.
How To Dress for Your Body Type Wearing Casuals
Emphasise Your Figure with the Right Clothes
One of the most important aspects of choosing casual outfits is to find clothes that flatter your body type.
Now I know that the word 'flatter' makes some of you cringe, and that's ok. If you don't want to wear clothes to flatter, then do wear clothes you love, that emphasise your best body bits, and whatever they're shape or style or colour, make sure you step out with a confident swagger.
However, other women may feel more comfortable and confident wearing clothes that really do help accentuate their best body bits.
Claim your style and love the clothes you wear!
For example, if you have an apple-shaped body, you will most probably look great wearing straight-leg jeans and a flowy tunic top to balance out your upper and lower body. If you have a pear-shaped body, you might prefer to wear a pair of high-rise skinny jeans with a tucked in T that highlights your waist.
If you're unsure about your body shape, use a body type calculator to find out.
If you don't care what shape your body is, then be inventive! I like to wear a loose top and tuck one side in while leaving the other side out, see below.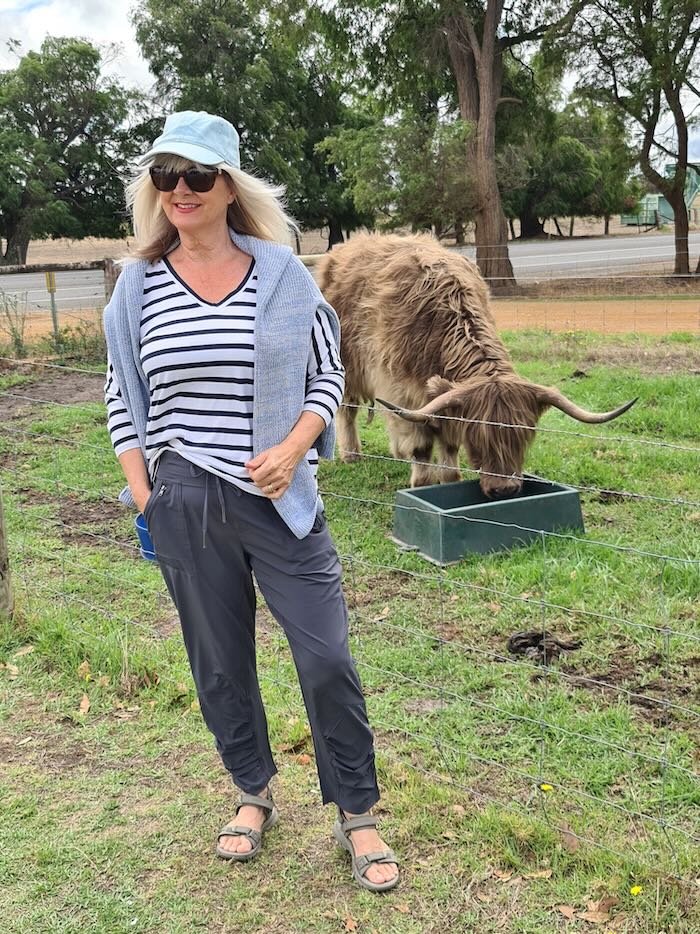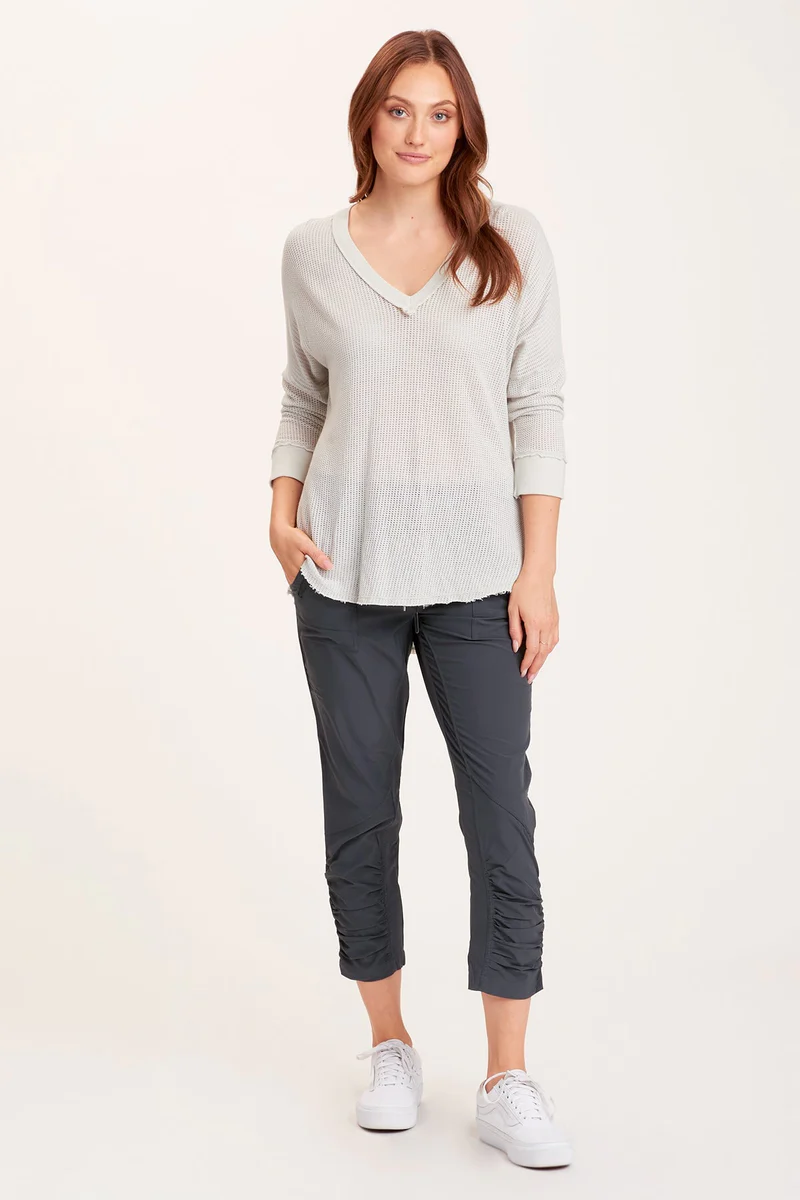 How to Emphasize Your Best Features
Another way to dress for your body type in casual clothing is to emphasize your best features.
For example, if you have toned arms, then definitely wear a casual sleeveless top. If you have long or toned legs, then shorts will look great on you.
If you have a defined waist, consider wearing a belt to highlight it.
If you want to wear whatever you like – then go for it! Below I'm wearing a slouchy sweater from Millers, Aksana leggings, comfy Merrils sandals and a hat I bought from I can't remember where. Out for a coffee in Albany and very happy with the overall look!
Now Choose The Colors That Suit You
Play with Different Colors and Prints
Casual wear for women over 50 doesn't have to be boring or monochromatic. You can play with different colors and prints to create a vibrant and youthful look.
For example, you could choose a bright-colored t-shirt and pair it with white capri pants for a classic casual look.
You can also mix and match animal prints, such as a leopard print scarf with a solid-colored dress.
If you're not sure which colors and prints complement your skin tone, then find a color chart or take a skin tone quiz.
Wear Solid Colors for Business Casual
If you're looking for casual wear for work or business meetings, you may want to stick to solid colors and classic pieces.
For example, you can wear a black blazer with a pair of jeans and a simple white blouse for a professional yet comfortable look.
You could also wear a skirt with a knit sweater and ballet flats for a chic and sophisticated style.
How to Mix and Match Casual Clothing
Create a Simple Outfit with a Signature Style
The best way to create a unique look with casual wear is to mix and match different pieces that reflect your personal style.
You might choose to wear a crop top with high-waisted jeans and stylish boots for a youthful and edgy look.
You can also wear not your daughter's jeans with a soft fabric t-shirt and a denim jacket for a modern, relaxed and comfortable style.
The key is to create a simple outfit that highlights your signature style.
Mix and match different T's with jeans and leggings, try wide leg pants with crop tops. How about a gypsy skirt worn with a cotton blouse and ankle boots, accessorised with a wide brimmed sunhat for sunprotection? Or try some plain coloured capri or bengaline cut-offs worn with a long-sleeved Tee.
Your Personal Style and A Signature Look
Every woman has her own personal style and a signature look, which makes her unique.
Your personal style should reflect who you are and what you feel comfortable in. When it comes to finding the right clothes for casual wear, it's good to know what suits you best.
Some women prefer a classic look, while others like to experiment with bright colors and animal prints. Some women might prefer a more Boho casual look.
You'll get to know your signature style when the clothes you have in your wardrobe all make you feel confident and stylish. If they don't then give them away or sell them, and fill your wardrobe with pieces which make you feel fab not drab.
How to Build Your Wardrobe with Casual Fashion Staples
Another way to mix and match casual clothing is to build your wardrobe with fashion staples that can be paired with different pieces.
For example, invest in a pair of fabulous fitting skinny jeans, a pair of high waisted jeans, and a pair of straight leg or mom jeans (if they suit your figure).
Buy an outstanding pair of palazzo or wide leg pants which will stand the course of many washes.
Invest in good quality T's that will stand the test of time.
Leggings, Treggings or Jeggings – purchase the best that money can buy so they will fit well and last several seasons.
Buy a blazer or a denim jacket that can be mix and matched with lots of other casual outfits in your wardrobe.
How to Find the Perfect Outfit for Your Body Type and Shape
The first step in finding the perfect casual outfit is to know your body type and shape. Whether you have an hourglass, pear, apple, or rectangle shape, there is a casual outfit that will flatter your body type.
Here are some tips on how to choose the best casual clothes for your body type:
Hourglass: Emphasize your curves with a wrap dress or a pencil skirt paired with a simple t-shirt.
Pear: Balance your hips with a long skirt and a knit sweater or a white blouse.
Apple: Draw attention to your waist with a pair of high-waisted jeans and a crop top.
Rectangle: Create curves with a fitted blazer and a pair of straight-leg jeans.
What is a Classic Casual Look?
If you're a fan of a classic look, you can't go wrong with a great pair of jeans and a white t-shirt. This simple outfit is a fashion staple that looks great on women of all ages. You can dress up this outfit with a black leather jacket or a tweed jacket and a pair of stylish boots.
A denim jacket is also a great building block for a classic look. You could pair it with different styles of jeans, from skinny to straight-leg, and different colors, from blue to black.
You can also make sure your summer dresses are tran-seasonal by adding a denim jacket and accessorising the outfit with a scarf for a super classic casual look.
Does Casual Wear Include Bright Colors and Animal Prints?
Yes! Casual wear is not all about greys, cobalt blues and black.
If you want to add some color and fun to your casual wear, bright colors and animal prints are the way to go.
Don't be afraid to experiment with different colors that complement your skin tone and hair color.
Animal prints are also a great way to make a casual outfit look standout.
FAQs about Casual Wear
Q: Can you wear sneakers with a dress?
A: Yes, sneakers can be worn with a dress for a comfortable and chic look.
Q: Are leggings considered casual wear?
A: Yes, leggings are considered casual wear and can be worn for a variety of occasions.
Q: How do I dress up a t-shirt?
A: You can dress up a t-shirt by pairing it with a blazer or statement scarf.
Q: Can I wear sandals as casual wear?
A: Yes, sandals are a popular choice for casual wear. They come in various styles, from flip-flops to walking sandals to gladiator sandals, and can be paired with all sorts of casual clothing from shorts, to dresses, or skirts.
Q: What kind of accessories should I wear with casual wear?
A: When it comes to accessories for casual wear, less is more. Simple jewelry, such as stud earrings or a delicate necklace, can add a touch of elegance to your outfit without overwhelming it. A stylish bag or tote is also a great accessory that can add a pop of color and style to your look.
Q: Can I wear dresses as casual wear?
A: Absolutely! Maxi dresses, long flowy skirts, shift dresses and T-shirt dresses as all great worn on casual occasions.
So, there you have it – a rundown of some of the best casual wear options for women over 50.
Looking stylish and feeling comfortable is not just for the young! Remember, age is just a number, and you can look and feel great no matter what your age is.
The most important thing is to wear what makes you feel comfortable and confident. Whether you prefer jeans and a t-shirt, leggings and a tunic, or a boho dress with a jacket, there are plenty of stylish and practical options available to you.
Dressing casually doesn't have to mean sacrificing style or confidence. So, get inspired and create a wardrobe that makes you feel your best at any age, everyday!
Pin this Post!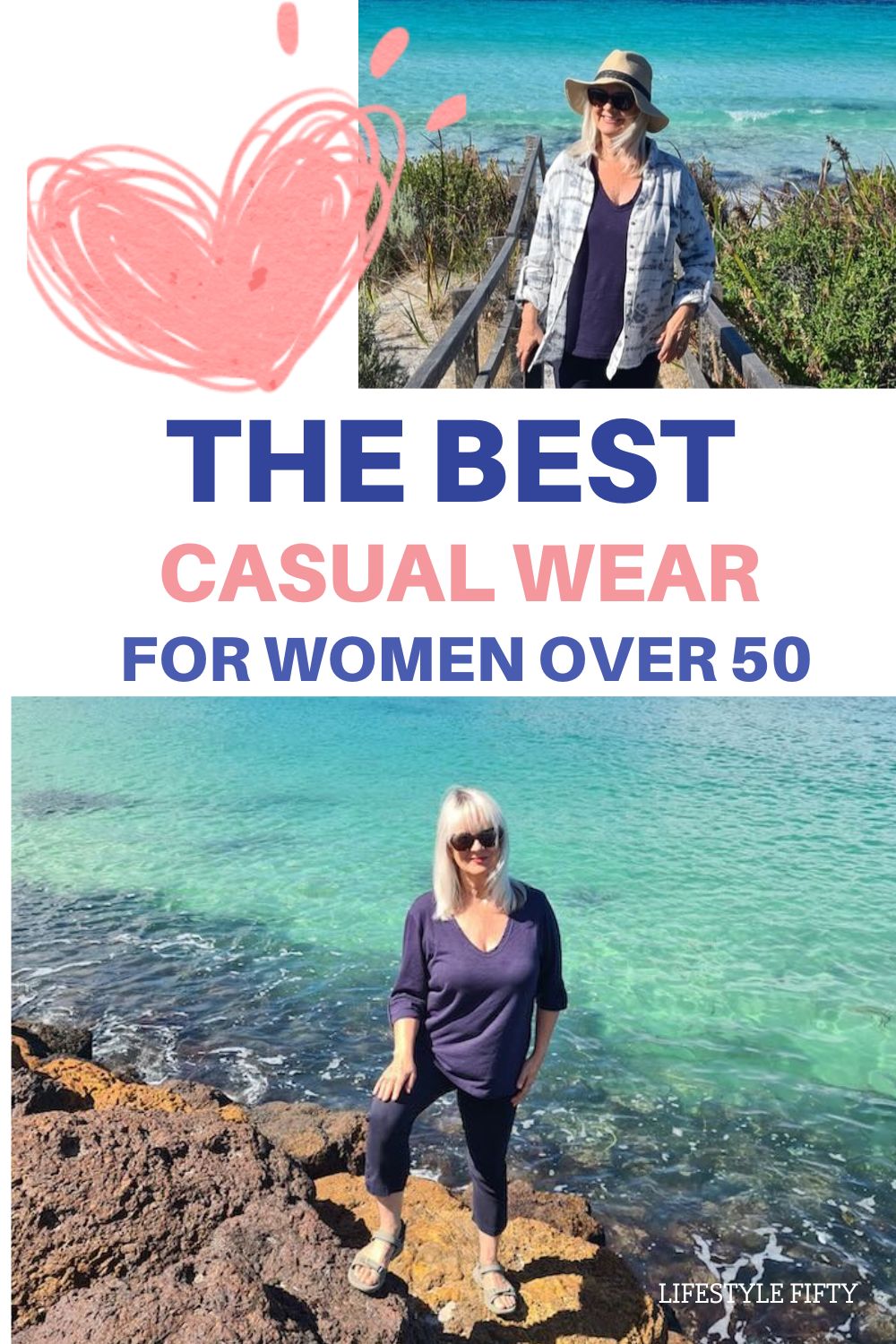 Related Posts You Might Like
9 Different Types of Dresses to Make You Look Amazing
Best Summer Dresses for Women Over 50
Resort Wear for Over 60 and How to Look a Million Bucks
How to Dress Younger than You Really Are!
Best Boho Dresses and Affordable Boho Clothes for Over 50
Disclaimer: This post "Best Casual Wear for Women Over 50" contains affiliate links from which I stand to earn a small commission but at no expense to you. Any gifted items are marked with an *. Lifestyle Fifty Website is a participant in the Amazon Services LLC Associates Program, an affiliate advertising program designed to provide a means for sites to earn advertising fees by advertising and linking to Amazon.com. Some images in this post have been sourced, with permission from XCVI website. Please read my full disclosure here.