I don't know about you but I'm a bit of a bag hag. I love handbags. I also love travelling and I'm always on the lookout for the best crossbody bags for travel. My downfall is that I swap bags frequently and all too often leave some vital piece of equipment in the bag I've just discarded for the new one. Like my driver's licence, or lipstick.
Personally, I've always got an eye out for the perfect crossbody bag for travel. The sort of bag which will go with anything, one that is safe, secure and stylish, and of course one that is perfectly practical in every way.
My Top Picks
First up Lifestylers, here are some of my picks for the best crossbody bags for travel on Amazon. They all fit the tips I'm sharing with you further on in this post – tips about how to choose the absolute best crossbody bags for travel wherever you may wander, so that you can find one that's just right for you. (Scroll on down to the tips section if you just can't wait.)
Baggallini travel bag collection
Personally I'm loving the Baggallini range online – compare some of the best designs for travel bags, large and small, at reasonable prices here : Best Baggallini Crossbody Bags for Travel
Stylish, Sturdy, Durable, Lightweight Organised
Founded by two flight attendants, Baggallini bags are designed to travel.
They feature well designed pockets and compartments to hold all of your essentials and they're made from super lightweight material which are also durable and water resistant. PLUS they feature RFID Blocking technology which helps protect your personal information on your credit cards and passports.
For the best prices on Baggallini travel bags, click Here:
My favourite Australian designed crossbody bags
My favourite Australian bag designer, Christin Svard, (Travel & Living Collection) designs the most gorgeous handbags for all occasions, and I have to say that my fave crossbody bag for travel of the moment is her very own 'Christin' bag.
Check out the Christin bag and prices Here.
The Christin is named after, Christin! And rightly so because it's stylish yet practical and flexible and fun – it goes without saying that it's been made with tender loving care and comes in many different colours. It's definitely one of the best crossbody bags for travel that I've found.
In the photo below I'm carrying the clay coloured Christin bag and wearing a faux sheepskin jerkin and snug woollen knit from Vivid International. (Use this link for a time limited discount on selected Vivid stock – Discount)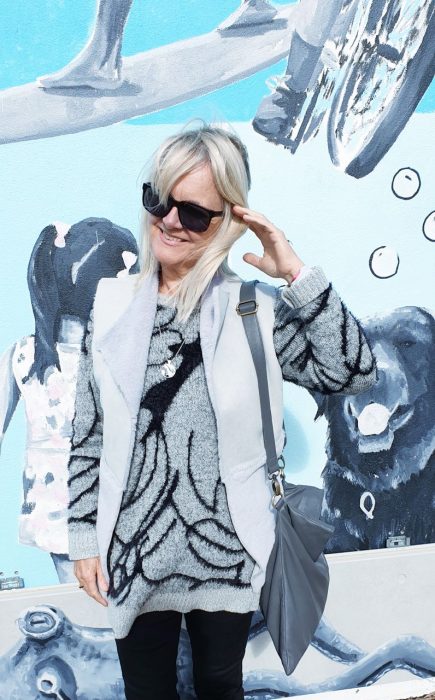 Christin has this to say about choosing a handbag …
Quality
"To me it's important that the bag is of great quality. It should be made from quality leather, and be lightweight to carry. I like bags with lots of pockets and strong zips which will stand the test of time – especially when you travel.
Backpacks
I've designed some practical backpacks for travel, ones which are still stylish to wear if you're city sightseeing for instance. The Cassie backpack and 360 Backpack for example, are stylish but lightweight so that you can fill them up with brochures, your camera, phone and cosmetic bag.
Versatility
A backback or a crossover bag should sit well on your body, since you will be spending a lot of time wearing it. I design my bags to be as versatile as possible so that they can be used during the day and also at night if you're travelling.
Two in one purpose
I like to design bags which have a two in one purpose. A crossover body travel purse or clutch bag for instance will have a long strap that you can use during the day, and then you can use the wrist strap for evening wear so that the bag looks more suitable for night-time."

Christin Svard
Finding the ultimate 'You' travel bag
Travel handbags are not dissimilar to clothes because you want them to be pretty and stylish and compliment you as a person, and yet they should also be easy to wear, practical as well as being a safe repository for your everyday valuables.
Boho crossbody bag
I'm loving the Boho style crossbody bag below, another of Christin's designs.
Super stylish crossbody bags online
Here are some of my picks for travel handbags online which range from sturdy and practical, to ones which are more dainty and stylish for evening wear.
10 Tips for choosing the ultimate crossbody bag for travel.
If you're choosing a large bag, then make sure it has a wide, comfortable, adjustable strap. You'll be thankful if it's sitting over your shoulder all day on a long day's sightseeing. Good quality bags will sit comfortably on your shoulder without digging in or falling off.
Pick a neutral colour that will go with several outfits. Nude, grey or black are safe bets.
On the other hand, pick a bright colour if you want to be bold and make a statement. You will get compliments with a pillar box red handbag!
Always choose quality leather or a super durable fabric. Save up if you have to. You want a handbag to last a few years, leather ages nicely but a strong synthetic bag could gain the upper hand in that it may be water resistant too.
Choose a bag that is safe to wear when you travel. Crossbody bags are ideal. They should be easy to open when you go through security checks at airports, or when you want to get your wallet out in a hurry perhaps at a train station, and yet ultimately they must be secure with secret compartments and strong zippers. If they have anti-theft components, then so much the better.
Subtlety is chic and will withstand the test of time. Don't go for garish logos.
Avoid elaborate details such as studs, chains, jewels or sequins because you are tempting fate – things will and do fall off or get caught on turnstiles at the most inappropriate moments.
Make sure the bag has a zipped compartment inside the bag which can be worn close to your body for the safe keeping of your valuables.
For the ultimate versatility when you travel, you might consider a small crossover body bag with an adjustable strap that can be worn across your body comfortably during the day, slung casually over your shoulder on occasions, and one which has a removal strap so that you can use it as a clutch bag for night-time shenanigans.
Think carefully about size. How long is your trip? Where are you going? Do you need a huge tote type bag for travel when a smaller more versatile handbag might do the job just as well and not be as heavy?
Pin this Post for Later
I love the handbags below for their anti-theft components. Safety is so important when you're on the road. You want a bag that is close to your body with a strong strap and one that has anti-theft compartments.
I really hope this post gives you some great ideas about the best crossbody bags for travel. Do check out Christin's collection at Travel & Living Collection if you're looking for true Australian designer bags.
Disclaimer: This post contains gifted products, and affiliate links from which I stand to earn a small commission (if you buy from them) at no cost to you. Lifestyle Fifty Website is a participant in the Amazon Services LLC Associates Program, an affiliate advertising program designed to provide a means for sites to earn advertising fees by advertising and linking to Amazon.com.