This post contains affiliate links.
With so many cruising options available it's hard to know which are the best cruise deals on offer, and which are the best cruise lines for your individual needs.
On top of that you then have to choose from last minute cruise deals, luxury cruises, repositioning cruises, singles cruises and family cruises or should you be choosing a river cruise?
There are so many cruise lines to choose from: Should you choose Princess Cruises, Carnival Cruise Lines, P & O, or Royal Caribbean for instance?
To help you decide which cruise is best for you, I asked 12 Top Travel Bloggers to honestly share their cruising stories.
Greek Island Cruise
I'm a landlubber at heart and long days spent at sea aren't really my thing so the two Greek island cruises I've done have suited me perfectly. For me, a cruise is the ideal way to island hop in Greece without the hassle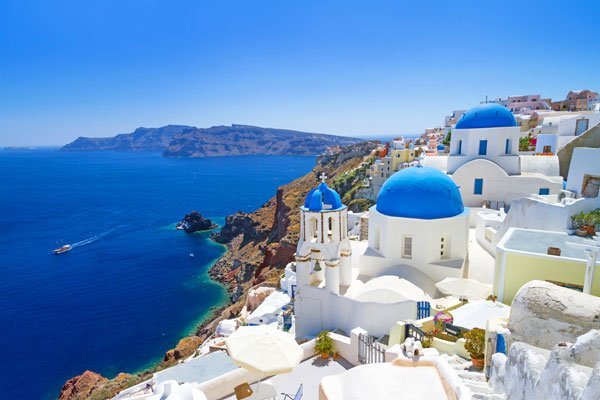 Cruising the calm Aegean waters at night, we'd wake each morning in a new port with a full day ahead to explore. After a hearty buffet breakfast, we'd head ashore to explore an exciting new island. Some days we'd take one of the shore excursions offered by the cruise line, other days we'd do our own thing.
After our day of sightseeing, we'd head back on board to the huge feast that awaited us for dinner and to enjoy the onboard entertainment. (Lunch was served each day, too, so if the mood took us, we were free to stay on board for lunch.)
The beauty of a Greek island cruise (apart from the sparkling blue waters that I never tire of seeing) is that almost everything is done for you – there's no need to fit your island hopping itinerary around ferry schedules, sumptuous meals are provided, there are plenty of onboard activities and entertainment when you are sailing and best of all – you only have to unpack once.
Carolyn Schonafinger caught the European travel bug at age 20 and has returned to the continent on a dozen occasions. She shares her passion for travelling in Europe at Holidays to Europe.
The Benefits of Multigenerational Cruising
My children sailed with their Great Grandmother four times while she was in her 90s. As a matter of fact, they were with her as we sailed out of Venice on her 96th birthday. How many kids get to say that?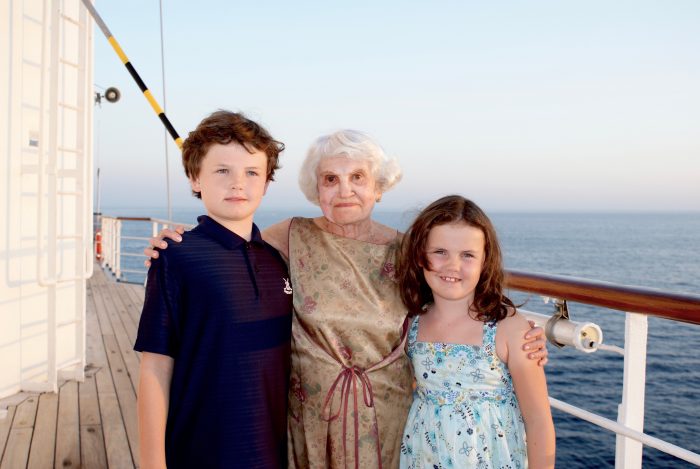 Taking a cruise is a great way to see a lot in a short amount of time. With family members that are young and old, it is advantageous to have your hotel room move with you. Cruising on a small ship, like Windstar, was always my Grandmother's favorite. It became our family's favorite as well. My kids never minded that there wasn't a kids' club or waterslide at the pool, rather they enjoyed spending time with their Great Grandma exploring the world. The memories they created during those trips with her will last them a lifetime.
Check out more of Dana's stories at Dana Freeman Travels
Cruising to the Galapagos Islands
We recently went on a luxury cruise to the Galapagos Islands in Ecuador and was one of our best travel experiences.
The Galapagos Islands are an archipelago of volcanic islands in the Pacific Ocean, around 1,000km (600 miles) from Ecuador's coast. The variety of unique wildlife here not only inspired Darwin back in 1835, it completely captivated us when we visited.
You can visit the Galapagos islands on a budget by flying to Puerto Ayuro and basing yourself there, taking day trips to nearby islands. However, the best way to see the islands, especially the more remote ones, is with a cruise.
Most island hopping cruises in the Galapagos focus on either the West islands or the East. The main difference between the two is the Western islands are younger and larger because they have witnessed volcanic eruptions more recently. As such they have a more volatile environment, but with stunning instagrammable landscapes. The Eastern Islands are older, so have had more time to develop vegetation, making them greener, attracting more wildlife.
Our favourite was Española Island, where we got to hang out with the sea lions and practice a few yoga moves with them.
Nomadic Boys are gay couple Stefan and Sebastien, travelling the world since they left their lives in London in 2014. They are currently travelling around South America and you can join them for more stories on their next luxury cruise to the Galapagos Islands
Spa Cruises
A spa themed cruise is an overlooked way to enjoy a cruise. I sailed the Western Mediterranean back in 2013 on the Costa Luminosa. In between aroma stone therapy, healthy fine dining, and naps in the Samsara Spa Suites we visited Palma de Mallorca, Ajaccio, Marseille, Savona, and finally back to Barcelona where it all began.
It's important to choose a theme to your cruise or all you may be left with is sunbathing on the deck reading a book and gaining extra pounds at the buffets. A spa themed cruise experience is how I chose to experience the Western Mediterranean with ultimate relaxation. My particular cruise experience was built around that idea with daily trips to the spa before exploring new cities around Europe. Returning to the ship in my private spa suite was always a treat. These kinds of cruises dedicated to wellness are not as common but they are out there if you look hard enough.
Check out more of Jason's stories at Aspiring Gentleman.
Russian River Cruise
Last year we had our first cruising experience, a Russian river cruise with Viking. Not only was it our first cruise, it was also our first time in Russia, and we loved the experience.
The cruise was 13 days long and took us from Moscow to St.Petersburg. We had four days in each city, with lots of included excursions to cover the main sights and a wide choice of extra trips, and time that we could spend exploring independently. The five days between the two main cities were spent sailing and enjoying cultural experiences on board, like cooking demonstrations, history and language lessons. This was especially useful and helped us understand Russia and its complexities a lot more.
We also explored some smaller Russian cities, where we could experience a completely different way of life compared to the big cities. While sailing, we could enjoy some great views and sights that can only be seen on a river cruise, like the picture of Mother Volga I enclosed. Food and service on board our ship were excellent, all in all it was a great experience!
Margherita is a cat lover and mountain junkie, and writes The Crowded Planet.
Before you book a cruise – do your research
My recommendation to anyone taking a cruise is to shop around and do some research about price.
My personal favorite website to research cruises is vacationstogo.com. You can choose you timeline, departure city, destination and other criteria and then see what is available. Make sure you check out shoulder seasons for a better price without sacrificing much on the weather. If you have a specific cruise in mind, sign up for their newsletter to get any promotions directly into your inbox.
When booking your cruises, look into what is included and what is not. Make sure you understand what gratuities are already paid so you know how much to tip while on board. Look into other available packages such as dinning and drink packages. You may save money going with a package.
When on board, keep an eye out for specials at the paid restaurants. When planning excursions, you can save money by going with a local provider, but make sure you do you research of the tour operators before you go. With a little research and preparation before hand you will be able to enjoy your cruise while saving some money.
The Mighty Panama Canal
Cruising through the Panama Canal on the Island Princess is an all-day once in a lifetime experience.
Embarking in Florida, our ship sailed south stopping in several ports along the way. When canal crossing day finally arrived, I was up early and out on one of the bow decks as we approached the first locks just before 6 am. Live commentary walked us through the locks, history, and highlighted points of interest like the prison holding Noriega.
The journey was fascinating, despite the long day. We sailed out of the last lock after 5 pm. It's a more expensive cruise as the canal crossing fees are high, but it's worth it.
Rhonda and Jeff are Albom Adventures, world travellers capturing the essences of travel through photography.
From the Med to the treasures of Asia
Cruising offers a relaxing way to sample different foods, cultures and landscapes whilst savouring snippets of each destination and expanding our perception of the world. When thinking back to our memorable cruises, it's hard to choose just one. I'm taken back to our magnificent Mediterranean cruise, a beautiful Rhine River cruise, the Treasures of Asia or a New Zealand cruise. Each cruise offered diversity at each port.
We revelled at the Spanish architecture in Barcelona, strolled along seaside towns of Côte d'Azur, and got snapshots of cities bursting with history. We had our senses teased whilst visiting the Christmas markets along the Rhine River and marvelled at the spectacular Milford Sound and geothermal wonderland in New Zealand.
Providing an intriguing blend of culture, religion and mouth-watering cuisine, we walked the narrow cobble stoned lanes of Rome. We've visited ancient ruins in Athens and rolling vineyards in Tuscany and we weaved our way through the jumble of white sugar cubed houses in Mykonos and iconic imperial treasures of the Istanbul.
We explored birthplaces of famous artists, philosophers and writers and tantalised our taste buds sampling Greek mezze, Spanish tapas and Swiss cheese, sipped on Turkish tea, Italian wines, Greek coffee and German Gluhwein. Visiting the impressive castles, cathedrals, mosques, temples, shrines and palaces, we were in awe of the mosaics, stained glass and at the genius of Gaudi. Sailing along the coastline's colourful hues of turquoise, sapphire and emerald, we've seen World Heritage sites, Gondolas on picturesque canals, had our senses bombarded at the Grand Bazaar, walked on marble pathways at Roman ruins and sailed under the iconic Sydney Harbour Bridge.
Cruising the deep blue waters has showcased everything from massive glaciers and deep fiords, to sunny beach resorts and traditional fishing villages and has rewarded us with many unforgettable experiences.
Lyn & Steve write A Hole in my Shoe, and every day they are one step closer to their next big adventure.
It's a Great Big Globe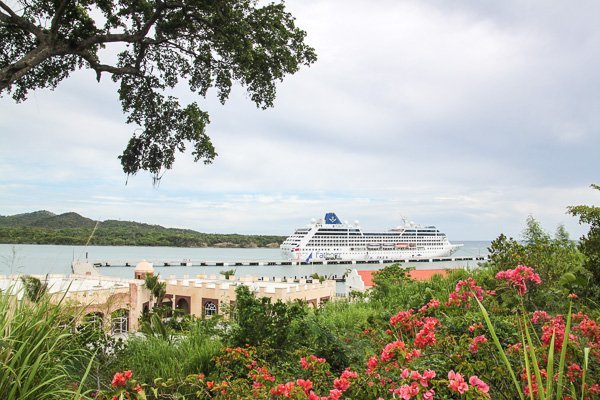 A cruise with Fathom Travel to the Dominican Republic is like no other cruise you've ever been on! While at sea, you will participate in workshops designed to get you ready for the impact activities you will be participating in once in the Dominican Republic. You will port in beautiful Puerto Plata where you'll remain for three nights.
While at port you have the opportunity to participate in impact activities aimed at creating systematic, sustainable and long-term change in Puerto Plata and the surrounding communities. The activities range from teaching English to reforestation projects to assisting with production at a local cacao cooperative. All the while immersing yourself in the local culture and personally getting to know the people you are helping. Of course, there is plenty of time to take in an excursion or simply relax and reflect on your experience. This family friendly cruise will leave you with lasting memories and possibly a new found love for impact based travel.
Alana helps fellow travelers get the best bang for their buck in the U.S. and abroad. Find out more on her blog the Great Big Globe.
Thoughts on Cruising
I was always of the opinion that cruising holidays were for the old and infirm and that I would be taking a cruise much later on in life, when I was old! Little did I know that I was in for the time of my life when I embarked on a cruise holiday from New Orleans to Central America and the Caribbean.
The thing that impressed me most about the cruise was that it offered as little or as much activity as you wanted and also sailed to some amazing destinations. Apart from the fact that it was like a huge 5 star, 'floating resort', it offered the best in dining experiences, great entertainment all day and night and a ship-load of organized activities.
It changed my pre-conceived ideas of what a cruise would be like and has now converted me into a cruise addict!
Kathy Marris has been blogging at 50 Shades of Age for the past 4 years and works part-time as a freelance writer, but her real passion is travelling and photographing brilliant destinations both within Australia and overseas and writing about it.
Family fun in the South Pacific
Between not having to cook, endless family-friendly activities and free kids clubs, cruising is such an easy holiday. Not having to fly for hours with young kids is a big plus too!
After cruising to Antarctica and in the Caribbean, our most recent cruise was in the South Pacific on Royal Caribbean's Voyager of the Seas. This ship is home to the DreamWorks Experience, which means parades, breakfast and meet and greets with characters from movies like Shrek and Madagascar. Perfect for young families!
We had a ball rock-climbing, ice skating and playing mini golf together. And then happily splitting up for the kids to play with new friends in the kids clubs, while hubster and I enjoyed a quiet drink at the pub.
Queuing for the most popular activities was the worst aspect. There was way more demand for the excitement of boogie boarding and ice skating than the available supply. Get there early!
Sydney-based travel blogger Kirralee Baker shares her love of fun family travel and stylish travel wardrobes on Escape With Kids.

Related Cruise Posts You Might Like

What to Wear on a Cruise – Insider Packing Hacks
The Best Advice About Cruise Clothes – 21 Insider Tips
Cartagena Cruise Port Colombia – What You Need to Know and How to Dress
Style Tips and Confessions of a Personal Shopper (and Cruise Addict)
Dining onboard Sea Princess World Cruise
Will Princess Cruises help you Come Back New?
Cruising Like a Boss – How to Save Money on Your Next Cruise
Leading Blogger Becomes Digital Nomad on World Cruise – Cruise Weekly
Repositioning Cruises
We have found a new way to travel between continents – repositioning cruises.
Cruise companies need to reposition their ships to start the new season e.g., Europe to the Caribbean.
Last September we traveled from Bilbao Spain to Colon in Panama with Pullmantur for 15 nights stopping off at Lisbon, St Maarten and Aruba along the way. For US$447.50, over 55+ fares, (gratuities extra) we enjoyed great meals, all drinks and entertainment. You can upgrade to Premium Alcohol brands if you want but we found you did not need to.
The breakfast and lunch buffet was extensive with great vegetarian options available. The dinner menu had been recently revamped by a Michelin Chef from Europe. Spanish sparkling, red and white wines were offered at dinner and were of good quality.
Pullmantur do not charge single supplements on their repositioning cruises, which is perfect for solo travelers.
Would we travel this way again? Of course, we are already planning adventures in 2018 and 2019.
Jane Dempster-Smith writes To Travel Too a lifestyle baby boomer travel blog written by baby boomers for baby boomers.
For more Travel Blogger's cruise stories check out the first post in this series:
9 Top Travel Bloggers talk cruising – The Good, The Bad and The Ugly
To check out some best cruise deals and more cruising options plug in some dates and ideas on Cruise Direct below …
I've loved cruising with Princess Cruises – find out what cruise deals they have on offer here …