Let me proclaim that Jeans are not just the uniform of young women. There are so many various styles available these days that choosing the best jeans for women over 50 should really be a breeze, but once you find a style you like, my advice is to stick with it.
Sure, we shouldn't be wearing our daughter's jeans, and why would we want to cramp the style of the younger generation anyway? I believe that women over 50 need to choose elegant jeans that suit our body shape, jeans that have timeless qualities, just like us.
And we don't need to go all comfy-womfy and always choose elasticated jeans, or baggy fit jeans – no no sisters, we're aiming for a little pazazz here! But if you like a little comfort, then try to choose stretch jeans.
Before we delve deeper into the sizing, silhouette and fitting, let us accept that jeans are a favourite street-style fashion for women over 50.
Jeans look elegant and chic when styled properly and are most certainly a trendy look for older women, as well as popular among mature celebrities and style icons.
What you need to know about jeans
Jeans are fabulous. They've been around for a long time (read about the history of jeans here). They're adaptable to style, easy to pack and probably the most low-maintenance piece of clothing in a woman's fashion arsenal.
How to Choose the Best Jeans for Women
The best jeans for women over 50 are not your daughter's low rise styles, and many women will not want to test looking like mutton dressed up as lamb in very skinny jean styles.
When you find that an insanely good pair of jeans that fits you perfectly, makes your waist appear smaller, tucks your tummy in, and lengthens the look of your legs – then you'll probably buy that brand for ever more.
However, to find the best jeans for women you need to look beyond just the size of your waist.
How to Choose the Best Fitting Jeans for women over 50
Let us help you decide what to consider when you want to buy the best jeans, particularly the best fitting jeans for women over 50. Our bodies have probably changed, menopause has seen to that, and what looked good on us a few years ago may not fit the bill anymore.
When choosing the best jeans for yourself there are several points to consider and different styles to think about.
High Waisted Jeans
High-rise jeans, or high waisted jeans, like those on the model below who's wearing Crazy4Jeans high-waisted-slimming-jeans. These gorgeous stretch jeans are probably going to work well, if you have an apple or pear shaped body. These are really flattering jeans for curvy women.
Great jeans for curvy women
I'm wearing the same stretch jeans as the model, but I've turned them up at the bottoms to wear with my black LAURA FRANKiE4 ankle boots. On top I'm wearing an Elly top in Navy from Vivid International – get 30% discount off the Elly top using the code LSFTAKE30 here.
High-rise styles have a way of subtly concealing your stomach area and making it flatter as they nip and tuck in the right areas. If they are a great brand they should also do wonders for your bum too. They really are super jeans for curvy women.
High rise jeans can look really flattering with a t-shirt and a blazer, but avoid tucking in your shirt with high rise waistlines unless you have a slim tummy area.
Mid Rise Jeans
If you're well-toned in the mid-riff section, you can probably pull off a mid-rise pair of jeans.
The waistband sits on the belly button. You can tuck shirts into mid rise jeans if you like, but make sure you give them a blouson effect over the waistband – and don't try to tuck them in too neatly or tightly or you run the risk of looking 'bulgy'.
Which jeans not to wear
Low Rise Jeans
We recommend you steer clear from low-rise cuts when you're over the age of 50, unless you're of super model proportions, and most of us are not!
You see, after the age of 50, a muffin top (blame the hormones) is likely to appear just around the waistline – as if by black magic – and it's hard to conceal this spare tyre with low rise jeans.
Skinny Jeans
Skinny jeans for women have a tight fit with a taperered leg and are skinny from hip to hemline. Generally they will have a low to mid-rise waistline and will best suit taller women with slim legs and small waists.
Skinny jeans are probably not the best idea at this point in life but if you do choose them, then go for a longer style tunic top to go with them.
Ripped or Faded Jeans
The best jeans for women over 50 probably should not include ripped jeans or faded styles aimed at the 20 something market. That just invokes the idea of 'mutton dressed up as lamb' to me.
Easy to carry off jeans
Boyfriend style jeans, mom jeans, straight cuts, and slim-fits are some of the style that are easy to carry off and are a little forgiving too. They allow you the comfort of being able to move around without worrying about being to low slung or too young, and they can look absolutely gorgeous and trendy.
Slim Fit Jeans
Slim fit jeans are more likely to have a mid-rise waistline. They are straight through the hips and slim on the thighs, with a narrow leg.
Slim-fits can work well because they can successfully make your legs appear slimmer than they actually are.
Regular Jeans
These jeans are workhorses. They will generally have a mid-rise waistline and the trouser leg falls straight from the knee to hem with a wider leg opening than both slim-fit jeans and skinny jeans.
Low Crotch Jeans
I'm not a fan of this style, but you might love them. They are worn low on the waist and have a drop-crotch, which gives them a baggy, saggy look.
Best Colours
We can't possibly talk about the best fitting jeans for women over 50 without bringing into consideration the colour.
As a simple rule of thumb, darker colours have a slimming effect, so I'd suggest you stick to black, navy or dark acid wash jeans.
White and pale blue jeans can work well with the right tops, and accessories, but they will generally have the effect of making you appear larger than you are.
Choosing The Perfect Size Jeans
When it comes to buying the best jeans for women, sizes are all that matter.
Tread carefully. Measure well.
There is no substitute for trying on jeans. You really need to look at them from different angles, make sure you can sit down in them without your blood flow stopping, but also making sure that they hug, nip and tuck in the right places.
If you're buying online, check that there is a good returns policy in place if you need to change them, and once you find a style that suits you online, my advice is to buy two pairs. One for high days and holidays and one for when you don't want to be so nipped and tucked.
I highly recommend you always keep two sizes of jeans in your closet – one for the size you actually are and one just a size above for days when you are feeling a little bloated or carrying a little extra holiday weight around.
There are days when snug jeans just aren't the brightest idea of all time, and that's when you get to use your one-size above jeans, and still look great but just feel a little more comfortable.
Jeans have become a year round staple to wear in summer and winter, so it just makes sense to make sure you have a couple of favourite pairs of great fitting jeans to pull out at a moment's notice.
What to wear with jeans when you're over 50
At Lifestyle Fifty we love asymmetrical bohemian tops, ethnic embroidered blouses, snowy white tees or crisp button-ups and blazers – the options to style jeans are unlimited.
You most certainly don't have to consider things as banal and trivial as your age to be able to flaunt the bad boys above, especially when you successfully find your right fit and style.
Crazy4Jeans
Crazy4Jeans offer great fitting jeans that hug your body in all the right places, like the ones I'm wearing above. They flatter you where you need it most by targeting your belly, bum and thighs.
They're also comfortable and stretchy.
Secretly you'll be thrilled with the way they offer you a better moulded and more toned looking bottom.
In the photos below I'm wearing gifted CYSM Daphne jeans in AU Size 12, USA 07. They are fabulous three quarter length, black skinny jeans. These stylish push-up jeans work wonders on your figure.
Over the jeans I'm wearing an Australian size 10, round necked, Vivid International Tammy Top in Monochrome. It's short sleeves fall to a flattering level and the plain underlay contrast falls slightly lower than the printed top layer which neatly hides tum and bum.
The Tammy Top is a best seller, and really is a nice loose cut top that covers the arms, has a great layering detail that shapes you nicely and the back panel seam detail adds a nice extra touch. Check out all the styles and get 30% discount online at Vivid International Here using the code LSFTAKE30.
I really like the turn-up style and cute detailing at the hemline of the CYSM Daphne jeans. It gives them a lovely touch of pazazz. You could wear them with ankle boots or strappy shoes.
I've styled them with FRANKiE4 SALLi tan leather ankle boots and some strappy wedge heels.
Below I'm wearing Crazy4Jeans super high waisted blue skinny slimming jeans  which I've turned up at the bottoms instead of wearing them full length.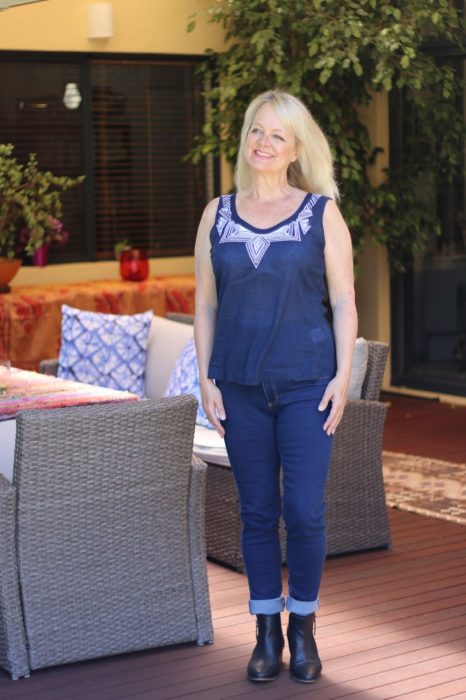 Exclusive Discount Code
For a nice 15% discount at Crazy4Jeans online, use the code JO15 at checkout : Click here to see all the styles.
Video : Find the Right Jeans for your Body Type
Win a Pair of Jeans
We have 2 pairs of fabulous jeans, from Crazy4Jeans to giveaway to 2 lucky Lifestyle Fifty Readers. (Choice will depend on stock available at the time.)
Competition Rules
Please read the General Entry Conditions
In the comments section beneath this post tell us in the most creative way why you'd like to win a pair of Crazy4Jeans jeans.
Competition Closes 6th February 2019 at 5pm Perth, Western Australia time.
Update 18th February 2019: Competition Closed. The winner has been notified by email.
About Crazy4Jeans
Crazy4Jeans aims to provide High End Denim Pieces with a twist, offering unique styles that fit perfectly and are comfy.
They're designed to be nicely decorated, cool, trendy and unique.
Each garment is made from shaping technology that integrates a bottom lifting effect, and offers abdomen control features to make women appear slimmer while ensuring optimum comfort levels.
Durable fabrics, high quality manufacturing and creative sewing techniques are combined to produce the latest fashion trends. Find out more about the technology, fit and styles here.
This post contains gifted merchandise, and affiliate links from which I stand to earn a small commission (if you buy from them) at no cost to you. Lifestyle Fifty Website is a participant in the Amazon Services LLC Associates Program, an affiliate advertising program designed to provide a means for sites to earn advertising fees by advertising and linking to Amazon.com. Thank you to everyone who supports my blog.