Who doesn't love a stylish bag? Especially a luxury crossbody bag with an adjustable shoulder strap! There are so many bags to choose from and different ways to wear them, but I think the best crossbody bag is the one which suits your lifestyle the best.
Read on and find out everything you ever wanted to know about the best luxury crossbody bags but were afraid to ask – and find the perfect handbag for YOU!
The Complete Guide to Choosing the Best Crossbody Bag For Your Lifestyle
Crossbody bags are the perfect solution if you're looking for a hands-free handbag. And as we get older, isn't it good to have your hands-free? Whether it's going through customs when you travel, or picking up the grandbabies!
This type of bag is an overall great choice for daytime, nighttime and travelling.
What exactly is a crossbody bag?
A crossbody bag is a type of bag that has a strap that goes over one shoulder and across your body, which means it can be worn on either the left or right side.
It's called a crossbody because it crosses your body instead of hanging from one shoulder like a standard clutch or purse would.
Crossbody bags are popular because they offer more freedom for your hands, and they provide quick and easy access when you want to quickly find items like credit cards.
Crossbody bags are also known as "hobo" or "shoulder" bags, but these terms can be used interchangeably with "crossbody" because they all refer to the same type of bag.
Perhaps you like the idea of boho chic fashion bags?
You may find you need several different kinds of bag: A practical crossbody bag for travel, a larger one for everyday, and a designer crossbody for smart events.
Of course the ideal crossbody bag for all occasions might be a small leather shoulder bag, that fits perfectly from shoulder to hip. The good news is that leather crossbody bags come in all shapes and sizes.
You'll find many functional crossbody bags online, in a variety of colors and sizes. Some will be on the smaller side just large enough to fit your cell phone, others will feature a large main compartment that can fit in much more for everyday use.
Some will have been tested as more suitable for the rigours of travel, and they might be made in lighter materials that are extremely durable. This type of bag would of course be suitable for packing to take on a cruise.
You might also like this post : Best Crossbody Bags for Travel and How to Choose One.
Handbag designer tells all
Want to find the best Luxury Crossbody Bags on a budget? It's not as hard as you think
One of my dear friends, Christin Svard, from Travel and Living Collection designs and sells luxury handbags in super soft leather. Christin travels frequently and is a mine of information when it comes to how bags are made and choosing a bag for your lifestyle.
Here's what Christin has to say
"I believe crossbody bags are one of the best types of all-round bags, especially for travel.
You can rest your hand or your elbow on the bag so no one can see or get inside your bag, and your hands are free to carry other things. You can also carry it in front of you so then you are able to see and access the inside of your bag easily."
"You can reach your phone, wallet, plane tickets, glasses and your lipstick without much digging around!"
"Crossbody bags can also be considered good not only for your posture but for your body health, because you are not putting extra weight on your arms or your back."
"With a crossbody bag the weight of the bag is distributed across your whole body. So even if you need to carry heavy things in your bag it will feel easier to carry. Plus it's much easier for you to find specific items you need because basically both your hands are free to dig around in the bag without it falling off your shoulder!"
"You can position a crossbody bag as needed. You might find it's more comfortable worn at the front, at your side or even across your back. It's up to you to find the best position. I really like this aspect about these bags, especially when I'm moving through a tight airplane aisle, or I'm in a crowded shop, or if I'm riding a bicycle."
"Overall I love wearing crossbody bags, and I like to position them where they sit well on my hip, as for me this makes everything easily accessible."
"I always make sure that I have good solid bag straps, generally in a wide size so that the bags sit really comfortably on my shoulder."
"I also like to have a zip pocket with a strong zip, that is easily accessible, preferably outside and on top of the bag."
"I think that crossbody bags are not just easy to carry, but they are also chic and stylish with classic designs."
"They really can be an awesome accessory as well as something practical. Plus you can feel comfortable, and know that your essential items are secure."
What to look for in a crossbody bag – Christin's 7 top tips
These are the things to consider if you're buying a crossbody handbag.
Look for a bag with a wide strap that does not dig into your shoulder.
Choose a bag that is lightweight.
Make sure it has sturdy clasps and zips.
Is it going to be practical?
Make sure it's a bag that's easy to get into.
Find a bag that sits comfortably on your shoulder and across your body.
Remember – a classic design will go with different outfits.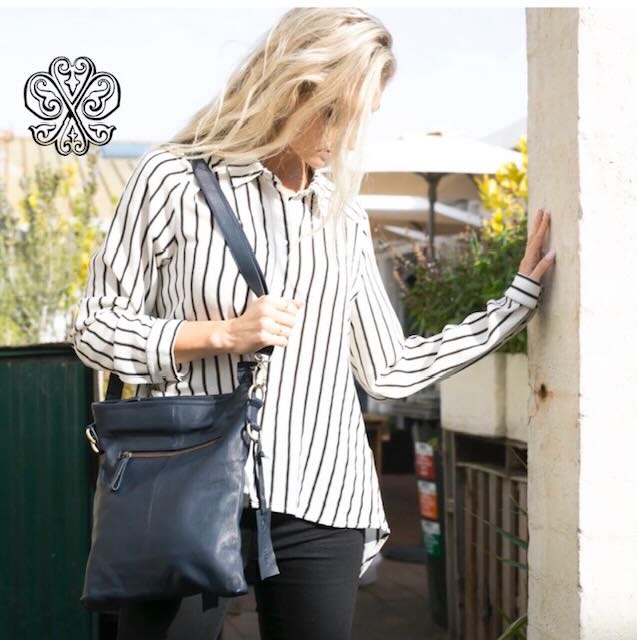 Are crossbody bags still in style?
Absolutely! And you'll find designers adding new styles all the time.
Best designer handbags – The big names
Dress designers have obviously jumped on the bandwaggon when it comes to handbags, and some of the very best designer crossbody bag brands include those made by top designer names such as:-
Louis Vuitton, Bottega Veneta, Alexander McQueen, Stella McCartney, Gucci, Karl Lagerfeld, Balmain, Marc Jacobs , Dolce and Gabbana and Saint Laurent.
If you want your bag to be identifiable by brand then look out for the designer bags which have identifying motifs such as celebrity logos, and fashion details like gold hardware, small keys or padlocks.
If you're looking for a less expensive luxury brand then check out the handbags produced by Michael Kors.
Best designer bags online
Here's a selection of some of what I think are possibly the best designer crossbody bags you can purchase online.
How to choose a crossbody bag
Crossbody bags come in all shapes and sizes.
They can be micro sized and just big enough to carry your best lipstick and a credit card. For high flying celebs and jet setters perhaps a small size bag is all you need!
For daytime wear the rest of us will need something a little more substantial, at least large enough to fit a mobile phone, small hairbrush, lipstick, credit card, drivers' license and other necessities.
If you're looking for a bag to wear everday then consider the clothes you wear. Does one colour or colours predmoninate in your wardrobe?
What is the colour of your current bag, and does it go with most of your everyday clothes?
For a special occasion you might choose an evening bag with magnetic closure, or one with a fancy chain strap, or perhaps you prefer a small clutch bag made in soft luxe leather (with a long leather strap) that's just big enough to fit a couple of small items.
A good option for daywear is to choose a larger bucket bag that fits in almost everything apart from the kitchen sink. This type of crossbody bag is the perfect choice for travel or just everyday wear.
Best luxury crossbody bag – Here's my go-to bag
My go to crossbody bag is from Travel and Living Collection and it's quite dainty. It's made from leather and it's not too heavy. It has a wide strap and is big enough to hold my mobile, a small brush, lipstick and credit cards.
Best designer crossbody bags for everyday use that don't cost a fortune
Here's a selection of fabulous bags that won't cost you an arm and a leg, but still look great.
How to choose the ideal size and style for your crossbody bag
A larger size crossbody bag is a great option for carrying your essentials during the day. You can use it as a handbag or as a purse. A smaller bag might be more practical if you're on your feet all day.
But with so many choices on the market, how do you know which size and style is best for you?
Do you need something large, like the bag below, which can also double up as a shoulder bag? Great for taking on a plane as hand luggage!
Or do you need something midsize, like the bag pictured below, that will suit a number of different occasions and not weigh you down?
Choosing the right handbag that suits your needs and personal style.
With the emergence of new designs and trends, it can be difficult to choose the right style of a handbag or purse that suits your needs.
The first step is to figure out what your personal style is. This will help you narrow down your options. You may be someone who prefers a more vintage look, or someone who likes to keep up with fashion trends and prefers something modern and chic.
Furthermore, you should consider what kind of occasion you are going to use the handbag for. If it's for work, you might want something more professional like a satchel or clutch. On the other hand, if you're going out at night clubbing, then maybe a simple cross-body bag would suffice.
There are several considerations to keep in mind when choosing the ideal size and style of your crossbody bag.
The length of the strap.
The shape of the bag.
The size of the bag.
The thickness of the crossbody strap
Does the bag have a detachable strap?
The colour of the bag.
The number of pockets
The length of the strap
When it comes to the length of the strap, think about where you want the bag to sit. Do you want it to sit high up on your waist so that you can clamp it with your elbow when you're travelling, for instance?
Or do you want it to be long and slouchy and sit at hip level for a stylish devil-may-care look? A fixed strap is fine if you know you only want to wear the bag one way, but an adjustable strap will give you much more adaptablility.
The shape of the bag
Crossbody bags come in all shapes and sizes. Crossbody designs might be wide, slouchy, boxy or rectangular.
If you are tall you can really wear any shape. But a large, boxy bag can swamp a shorter person.
For everyday wear I prefer a medium sized, slouchy rectangular bag with plenty of room to store all my bits and pieces, while for travelling I like a small square bag with a few compartments that can be zipped up and padlocked.
The size of the bag
If you're looking for the perfect designer crossbody bag you will most probably be looking at something in a timeless design that is reasonably small, although it might be quite a big purchase!
A mini moon bag is stylish, but not practical for daily use.
Hitting the sweet spot and finding the right sized bag that gives you quick access to everything you need in the daytime is something to consider carefully.
You don't want to be too weighed down but you do need a bag with a little bit more room than say a night-time clutch.
The thickness of the crossbody strap
For nightime wear you'll probably want to look stylish and classy, so a big bag is out.
Designer labels will most often feature a thin strap on their evening wear bags to look suitably classy and elegant.
However, for the daytime I suggest a thicker strap that sits snug and square on your shoulder to even out the load a little.
Does the bag have a detachable strap?
The best option for an all-round crossbody bag is one that has a detachable strap. You can whip the strap off for an evening event and use the bag as an elegant clutch, and then secure the strap again for daytime use.
Some bags like the one below might have straps more suitable for wearing over the shoulder as a shoulder bag, but very often they will also have a detachable strap that you can attach when you want to wear it across your body.
The color of the bag
When it comes to color, you only have to do a quick search on the internet to know that you'll be absolutely spoilt for choice.
If you're looking for something that you can wear with everything everyday, then I say you can never go wrong with a bag in a mid-tan colour.
Black is also effortlessly adaptable and will go with many different outfits, but if you are wanting to make a statement with your crossbody bag and use it as an accessory, then buy something in bright colors. How about pillarbox red, or canary yellow!
Let's face it, a cute crossbody bag is the perfect accessory for a woman with style.The choice is yours and you can have enormous fun choosing!
The number of pockets
Do you want a crossbody bag with several compartments?
Should it have a zipped main compartment, and a zipped pocket inside as well?
A smaller size bag might not offer the same amount of space but the fashion industry has come up with some clever design tricks to give you hidden pockets and other handy safety features.
The Do's and Don'ts of wearing a cross body bag
There are many different ways to wear a crossbody bag.
Tighten the strap to a short length and you can wear it high up at around chest height.
For a more classic style, lengthen the strap and wear the bag at around waist level.
For a devil-may-care-designer look then choose a bag on a really long strap and let it sit below your hip.
Do:

-Invest in a quality bag. A high quality bag will stand the test of time and be more durable.

-A designer cross-body bag can be a great investment piece and perfect for formal events.

-Keep the weight of your bag as light as possible.

-Make sure that your bag is the perfect size – big enough for all of your belongings, but not too big that it becomes an inconvenience to carry.

-Buy bags in different colors.
Don't:

-Choose a cheap and chearful crossbody bag if you're going to be using it everyday.

-Forego the chance to enhance your signature style with an ideal crossbody bag in a trending colour.
11 tips on how to wear a crossbody bag
Before deciding on your crossbody bag, there are a few important things to think about.
Will your bag be for everyday use?
What clothes will you wear with your crossbody bag?
Will you need it to match up with your most worn shoes, boots or everyday clothes?
Is the bag going to be practical for travelling, or just a beautiful accessory for events and parties?
Do you want real leather or faux leather?
Decide whether you would prefer the bag to sit at hip level or thigh level.
How big do you need your crossbody bag to be?
What will you want to carry in it?
Do you need a bag with credit card slots built into it?
Do you need a zippered interior pocket?
Do you need lots of compartments or just one?
The most popular crossbody bags are often either the most versatile, or just the prettiest!
What are the benefits of crossbody bags?
Life today is fast paced.
Owning a crossbody bag is one of the best ways to stay organized and keep your essential items safe and close to you at all times.
Wearing a crossbody bag is also a great way to look stylish and put together.
In the end it's all about choosing the right size and style for you. If you find the perfect bag that meets your needs, then you will be able to carry what you need without ever having to worry about your hands being full.
My Faves – The top 9 crossbody bags to buy In 2022
Best designer crossbody bags if you're feeling flush!
Want to know more about Travel and Living Collection's supersoft leather bags? I interviewed Christin in this post : Inspiring Women Entrepreneurs over 50. Check out Christin's styles on her website Here or phone her on : +61 450069250
Pin this Post
Disclaimer:This post "Best Luxury Crossbody Bags for Women with Style" contains affiliate links from which I stand to earn a small commission but at no expense to you. Any gifted items are marked with an *.  Lifestyle Fifty Website is a participant in the Amazon Services LLC Associates Program, an affiliate advertising program designed to provide a means for sites to earn advertising fees by advertising and linking to Amazon.com.  Please read my full disclosure here. Travel and Living Collection kindly allowed me to use some of their images to help illustrate this post.