You all know how much I love Ponte Pants and how versatile they are. Ponte Pants and Ponte Leggings are essentially the same thing. But Ponte assumes a thicker weave than ordinary leggings. Whether you want ponte pants for work, or ponte leggings for leisure, this post will help you decide which are best for you. The best ponte pants should feel as comfortable as a second skin and make you feel confident and attractive.
Wardrobes bursting with clothes, many of which never get worn are sad facts of the modern world. How many clothes do I need was a question posed and answered in an article on Lifestyle Fifty recently, but most women admitted to having too many clothes – and not enough occasions to wear them all.
What we need in today's world are at least some go-to clothes which can double up and be worn as loungewear, casual wear and then dressed up for best too.
While dressing down is the new dressing up according to Gok Wan it pays to find clothes that hug you like a second skin, so that you always look forward to wearing them.
Ponte pants fit this bill, and great fitting pontes teamed with a flattering blouse will make you feel and look great.
There are ponte pants, and there are ponte leggings which are slim legged, and can be threequarter length or full length. Then there are ponte trouser pants which have a slightly wider bottom at the ankle.
The word ponte just assumes a thicker weave or knit than say ordinary leggings that you might wear under a dress, for instance, because ultimately thinner weave leggings show more shape in the leg than ponte leggings.
Figure flatterers to wear with ponte pants include longer length T shirts, kaftan style blouses, and tunics.
Longer length blouses go with ponte pants like sugar and spice and all things nice! They should skim your hips and bum for best effect. So do keep your ponte pants close to your long length tops in the wardrobe.
If you're petite or leggy, pear shape or apple shape you can find a pair of ponte pants to suit you and find different ways to wear your ponte pants whether for going out on the town or staying in.
Popping out for a mid-week dinner at a restaurant? Then dress up your ponte leggings to look cool and classic.
Sharp tailoring on top might mean a longer length fitted blouse with collar, and sleeves that you can fashionably push up or clip up to elbow length. Add a statement necklace and you're set to go.
Daytime wear could mean smart casual. How about wearing your ponte pants with a white T that skims over your bottom, a statement scarf and a panama hat to complete the look.
If you buy black ponte leggings, and let's face it, black pants are incredibly versatile, then you can go wild with the colours you wear on top. How about jade or jewel colours, or black tops with silver or gold bedazzlements?
And as I'm always reminding you – it's not how expensive an item is but how many times a piece of clothing is worn.
If you buy something that costs $200, which is made well, fits well and is in a good fabric that washes well and you wear it 100 times before it looks tatty, then that's a great result $2 per wear!
Buy something for $20 that goes out of shape or doesn't wash well, and wear it twice – wow that was an expensive wear!
So before you shell out on clothes for your everyday wardrobe (I'm not talking fancy pants balls or big occasions) make sure that you are buying clothes that you can wear again and again and which fit a multitude of occasions.
Don't be fooled though. Ponte pants and ponte leggings are not a one size fits all. No ways! Pontes come in all sorts of styles and personalities, and it doesn't matter what shape you are you can pull of a pair of skinny ponte pants by getting the right balance with what you wear on top.
"If you wear a top with lots of fabric and movement, where the fabric fits under the bust and flows over your stomach and bottom, then it will even out your proportions and shape you up in no time."

Goq Wan
Here are my picks of the best ponte pants.
I have to say that Lifestyle Fifty readers buy NYDJ ponte pants time and time again, so I've listed quite a few different NYDJ styles to choose from, along with some other popular brands below.
Where to Buy the Best Ponte Leggings
Pin this Post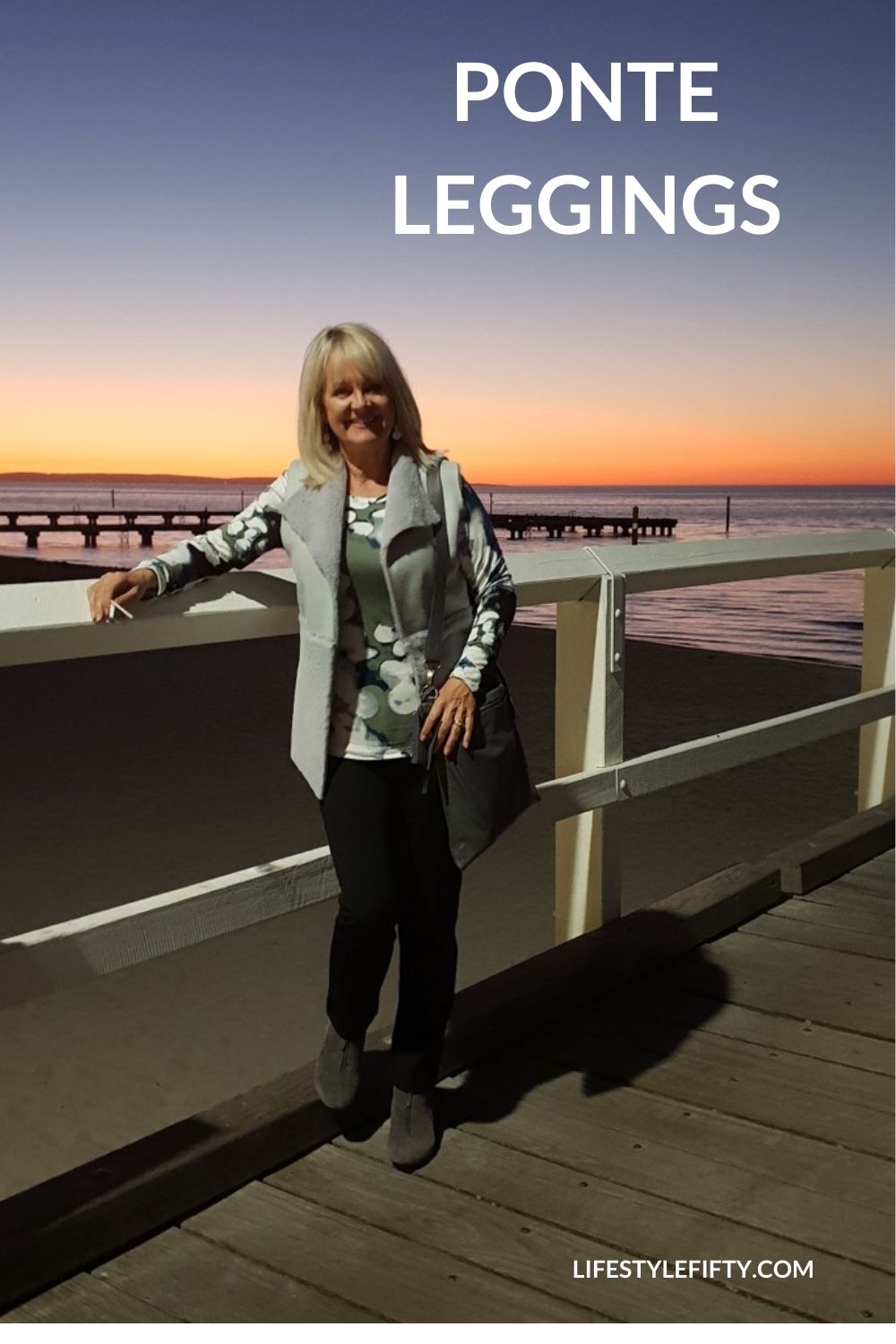 Disclaimer: There are affiliate links in this post "Best Ponte Leggings" from which I stand to earn a small commission but at no cost to you. If there are gifted items they are marked with an * asterisk. Lifestyle Fifty Website is a participant in the Amazon Services LLC Associates Program, an affiliate advertising program designed to provide a means for sites to earn advertising fees by advertising and linking to Amazon.com.