The Bubble Dress was a BEST seller at our recent Styling Collective event in Bunbury.
Below I'm wearing it in red, and styling it in three different ways.
The bubble dress is currently available online in a classy black, a gorgeous navy blue, and a seasonal hazelnut.
Buy it while it's still available, because with current interest it's likely to sell out.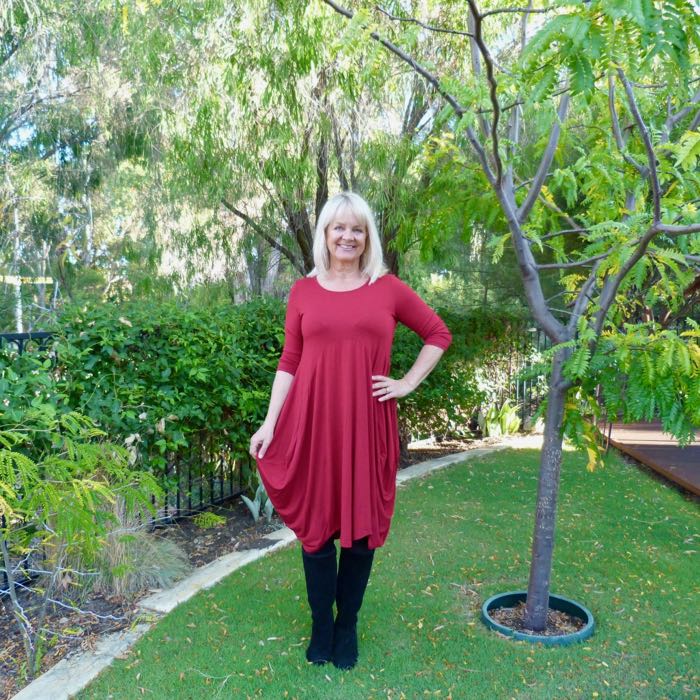 It's a dress which I think looks equally as good on young or mature women, and you definitely don't have to be a model to wear it.
Or you can wear it with tights and long boots. I'm also teaming it with a Lottie Loop Scarf available online in navy blue and black and white, below.
Wear the bubble dress with leggings and ankle boots.
Or wear it with nude court shoes. How lovely would it be if you had a pair of bright red shoes to go with it?
The Beautiful Bubble Dress
Scoop Neckline
3/4 Sleeve
Curved Drape Panel
Midi Length
35% Cotton 60% Polyester 5% Spandex
Soft Stetch Fabric
Perfect Staple all year Around Style
The Vivid Bubble Dress is a great staple item to have in your wardrobe. It can ben worn in the tran-seasonal months on its own or as it gets cooler layered over a pair of leggings with boots.
Accessorise with a scarf or dress up with a longline necklace.
This style is highly recommended and made from a quality cotton mix fabric that can be washed and worn over and over.
Where to Buy and Colours
Buy your Navy Bubble Dress Here
Buy your Black Bubble Dress Here
Buy your Hazelnut Bubble Dress Here
Buy your Red Bubble Dress Here – SOLD OUT
Use code JO15 at checkout until 31 March 2020 for 15% off.
Ships internationally.
Images to Pin
What is a Bubble Dress?
The bubble dress is known for it's very particular and well described style that features a voluminous skirt.
The hem of the skirt is full, but traditionally then gathers to create a 'Bubble' effect at the hemline.
The length of the dress would have been quite short when it was first designed, often above the knee, but these days the length is likely to be longer.
Once considered whimsical, this style dates back to the 1950's.
"The memorable silhouette was first popularized at the advent of post-World War II social conservatism and was comprised of a sheath dress made voluminous by layers of organza or tulle."

CRFashionBook