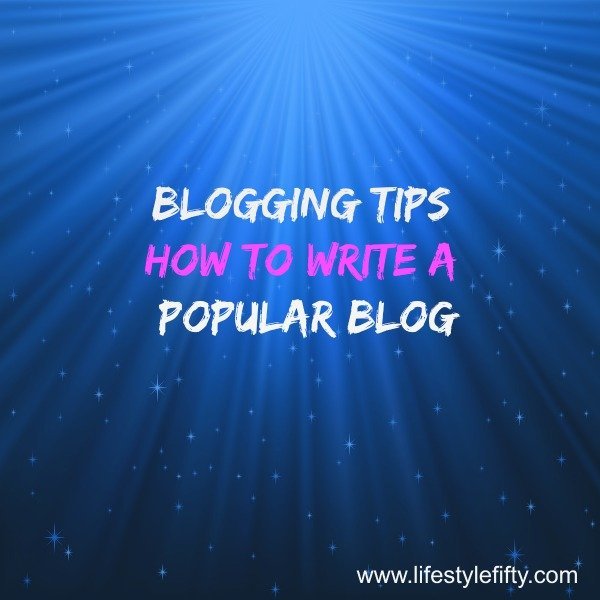 Why do you get excited about reading some blogs and turn away from others? Which newsletters have you signed up for because you can't bear the thought of missing out on a single blog post update? These are questions we should keep asking ourselves in the quest to write meaningful, engaging content on our own blogs.
Well it's bloggie Friday again here on Lifestyle Fifty. Gosh where has the week gone too? But I'm excited it's Friday because I'm bringing you some super helpful blogging tips from a really well known blogger from America.
Lifestylers if you're not interested in blogging why not check out another post instead … perhaps try your luck to win a $50 clothing voucher from Millers (I have two to give away, but time is running out). Why not pop over to this post and have a go? Stylish, inexpensive fashion and win a $50 clothing voucher
How to write a popular blog
At the crux of things I'm always being told by my mentors that writing a popular blog is all about being interesting, being 'chatworthy', and creating a community keen to engage with you.
It has to do with piquing readers' interest, grabbing their  attention and then maintaining it by entertaining or educating them about something they didn't know about or something they were searching for.
So what sets a great blog apart from a mediocre one?
I met one of my favourite travel bloggers Geraldine DeRuiter who writes The Everywhereist at a Problogger event in Queensland last year.
What I love about her blog is that it is subtly informative, often humorous and quite irreverent, and under the umbrella of 'travel' covers all sorts of things including topics such as history and art. Her blog has none of the bland diary type 'we did that and then we did that' entries you might find in some Travel Blogs, nor does it contain dry fact driven posts about different destinations. No. It's unique, engaging and she has a great 'voice'.
When I think about the tribe of Mummy Bloggers several stand out while others fade into nappy valley. At my age I'm not really interested in fact driven posts about baby problems, cracked nipples or how soon after birth you can have sex – but on the other hand I am much more interested (even in aged retrospect) if the blogger takes me on a ride, gives an honest opinion and makes me laugh.
There's Veggie Mama – she writes as she speaks (some cool urban talk too) and is always entertaining and informative. There's Style and Shenanigans who writes honestly about style on the homefront and always comes up with interesting suggestions and products. And don't get me started on Woogsworld – how can you not be sucked into Mrs Woogs personal world where you'll find yourself laughing, sympathising and raising your hand to stand up for a good cause all at the same time?
In a presentation at  the Problogger Event Geraldine DeRuiter said a great blog is based on love.
"It's all about love. People don't love Wikipedia, but they do love certain blogs. Why? Because people like stuff with an opinion."
Blogging Tips
And the best bloggers convey their opinion with integrity and honesty and show passion for their topic or niche.
Geraldine suggests,and so too does Chris Guillebeau in The $100 Startup: Reinvent the Way You Make a Living, Do What You Love, and Create a New Future
, that we should find the overlap between what we love and what other people want to read, and therein lies the sweet spot.
Geraldine said that her first helpful posts with lots of tips didn't work so well. She didn't care for them and they were not enjoyable, so she wrote a story about her and Rand going on a trip and it was received much better by her readers.
I suspect her post was full of interesting facts, humour, self depracation and insight, and was generally heartwarming too.
Tip: "Create evergreen content about what's happening in your life right now." Geraldine had bug bits on her ankle and wrote about bug bite relief tips – which became one of her most popular posts.
How to write compelling blog posts
Geraldine put forward a really helpful list for creating a compelling blog some of which I've listed below.
Give your audience someone they can connect to. Build a great About Page. She has a bad photo, "Because it sets expectations low!"
Have an opinion. Readers want to know what the person on the About Page feels about things. People will like or dislike you – that's cool, they don't really know you."
Include photos of yourself and others in your posts because you start to create a persona and characters, so we start to see a story emerging and we want to follow along.
Give people a story to follow. Connect them to your story and how you see the world.
It's hard to be relatable, but one of the ways to do it is to let your guard down. Being imperfect is something people respond to. Our mistakes make amazing stories. "I've made a terrible purchase and I thought it was such a good one."
Talk like you would to your friends. Share stories about yourself. Be transparent. Be Yourself. Don't tell people you're like them if you're not. Be real.
Be the thing you've been waiting for.
"If you search for something online and can't find it – then write about it." Geraldine had to undergo brain surgery so she wrote about the experience. "Even the 'not related to travel audience' became people who read my site because they were interested in my story, as well as people who were searching for information about brain surgery recovery."
Some of my own Favourite Blogs and why I like them
yTravelBlog – upbeat, inspiring, top photos
Not a Ballerina – gentle, philosophical, interesting
Styling You – tantalizing, easy to follow tips, informative
A Taste of Travel – classy, informative, stylish photos
Get in the Hot Spot – motivating, friendly, well written
Redcliffe Style – humorous, self deprecating, tip driven
Middle Age Mumma – me to you, down to earth, relatable
The Fashionable Mum – great voice, local style tips, actionable advice
Mystery Case – lively, supportive, engaging
Exercise
Write down three words or short phrases which you think describe your blog.
Ask 5 people to describe what they like and don't like about your own blog. Does this make you want to change anything?
Comment
Who is your favourite blogger? Write down three words or short phrases which explain why you enjoy their blog posts so much and tell us in the comments section so that we can all share them. (I'll email everyone who comments, and tell them 3 things I love about their own blogs, and (if requested) 3 things I think they might improve on.)