Cocktail Dress Code:
As a rule cocktail dresses are generally knee length, or midi
Choose something a little bit sparkly, or exciting in some way
Team it with pretty evening shoes
If you choose sandals, make sure they are a little 'bling'
Accessories for cocktail wear can also be sparkly
Don't wear jeans
But you could wear smart evening pants
Don't carry a large bag
Do carry a dainty shoulder bag or a clutch bag
Don't wear a floor sweeping ball gown
If you love blue, and you're after a blue cocktail dress, then you're going to love this cobalt blue cocktail dress* by Yesdadress.
It comes with a cute lacey bolero jacket, and sparkly sequins. It's lined and it's lovely.
I wore this knee length cocktail dress to the Rotary Christmas Party at The Prince of Wales Hotel in Bunbury recently, teaming it with some sparkly paste jewellery and silver shoes.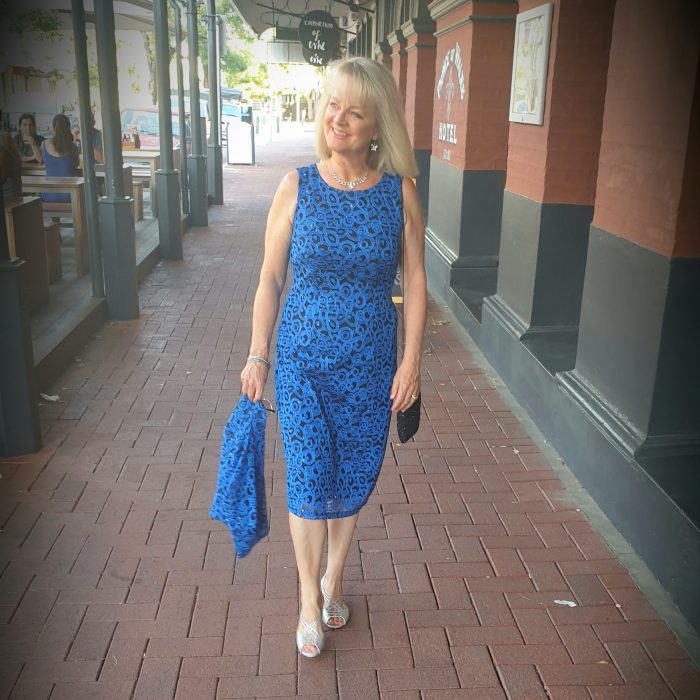 I could have added a sparkly silver clutch but decided it was a bit too much and went instead for a small black shoulder bag. In hindsight, next time, I think I'd opt for silver.
A cocktail dress to take you everywhere
Below, Dave snapped a photo in front of some of Bunbury's amazing street art.
We're so lucky to have so many interesting murals in the CBD, and you can find them in out of the way alleyways, and forgotten backstreets, which always adds a nice surprise for a trip into town.
I also wore this outfit to a more casual autumnal event last season when I popped on the bolero jacket and teamed it with navy court shoes.
What is the definition of a cocktail dress? Check out more about the etiquette and history of cocktail dresses Here.
If you like this dress, why not check out the Yesadress styles currently available at Vivid International. They are always changing by the season, and are mid priced, and Vivid ships worldwide.
If you're in America, and shop on Amazon, have a look at this lovely royal blue cocktail dress. It's in a really flattering style to suit most figures. I love it and it's by one of my favourite American designers, Joseph Ribkoff, who designs fabulous clothes for travel and for party events for women of a certain age.
Here it is: Joseph Ribkoff – cocktail jersey dress with bolero right now it's at a very good price.
Have you heard of Joseph Ribkoff?
I hadn't before I went on the World Cruise – when his designs featured heavily in the ship's boutique.
Since 1957 Joseph Ribkoff has been designing women's clothing which reflects an in-depth understanding of fashion trends and consumer preferences.
Every occasion is considered in the Canadian designer's collections, and generally garments are non iron, which is always a plus as far as I'm concerned.
Joseph Ribkoff dresses and separates will make you feel amazing and look beautiful for resort, cruise, office, formal and evening wear.
They are made in Canada and well known internationally, so don't be surprised if someone stops you and asks: "Is that a Ribkoff!"
And the dress I've selected for you below is drop dead gorgeous … grab it while it's still available on Amazon.
You might like this post too Christmas Dresses
Pinnable Image
This post contains affiliate links from which I stand to earn a small commission but at no expense to you. Some garments and shoes in this post were gifted, and are marked with an *. Lifestyle Fifty Website is a participant in the Amazon Services LLC Associates Program, an affiliate advertising program designed to provide a means for sites to earn advertising fees by advertising and linking to Amazon.com. Please read my full disclosure here.