Welcome aboard to a world where fashion meets artistic expression, where carefree style effortlessly blends with bold colors and eclectic patterns! Boho chic outfits are the ultimate in bohemian elegance, and in today's blog post I'll be talking all things boho chic style.
I'm sharing 7 different boho looks with you to inspire your own gypsy spirit, as well as linking to where you can buy the clothes and footwear I'm wearing.
Plus you'll find a complete guide helping you put a boho look together, and tips for what makes a successful boho outfit. Have fun bohemian girl!
Unveiling Boho Chic Style
Embrace the artistic vibe! Don't be shy!
Boho chic outfits have been a focus of the fashion world for many years, drawing inspiration from hippie style, and the sense of free-spiritedness that identifies a bohemian lifestyle.
But what is the essence of boho style, and what are the key pieces that define the boho chic look?
Read on, and find a treasure trove of fashion inspiration.
Get ready to infuse your wardrobe with natural fabrics, flowy garments, and statement accessories as we embark on a bohemian fashion adventure to unveil the boho babe in you.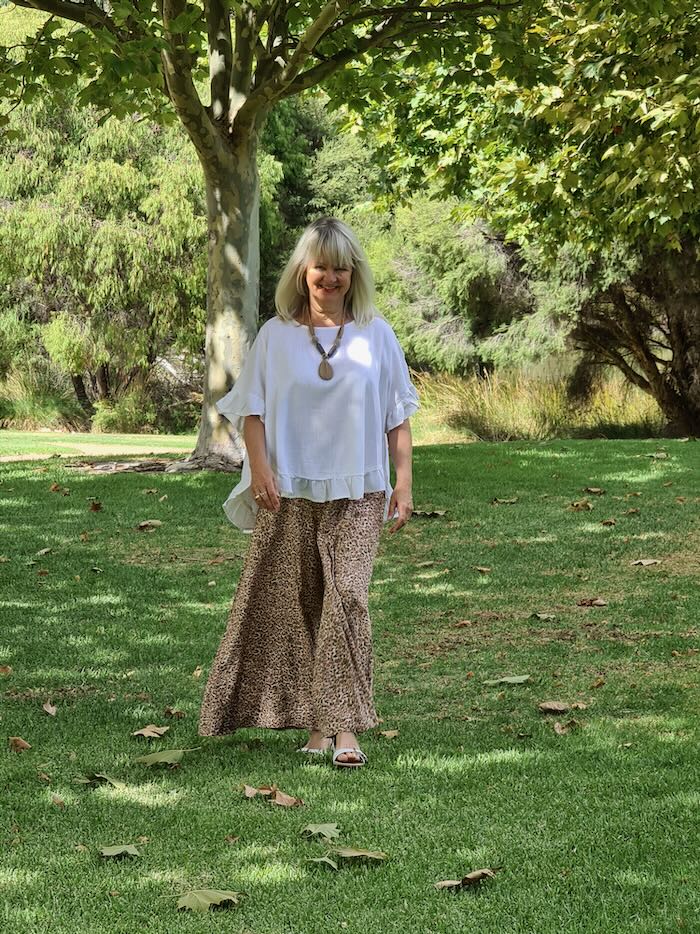 The Essence of Boho Chic Style
Boho chic style is all about embracing a laid-back, carefree aesthetic while exuding effortless elegance.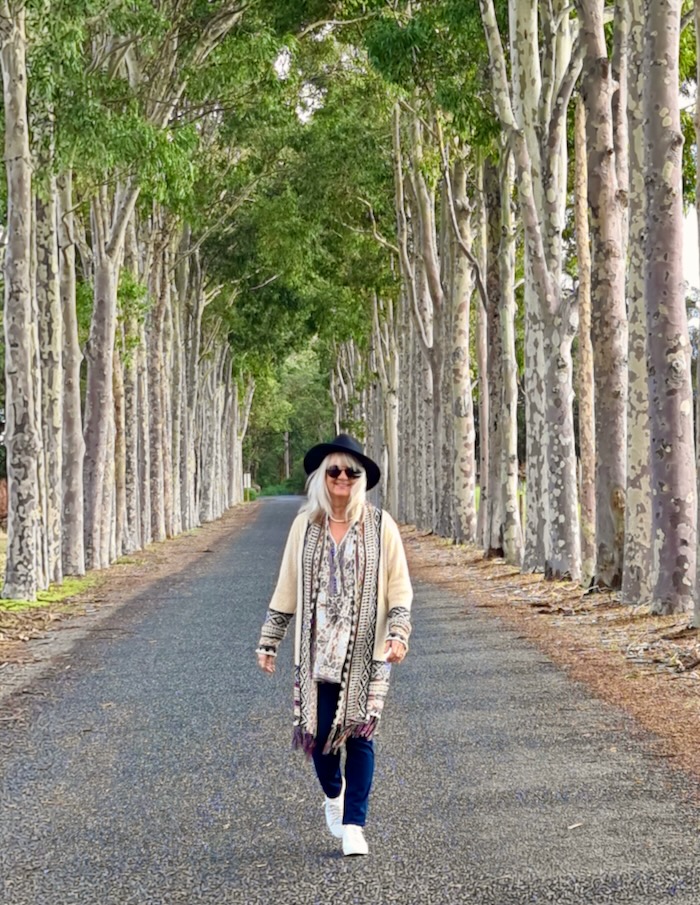 Drawing inspiration from fashion icons like Sienna Miller and Kate Moss, this style celebrates the unconventional and eclectic.
A boho look is a combination of bohemian and chic elements that create a unique look that's both fashionable and individualistic.
Whether you're dressing up for a music festival or simply want to add a touch of bohemian flair to your everyday outfits, boho chic style is a great way to dress.
Flowy Fabrics and Floral Prints
When it comes to boho chic outfits, and bohemian outfits, flowy fabrics and floral prints are key players.
Maxi dresses and skirts in vibrant floral patterns are quintessential boho fashion pieces.
They effortlessly capture the essence of the bohemian lifestyle with their free-flowing silhouettes and natural materials.
Opt for maxi skirts paired with peasant blouses or crop tops for a chic and breezy look.
Don't be afraid to mix and match different patterns to add an extra layer of bohemian charm to your ensemble, and do embrace a floral print or two.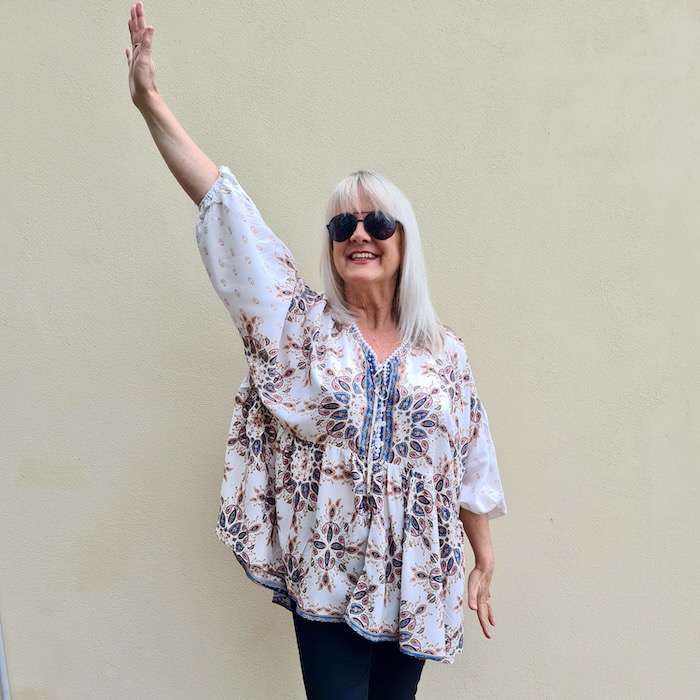 Embracing Natural Fabrics and Earthy Tones
To truly embody the boho chic style, it's important to prioritize natural fabrics and earthy tones in your wardrobe.
A good starting point is to look for clothing made from natural fibers like cotton, linen, and silk. These materials not only feel great against your skin but also enhance the overall bohemian vibe.
Earthy tones such as browns, tans, and olive greens create a harmonious palette that resonates with nature and complements the boho aesthetic.
Mix and match these colors to create stunning outfits that evoke a sense of bohemian charm.
Statement Accessories and Footwear
No boho chic outfit is complete without the perfect accessories and footwear. When it comes to jewelry, think big, bold, and unique.
Statement pieces like oversized sunglasses, chunky rings, and layered necklaces can instantly elevate your ensemble.
Complete your look with wide-brimmed hats, floppy hats, or headscarves for that added touch of bohemian flair.
As for footwear, ankle boots, gladiator sandals, and even cowboy boots make great options to pair with boho outfits. These shoes add a touch of ruggedness and bohemian charm to your overall look.
Building Your Boho Chic Wardrobe
Building a boho chic wardrobe is a fun and creative process. Start with key pieces that will serve as the foundation for your bohemian style.
You might like to begin with black and white, which is always so versatile.
Add a wide brimmed hat and aviator sunnies, and you're set to go!
Must-Have Boho Chic Pieces
Here are some ideas to help build your boho collection.
Flowy Skirts and Maxi Dresses
These are the epitome of boho chic fashion.
Opt for skirts and dresses in colorful prints and lightweight fabrics to express your own unique fashion style.
The perfect boho dresses can be found at online stores like Salty Crush and Adrift.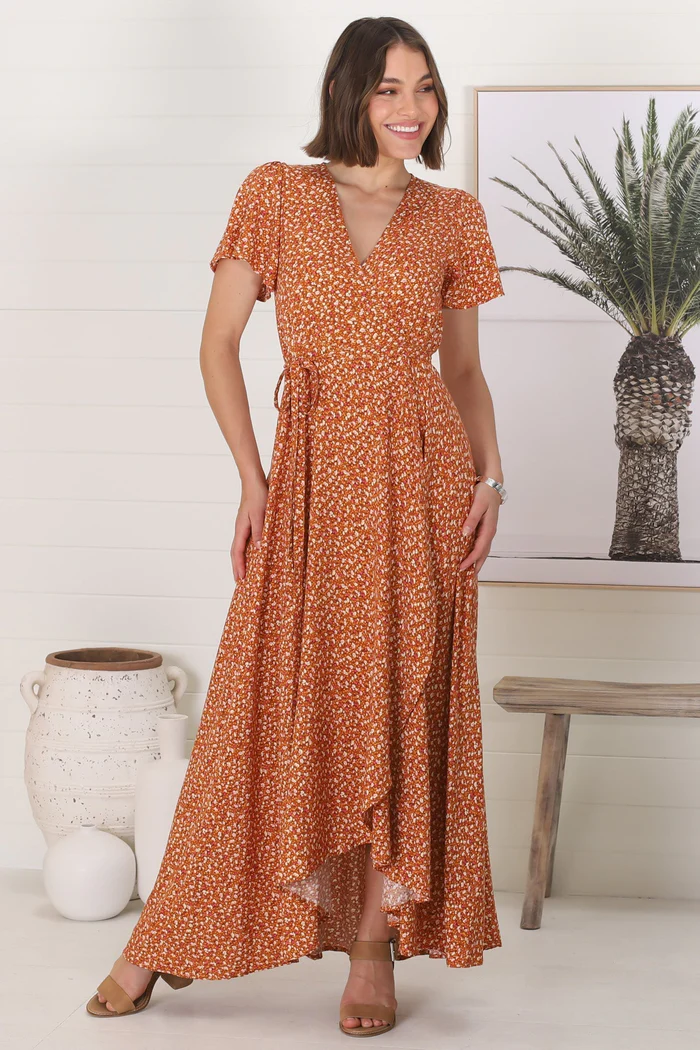 Peasant Blouses and Crop Tops
Channel your inner free spirit with breezy blouses and cropped tops that feature unique patterns and natural colors.
The floaty, feminine Chloe Gemstone top below looks great with blue or black jeans.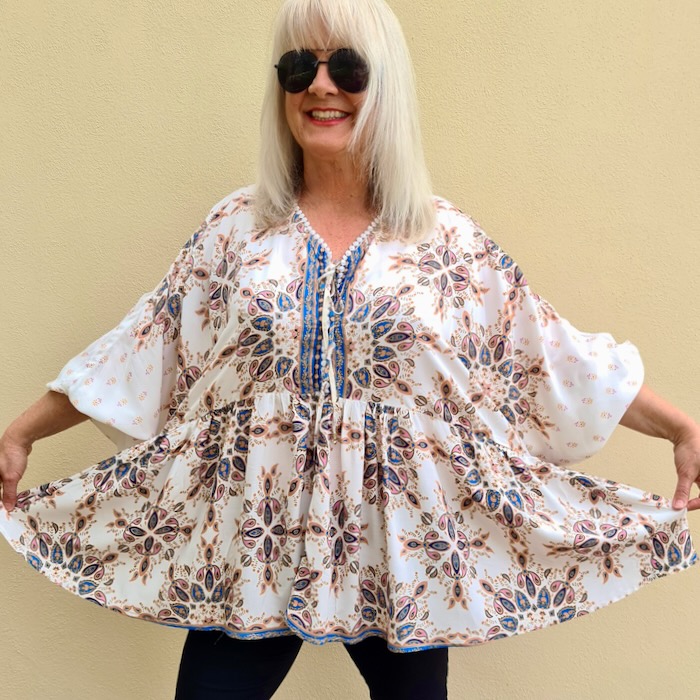 Denim Jacket
A denim jacket is a versatile piece that adds an extra layer of boho chic to any outfit. Pair it with flowy dresses or skirts for a perfect boho vibe.
Fashion Jewelry
Don't shy away from bold and eye-catching jewelry pieces.
Layer necklaces, stack bracelets, and embrace the power of statement earrings to enhance your bohemian look.
Wide-Brimmed Hats
Complete your boho chic ensemble with a wide-brimmed hat. It adds a touch of mystery and elegance to your overall outfit, especially on sunny days.
Ankle Boots and Gladiator Sandals
These footwear options are perfect for adding a touch of bohemian charm to your outfits.
Whether you're rocking ankle boots with denim shorts or pairing gladiator sandals with flowy skirts, they effortlessly complement your boho style.
Embracing Current Trends in Boho Chic
While boho chic style has a timeless appeal, it's also influenced by current fashion trends. Incorporate these trends into your bohemian wardrobe to keep your style fresh and current.
Bold Colors and Bright Colors
Experiment with vibrant and bold colors in your boho outfits.
Think rich reds, deep purples, and electric blues.
Mix and match different color palettes to create visually striking looks.
Eclectic Patterns
Don't be afraid to mix and match different patterns in your boho chic outfits.
Embrace the power of eclectic patterns, such as paisley, tribal prints, and geometric designs.
This is a great way to add a touch of creativity to your ensemble.
Vintage-Inspired Clothing
Incorporate vintage clothing pieces into your boho chic wardrobe. Ulla Johnson and Free People are great places to find vintage-inspired bohemian clothing that perfectly captures the essence of the boho trend.
Layering
As the weather gets cooler, embrace the art of layering in your boho outfits.
A perfect way to layer is to pair long skirts with cozy sweaters, add a denim jacket over your maxi dress, or layer a tank top with a chunky cardigan.
Layering not only keeps you warm but also adds depth and dimension to your look.
Mix Boho with Modern
Combine boho elements with modern pieces for a unique and current look.
For example, pair a boho maxi dress with a leather jacket or style a flowy skirt with a graphic tee.
This fusion of styles creates an interesting juxtaposition and adds a contemporary touch to your boho chic outfits.
Enjoy your Boho Wardrobe!
Embracing boho clothing and the boho chic style lets you inner free spirit shine!
I'm all for expressing your individuality through fashion.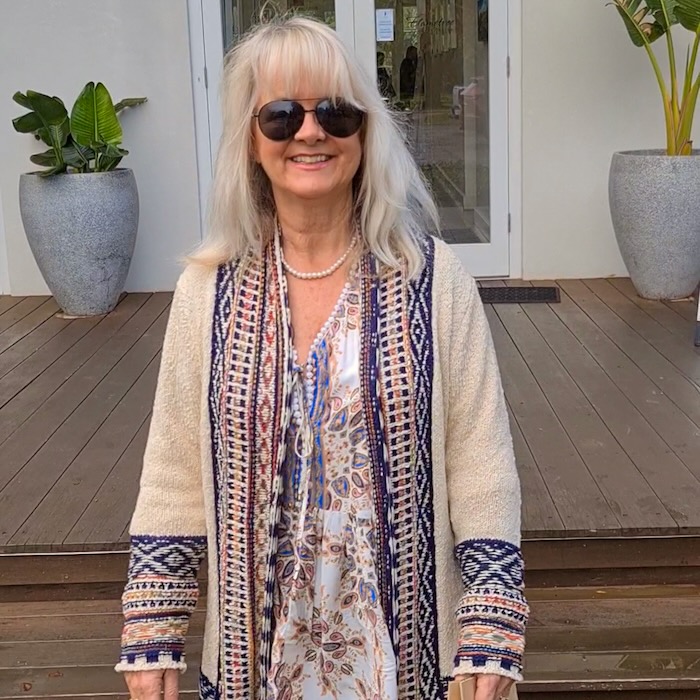 With a variety of flowy fabrics, floral prints, and statement accessories at your disposal, creating a chic bohemian wardrobe is a journey filled with creativity and self-expression.
Remember to have fun, experiment with different styles, and let your boho outfits be a reflection of your carefree and artistic vibe.
So, go ahead and embrace the boho chic trend, and let your fashion sense be a powerful tool for showcasing your unique sense of style.
Some pieces of clothing in this post have been gifted. I've marked them with an asterisk *. If you would like to shop my boho looks, or find other related boho pieces then pop over to the following retailers …
Where to Buy What I'm Wearing
So if you like some of the styles I'm wearing, here's where to buy them. I'm sure you'll love the boho styles and the easy wear, made-for-curves clothes that I've fallen in love with too available at the following retailers … Salty Crush – Ships worldwide. Type in discount code LIFESTYLEFIFTY10 at checkout for your 10% discount. Styling You The Label – Ships worldwide. Type in discount code JoCastro15 at checkout for your 15% discount. FRANKIE4 Footwear – Ships worldwide. Wild Earth Trading Co
Related Posts You Might Like
Best Boho Dresses and Affordable Boho Clothes for over 50
Boho Chic Clothing to Make You Sizzle!
How to Style Boho Chic Summer Outfits and Look Amazing!
Boho Chic Fashion Bags and Jewellery – Great Pressies!
Boho Chic for the Weekend Hippy in You
Bohemian Rhapsody … 5 Boho Style Tips
The Best 57 Summer Dresses for Women Over 50
Dress to Impress Outfits That Will Make You Shine
Pin This Post!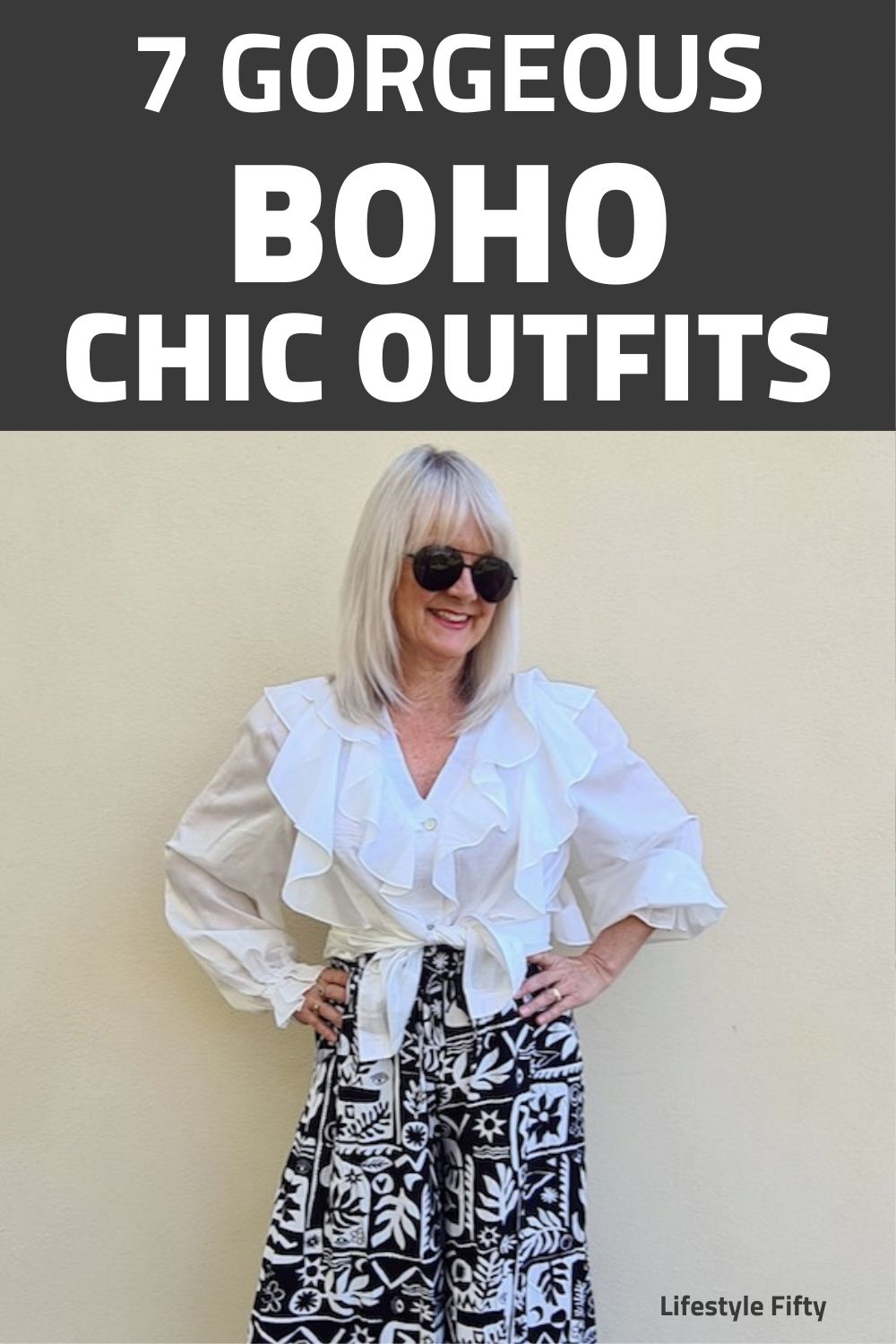 Disclaimer:This post "Boho Chic Outfits" contains affiliate links from which I stand to earn a small commission but at no expense to you. Any gifted items are marked with an *. Lifestyle Fifty Website is a participant in the Amazon Services LLC Associates Program, an affiliate advertising program designed to provide a means for sites to earn advertising fees by advertising and linking to Amazon.com. Some images in this post have been sourced with permission from Styling You The Label and Salty Crush websites. Please read my full disclosure here.