I think Boho Outfits are fun, and oh so vibrant! But how do you style boho chic summer outfits, and what is Boho chic? Well, Boho chic is essentially a way of expressing your individual style and your unique fashion sense with bold prints and fabulous colours. It can also be termed Bohemian style.
You can capture the free-spirited vibe of Bohemian fashion with floaty boho dresses (especially maxi dresses and kaftans) maxi skirts, flowery laid back jumpsuits, swirly skirts, lacey tops, peasant blouses, bell-bottom pants, wide leg pants, gladiator sandals and denim shorts.
Oh and don't forget long straight hair and a fringe!
I love the boho look for hot summer days, and you can find many types of bohemian outfits online at affordable prices.
One of the best ways to adapt a bohemian style of dressing into your everyday wardrobe is to think back to the hippy styles of the '60's and of course, 'flower power'.
So come on! It's summertime, and what better way to show off your individual style than with a boho chic wardrobe for a fabulous casual summer look! From beautiful dresses to laid back jumpsuits, boho clothes for summer can be just the thing to make you stand out from the crowd.
With boho chic outfits, you can create stunning ensembles that are perfect for any occasion.
So let yourself shine this summer by embracing the beauty of bohemian fashion!
Boho Chic Summer Outfits – Dress Ideas
Below I'm wearing a gifted, Melissa Lulu Maxi Dress. It's a stunning bohemian style in a gorgeous, subdued print from the JAASE collection by Salty Crush an Australian Boho Brand (I'm an affiliate).
Here it is on me.
Free shipping on all orders over $100 in USA, AU and NZ.
Here it is on the model.
It features a front split and a lovely V neckline (that I always feel creates a slimming and elongating effect) and the cap sleeves are just the right length to cover my shoulders, especially on sunny days. The ruffled hem gives it a gypsy feel, that is so in keeping with the Boho style, and it's 100% Rayon which means it feels really soft, and falls and swishes beautifully.
You could easily wear this dress with just bare feet, no make-up, and salty hair! Obviously it goes just as well with ankle boots, sneakers or sandals and bright red lipstick!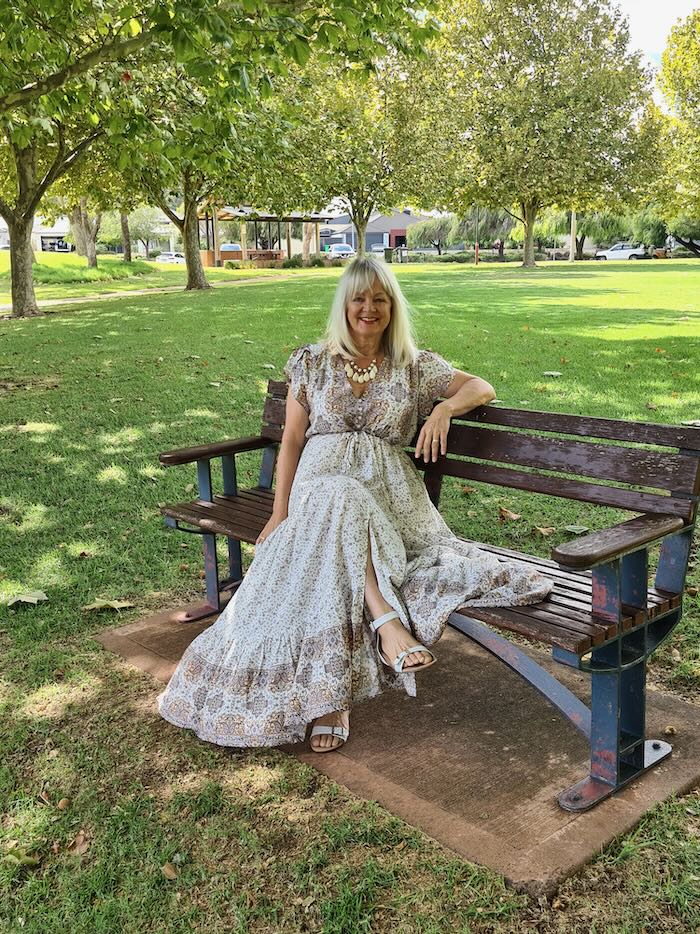 It's available in sizes XS to 20, and runs true to size. I'm an Australian size 12, and in this dress I'm wearing a L which fits perfectly. It's a roomy fit with a drawstring waist which means I can happily go out to lunch or dinner and not feel hemmed in or trussed up!
By the way, Salty Crush might be an Australian brand but it ships worldwide.
Check out Salty Crush for more fabulous, wearable Boho dresses.
How do you style a Boho Look?
Boho chic is truly a fashion style that combines high fashion and hippie influences with an eclectic element mixed with a casual look, so styling can be as creative as you wish.
Below I've just purchased a Salty Crush Alyx blouse which I'm wearing with my Wild Earth Trading Co wide legged pants to creat a free-flowing, summertime, bohemian look.
This Boho style top is cute and feminine with a floaty feel, and a relaxed look. I'm wearing a size S-M.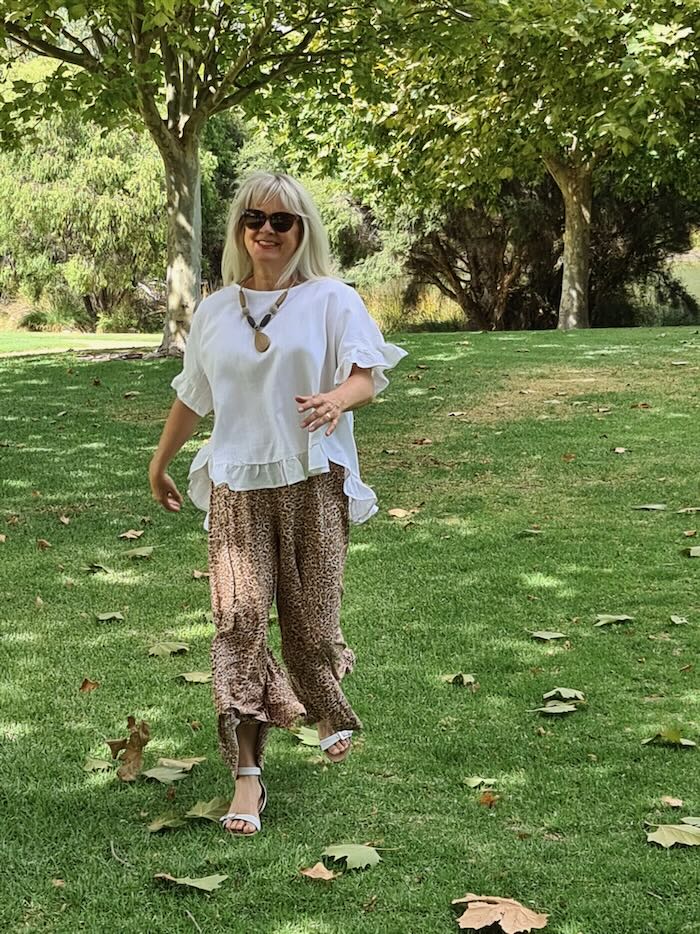 Here are some further tips to help you style a Boho look …
Pop on a bohemian dress in earthy tones, grab a floppy hat, a leather handbag, a long kimono, some chunky gold hoops and a pair of round sunglasses and you have the perfect bohemian look.
Other accessories might include oversized Jackie O type sunglasses or Aviators, wide-brimmed hats, and lots of statement jewelry – such as long ethnic necklaces.
You can really just add show-pony Boho elements to an everyday outfit to create something that is stunning and more Bohemian than boring.
Here's the Alyx Blouse on the model.
Here it is on me.
I'm wearing a S-M and although I'm an Australian Size 12, this fit is perfect for me, and still has plenty of swish factor. I love the Hi-Low hemline and the ruffled hem. I also like that the bell sleeves come down to my elbows. The material has a soft feel and is made from 70% linen and 30% viscose.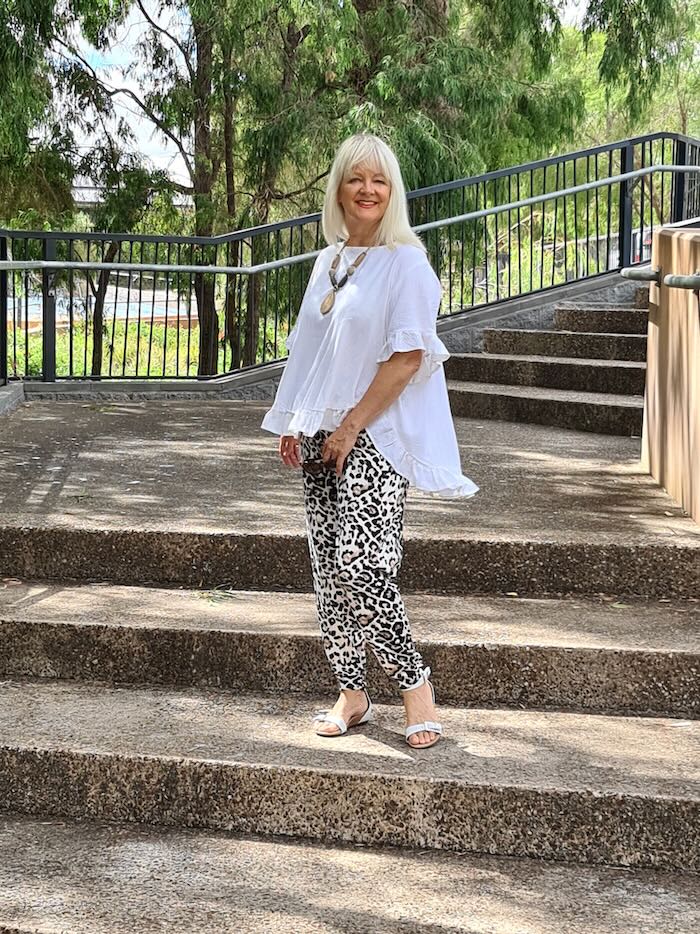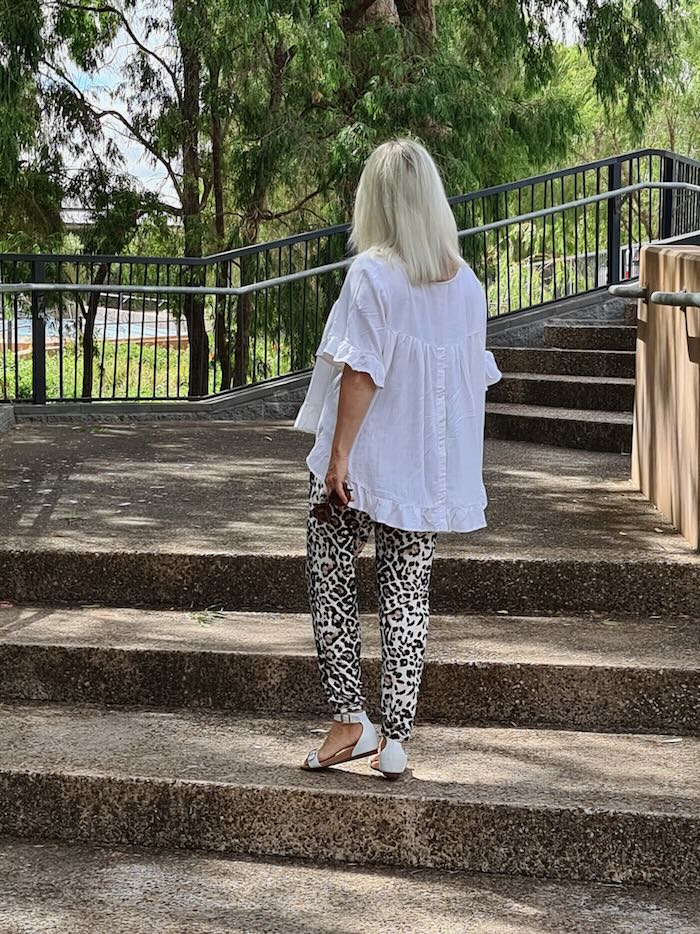 Bohemian style is great for most occasions, be it everyday casual or for super special events. For instance, long floaty dresses are the perfect attire for wedding guests, but you can switch the look up by wearing leather boots instead of sandals perhaps, and adding lots of costume jewellery, as well as the must-have wide-brimmed hat and enormous sunglasses.
Which Celebrities are known for their Boho Style?
In the world of fashion you might find celebrities like Sienna Miller, Stevie Nicks, Mischa Barton and Kate Moss a great source for ideas to help you create a perfect bohemian wardrobe.
Fashion icons are likely to refuse to be defined by fashion rules, and in their Boho quest might sport mismatched bikinis, a puffy shirt with denim shorts, a long flowing dress in earthy colours that drags along the floor, platform shoes or long leather boots, fringed jackets, and lots of ethnic jewellery.
Or they might opt for the simple but trendy look of a graphic tee worn with a pair of jeans, suede ankle boots, and a broad-brimmed hat.
What are Boho Colors?
Colors and patterns for this style of dress and boho chic summer outfits are often bold but they might also be muted and earthy, or in pre-raphaelite tones.
Bohemian colours can include; burnt sienna, mustard yellows, earthy browns and earth tones, tree greens, dusky blues and dark blue, rusty orange and ruby reds.
I'm loving the earthy colours in the Indiana Kimber Maxi dress below. With a feminine floral print to the crochet panel detailing on the back of the shoulder this classic Jaase style is a must have in every Bohemian wardrobe.
*Style Tip: Wear with a cute pair of western inspired boots and the ~Alvaro Hat~ for the ultimate boho outfit. Can also be worn as a kimono when unbuttoned.
You'll also find Boho style prints and designs in paisley and gorgeously, striking geometric. And let's not forget lovely bright florals like my dress below …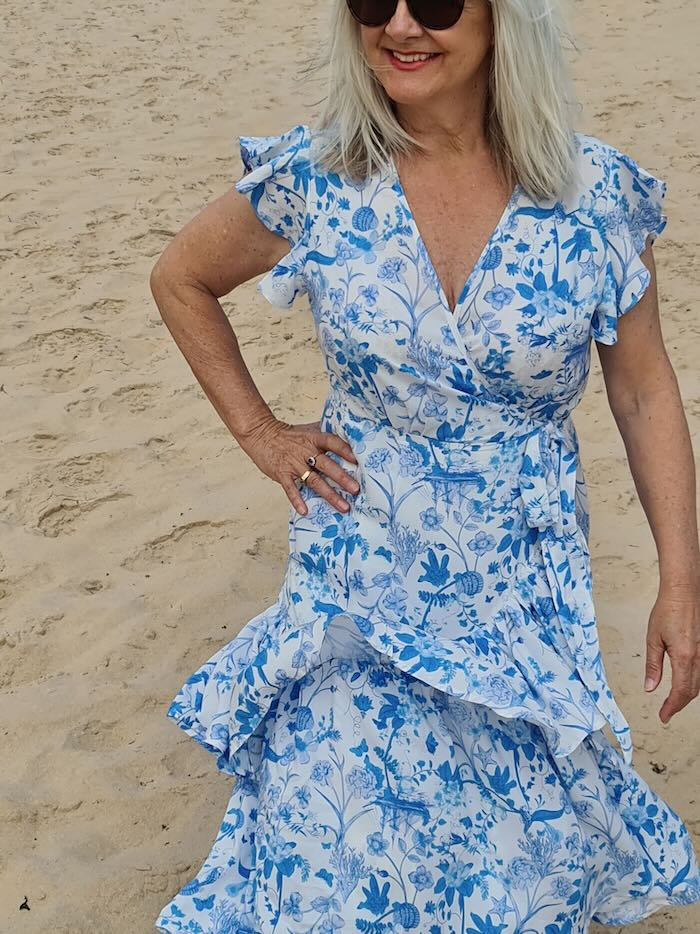 What Fabrics are Boho Outfits made from?
You'll find that Boho chic summer outfits often feature lightweight fabrics that have a great 'swirl' factor, as well as fabrics such as silk, cotton and linen – materials that have a relaxed and carefree feel to them.
Suede, leather, lace and velvet are also fabrics you'll find in Bohemian type clothing.
Viscose and Rayon are also popular for dresses.
Where to buy Boho clothing
To help you be stylish this summer, we've compiled a selection of our favorite bohemian pieces below!
Some of the more popular stores that sell bohemian clothing are Free People, Anthropologie, Urban Outfitters, Forever 21, and ASOS. Also try Boohoo and Travel & Living Collection.
Also check out small independent boutiques and even online markeplaces such as Etsy and Facebook marketplace.
Don't forget to visit your local thrift store and charity shops too.
A Comprehensive Guide to Achieving Boho Chic Style with the Best Tips and Tricks
What is Boho Chic Style?
Boho chic is the perfect mix of effortless style and modern fashion.
It's a style that celebrates freedom, individuality and self-expression.
It's a look that can be achieved with just a few simple pieces of clothing and accessories.
The essence of Boho is not appearing to look as if you've tried too hard!
The look may be styled, but even when you're wearing it for special occasions it should come across as a little thrown together!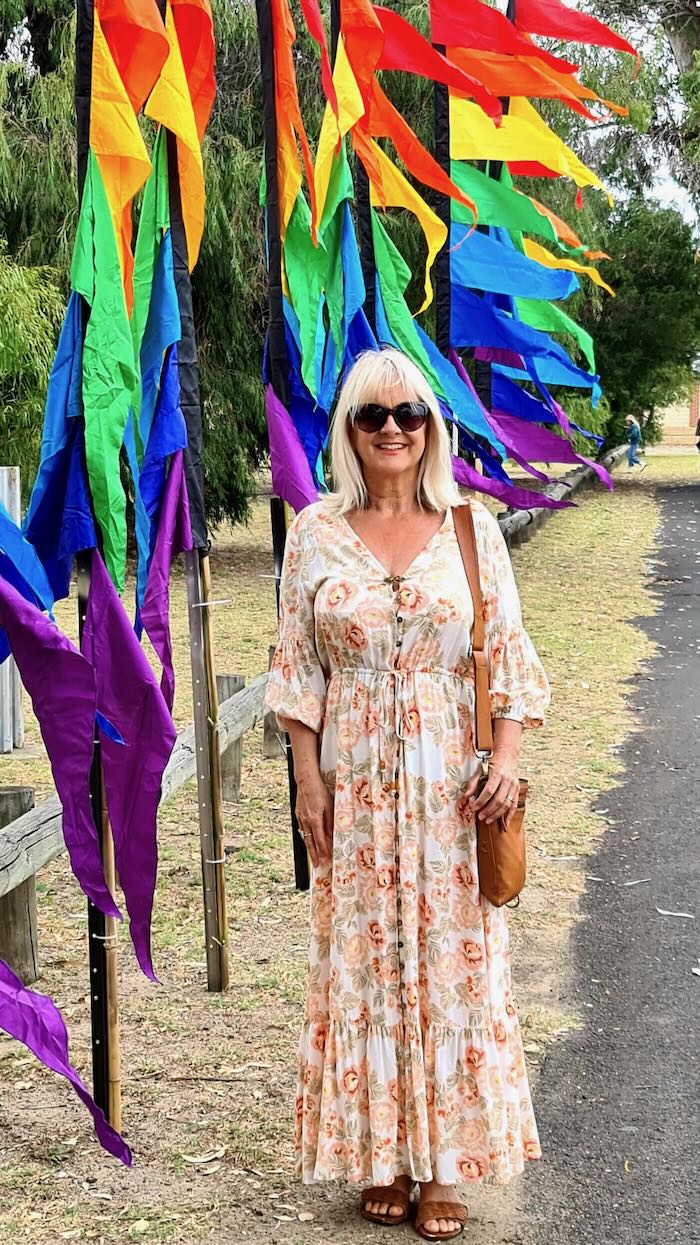 If you're looking to get the boho chic look, it's all about finding pieces that blend comfort, femininity and fun. This is not a style that is tucked and tailored and it's certainly not formal.
Think about buying clothes with floral prints, in lightweight fabrics, clothes with embroidery detail and vintage-inspired silhouettes.
To complete the look, add some statement jewelry or accessories like a wide brimmed hat or chunky booties.
With these tips in mind, you can easily create your own unique boho chic style!
Key Elements of a Perfect Boho Outfit
Of course Boho style is a fashion trend that has been around for years, and it has staying power because it's still going strong. In fact it's become more popular in recent years and is now seen as a wardrobe staple.
Again, it's important to remember that the key elements of a perfect boho wardrobe are mixing together the right clothing pieces, great accessories, and paying some attention to styling techniques.
From flowy maxi dresses to statement jewelry pieces, floppy hats and high boots, there are plenty of items to choose when creating your own bohemian look.
Tips & Tricks on Mixing Textures for a Flawless Boho Fashion Look
The boho look is also enhanced by mixing and layering textures to create a unique and effortless style.
Whether you're looking to achieve that classic boho vibe or something more modern, mastering the art of mixing textures and patterns is the key.
Super Boho Chic Summer Outfits
Try layering a T-shirt and jeans with a kimono for an instant dash of Boho.
Buy some long dangly beads and earrings, plus a big floppy hat to pop on with a maxi dress.
Buy a fringed suede jacket to wear over jeans.
Seek out a pair of bell bottom trousers, preferably in velvet! Top them with a flouncy blouse which has lace detail.
How to Choose Complementary Colors to Achieve an Instagram-Worthy Boho Look?
Achieving the perfect boho look on Instagram requires careful color selection to get the photo noticed.
While it's possible to go all out with bright and vibrant colors, a more subtle approach can yield great results.
The key to creating an Instagram-worthy bohemian look is to choose complementary colors that work together in harmony. This means selecting a monochromatic color palette of shades and tones that blend together seamlessly. With the right combination of colors, you can create a stunning bohemian style that will make your Instagram page stand out from the crowd!
Let's Wrap Up Boho Style!
The main feature of bohemian fashion is the use of color and bold prints, and boho elements that include a big dash of hippie style.
I hope you've enjoyed this blog post Boho Chick Summer Outfits, and perhaps incorporate some of these tips and tricks into creating your own fabulous Bohemian looks.
Remember, as with all fashion trends, there are no hard and fast rules.
Have fun! Be creative! Wear what you love! I can't wait to see what you come up with.
Why not tag @lifestylefifty on Facebook or Instagram and I'll try and feature your Boho look in a future post.
Please Pin this Post!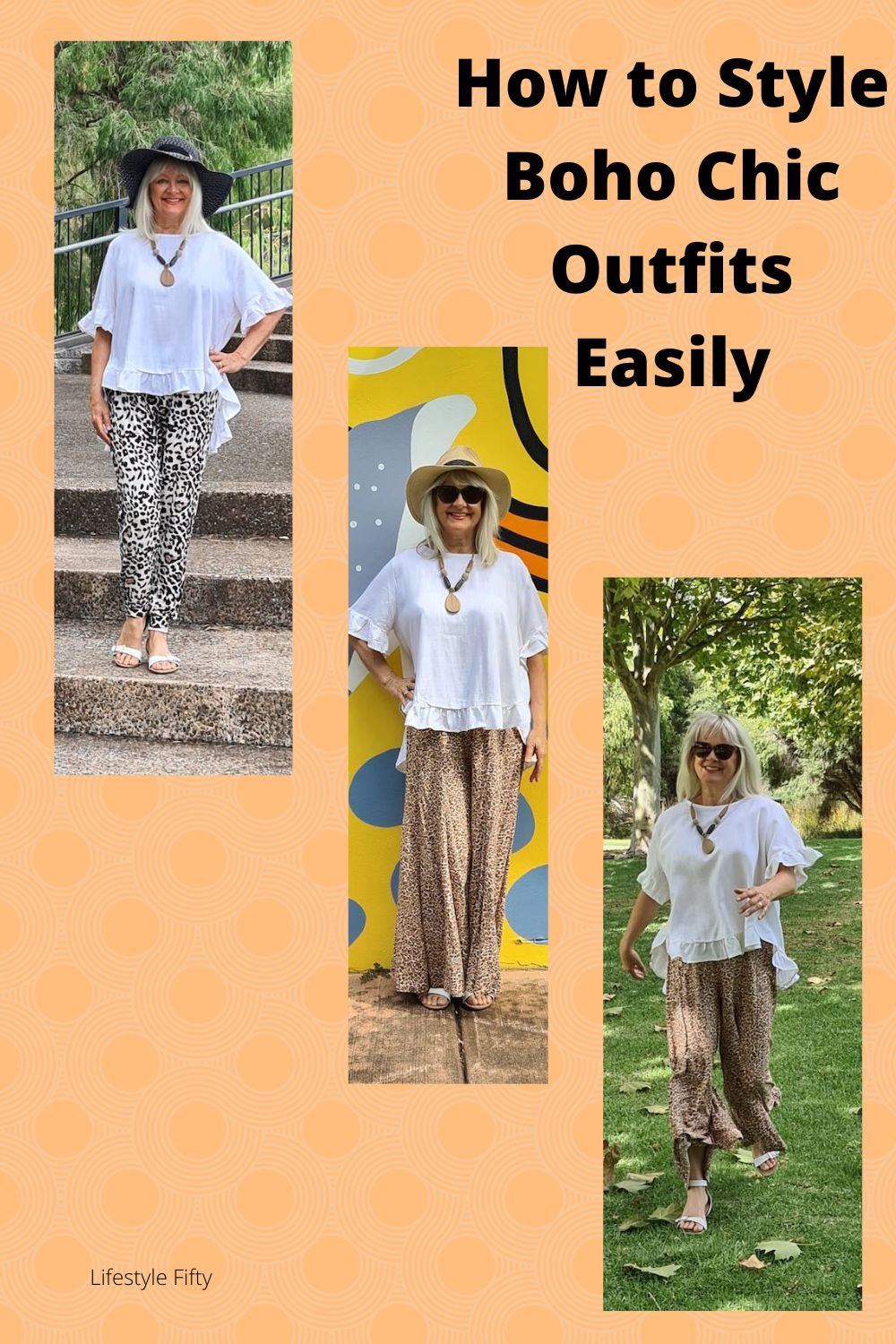 Related Posts you might like:
Boho Style Over 50 – How to Dress like a Hippie with a modern twist!
7 Boho Chic Outfits to Ignite Your Inner Free Spirit
Best Boho Dresses and Affordable Boho Clothes
The Best 57 Summer Dresses for Women Over 50
How to style clothes you already have and look brand new!
Sensational Casual Clothes for Women Over 50 Years Old
Disclaimer: This post "Boho Chic Summer Outfits," contains affiliate links from which I stand to earn a small commission but at no expense to you. Any gifted items are marked with an *. Lifestyle Fifty Website is a participant in the Amazon Services LLC Associates Program, an affiliate advertising program designed to provide a means for sites to earn advertising fees by advertising and linking to Amazon.com. Please read my full disclosure and conditions here.