Back in the day we used to get a delivery from the milkman around 4.30am each morning.
Fresh creamy milk. Ahh, the bliss.
And a glass bottle that you washed out and put back on the doorstep for him to collect when you'd finished.
All change
These days it's all online subscriptions isn't it?
Subscribe to this, sign up for that, and enrol for the other (and come to think of it, I hope you've all signed up for the Lifestyle Fifty newsletter! Top right in the sidebar puleese 🙂 )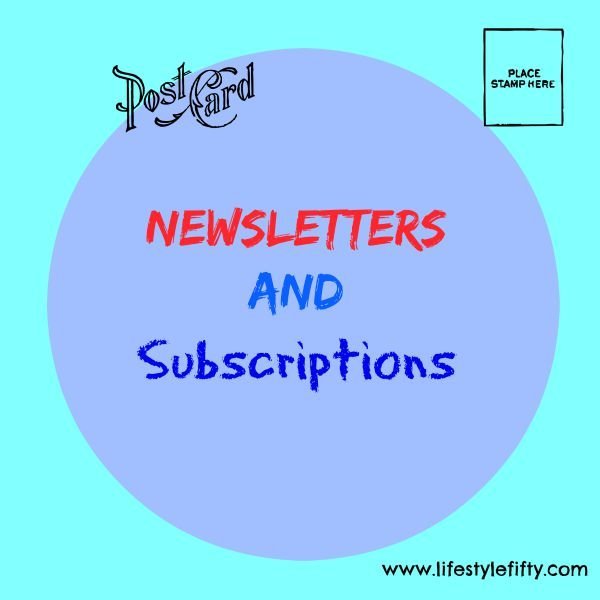 Thank you
Cue for Big Thanks to the lovely Lifestyle Fifty readers who email me to say they enjoy the LF Newsletters, especially C who recently wrote, "… Some things come to my inbox Jo and I wonder why I subscribe to so many newsletters and clothing sales and such frivolous things.  Then I read a newsletter like this one (that I nearly deleted cos I'm 'busy') and I think – THAT'S WHY.  Beautifully written and really made me pause and think …"
Things like that really do make my bloggie days worthwhile 🙂
Newsletter's I enjoy
We live in a world where we give out our emails willy nilly and if you're anything like me you end up with an inbox stuffed full of content you don't really want or need anymore. [And gosh, doesn't it take ages to unsubscribe to sites when you finally get around to it?]
There are though online newsletters that I love getting. I enjoy Caz's from YtravelBlog, and Smaggle's and Styling You's …
Then there are things I really dislike about real-life subscriptions … as in Magazine Subscriptions.
On the loo or at the Dentist's?
Okay so now I'm going to sound really mean spirited.
You see I love to give annual magazine subscriptions to family and friends who enjoy reading print publications. I know I still enjoy reading magazines … especially when I'm on the loo or in the dentist's waiting room. Yes, too much information, but seriously, those are my favourite times for flicking through a magazine 😉
BUT
What I hate  is being conned by the marketers. You know: "Subscribe for a year and we'll send you this *insert AmazingFreeNeverEverAvailableAgain free gift*. I'm a sucker for these type of things and so I sign up and get the subscription along with the free gift sent to the recipient in question.
What I fail to read is the small print: "We will subtract X amount on X day annually until you cancel in writing."
Err, so this doesn't automatically stop after a year then?
No. You have to remember to do something. Like cancel the bank debit.
Hey Ho, I assume I've only signed up for one year! I've been caught out a couple of times, and wondered a year later who on earth is taking money from my credit card, and wasted God only knows how long ringing the bank and trying to find out where and to whom the green backs have gone, before a bank employee patiently informs me, and I end up red in the face.
It was much easier in the days of the rattling dairy truck.
Yep, old Ernie the milkman might have had a sinful reputation, but at least you knew where your money went and whose daughter you were.
Do you subscribe to magazines or online newsletters? Which do you like and why?