I've just discovered a stylish but oh-so-comfy brand of clothing with a super winter range that I'm really excited to share with you. This season they're featuring casual winter outfits which are both easy to wear and, comfortably, on trend.
Who? What? Sportswave Clothing is a 100% Australian owned family run company, based in Victoria, Australia which has been in business for more than 30 years, creating well-priced, fashionable but timeless garments with the emphasis on comfort especially for women of a certain age.
Casual Winter Outfits which are made to Mix 'n Match.
What I love is that the fits are generous and realistic. How unlike some of the chain stores in the high streets – you know the sort – where you go in expecting to be a size 12/14/16 (or whatever) and find that you have to go up about two sizes just to be able to fit into them. This isn't the case with Sportswave.
The slim black pants and the casual batwing jersey (above) are forgiving, in that the pants stretch, and the jersey is a beautiful and flattering shape. Both are perfect for sunny winter days in Western Australia. The show-pony, red  knits in two different styles below add a gorgeous pop of colour, especially when teamed with the comfortably stylish sloppy-Joe long length black and grey panelled cardigan (below) which also features a generous neck tie.
I was enjoying a quiet Sunday at home, wearing the red cowl neck jersey with Sportswave ponte pants (above) – which are a real lazy day go-to item – so comfy and soft to the touch. Definitely a kick-your-feet-up and relax pant.
These comfortable winter clothes for women are made in easy to care fabrics which are designed also to mix 'n match.
I'm also loving heart-shaped jewellery from Hjerter, and my Travel and Living Collection soft, stylish black leather handbag (above) which goes with me everywhere (and fits everything in it – except the kitchen sink which is too heavy for me ;).
The tan ankle boots are by Homyped – a soft, comfortable and stylish footwear addition that I think matches perfectly with the Sportswave range of clothing.
You can find out more about Sportswave Clothing here but look out for the label at independent boutiques throughout Australia – Sportswave has a big presence in the regional areas, so for women like me living in places like South West Australia, we're not going to have to get on a plane to jet to Melbourne or anything!
Search the site and you'll see that Sportswave manufacture an assortment of knits, wovens, tops, shorts, skirts and pants.
Check out Sportswave on Facebook here and find your nearest store.
This is a sponsored post in collaboration with Sportswave. I'm wearing clothes gifted by Sportswave and Emily Adams winter range.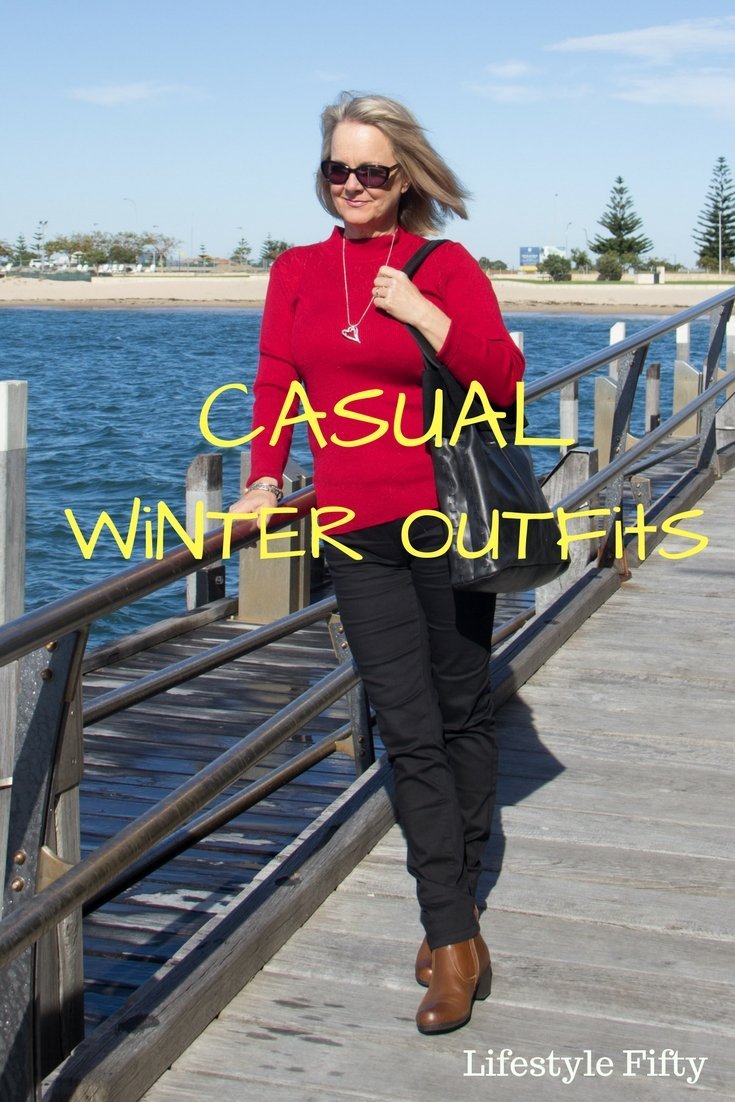 A BIG THANKS to Dave, and to Jill from Life Images by Jill who took the photos for me.