If you could only lay your hands on four cooking ingredients, what would you buy and cook? This is one of the questions I asked four of the celebrity chefs who were appearing at the Margaret River Gourmet Escape in South West Australia last weekend.
(Scroll on down for the celebrity chef interviews)
It's a lovely event that attracts foodies from near and far (think all over the world), and this year there were 50 celebrity chefs all doing their amazing thang – demonstrations, dinners in the forest, barbecues on the beach and lots of appearances round and about the Gourmet Village which is a huge festival held over two days at the very gorgeous Leeuwin Wine Estate.
This year Dave and I were so lucky to be hosted in the Leeuwin Platinum lounge.
… drinking a couple of glasses of Art Series Chardonnay and feasting on freshly shucked Albany lobsters, local cheeses, pork sliders and much more. Gotta love my handsome hubby's hat! It's the real McCoy – We bought it in Manta, Equador, when we were on the World Cruise last year.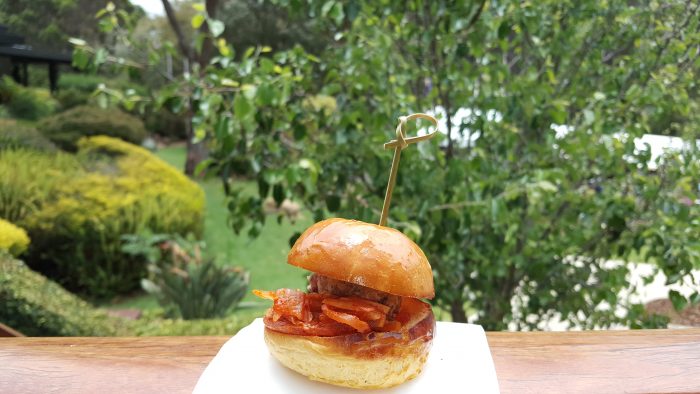 On the way to the event we stopped in first at Voyager Estate. What a fantastic garden they have. The Cape Dutch buildings, big white slave bell and enormous flag are set beside one of the most beautiful rose arbours I've ever seen. November is the best time of year to visit to see the roses.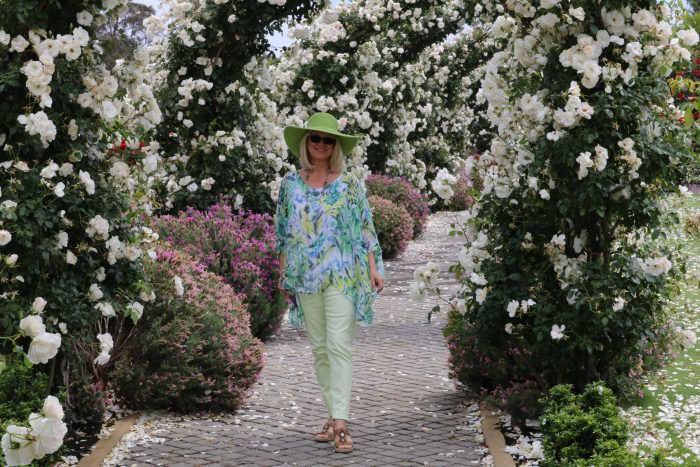 My jaw always drops when I see them in full bloom. It's like a fairy garden with a carpet of petals.
Margaret River Gourmet Village
For this event I always like to plan my outfit accordingly because it can be very hot, and the UV can be very high.
I wanted to look cool and elegant but also a bit trendy, as there are always many well turned out women here wearing beautiful summery outfits.
I chose this green ensemble topped off by a big floppy hat. As you know I'm nervous about the sun having had a melanoma previously, so I tend to be very careful about Sun Safety and about what I wear between the hours of 10am and 4pm.
So I wear long sleeves and long pants and take a big floppy hat …
Which sometimes I take off!
But generally dressing sun appropriately for me means a loose fitting top with long sleeves and long pants, with a wide brimmed hat.
The top I'm wearing has a loose outer, with batwing type sleeves which come down to my elbows, while underneath there is a vest which is attached to the outer which hides your bra. It's made in Italy and from M & Co in the UK and was reduced in a sale to 20 Pounds Sterling. The pants are Jay Jays – and I bought them in a thrift shop for $5!
Fortunately this year the temperature wasn't as high as it's been in the past, so I didn't sweat too much. Don't know about you but these days intense heat (over 30 degrees) really phases me and I can't seem to think straight! But today it was a pleasant 21 degrees.
There's a colossal amount of organisation that goes into creating this amazing dining and culinary experience which features so many of the vineyards and restaurants between the length of our two fair capes – Cape Leeuwin and Cape Naturaliste.
I think this outfit looks elegant and stylish, even if you are sitting on a straw bale – of which there were many dotted around on which you could sip a local wine or take the weight of your feet while you grab a bite to eat.
Earlier in the week I'd been lucky enough to catch up with a number of the top chefs featured at the Gourmet Escape. This was at the perfect setting of Cape Lodge (one of our all time favourite lodges) where all the chefs assembled so that the assembled journalists could 'speed date interview'.
To talk to these individuals whose passion for food is so intense and all encompassing was amazing. I was almost converted into becoming a more focussed cook – almost!
Their ability to articulate their passion and their story was absolutely inspiring, and it was fun (if not a little nerve wracking) to interview them.
I had 15 minutes each with Michael Hunter from Canada, Anthony Genovese from Italy, Dan Hong from Vietnam and Morgan McGlone from Melbourne. As I know not all of you are foodies, I have put the interviews beneath the final photo below. If you are interested in chefs, cooking and restaurants then Scroll On Down!
Ahh all in all it was just another (wonderful) day in WA!
Read on for the celebrity Chef Interviews … and for more about chefs from previous years you might like : Celebrity Chefs wholefood fusion and confusion
Celebrity Chefs – 15 minutes speed dating!
Anthony Genovese –
Restaurant – Il Pagliacci
Country – Italy
AWARDS – 2 Michelin Stars
Biography
Anthony was born in France but he says his heart is Italian and he calls Southern Italy home and his passion for food stems from his family heritage. In order to perfect his craft, Anthony travelled around the world, learning the skills required to achieve truly exceptional Italian cuisine.
Once he reached Rossellinis restaurant at Hotel Palazzo Sasso, Anthony received his first Michelin Star. In 2003 Anthony unveiled his new creation: Il Pagliaccio. Within 3 years Anthony received his second Michelin Star
Despite the accolades Anthony has been awarded throughout his culinary career, Anthony has remained humble and down to earth, adamant to remain true to his family orientated upbringing, embracing his Italian heritage.
Who were your main influences?
"We were so poor when I was growing and my grandmother cooked simple food from the south of Italy. I was fascinated … how she could take something raw, and it became a dish. I was hopeless at cooking college, it didn't like me! It was like military school – you had to have short hair, things like that. It didn't suit my creative nature. After that I started in a small restaurant and did menial jobs, then I went to Monte Carol and worked in a big hotel called the Chateau Chèvre d'Or (2 Michelin Star) and it was as if a lightning strike hit me. It was an awakening and I was impressed, and I knew I was on my way."
Favourite Dish to cook
"Sweetbread with charcoaled oysters with shallots, hay consommé and mustard seeds. It's clean, pure, cold and hot with different textures. This is on the Parallels menu."
One meal – four ingredients
Pasta – it's the most simple food you can use, and then I'd add whatever I want. Maybe fresh tomatoes, garlic and chilli pepper."
What is the story with your food?
"My food, it's like a trip. I spent many years in Asia so I brought with me that influence, and I like to use spices. Although my food is 100% Italian , a bit like Marco Polo I connect east and west, from Asia to Italy."
What are your impressions of Western Australia?
"Margaret River is amazing. I slept so well the last two nights! I'm blown away by the beauty, and Frasor Gallop Estate was stunningly beautiful – the event opening party was held there. You have fantastic products here – I'm very impressed with the calibre of meat, and I loved trying kangaroo.
Favourite Restaurant?
"Wow – well I couldn't name just one, but there would be quite a few in Spain and France and one in Copenhagen. The chef has to be sincere – I love food cooked using different techniques – it also has to be tasty and great to look at."
Favourite place to holiday?
"It would have to Italy – everywhere. Italy is like 21 different countries. I'm from Calabria but south east Sicily, that would be the spot I'd choose."
Michael Hunter – Restaurant –
Antler Kitchen
COUNTRY –Canada
Biography
Hunter by name and trade, Michael is an outdoorsman, forager and hunter-gatherer. Born and raised on a Caledon horse farm, Hunter's dream was to own a restaurant that would combine his love for food with a passion and respect for local ingredients.
Formerly of Toronto's Sassafraz, Luma, Scarpetta, and Reds Wine Tavern, he has used his experience in the outdoors to explore his culinary creativity, becoming chef and co-owner of Antler Kitchen and Bar. Antler is strongly rooted in regional food culture – pure, fresh and seasonal. Embodying local flavour and spirit, offering contemporary dishes with an emphasis on wild food and farm-fresh ingredients.
What or who are your main influences?
Michael is from Toronto but he grew up on a horse farm and did a lot of fox hunting when he was younger. He fell in love with nature and his surroundings.
"I guess I can trace one of my influences back to the day when I went wild turkey hunting with the local huntsman. When we cooked the turkey I was blown away by the flavour of the wild. I also used to watch documentaries about factory farming and learned about meat being full of hormones and additives, and I knew I wanted to use fresh wild ingredients, hunted and sourced from natural surroundings. I really believe that natural and free is better for you when it comes to food."
What do you like about Margaret River and Western Australia?
"Wow, it's my first time here – it's such a beautiful place. Being an outdoorsman I'm fascinated with the birds and the trees. The colour of the birds in particular – I've seen lots of pink, grey and white birds – we don't get that in Canada. Then you see a kangaroo in the wild, and that's amazing. The wildlife is so new to me. I love nature so I notice the little things. When I first got off the plane I was reminded of California – you know the sand, the palm trees and the Eucalyptus. By the way, I've just tasted kangaroo meat, it was amazing and it reminded me a little of deer meat."
What do you like to cook?
"Anything wild that I can pick that morning; mushrooms, or wild game – here look at this mushroom," he showed me a picture on his phone, "It's a Morrells, isn't it gorgeous? Looks like honeycomb!" And it really did 🙂
One meal – just four ingredients.
"I'd harvest a dear and use the dear heart (which is the first meal after harvesting) or the liver. I'd add some mushrooms and caramelised onions, have some good bread, oh and a glass of red wine. Halfway to heaven for me!"
What's your food story?
"I love to share the story of the food we eat. Who raised it, who harvested it. Where it was raised. I like to share pictures of the food and explain why it tastes as good as it does. And I like people to meet the producers of the food too."
Favourite Restaurant in the world?
"Really it's would be somewhere catering for what I'm in the mood for at the time. If I was in Italy I'd have simple pasta and pizza. For me I love authenticity. I like to know what the chef is doing and why – what is the message with their food."
Favourite place to go on holiday?
"I'd have to say right now Margaret River (South West Australia) but I'd like to bring my wife and kids over. They'd love to see kangaroos hopping across the road!
Dan Hong – Restaurants:
Mr Wong, Ms G's, Papi Chulo, El Loco
COUNTRY –Sydney, Australia
AWARDs –Two Hats
Biography
As Executive Chef of four Merivale restaurants, Dan Hong captured the attention of Sydney's foodies and cemented his reputation as one of Sydney's fastest rising culinary talents.
Starting his career in the kitchen of his family's Vietnamese restaurant chain, Thanh Binh, Dan quickly developed a taste for a career in a challenging and exciting kitchen. Dan developed his culinary skills at an elite list of Sydney restaurants and once qualified, joined the Tetsuya team as Chef de Partie before moving to Bentley Restaurant and Bar as Sous Chef. After a stint abroad, Dan joined the Merivale team as head chef of Lotus approaching the menu with a sense of simplicity and an injection of freshness.
In 2010, he joined forces with Jowett Yu as joint Head Chef to create an innovative and fun menu for Ms. G's which expressed their Asian heritage. In 2011, Dan opened Merivale's first Mexican cantina, El Loco which quickly established a reputation for its mouth-watering tacos and brilliant cocktails. Not long after in 2012 Dan launched Merivale's largest restaurant, the 240 seater Mr. Wong. The Cantonese-style menu, has been praised for respecting traditional Chinese flavours whilst embracing new ones. More recently he launched Papi Chulo, a fun and fresh smokehouse and grill bursting with fantastic ingredients, simple presentation and big flavours.
Who were your main cooking influences?
"I grew up in the industry really. Mum owned 2 restaurants, and I loved watching cooking shows and I cooked at home. As I wasn't doing well at school, Mum suggested cooking school and she got me my first job in 2001 as an apprentice to a chef and I realised I really enjoying doing this, and I was good at it."
What is your favourite dish to cook and why?
"I'm a simple guy. I love steaming food – it's such a healthy way of cooking and it's an important technique because it accentuates the flavour of the food. I love steamed dumplings. I'd probably cook steamed mud crab with white soy , ginger and shallots."
One meal – four ingredients
"I'd get the best WA Snow Crab from the deep water of Albany – did you know it's indigenous to that area and not found anywhere else? It's the sweetest crab in the world. I'd add soy sauce, ginger and leeks."
What would you cook for family and friends?
"I'd have a big Chinese Hot Pot going. I'd cook up a big broth, and then have ready chopped beef, seafood and vegetables in side dishes ready for people to cook their own. And of course I'd have different dipping sauces too. It's an interactive way of eating and you're not slaving in the kitchen, you can socialise."
What's your food story?
"My philosophy is for people to come and have a fun time at my restaurants with family and friends. You know, bring mum and the kids and eat delicious food and drink some wine. We have lots of regulars at our restaurants, particularly businessmen who might come four or five times a week.
What do you like about Western Australia?
"It's so pure and untouched. I love the beaches. We're staying at Smiths Beach and it's gorgeous. The produce here is amazing – marron, snow crab, WA rock lobsters, the seafood in general. Then you've got the truffles – Manjimup truffles – In the restaurants we go through 1 kilo a week of those during truffle season. And Margaret River is just so serene and beautiful – it's relaxing – you can be driving through what seems like thick bushland and then come across a beach just around the corner – that's amazing – and then there's the wines!"
Favourite Restaurant?
"Korean 678 in Sydney. For the best Korean Barbecue ever!"
Favourite place to holiday?
"Tokyo. We go once a year. It's my favourite city in the whole world."
Morgan McGlone – Restaurant –
Belles Hot Chicken, Melbourne
COUNTRY –Australia
Biography
Morgan McGlone is a third generation chef who is first and foremost a food nerd. His favourite book as a child was a cookbook and he would make various dishes from it for his family with his dad providing encouragement from the sidelines.
Starting out at culinary institutions in Sydney including Summit and Luke Mangan's CBD Salt Restaurants, Morgan moved on and head to the States where started his own catering and chef agency in Los Angeles and New York. Morgan spent several years working for Sean Brock at Husk in South Carolina, and then as Chef de Cuisine at Husk, Nashville.
Inspired by his time in Nashville where hot chicken is celebrated, Morgan returned to Australia in 2014 and teamed up with business partners, Reno Pontonio and Miranda Campbell to open Belles Hot Chicken in Melbourne's Fitzroy which celebrates crunchy, juicy chicken, seasoned with any of five different spice levels.
In 2015, the trio opened an adjoining sophisticated wine bar, Bar Clarine. Later that year, Morgan, Rino and Miranda decided to bring the celebrated hot chicken to Sydney and opened a nine-month Belles Hot Chicken pop up in the new lifestyle precinct, Barangaroo, which went gangbusters and is now a permanent resident at the precinct. In 2016, they opened three more Belles eateries in Melbourne's Richmond and Windsor and one in Sydney's Tramshed's precinct in Harold Park.
Who inspired you?
"My grandfather and father. My grandfather was an amazing cook and fisherman and my father was a chef for sometime. I moved to France and spent a year and a half in Paris which influenced the style of food I cook now, and then I worked as head chef for Sean Brock at Husk in Nashville for three and a half years."
What is your favourite dish to cook and why?
"My main business is Nashville style fried chicken, but my favourite dish to cook would probably be shrimp and grits – it's like polenta. I'd have a beautiful shrimps, shrimp stock and beautiful spring vegetables."
One meal – four ingredients?
Fennel, fish on the bone (turbot or sole), lemon and olive oil.
What would you cook for family and friends?
"I'd cook a southern bounty! Biscuits and gravy, fried chicken, macaroni and cheese, and braised collards greens."
What is your food story?
"It's really all about Nashville Hot Chicken. That's the story. What it is, is a style of southern fried chicken – it's spiced but I use ingredients to cool it down, like pickles and condiments."
What are your first impressions of Western Australia?
"This is my first time here. I love country Victoria, and I see a lot of similarities, although the soil here is different, and it's dryer, but it's beautiful. Margaret River is so calm and the people I've met have been great. I'm looking forward to trying the wine and using the local produce – I can't wait to try WA crayfish!"
Favourite Restaurant?
"Arnolds in Nashville – it's 28 years old – it's multi award winning. It's simple, the atmosphere is great and the food is just beautiful. It's family run and has strong family values."
Favourite place to holiday?
South of France – I'd drive from Beaujolais to Lyon and up to Burgundy. I love the Loire Valley and the wine – it's my favourite drinking wine."
To read more about the actual event, Margaret River Gourmet Escape 2017, you might like Just Another Wonderful Day in WA on my blog ZigaZag.
If you only had 4 ingredients to cook a meal – what would they be?