Is there such a thing as authentic food,  does food belong to people or places, is culture integral in a cuisine?
Woah, these were seemingly heavy topics, and to tell you the truth I felt a bit nonplussed by the idea of food ethics, as I was at the Margaret River Gourmet Escape more for the gourmet food and the local wines 🙂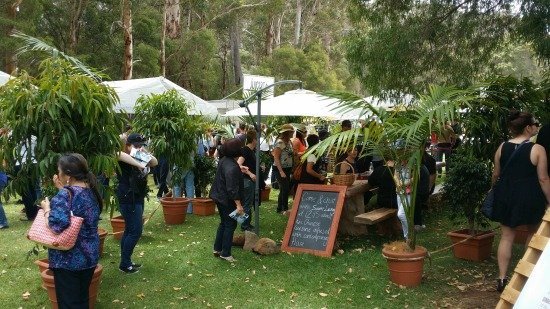 Nonetheless, I'm interested in healthy eating, and especially interested in what top chefs have to say about food, because in time what they are thinking will have a knock-on effect to the food we eat at restaurants, and what we cook in our own homes.
So I sat up and listened intently to the Q and A session at the Margaret River Gourmet Escape "Food for Thought" event in which three well known chefs and a food critic batted and sparred around the idea of 'cooking without borders.'
So what is fusion food?
"Fusion is cuisine that combines elements of different culinary traditions. Cuisines of this type are not categorized according to any one particular cuisine style and have played a part in innovations of many contemporary restaurant cuisines since the 1970s." Wikipedia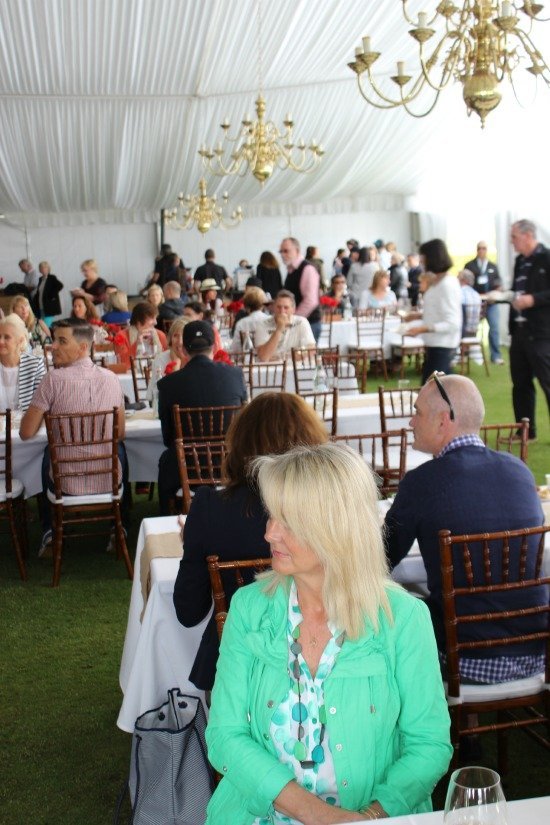 In fact I was lucky to be invited to this, one of the satellite events of the renowned three day food and wine festival in lovely Margaret River. It was held in a chandelier festooned marquee at the very beautiful Cape Dutch inspired Voyager Estate, just outside the town, and it turned out to be wickedly entertaining and informative.
You might like to pop over to my travel blog ZigaZag for more information about sensational places to visit in Margaret River and South West Australia
Anyway I thought all the foodies amongst you Lifestylers might be interested in the celebrity chefs conversation too.
Celebrity Chefs battle it out in words
Claude Bosi (Hibiscus, London),  George Calombaris (The Press Club, Melbourne and judge on MasterChef Australia), Jacques Reymond (chef and restauranter from France, now living in Melbourne) and UK food critic A A Gill treated us to a funny but incisive discourse about the origins of food, and a discussion about whether the idea of fusion actually represented confusion when it came to cooking!
George Calombaris started off by saying: "In Australia, anything's possible. I'm not cooking traditional Greek food at my restaurants using ingredients from Greece, but my food is influenced by my culture, which is Greek. I cook Australian food."
"Hmm. I come from the land of yum!" he said to much applause.
Claude Bosi, who's French, moved to London 17 years ago, and he added that food in general often incurs the notion of sense of place. "If you go to France or perhaps Italy, you want food that represents the region. But in reality you may have a better risotto for instance, in Australia."
Is fusion food just two racehorses that make a donkey?
Fusion food gives a chef the opportunity to express himself.
"We have all these ethnic communities that work together and bring their culture and terroir to cooking. A country that doesn't have a culture, doesn't have a cuisine. When I'm in another country or town I like to talk to people and find out about their culture, then I visit the local market and buy local food, and then decide what to do with it," said Jacques.
"The best cuisine in the world for me is Australian. There are so many great young chefs here. There is confusion about fusion – But I think the most humble and simple food is the best," said George
When it comes to the idea of Terroir there was agreement that not a lot changes particularly somewhere like France. In country bistros and taverns chefs are cooking the same dishes in the same way they did 100 years ago – and if you visit France this is generally the food that you go for and look for.
"You want the experience of the traditional food. So I think terroir works and fusion works too, but in a different capacity," said George. "I think there is a need though to hold onto culture and tradition as a basis for fusion."
A A Gill added that he thinks Australia is a great melting pot of people with tremendous capacity. "You have this notion of how things could be here, and not how things should be."
While Claude was of the opinion that he it's important to look and see what other countries are doing with food. "Keep the tradition as a foundation and progress from there. France is too steeped in tradition and needs to move forward."
Is there an Australian cuisine?
"Well I think we have our own Australian cuisine but it's not specific," said George.
Jacques related the Australian cuisine to the wine industry. "To begin with the Australian wine industry was trying to copy everyone else in the world especially the French and Italians, but now it's found its own identity and terroir, and you can identify where a particular wine comes from in Australia, and soon it will be the same with our cuisine."
"French cuisine is the foundation of the way I cook. But the truffles found in South West Australia are the best in the world," added George, saying he would of course use them and not insist on French truffles for instance.
"I agree," said Claude. "You've got something very special going on in Australia and chefs want to come here, and they want to come to the Margaret River Gourmet Escape to and see what's going on. They don't just come for the sun and flies," he said swatting another seasonal fly from his face.
Terroir, food and lifestyle
George went on to speak about his new restaurant, "A place where we cook wholefood, not Paleo, but food based on the Hellenic lifestyle which I love and adore. The more I delve into my culture and the Hellenic way of eating, I understand why people from these regions live to be over 100 years old. Would I eat margarine – no. I eat butter, it's real and it has a real flavor. Would I eat a bad olive oil – no! There's plenty of choice now – do you know when my Gran arrived in Australia you could only buy olive oil at the Chemists," said George.
Worst Foods
"I went to Amsterdam and Budapest for charity, and by the end of the trip I felt stodgy by the end of it – no I don't like those type of foods. I love Italian and Greek cooking and in Italy you see skinny people eating real food rather than processed food, and I think there's a lot to be said for that," said George.
Claude also agreed with the wholefood idea. "I have someone making traditional bread for the restaurant and this type of real home baked bread doesn't upset me at all. It's made with good ingredients in the right tradition of bread making and doesn't have lots of additives. Whereas so much bread sold over the counter is over-processed and people become intolerant to it."
"Big fast food chains are the devil – we need to hold onto the 'milk man' theory of old," said George. "We need to get back to basic, wholefood – and we need to know where it comes from."
"The worst food for me," said Jacques laughing, "is the English food."
"I'd have to say heavy German food – but I love Germans, and I especially love their cars," added George.
"My worst food was in Madagascar and Ploth in Ubekistan – honestly, you'd rather eat a plate!" said AA Gill to much laughter. "But I love Scandinavian food, and I like deep fried Mars Bars and Porridge, best of all," he joked.
The overarching takeaway from this conversation was that there's a place for fusion and progress along with traditional ways of producing food and cooking. While giving tradition the nod is important, it's also important not to remain in a comfort zone. But at the end of the day cooking should all be about real food and real ingredients.
I'll second that.
Healthy meals using fresh produce that don't have added chemicals or additives, which are produced locally – that's the Lifestyle Fifty philosophy exactly.