Are you a chocolate lover?
Yes? Oh goodie, me too!
Come along with me today as we hop on board the Golden Princess with master chocolatier Norman Love. If you scroll on down, you'll find one of his everso-slightly-naughty Chocolate Journeys recipes.
It was a hot sunny day in Melbourne, the day 7 of us bloggers were invited for a culinary immersive on board The Golden Princess cruise ship, and once onboard after a little tour, we were whisked to sit down for morning tea which included a host of chocolate treats from the Norman Love range.
I wish you could have been with us … because First UP … oh come along now, let's go … you see it was a bit like being in a chocolate factory 😉
Welcome to morning tea and some delectable milk chocolate salted caramel mousse, among other choccie delights.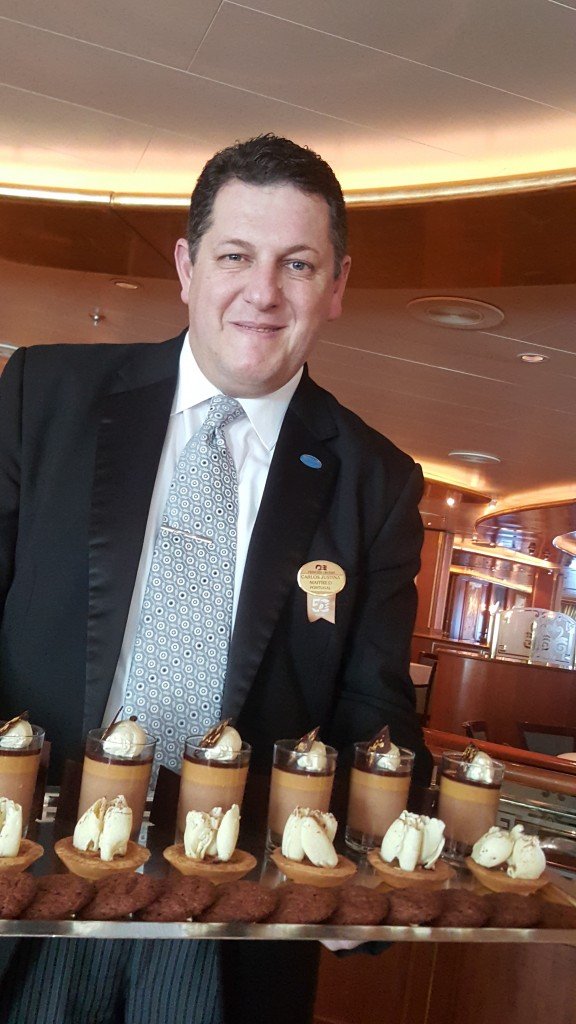 There were so many gorgeous morsels, that I didn't know which way to look first. My head said "Nooooo!" and my heart said, "Eat All of The Chocolate Goodies while you have the chance!"
Anyway, chef Norman Love, creator of the delectable delights, trained in France and was a former executive pastry chef at the Ritz-Carlton. He's teamed up with Princess Cruises to create a series of delicious new chocolate products just for the cruises.
Don't hate me. But we scoffed rather a lot down with morning coffee in the name of research.
I know, I know. Someone has to do it 😉
Apart from noshing, bloggers did what bloggers do best – take photographs of what they're up to. And nobody was allowed to start munching until every chocolate morsel, and savoury treat had been photographed to the Nth degree!
Later on, we were taken into the galley and given a Norman Love sweet treat demonstration by the chefs on board, which we then had a go at replicating.
Below is the professionally finished Raspberry Love Heart Mousse.
Here's how you prepare it, they said!
Please would you consider Pinning this picture if you're on Pinterest?
For a little entertainment here's what happened next.  We all had a lot of fun and the results were hilarious.
So listen up and watch carefully, they said! (Check us all rocking the chef's jackets 😉
And now it's your turn, they said. So on went the hygienic rubber gloves – stylish eh?
Yes, yes, I'm trying to remember what went where and in what order 😉
Ta Da! Finished product. Spot the obvious mistake! #IfonlyIcouldSpell!
If you'd like to try a Norman Love delight – then here you go, you might like this not-too-tricky chocolate mousse recipe:
Norman Love Chocolate Dessert Recipe
Chocolate Mousse with Red Fruit Compote
(Serves 10)
One and a quarter cups semi-sweet chocolate chips
Two and a half cups of whipping cream (heavy cream)
1 cup fresh rasberries
Quarter cup fresh Strawberries
Half a cup of Blueberries
One and a half cups of lemon juice
One third of a cup of granulated sugar
Half a cup of pre-purchased raspberry sauce
Method:
In mixing bowl, whip half the cream using mixer on medium speed until soft peaks form. Set aside.
In saucepan, head additional one and quarter cups of cream to almost boiling. Place chocolate chips in separate bowl. Pour hot cream over chocolate chips. Stir to melt and mix well. Set aside. When chocolate mixture is cool, fold whipped cream into chocolate using large spoon or whisk, incorporating air. Set aside.
In a separate saucepan, combine raspberry sauce, sugar and lemon juice and bring to a boil. Add fresh fruits and let cook for one minute. Remove from heat and let cool.
In martini glass or dessert cup, layer fruit mixture and chocolate mousse.
Serve chilled and Enjoy!
Want to see a behind the scenes look at like on board? You might also like: Will Princess Cruises help you Come Back New?
If you're a little tempted to find out more about cruising costs and destinations,  click here for more details: Princess Cruises
Got a favourite cruise memory, or how about a fab chocolate dessert recipe? Please share with us in the comments.