You want to get your loved ones the perfect gift, but oh dear! Christmas is just around the corner and many of us are still scrambling! Finding the perfect Christmas gift for our loved ones is often tricky. And gifts for baby boomers, well that's another struggle altogether!
If you're looking for the perfect gift for your family members, friends, and/or loved ones who are of a certain age, then you want to get them a gift that won't be relegated to the dreaded 'present drawer' don't you?!
In today's post we share a variety of gifts that will surely interest anyone – but specifically gifts for baby boomers. Browse the wide selection of ideas in this post and find something special for everyone on your list.
Read on and find the perfect gift today!
Baby Boomer Gifts
The holiday season can be hard on all of us. To help make your Christmas shopping easier this year, we've put together 25 super gifts for baby boomers, and tips for finding the perfect Christmas gift. We've also introduced a selection of quality gifts you might consider when buying for your friends and relatives.
Some people just have the knack of finding the perfect Christmas gift for friends and family members each year. Not me! I ponder, and I overthink, buy something, decide it's not right and end up buying something else. I'm always on the lookout for a great gift idea, or something that might be on somebody's bucket list. I'm also useless at wrapping gifts.
If that's you too, then read on for our handy gift buying guide which should help guide you in your decisions and purchases. It's user friendly and something to be referred to again and again.
25 Super Gifts for Baby Boomers
Gym Memberships – why not give the gift of fitness. How about gifting your baby boomer relative a gym membership for a year?
Would your loved one like a trial membership to a golf course?
What about vintage treasures? Perhaps they love housewares from a certain decade? Why not scour the second hand shops for a unique and meaningful vintage gift.
You could get together with friends or family and buy them their perfect holiday gift – would they like a night away, a weekend away, or perhaps a luxury stay in a resort hotel?
How about gifting them the services of a house-cleaner for a deep, one-off house clean, or more!
Essential oils can be used for many things, including massages and for candle making. They also create a lasting memory of smell. Why not get creative with essential oil aromas?
The perfect present from millennial children to their boomer parents might be just to get the whole family together for a surprise dinner – or Christmas.
Most people love to remember friends, family and occasions. Why not give the gift of memories and create a Photo Calendar?
A Skylight digital picture frame is a practical gift, especially if you live far away – Just plug it in and use the touch screen to connect to Wi-Fi. Then you can pick a unique email address for your Skylight frame and then email photos to the frame's address. They will then appear immediately. Sharing photos this way will give instant joy as your boomer friends or family get an up to date and immediate glimpse of you or your children doing something fun or funny, or photos from your holiday.
House plants help keep the air clean and look beautiful. Find an attractive house plant in an attractive container as a gift for the person who has a bit of room to spare in their living space.
Everyone loves a trip down memory lane and has their favorite music, but does you loved one have Spotify? Could you gift them a year's subscription to this popular music sharing channel?
Movies are always better on the big screen. Perhaps a night out with you, or a double entry ticket to the cinema to see a blockbuster, might be just the ticket this Christmas.
Go shopping together and let them pick out their own gifts with you – you can have fun shopping together and make good memories as well.
Buy a gift card for a store they love.
Go with them for an experience they won't forget – take them to their favorite restaurant or to an event.
Get busy in the kitchen and make them something – bake a cake or some cookies and present them in a keepsake tin.
Create something – make some jewellery, or paint a picture if you're arty.
Book a workshop or short course for them – pottery, creative writing, an art class, paper crafts or photography. Better still book so that you can attend something together.
For a woman there's nothing lovelier than a gift card for a massage or a day of pampering at a spa. Ease her sore muscles and give her some luxurious 'me' time!
Gift baskets or hampers with goodies like wine and chocolates are popular at Christmas.
Beautiful candles, whether they are fragrant or elegant, make practical gifts.
For people who love their outdoor gardens, a beautiful plant is often a good idea.
Make it personal – write a poem or song about your relationship with them, and give that as a present.
Fall back gift ideas for the person who has everything, are beautiful bouquets of flowers and luxury chocolates.
A fun way to give a meaningful gift could be to record someone's life story in words and photos and create a photo book.
This gift guide also contains reviews about some tried and tested gift ideas, such as;
Designer watches
Leather handbags
Scarves
Skin care products
Sand free beach towels
Scroll on down for more …
The Secret to buying Great Gifts
The key to finding the perfect Christmas gift lies in knowing what type of present you're seeking for each person, and then resolutely going after it.
No! That does not mean wandering aimlessly around the shops, picking out this and that, and trying to make it the right fit for a friend or family member! This is not the way to go – and it will take you simply ages to finish your Christmas shopping!
Here are some guidelines that can help you find just what your loved ones want or would like, and some ideas to help you out.
10 Top Tips for finding the Perfect Christmas Gift
Think about what the person enjoys doing – what are their hobbies? Buy them something to suit their interests.
Are they new grandparents – could you buy them something useful for their house for when their grandchildren visit?
Think about what kind of person they are – is their personality showy, or discreet, extrovert or introvert?
Do some research – ask their friends or family to find out what they like, and see if they have any great gift ideas.
Think outside of buying a gift from a store – why not make it personal and make them something unique?
Don't forget to wrap your gift as beautifully as possible – because appearances do matter. Here are some lovely gift wrapping products.
Be thoughtful in giving a present, but don't feel pressured to spend too much money or time on something that will only be used once and then forgotten about.
Don't fall into the trap of thinking expensive is more important. It's always the thought that counts.
Give them something they have wanted but would never buy for themselves.
Remember it's the thought that counts – so put some thought into your gift buying and you can't go wrong!
What does the person you're buying for enjoy?
How many times have you been in a store and had no idea what to buy for someone? You've wandered around, seen some things you like, but which may not suit them, and then given up in despair.
But have you actually tried asking them what they like doing, and what their interests are outside of work? Finding the perfect Christmas gift for someone actually means you have to know what they like.
It can be difficult to find the perfect gift for someone you love.
We all have different hobbies and interests so what might seem like a great idea to one person, might not work for another at all.
I know that I am always struggling with this dilemma because my friend is really into cooking but she hates gardening!
This year, instead of trying to think of something different or something she already has or doesn't want, I've decided to focus on her favorite hobby – cooking!
Be Creative in your Gift Buying
We all know that typical gift-giving options can be pretty boring.
The standy by options of flowers, chocolates, and scented candles are always nice, but they're not always the most exciting gifts to give.
This year, why not try something different?
Get creative and think outside the box! There are tons of great gift ideas out there that will make your loved ones feel special.
Why not give them an experience instead of a material item?
Cook them dinner and make the night really special.
Why not take them on a hike, perhaps somewhere they've always wanted to go but haven't had the time to book.
Or maybe buy tickets to a show.
If they like photography, how about booking them into a photography workshop?
You could send them on a night away or a weekend getaway or a staycation near where they live (or somewhere new). You'll need to plan this ahead of time and work out how much money should go into the present versus how much should be given as spending cash. Let them know in advance in case the date doesn't suit.
If you put some thought into it, you can come up with something special that your friends and family will love.
So don't wait – start thinking out of the box about what kind of experience you can give this holiday season.
Create your own unique gift
We're all guilty of randomly buying gifts from boutiques and stores – just picking out something that we think will make someone happy.
But what if you could take things to the next level and actually give someone a hand crafted gift?
It's time for holiday shopping without the stress!
Here are some creative DIY gift ideas for you to create at home.
Why not put together a photo book with pictures from your childhood together, or photos of their favorite moments in life so far.
A handmade card with a thoughtful note is one of the best gifts that you can give. It's not just about the words written on the card, it's about how much time and thought was put into it. A handmade card says so much more than any other type of gift because it shows someone cared enough to create something for you. The recipient will know that they are valued and cherished by your gesture, which is what Christmas should be all about!
Find out how to make earrings or necklaces and make something unique in your friend's favourite style and colours.
Check out how to make home made beauty products on the internet, and make something wholesome and chemical free.
Can you paint? Nothing says "I Love You" more than a unique painting that you've created yourself.
Buy them the gift they would never buy for themselves
What do you get the woman who seems to have everything? Or for the man who says he wants nothing!
The answer is simple, give them something they really want but would never buy for themselves because it seems too indulgent to them.
Maybe it is a luxurious piece of jewelry, or a new handbag, or even a trip to an exotic destination.
For him, maybe it's a classy piece of clothing or a lovely watch.
No matter what you choose, make sure it's something that will make them feel special and appreciated.
Gift Baskets or Hampers are popular at Christmas
I'm sure you've seen those baskets or hampers with goodies like wine and chocolates.
They are super popular at Christmastime, but there's no reason to wait for the holidays to make someone feel special!
You can create a personalized gift basket for any occasion. Either buy a wicker basket and then fill it yourself or buy a ready made-up one.
Just Google "Food Hampers," or "Food and Wine and Chocolate" hampers.
There are also many great ideas on Pinterest.
Quality Gift Ideas for Men and Women
What could be better than giving someone a gift they'll truly love?
Below are some quality gift ideas that would suit both men and women.
I hope these gifts for baby boomers help you out so you can spend less time worrying and pondering!
Watches of Distinction
For the man in your life, I don't think you can go past a new watch, and I'm loving Danish watch brand Nordgreen's minimalist watches. With their choice of watch faces, interchangeable watch straps, face colours and case colours you can design the perfect watch to suit your individual style.
Designed by Jakob Wagner, Nordgreen watches are exquisite. This Danish Watch brand produces designer watches for men and women that are both minimalistic and effortlessly stylish.
Nordgreen focuses on sustainable design and social responsibility, ensuring that you are not just buying any old watch.
Nordgreen's men's watches and women's watches make great Christmas ideas for that someone special in your life.
For Him: We chose the Pioneer * with a Black Dial, Silver dial colour, and Silver Mesh Strap in a manly 42mm circumference.

The Pioneer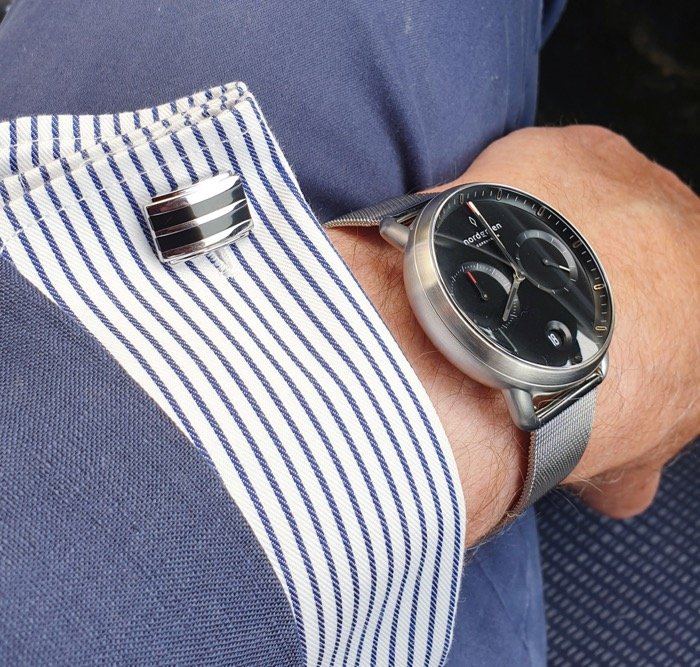 The Pioneer comes with a great choice of watch straps, different colour casings and dial colours.
I love the manly look and feel of The Pioneer * from its sturdy, sophisticated watch face to the gorgeous vegan strap. Straps, watch faces, dial colours and case colours are interchangeable – check out the different option at Nordgreen.
The seconds hand, as well as the minute counter, features a red tip reminiscent of the design influence of sustainable energy windmills.
Infinity
I find it hard to choose between Nordgreen watches for ladies, but this year I chose the modern, sleek Infinity * with a Silver mesh strap, silver casing and dial colour. It's 32mm in circumference and looks so classy.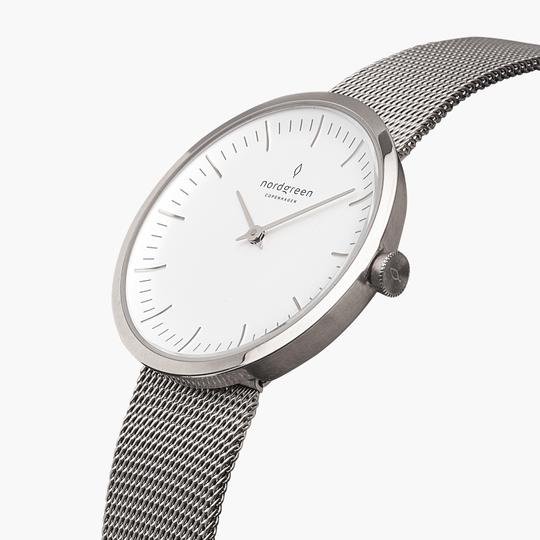 I took it on a casual day out with our LhasaPoo the other day, but I'm not quite sure if Minnie or Infinity got the most attention. But it is a watch deserving of attention and I'm looking forward to wearing it with silver shoes and silver handbag for Christmas parties this year.
The Native
For a female friend or relative another choice would be The Native * It's sleek and trendy but sturdy enough for active day to day wear too. If you're after a ladies fashion watch for the day, then this is it.
Nordgreen calls this a second generation of its bestseller timepiece, the Native. I love its subtle design updates, and the additional combinations and finishes.
It's beauty is in the details, as the longer 9 and 3 o'clock marks as a design special tribute to the balance of Danish life and culture.
I love the mink blue vegan leather strap.
Nordgreen's Vegan Straps
Vegan straps – Finally, a watch strap that is both sustainable for our planet and reassuring for your changing values. Made from a cotton and polyester blend, Nordgreen's Vegan Leather Strap gives you an alternative leather experience, with no compromise to quality.
No conflict minerals
No heavy metal stabilizers
No persistent organic pollutants
No toxic by-products
No phthalate plasticizer
+99% of solvents are recaptured and recycled
You can read more about Nordgreen in a Lifestyle Fifty article here : Minimalist Watches
Travel & Living Collection Handbags, Scarves, Accessories
For a selection of Australian designed leather handbags and gorgeous scarves, head over to Travel and Living Collection.
Pieces are unique, and oh so giftable. The Hannah bag is another of my favourites.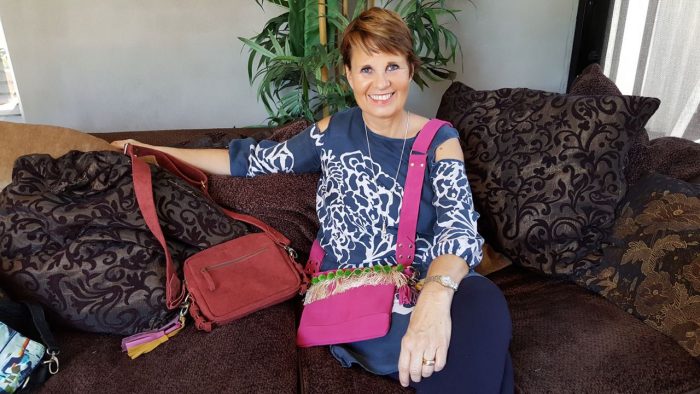 Skincare Products to Gift
I've been using these products for around 9 years, and I'm lucky that I often get complimented on my skin.
The gift of new skin products to try might be something you might consider for a relative or a best friend.
The three basic products I use every day are called Elements .
Ageloc Gentle Cleanse and Tone. It's a foaming cleanser that combines cleansing and toning in one step.
Ageloc Radiant Day with Sunscreen which helps to hydrate my skin and helps shield it from UVA and UVB sun damage.
Ageloc Transforming Night which helps keep my skin nice and supple.
For Christmas why not buy Elements for a friend who loves quality beauty products? Read more about them in this post.
NB: If "OUT OF STOCK" shows up, click on ADD TO BAG and see if the error changes.
Sand Free Beach Towels
In Australia, Christmas is synonymous with the beach!
But one of the worst things about going to the beach for me is drying myself off with a towel that's full of sand, or worse still shaking it first and the sand flies all over other people!
I've discovered Tesalate * beach towels and I absolutely love them.
The exclusive AbsorbLite technology means sand doesn't stick, even when wet.
The towels can retain twice their weight in water.
They're engineered to dry in half the time of a regular towel.
They are compact and light – and come in a handy carry bag that you can pop into your beach bag without any stress.
Lifetime Guarantee – love it, or return it, no questions asked.
But most of all I love the designs. I'm more of a tropical bird, but there are stripes and Aztec designs and so so many more to choose from.
What a great present at a reasonable price – you could even buy a Him and Hers?
I wish you Happy Buying this Christmas – and beyond. These gift ideas would also make great gifts for birthdays, anniversaries, mother's and father's days too!
You might also like
40 Christmas Movies you must watch this holiday season
19 Christmas Traditions and Memories
13 Top Tips for Christmas Party Dresses
18 Ideas for Christmas Vacations
This post contains gifted products marked with an * and affiliate links from which I stand to earn a small commission but at no expense to you. Lifestyle Fifty Website is a participant in the Amazon Services LLC Associates Program, an affiliate advertising program designed to provide a means for sites to earn advertising fees by advertising and linking to Amazon.com. Please read my full disclosure here.