Updated for 2020: Welcome to the Lifestyle Fifty Christmas Gift Guide for women over 50. Specifically formulated for mature women who are looking for gifts of substance which won't break the bank, but which will delight family and friends.
I've also compiled this list with Secret Santa's in mind. In this case I the featured products would be a welcome surprise for any recipient.
This gift guide contains Christmas gift ideas for men and women …
Minimalist designer watches
Sand free beach towels
Leather handbags and scarves
Skin care products
Watches of Distinction
For the man in your life, I don't think you can go past a new watch, and I'm loving Danish watch brand Nordgreen's minimalist watches. With their choice of watch faces, interchangeable watch straps, face colours and case colours you can design the perfect watch to suit your individual style.
Designed by Jakob Wagner, Nordgreen watches are exquisite. This Danish Watch brand produces designer watches for men and women that are both minimalistic and effortlessly stylish.
Nordgreen focuses on sustainable design and social responsibility, ensuring that you are not just buying any old watch.
Nordgreen's men's watches and women's watches make great Christmas ideas for that someone special in your life.
For Him: We chose the Pioneer * with a Black Dial, Silver dial colour, and Silver Mesh Strap in a manly 42mm circumference.

The Pioneer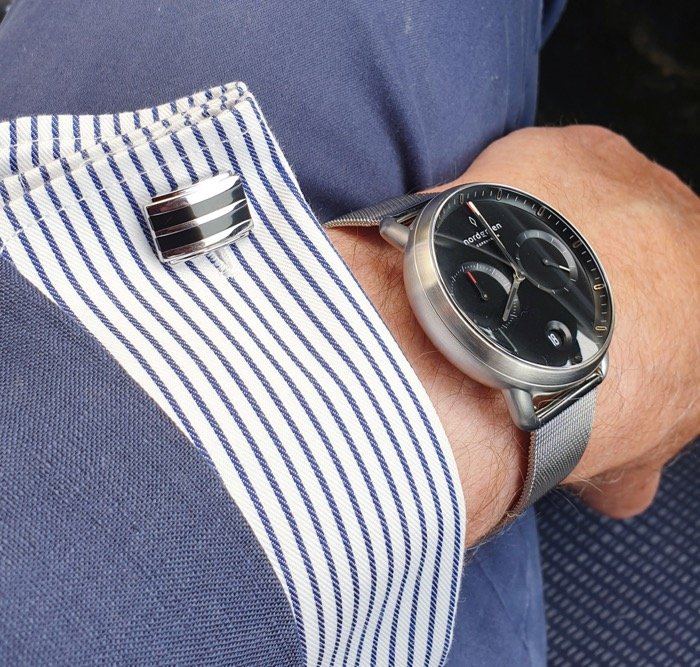 The Pioneer comes with a great choice of watch straps, different colour casings and dial colours.
I love the manly look and feel of The Pioneer * from its sturdy, sophisticated watch face to the gorgeous vegan strap. Straps, watch faces, dial colours and case colours are interchangeable – check out the different option at Nordgreen.
The seconds hand, as well as the minute counter, features a red tip reminiscent of the design influence of sustainable energy windmills.
Special 35% off! UNTIL 2nd December 2020
Use Code: LIFESTYLE at checkout
Infinity
I find it hard to choose between Nordgreen watches for ladies, but this year I chose the modern, sleek Infinity * with a Silver mesh strap, silver casing and dial colour. It's 32mm in circumference and looks so classy.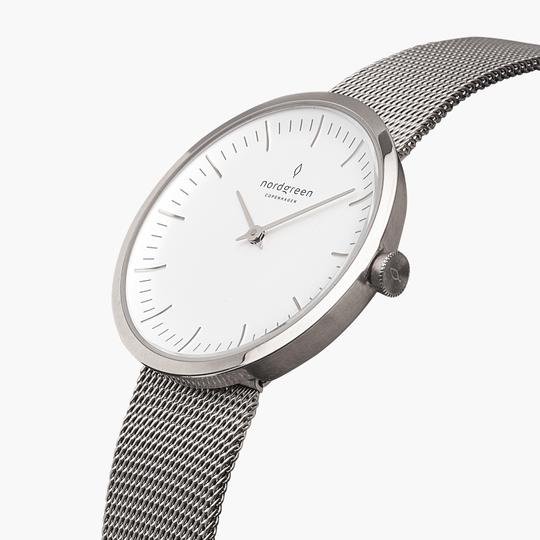 I took it on a casual day out with our LhasaPoo the other day, but I'm not quite sure if Minnie or Infinity got the most attention. But it is a watch deserving of attention and I'm looking forward to wearing it with silver shoes and silver handbag for Christmas parties this year.
The Native
For a female friend or relative another choice would be The Native * It's sleek and trendy but sturdy enough for active day to day wear too. If you're after a ladies fashion watch for the day, then this is it.
Nordgreen calls this a second generation of its bestseller timepiece, the Native. I love its subtle design updates, and the additional combinations and finishes.
It's beauty is in the details, as the longer 9 and 3 o'clock marks as a design special tribute to the balance of Danish life and culture.
I love the mink blue vegan leather strap.
Special 35% off until 2nd December 2020
Use code LIFESTYLE at checkout
Nordgreen's Vegan Straps
Vegan straps – Finally, a watch strap that is both sustainable for our planet and reassuring for your changing values. Made from a cotton and polyester blend, Nordgreen's Vegan Leather Strap gives you an alternative leather experience, with no compromise to quality.
No conflict minerals
No heavy metal stabilizers
No persistent organic pollutants
No toxic by-products
No phthalate plasticizer
+99% of solvents are recaptured and recycled
You can read more about Nordgreen in a Lifestyle Fifty article here : Minimalist Watches
Sand Free Beach Towels
In Australia, Christmas is synonymous with the beach!
But one of the worst things about going to the beach for me is drying myself off with a towel that's full of sand, or worse still shaking it first and the sand flies all over other people!
I've discovered Tesalate beach towels and I absolutely love them.
The exclusive AbsorbLite technology means sand doesn't stick, even when wet.
The towels can retain twice their weight in water.
They're engineered to dry in half the time of a regular towel.
They are compact and light – and come in a handy carry bag that you can pop into your beach bag without any stress.
But most of all I love the designs. I'm more of a tropical bird, but there are stripes and Aztec designs and so so many more to choose from.
What a great present at a reasonable price – you could even buy a Him and Hers?
Travel & Living Collection
For a selection of Australian designed leather handbags and gorgeous scarves, head over to Travel and Living Collection. Pieces are unique, and oh so giftable. The Hannah bag is one of my favourites.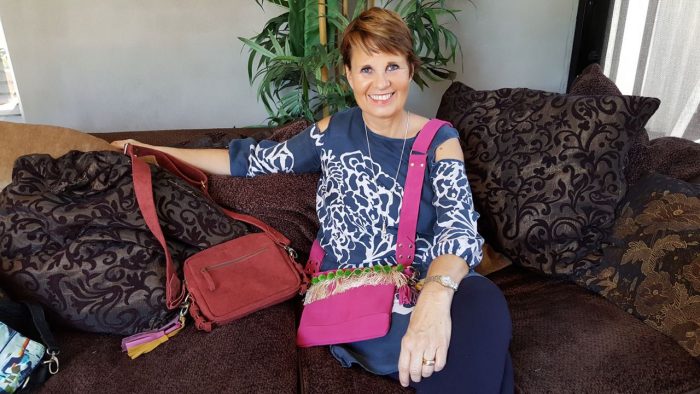 Below I'm carrying the Amelie, a luxe leather shoulder bag from Travel & Living Collection and wearing one of my favourite dresses from Adrift. Check out Adrift clothing for other lovely gift ideas for your female relatives and family.
Skincare Products to Gift
I've been using these products for around 8 years, and they have really really helped my skin stay supple and remain looking youthful. I'm lucky that I often get complimented on my skin, and I know it's down to these products because, to be honest, I think I was looking older 8 years ago than I do now.
The gift of new skin products too try might be something you might consider for a relative or a best friend.
The three basic products I use every day are called Elements . Read more about them and watch a video in this post.
Ageloc Gentle Cleanse and Tone. It's a foaming cleanser that combines cleansing and toning in one step.
Ageloc Radiant Day with Sunscreen which hydrates my skin and helps shield it from UVA and UVB sun damage.
Ageloc Transforming Night which keeps my skin nice and supple.
For Christmas you can buy Elements with 20% discount:
NB: If "OUT OF STOCK" shows up, click on ADD TO BAG, and you should be able to purchase with discount using the link below.
If you really want to splash out buy your girlfriend a Galvanic Spa. For me, it's like my little wrinkle iron!
I wish you Happy Buying this Christmas – and beyond. These gift ideas would also make great gifts for birthdays, anniversaries, mother's and father's days too!
This post contains gifted products marked with an * and affiliate links from which I stand to earn a small commission but at no expense to you. Lifestyle Fifty Website is a participant in the Amazon Services LLC Associates Program, an affiliate advertising program designed to provide a means for sites to earn advertising fees by advertising and linking to Amazon.com. Please read my full disclosure here.