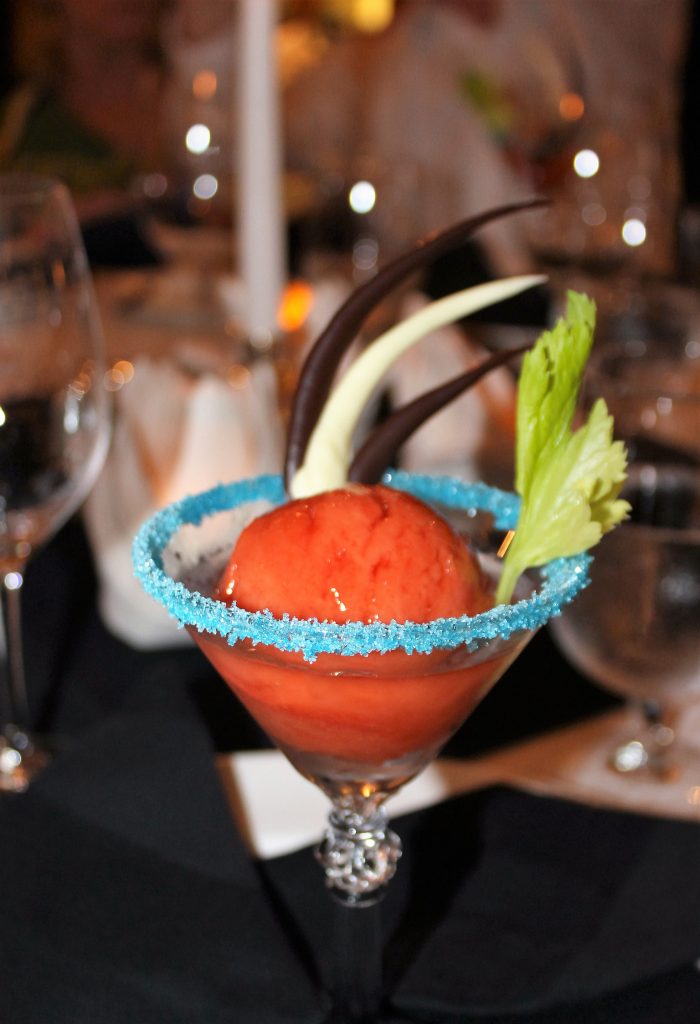 Food Glorious Food! We'd heard from friends that the food experience on cruises was something very special, and when we first encountered Princess Cruises we were left in no doubt that our 104 night round the world adventure was going to be filled with the most wonderful dining experiences.
So it was with great excitement, and some trepidation, that we embarked on Sea Princess in Sydney knowing that if we weren't careful about what we ate, our weight could balloon.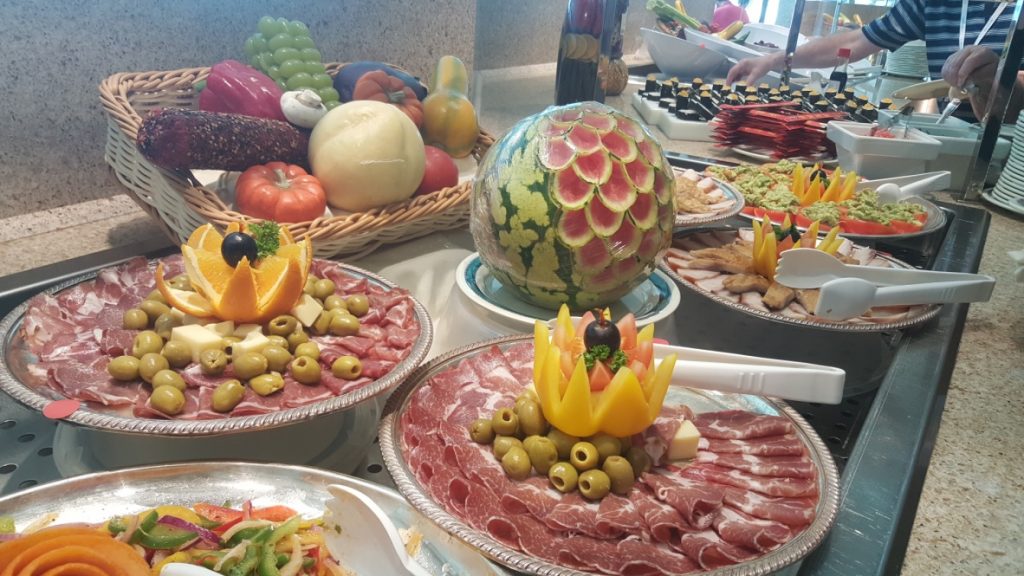 On short cruises you might be able to get away with some over indulgence, but when you're on a 104 night world cruise you have to be more careful, and treat the cruise as a lifestyle, otherwise you could return home a much more cuddly version of your former self.
What's the food like on a cruise?
We've found the culinary temptation is constant and highly alluring.
From elegant specialty restaurants to themed buffets and formal dining, from deluxe burgers on deck to pizza's at the pizzeria, from an all-hours buffet which serves a mind boggling (and constant) array of (constantly changing) delights – if there isn't something for everyone on board then I'm at a loss to know where you'll find it!
Culinary Celebrities
The food experience on Sea Princess has so far been led by two passionate Italian gentlemen, Carlo Persia (Executive Chef) a charming Tuscan, and friendly Ignazio d'Agostina (Maitre d'Hotel) who hails from the Adriatic coast.
These two culinary celebrities have a great relationship and their continuous joshing and banter with regard to which food from which region is 'better' is brought to the fore with their cooking demonstrations (above) – which are not to be missed!
We watched these two effortlessly whip-up Tiramisu, Caesar Salad, and Eggplant Parmigiana (recipe below) in no time at all at a foodie demonstration one morning in the Vista Lounge.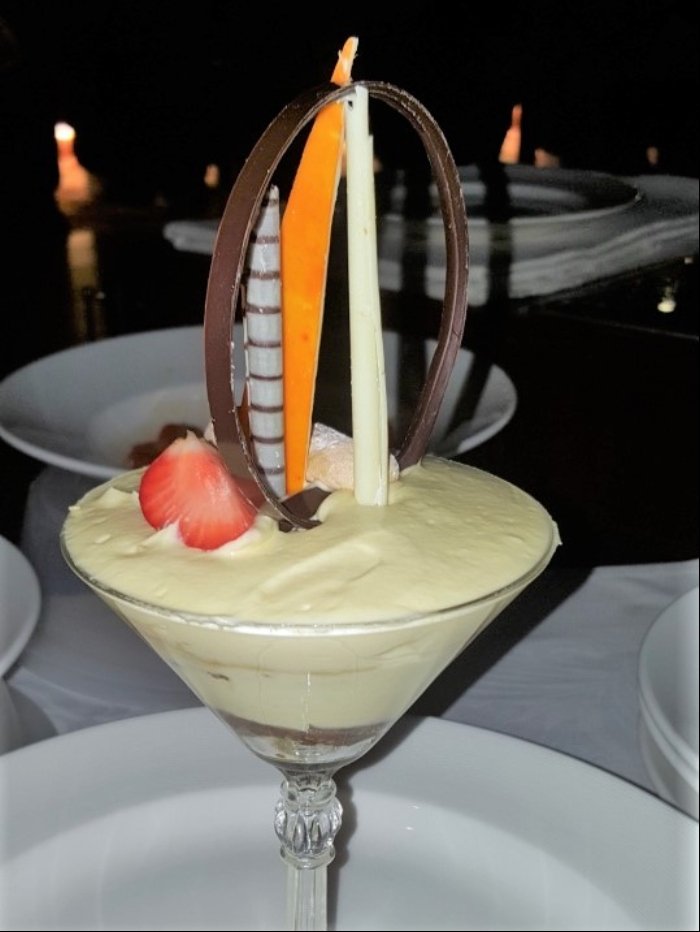 Fast Fact: Around 10,000 meals a day are produced on Sea Princess with a team of 349 crew members (culinary) dedicated to providing passengers with an unforgettable dining experience. For an informative insight make sure you go on a galley tour if one is offered.
Where to eat?
Dining options on board include two formal dining rooms, Rigoletto and Traviata, then there's the Horizon Court Buffet, Cafe Corniche (pizzeria), the Riviera Grill, Amuleto Italian Cafe, room service, and in addition there are some specialty dining options including The Sterling Steakhouse, Champagne Breakfasts and last, but definitely not least, The Chef's Table.
If you want a little exclusivity in the daytime you can head to The Sanctuary at the top of the ship where you'll be tempted with gorgeous snacks and cool refreshments.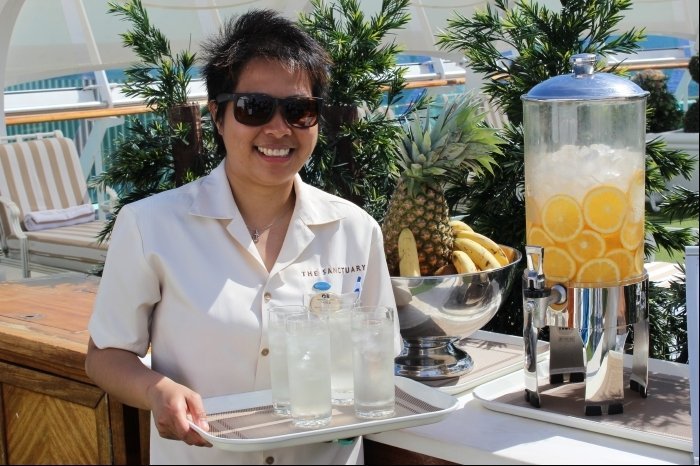 Fresh food and healthy eating
We've found there's a high focus on fresh food and healthy eating with various menu options for vegetarians, vegans, and passengers with food intolerances.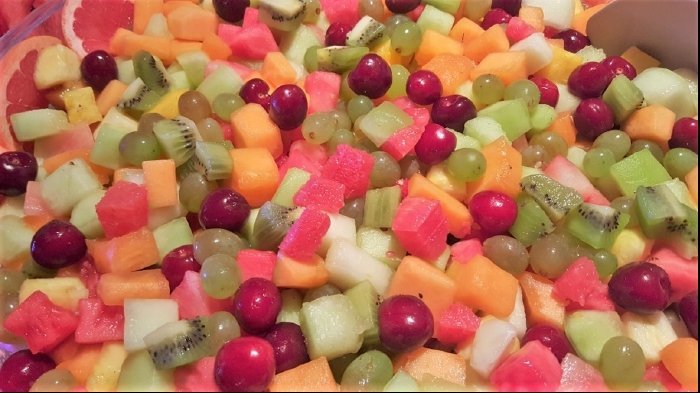 Formal Dining
The two formal dining rooms, which seat a little over 500 people each, are located off the Atrium, the glamorous heart of the ship. The formal dining rooms serve breakfast, lunch, afternoon tea and dinner, except on port days when only evening meals are served.
There are two evening dining times at 5.45pm and 7.45pm and the menu changes daily,. You can choose to have 4 to 5 courses, there is always a fish and a vegetarian main meal option, and there is always a Curtis Stone (Australian, celebrity TV chef) feature main dish on the menu too. We're lucky to be seated each night with some lovely people – Jean, Robin, Jim and Adele.
In the formal dining room, Traviata, we dine at the 7.45pm seating which on a world cruise is less popular than the earlier sitting, but we find this works really well for us as it dovetails nicely with watching the late production shows in The Princess Theatre, which typically stage at 9.45pm.
Dress Code
The dress code for the dining rooms is smart casual but every two weeks or so there are formal evenings when ladies wear cocktail dresses or long dresses, and men wear dark suits or dinner jackets.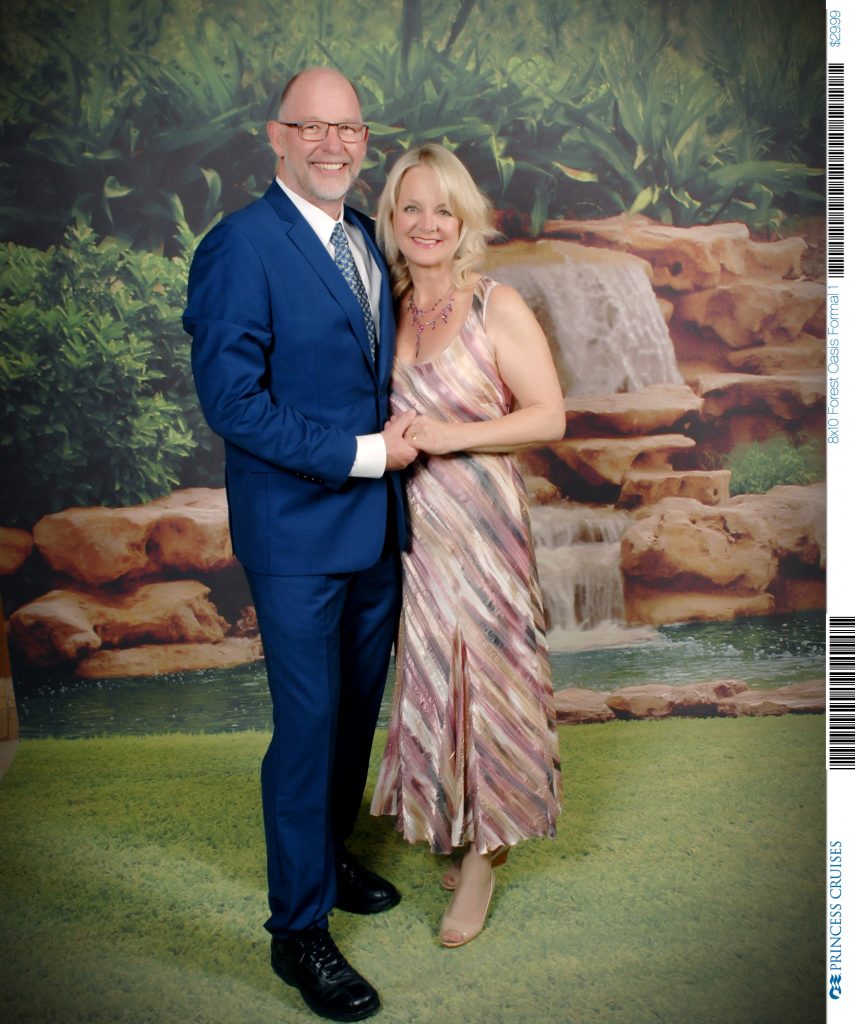 It's great fun getting glammed-up in our finery and making dining an occasion. On these nights we're often treated to a fabulous menu that might include delicacies such as lobster, or escargots, and beef Wellington.
Dress code in Horizon Court buffet or Cafe Corniche are more casual, and the Riviera Grill is open for beach wear.
We don't dine in the formal dining room every night, but choose to eat there once every three to four days as a treat, and to catch up with the friends we've made at our table – but this is entirely up to personal preference, and many people eat here daily.
Special Events
Sometimes there are lovely surprises such as the Parade of Baked Alaskas which happens on the last formal evening at the end of each sea leg when all the waiters perform a conga around the dining room carrying Baked Alaskas with candles.
Or perhaps on hot days there are fruit buffets overlooking the pool deck ..
Dave really enjoyed the Maitre d'Hotel's Wine Tasting Club for which there is a charge – around $34 where you get a chance to taste premium wines paired with delicious canapés – and I attended a fantastic Champagne Tasting session complete with mouth watering canapés.
Also from time to time in the formal dining rooms there are specialty buffet brunches and pub lunches.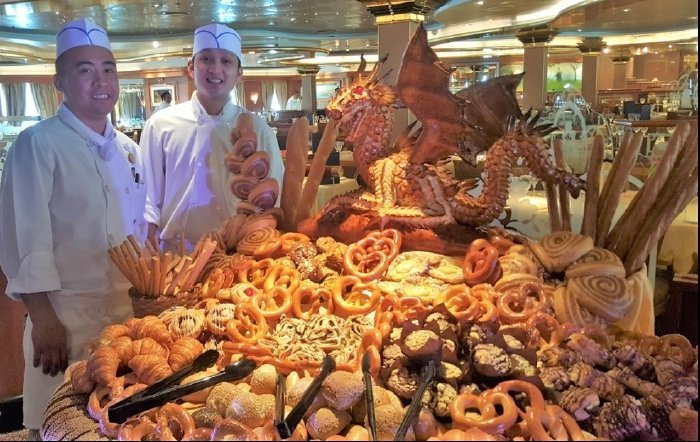 and let's not forget the oh-so-British afternoon teas.
Norman Love Chocolate Desserts
If I could eat Norman Love's chocolate desserts for breakfast, lunch and dinner, I would! They are just The Best!
Luxurious chocolate creations by Master Chocolatier Norman Love are designed exclusively for Princess Cruises, and chef Carlo told us that many of these desserts take the kitchen three days to prepare as they have to be made in stages.
The 'Chocolate Journeys' desserts vary each day and one of my favourites is the chocolate hazelnut bar with citrus cream (BELOW).
All Day Dining
The other main option for dining on board is the Horizon Court Buffet which is open 24 hours for various dining options.
This is a self service buffet with free seating and is great as a casual more flexible dining choice.
We tend to always have breakfast and lunch here, often taking our meals out onto the deck to eat al fresco. Horizon Court has a series of themed evening including Italian, German, Indian, Mexican and Asian where scrumptious assortments of regional foods are showcased.
Specialty Dining
We've also enjoyed several evenings eating at The Sterling Steakhouse.
This specialty steak and seafood restaurant is adjacent to Horizon Court. There's currently a $29 surcharge per person when dining here, but it's definitely worth it as you're treated to a four course meal of the highest quality.
The selection of aged and marbled steaks is varied and once you've chosen your cut, they're cooked to perfection – exactly how you request them.
There's also fish, delicious seafood, and chops to choose from too and all meals are served with a generous side serves of vegetables … even extra chillies if you request them!
If you choose to have a starter such as garlic prawns served atop your steak, just ask – your every dining wish is catered for and you will be thoroughly spoilt.
The Pizzeria
Another option we really enjoy is La Corniche pizzeria which specialises in a delicious selection of perfectly wood fired pizzas – we often choose to dine here after a day in port when we want something quick and delicious to eat before an early night.
I overheard somebody say, "These are the best pizzas I've ever eaten," and we would definitely agree with that's.
Stateroom Dining
Another option is to order a wonderful Lobster dinner or Champagne Brekkie served in your Stateroom (for which there is a charge). We enjoyed this experience while cruising the Suez Canal, and you can read about it HERE.
Chef's Table Dinner
"It's very special, you're going to love it," Ignazio said to me when he first mentioned The Chef's Table dinner.
We didn't realise quite how special it was going to be, until we received an official invitation on white bond paper in the pigeon hole outside our Stateroom.
"It's my pleasure to welcome you to the exclusive Chef's Table event starting with a unique and engaging get-together in the Galley including hors d'oeuvres and Champagne and ending with a lavish multi-course dinner, specially prepared for you" read the Invitation which we found in our pigeon hole outside our Stateroom one evening.
There was also a list of all the hygiene compliances we had to adhere – covered shoes, freshly laundered clothes and definitely not one hint of tummy upset from either cabin member within 48 hours of going into the galley – or the galley, we were told, would have to be shut down and sanitised from top to bottom – that's how seriously hygiene is taken on the ship.
And so it was that 10 of us glammed up and met outside Rigoletto Dining room waiting for Ignazio (Maitre D'Hotel) to take us through to the galley.
Our first instruction was on how to wash our hands.
"I expect you think you know how to wash your hands," he said as he showed us the correct ship's procedure.
Twenty seconds of fairly vigorous scrubbing with soap and warm water, and thorough drying was required before we could get any further than the fire extinguisher. Then we were asked to put on white coats. "Oh, are we going to play Doctor's and Nurses,' someone joked to much laughter!
Suitably attired we were taken to an area where I was quick to espy a champagne bottle and glasses. Others might have spotted the amazing ice carving and incredible vegetable carvings.
We were introduced to the delightful Executive Chef, Carlo Persia and he began to explain the preliminary appetiser courses, which came out in swift succession. Below, foie gras followed by king crab margarita with mango slaw.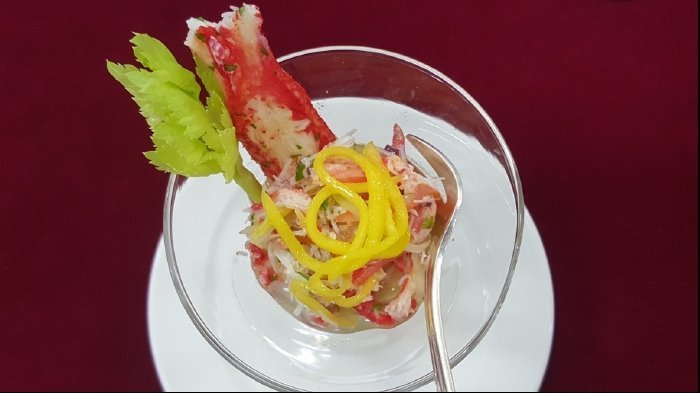 Afterwards, and a little bit merrier due to the champagne we were ushered in the main dining room where a spectacular table had been set for us. We were also joined by fellow bloggers Lyn and Dave Pedlar below.
Then the main courses were presented, and we were treated to different wines with each course.
I decided to photograph the menu … it was so special.
To finish the evening, the ladies were presented with a red red rose, we all received two photos each, and the gentlemen received a fantastic hard cover Princess Cruises Cookery Book.
If you get the chance to book a Chef's Table dinner – just do it!
Ignazio (Maitre d'Hotel) and Carlo (Executive Chef)
We had arranged to chat to Ignazio and Carlo at 12 o'clock one day for a quick question and answer interview about all things culinary.
When we arrived we were surprised to be ushered to a table at the back of the dining room and shortly afterwards Ignazio and Carlo appeared along with plates of anti pasta and a bottle of red wine. This was not going to be a standard interview 🙂
For the next hour and a half we chatted non-stop about life, the universe and everything but particularly about their passion for food and customer satisfaction.
"If I didn't love this job I wouldn't be here," said Ignazio. "But I do love it, and I choose to be here."
Their warmth, openness and delight in talking about something which is deeply important to them was such a privilege to witness.
Ignazio told us about his family's olive farm in Italy, and spoke with passion about the olive trees, from which they produce extra virgin olive oil, and he enlightened us about best cooking practices and the way to serve Italian regional foods.
"Although I work front of house on board because I love interacting with people I have a real passion for cooking as well," said Ignazio.

"Yes," quipped Carlo he's often looking over my shoulder – or helping me with preparation early in the mornings."
And Carlo, who's from Tuscany, recounted stories from the time he owned and ran a restaurants in Firenze and Aruba, and we learnt that his real passion is creating fusion foods, and how everyday he tries to discover something new about cooking.
"I can't go to bed happy, unless I've learnt something new each day," Carlo said.
"When I'm on shore I like to hunt down new foods and when visiting Japan I discovered the best cheese cake I've ever tasted – after my fourth visit the owner generously gave me the recipe!" Carlo laughed.
Carlo gets into the galley early at 5.30 am because he's passionate that everything must be right before his team arrive. "I am the chef and I run the galley but in my heart I'm a cook and I still love to cook," he told us.
With culinary crew as dedicated as this, on board Sea Princess, it's no surprise that the food experience is something very very special.
With all these mouthwatering dining options on a world cruise for more than a hundred days it would be so easy to eat everything on offer and expand out of your clothes, and so you need to think about this and be careful about what you choose and the amount of exercise you do (sign up for the Lifestyle Fifty Newsletter so that you don't miss the blog post coming up on How Not to Put on Weight during a Cruise!)
But on the other hand, dining on Princess Cruises is meant to be enjoyed – so let your guard down on special occasions and Go For It!
We certainly do 🙂
Potted Bios
Carlo Persia
Carlo was born in Teramo and spent his early childhood in Tuscany. He began his career at Le Grand Hotel of Roma and joined Princess Cruises in 1984. Subsequently he worked at the Lord Byron in Rome followed by a position as the Prince of Arabia's personal chef at his residence in the Principality of Monaco. He's owned restaurants in Firenze and Aruba and in 2005 he returned to sea onboard Emerald Princess and has been with Princess Cruises ever since.
Ignazio D'Agostino
Ignazio was born and raised in the South of Italy on the Adriatic coast. He's worked in Elba Island in a five-star Acacie hotel, and in 1985 he was introduced to cruising and began his career at sea with Sitmar Cruises. In early 1988 Sitmar Cruises merged with Princess Cruises and since then Ignazio has sailed through the ranks on many Princess vessels working his way up to achieve his goal as a Maitre D'Hotel.
Norman Love
Norman Love trained in France and was executive pastry chef at the Ritz-Carlton. He's considered one of the best chocolatiers in the world, especially for his signature, handcrafted confections.
I'm a guest of Princess Cruises but all opinions are my own.