Dave likes to tell me that when we were first married I couldn't even boil an egg. Now maybe I was a bit experimental, but I wasn't that useless and over the years as we've moved from country to country I've added a bit of this and a bit of that into my repertoire, and as such I'm very good at cooking whatever I can find in the fridge or pantry but rather bad when it comes to being able to produce the same meal twice.
Following a recipe to the nth degree sends my brain into turmoil.
"Oh I loved that!" Dave will say when I've cooked something nice,  and then he'll add, "But I suppose I'm not likely to ever get it again."
That's just the way I roll. Like I said. Experimental. I'm an organic-natured-kind-of-cook, maybe it's my old hippy instincts that tell me to just go with the flow?
So when Cape Lodge invited me to a cookery class I was really up for it, because I need instruction about how to do things correctly.
Cooking classes with executive chef Michael Elfwing
Working with seasonal local produce we discovered some of Michael's kitchen tips, recipes and how to choose the best ingredients before sitting down to  a superb three course Long Table Lunch served in the Cape Lodge Restaurant.
And what a cookery class it was … Michael demonstrated recipes for a Perfect Sunday Brunch (10 recipes for 3 courses to be exact) and the Potato Terrine with salmon was one of my favourites – so lovely Lifestylers I just had to share it with you, and you'll find the recipe at the bottom of the post.
But first a little about Michael and the cooking classes.
Michael has worked in some of the World's best kitchens including Heston Blummenthals' Fat Duck, Cheong Liew's Grange and with Mathias Dahlgren at Stockholm's Grand Hotel. He hails from Sweden but his culinary training is French, and he enjoys creating modern regional cuisine. He's running a calendar of Cooking Classes at Cape Lodge where you can learn how to present a three course menu which can easily be recreated at home.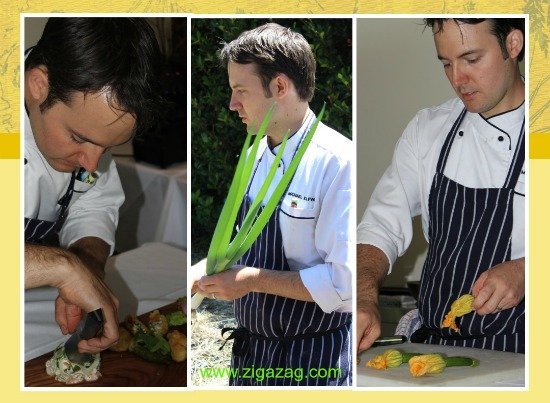 So for my readers in SWA here's the calendar, and for everyone else around the world scroll on down for the recipe 🙂
6 December- Festive Season Menus
17 January- Cooking with Marron
21 February-Scandi Summer Dishes
14 March- Cooking with Wine
18 April-The Art of Soufflé
16 May-Margaret River Beef
20 June-Chocolate Class
For some dreamy photos of Cape Lodge and if you are needing a luxury retreat then you might also like: Perth Weekend Getaways : Cape Lodge, Margaret River

If you're looking for a fabulous food, recipe and restaurant blog to follow then try : Not Quite Nigella
Easy Brunch Recipes : 1
Potato Terrine with Salmon
An impressive, but easy to create Nordic recipe ideally suited for brunch. This recipe was created by Michael Elfwing from Cape Lodge in Margaret River and designed as a brunch recipe for a summer day in Australia.
Prep time : 30 Minutes
Serves : 10
Ingredients
1kg Chat potato
400gm sour cream (you can half the sour cream and add either creme fraiche or yoghurt)
3pcs Red onion
5-7pcs spring onion
50gm Dill
25gm chives
6 hard boiled eggs
Salt and white pepper
400gm smoked salmon slices (optional)
Salad leaves, red radishes, celery, cucumber
What to do
Boil the Chat potato in their skins in salted water with dill stems and a small knob of butter. Let the potato cool down completely in the fridge (this can be done the day in advance.)
Cut the red onion into fine cubes, slice the spring onions and chives finely, chop the dill tips.
Mix the sour cream and creme fraiche, the onions and herbs, season with salt and white pepper.
Slice the eggs into thin slices
When the potato is cold crush it with your hands to release the starch and make it creamy, stir in the sour cream mix and mix well.
Line a loaf tin or cake mold with glad wrap.
Layer the potato mix with the smoked salmon slices and sliced eggs. First and last layers should be the potato mix, and there should be two layers of eggs, and three of salmon.
Leave to set in fridge.
Then turn cake tin upside down and ease the 'loaf' onto a plate.
Make a salad of the salad leaves, red radishes, celery and cucumber, arrange on top of the potato terrine.
Disclaimer: My cooking class was courtesy of Cape Lodge
Do you have a favourite brunch recipe you'd like to share Lifestylers?  Would you like another brunch recipe from Michael's repertoire?