As we age, our style and lifestyle preferences may change, but for most of us our love for fashion never fades away. In this article, we'll share some super fashion tips for women over 50 to help you embrace your personal style and show you some of the best ways to feel confident in your wardrobe choices.
Plus you'll find a curated list of 10 of my most popular 'How To' fashion posts on Lifestyle Fifty to inspire and guide you.
The goal of this article is to provide practical and useful fashion tips for women over 50. It's intended to show that fashion can be fun, and that your outfit choices should make you feel happy, confident and joyful everyday.
Clothes are to be worn, and clothes are to be moved around in. You won't find high fashion here, just everyday inspiration you can implement easily.
Older Women Celebrating Ageless Beauty
As the old adage goes, 'age is just a number', and in my opinion it shouldn't stop you from embracing your inner beauty and outward style.
So I say don't be afraid to wear white pants, or treggings, or mom jeans, or bright colors or an animal print. Don't be afraid to wear the latest trends, or boho dresses, or otherwise go all hippy and flower power. Wear the things that make you feel confident and happy!
The good news is that great style is as much the right of the older woman as it is a 20 something college student. The fashion game is ours to play too!
But unlike a 20 something young girl, who really can wear anything the fashion gods dream up, the pieces we buy should enhance our best features, and make us feel well dressed as opposed to under dressed.
You'll come to realise that a truly great outfit can become something like a best friend, and definitely something you'll wear again and again and again!
You can create a distinctive overall look that says to the world: 'This is my signature style!' It can be achieved by paying attention to what the younger crowd is wearing and then creating a new look (with a little inspiration) relevant to your own fabulous age.
Have fun with fashion won't you! Play with colors too!
Simple Fashion Tips for Women Over 50
As you age, your body changes, your lifestyle changes and your style should evolve too.
I believe, as hard as it is, you should now focus on quality over quantity more than ever before.
Now is the time to invest in timeless pieces, classic pieces that will stand the test of time, such as tailored blazers, silk blouses, ponte pants or well-fitted dress pants, the best jeans, and stylish boots – preferably in real leather.
Stylish women understand that gone are the days of buying ill-fitting clothing or the latest fashion trends made in cheap fast fashion ranges that have built in obsolescence, like buttons designed to fall off, and seams that will soon fail.
Women with style will buy well-made pieces in neutral colors that can be styled with show pony garments in a bold patterns and they will think nothing about breaking any trending style rules.
How to Build a Basic Wardrobe
Every woman's wardrobe should contain a solid foundation of essential pieces that are versatile, timeless, and can be mixed and matched to create various outfits for different occasions.
By having a well-curated capsule wardrobe, a woman can simplify her closeet, save time and money, and always look put-together.
The essential pieces include a classic white shirt, a well-fitting blazer, a little black dress, a pair of blue jeans, a neutral-colored overcoat or trench coat, a comfortable and stylish pair of flats, a pair of black pumps and a pair of leather ankle boots.
Additionally, a woman should invest in quality accessories, such as a leather handbag, a silk scarf, and a statement necklace, to elevate her outfits to beautiful rather than 'bleuh.'
These basic pieces are the foundation of a capsule wardrobe, which is a minimalist approach to fashion that emphasizes quality over quantity.
How to Choose Quality Garments
Selecting quality garments is an important aspect of building a sustainable and long-lasting wardrobe. Here are some tips on how to choose quality garments:
Look for natural fibers: Natural fibers such as cotton, silk, wool, and linen are more breathable, durable, and environmentally friendly than synthetic materials. Check the garment label to see if the garment is made from natural fibers.
Check the stitching: High-quality garments have neat and even stitching. Loose threads, uneven seams, and poorly finished edges are signs of low-quality workmanship.
Check the fabric density: A high-quality fabric should be dense and have a tight weave. This means that it is less likely to pill, fade, or tear over time.
Check the garment's weight: A heavier garment is usually an indicator of higher quality. It is also a sign that the garment is made with a denser fabric that will withstand wear and tear.
Check the details: Quality garments often have details that indicate attention to detail and craftsmanship. Look for details such as reinforced seams, quality buttons, and a lining.
Consider the price: Quality garments are often more expensive, but they are worth the investment in the long run. Cheaply made clothes may be tempting, but they will likely need to be replaced more often and end up costing more in the long run.
By following these simple tips, you can select quality garments that will last longer, look better, and be more sustainable.
How to Accessorize an Outfit to Create a Polished Look.
Accessories are an essential component of any outfit, and they can take a look from basic to polished with just a few simple additions. Here are some tips on how to accessorize an outfit to create a polished look:
Start with a statement piece: Choose one accessory, such as a statement necklace, bold scarf, or standout handbag, as the centerpiece of your outfit. This will add interest and depth to your look.
Mix and match: Don't be afraid to mix different textures, colors, and styles of accessories. Just make sure they complement each other and don't clash.
Keep it simple: Less is often more when it comes to accessories. Don't overwhelm your outfit with too many pieces. Instead, choose a few key pieces to add interest and balance to your look.
Pay attention to proportions: Make sure your accessories are in proportion to your body and outfit. For example, a small clutch looks better with a cocktail dress than a large tote bag.
Match your metals: If you're wearing jewelry, make sure your metals match. Silver, gold, and rose gold can look great together, but make sure they complement each other.
Pay attention to the occasion: Make sure your accessories are appropriate for the occasion. A statement necklace might be perfect for a night out, but not for a job interview.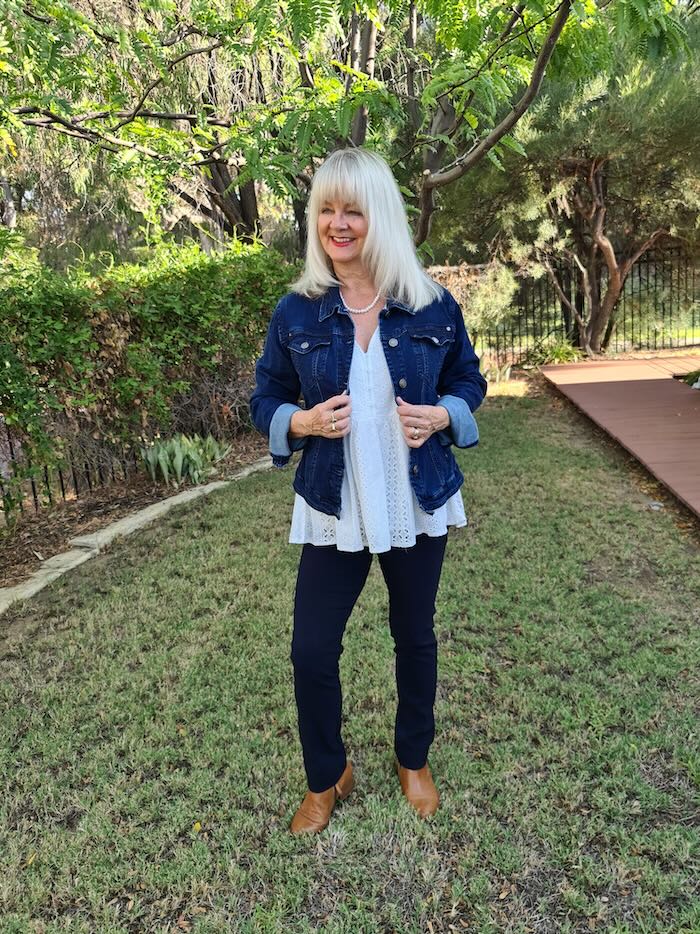 Trends to Try (and Avoid)
Fashion trends for women over 50 are all about celebrating individual style, comfort, and practicality.
Here are some current fashion trends that women over 50 might enjoy:
Wide-leg pants: Wide-leg pants are comfortable and stylish, and they come in a variety of fabrics and prints. They are perfect for a casual day out or dressed up for a more formal occasion.
Midi skirts: Midi skirts are a popular trend that offers a versatile and elegant look. They can be worn with sneakers or sandals for a casual daytime look, or with heels and a blouse for a more formal occasion.
Maxi skirts: Maxi skirts are comfortable and perfect for a casual daytime look. They can be paired with a simple t-shirt or blouse and sandals for an easy and stylish look.
Casual wear: Casual wear is a trend that offers a comfortable and stylish look for women over 50. This trend includes comfortable clothing such as leggings, oversized sweaters, and relaxed-fit tops. They can be dressed up with accessories or kept simple for a more relaxed look.
While fashion trends are always evolving, some trends may not work as well for women over 50.
Here are some trends that might not be the best fit.
Crop tops: Crop tops can be a fun and flirty trend for younger women, but they may not be the most practical or flattering choice for women over 50. They tend to show a lot of skin and can be difficult to style in a way that looks age-appropriate.
Mini skirts: Mini skirts can be a fun and youthful trend, but they may not be the most flattering or practical choice for women over 50. They can accentuate areas that women may not want to draw attention to, such as the thighs, and may not be suitable for all occasions.
Super high heels: While high heels can be a stylish and elegant choice, super high heels may not be the most practical choice for women over 50. They can be uncomfortable and difficult to walk in, and may not be suitable for all occasions.
Oversized clothing: Oversized clothing can be a trend that is difficult to pull off for women over 50. While it can be comfortable and stylish, it can also overwhelm a smaller frame and may not be the most flattering choice.
'How To' Shopping Tips
Shop with a friend: Shopping with a friend can be a great way to get a second opinion and some honest feedback on how clothes look on you. It can also make the experience more enjoyable and social.
Look for quality: Quality clothing may be more expensive, but it can also last longer and be more flattering. Look for well-made garments with good stitching, durable fabrics, and a good fit.
Try on clothes in natural light: Trying on clothes in natural light can give you a better idea of how the clothes will look in different lighting situations. Natural light can also be more flattering than harsh artificial lighting.
Experiment with different styles: Don't be afraid to try on different styles and colors. You may be surprised at what looks good on you and what doesn't. Try to step outside of your comfort zone and experiment with new styles and trends.
Consider comfort: Comfort is key when it comes to clothing. Look for clothes that feel comfortable and easy to wear. Avoid clothes that are too tight or restrictive
How to Find Your Personal Style
Personal style is all about expressing your individuality and embracing your unique fashion sense.
It's essential to understand your body type and what works best for you.
Don't be afraid to experiment with different styles and textures to find what suits you best. Whether it's bohemian, chic, or minimalist, embrace your personal style and let it shine through your wardrobe choices.
Outfit Ideas for Women Over 50
In a blog post outlining fashion tips for women over 50 it has to be observed that most probably (for most of us) when it comes to choosing everyday outfits, comfort and style are the top priorities.
I think that by the time we reach 50, we don't really like style if it comes at the price of comfort!
So it's important to choose clothes that fit well and flatter your body shape, without being too tight or revealing.
Classic pieces such as tailored blazers, dark denim jeans, and neutral colored tops are always a good choice. A-line skirts, midi dresses, and wide-legged pants are also great options.
It's important to mix and match different textures and patterns, but not to overdo it.
Accessorizing with statement jewelry, scarves, and bags can add a pop of color and elevate any outfit.
Comfortable footwear, such as loafers or low-heeled boots, are also a must.
Ultimately, the key is to choose outfits that make you feel confident and comfortable, while expressing your personal style.
Little Black Dress: The Timeless Wardrobe Staple
The little black dress is a timeless wardrobe staple that I believe every woman over 50 should have in her closet.
A black dress a versatile piece that can be dressed up or down, depending on the occasion. Pair it with statement jewelry and heels for a night out or dress it down with sneakers and a denim jacket for a casual daytime look. The little black dress is a must-have for any woman's wardrobe.
Leather Jacket: The Edgy Classic
The leather jacket is an edgy and timeless classic that every woman over 50 should have in her wardrobe.
I think every woman should have a leather jacket in either black, brown or depressed leather, or suede in her wardrobe for several reasons.
Firstly, leather jackets are versatile and can be paired with almost anything, from jeans and a t-shirt to a little black dress.
They add a touch of edginess and sophistication to any outfit, making them a great investment piece that will never go out of style. Leather jackets are also durable and can last for years with proper care, making them a practical addition to any wardrobe.
Additionally, they come in a range of styles and colors, from classic black to bold hues, so every woman can find one that suits her personal style. Lastly, a leather jacket can provide warmth and protection during cooler months, making it a practical and stylish choice for transitioning between seasons.
Overall, a leather jacket is a must-have item that can elevate any outfit and add a touch of cool to any woman's wardrobe.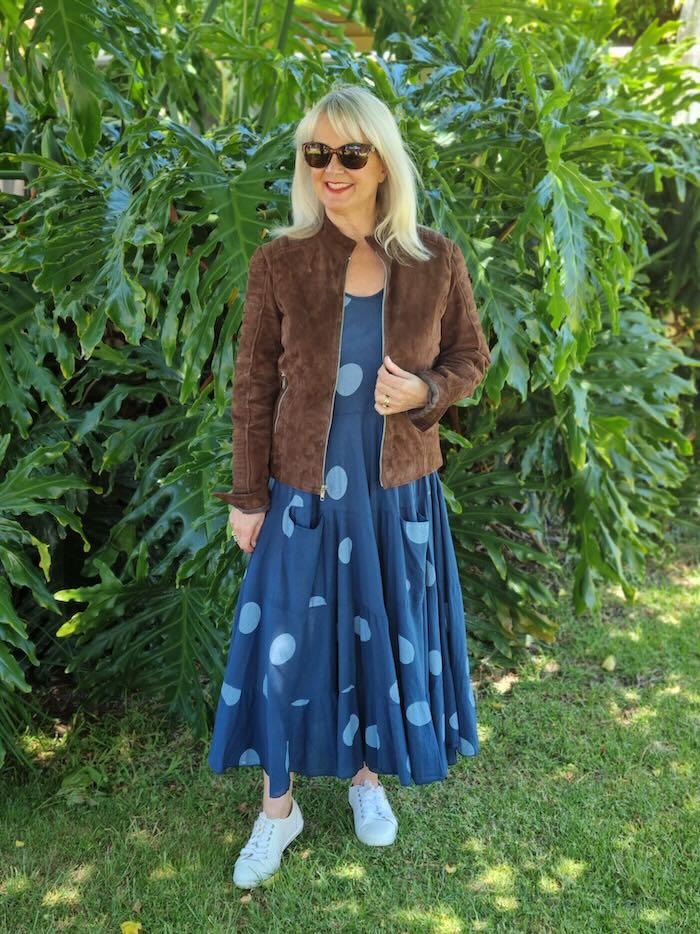 Wrap Dress: The Flattering and Comfortable Option
The wrap dress is a flattering and comfortable option for women over 50. It cinches at the waist and flares out, creating a flattering silhouette.
Choose a wrap dress in a bold print or a vibrant color to make a fun fashion statement or a dress in neutral colors for a formal occasion. Pair it with sandals or heels and statement jewelry for a chic look that's perfect for any occasion.
Wrap dresses are a beautiful, versatile, and stylish option for women of all ages and body types.
The wrap style also allows for easy adjustability, making it a great choice for women who prefer a customizable fit.
They are a classic wardrobe staple that will never go out of style, making them a great investment piece.
How to Dress for Your Body Type
Dressing for your body type is essential to feel confident and comfortable in your clothes.
If you're pear-shaped, opt for A-line skirts and wide-leg pants to balance out your proportions.
If you're apple-shaped, choose tops that cinch at the waist and flatter your upper body.
If you're hourglass-shaped, embrace your curves with fitted dresses and tops that accentuate your waistline.
Dressing for your body type is key to looking and feeling your best.
Personal Style
Personal style is like a fingerprint – it's unique to each individual and tells a story about who they are. It's not just about the clothes we wear, but how we wear them and the message we want to convey to the world.
Personal style is an expression of our innermost selves, our values, our experiences, and our aspirations. It's a way to communicate without words, a language of fashion that speaks volumes about who we are and what we stand for.
Our personal style is constantly evolving, just like we are, and it's a reflection of our journey through life. It's the armor we wear to face the world, the flag we fly to show our individuality, and the art we create to express ourselves.
​Let's sum up personal style in a humorous way.
What is Personal Style?
Style is a reflection of who we are,
A canvas for our soul to shine like a star.
For many women, fashion is an art form,
A way to express themselves and feel reborn.
Bright colors can be a great way,
To add some pop to your day.
Choose shades that suit your skin tone,
And let your personality be shown.
When it comes to body type,
There's no one-size-fits-all hype.
But don't fret, there's a classic look,
That flatters all figures, like a well-worn book.
Dark denim is a timeless trend,
That can be dressed up or down, my friend.
Pair it with different colors, oh so right,
And you'll be the queen of style, day or night.
Tank tops are perfect for lazy beach days,
But wear them in the right place, always.
Pencil skirts are a must-have for the office,
And can also be dressed up for a night of promise.
Trendy clothes can be fun to wear,
But don't forget to keep them classy, with flair.
With these style tips for women in mind,
You'll be turning heads, and feeling divine!
Casual Wear
When it comes to casual wear for women over 50, comfort and style are key. Here are some of the best fashion tips for women over 50 when it comes to some super options for casual wear:
Jeans: A classic pair of jeans can be dressed up or down and is a versatile staple in any wardrobe. Look for a comfortable and flattering fit, such as a straight or bootcut style. Brands like Levi's, NYDJ, and Madewell offer a great selection of jeans for women over 50.
T-shirts and blouses: Simple t-shirts and blouses in cotton blends can be paired with jeans or dressier pants for a comfortable and stylish casual look. Look for flattering cuts and soft, comfortable fabrics. Brands like J.Crew, Banana Republic, and Everlane offer a great selection of t-shirts and blouses.
Athletic wear: For those who enjoy an active lifestyle, comfortable and stylish athletic wear is a must. Look for brands like Athleta, Lululemon, and Nike for comfortable and stylish options for working out or running errands.
Sweaters and cardigans: A cozy sweater or cardigan is a great option for cooler weather and can be dressed up or down. Look for soft, comfortable fabrics and flattering cuts. Brands like J.Crew, Talbots, and Nordstrom offer a great selection of sweaters and cardigans for women over 50.
Let's sum up casual wear in a humorous way!
What is Casual Wear?
Casual outfits are a boon for those,
Who want to look chic and feel composed.
For women over 50, they're just right,
Stylish yet comfortable, day or night.
Gone are the days of restrictive wear,
Now comfort is key, without any fear.
Casual outfits are the perfect fit,
For those who want to rock it and feel legit.
A simple tee or a soft cotton shirt,
Paired with jeans or shorts, and you'll be ready to flirt!
Add some accessories, a scarf, hat and bag,
And you'll have an outfit that's far from being 'dag.'
Comfortable shoes, like sneakers or flats,
Are perfect for those long leisurely chats.
Or maybe some sandals for a beach day,
Either way, you'll feel comfy, happy and gay.
Casual outfits are versatile and fun,
And perfect for women over 50, on the run.
They're easy to wear and easy to style,
And perfect for any occasion, with a smile.
So don't be afraid to embrace the trend,
And rock those casual outfits, my friend.
You'll feel confident and comfortable too,
And your style will be as timeless as you!
In conclusion, fashion is all about expressing yourself and embracing your individual style. Women over the age of 50 will most probably already have a unique sense of style that reflects their life experiences and their lifestyle, but you just need to be bold and show it.
By investing in quality pieces, embracing personal style, and dressing for your body type, you can feel confident and comfortable in your wardrobe choices.
Remember, age is just a number, and you're never too old to rock a little black dress or an edgy leather jacket.
10 'How To' Fashion Posts for Women Over 50
Here are 10 popular posts from the last few years containing evergreen fashion tips for women over 50. I hope you find some helpful – and fun to read too!
How Many Clothes do I Need? Results will Amaze You!
How many clothes does the average woman own? Have you ever asked: How many clothes do I need? This post looks at what women really do have in their wardrobes.
Below is an image from the blog post showing how many clothes women might take on vacation! Read the full post for all the answers.
Best Boho Dresses and Affordable Boho Clothes
Attention all fashion-forward Lifestyle Fifty women! Get ready to elevate your wardrobe game with the Best Boho Dresses! Don't miss out on the chance to embrace your inner bohemian goddess and turn heads wherever you go. Click now to read the post and get inspired!
Resort Wear for Over 60 : How to Look a Million Bucks!
Want to update your vacation clothes? Check out today's guide for some fabulous relaxed and trendy resort wear for women over 60! From super summer dresses to fashionable wide leg pants you're going to love these suggestions for your next summer event, cruise or holiday vacation!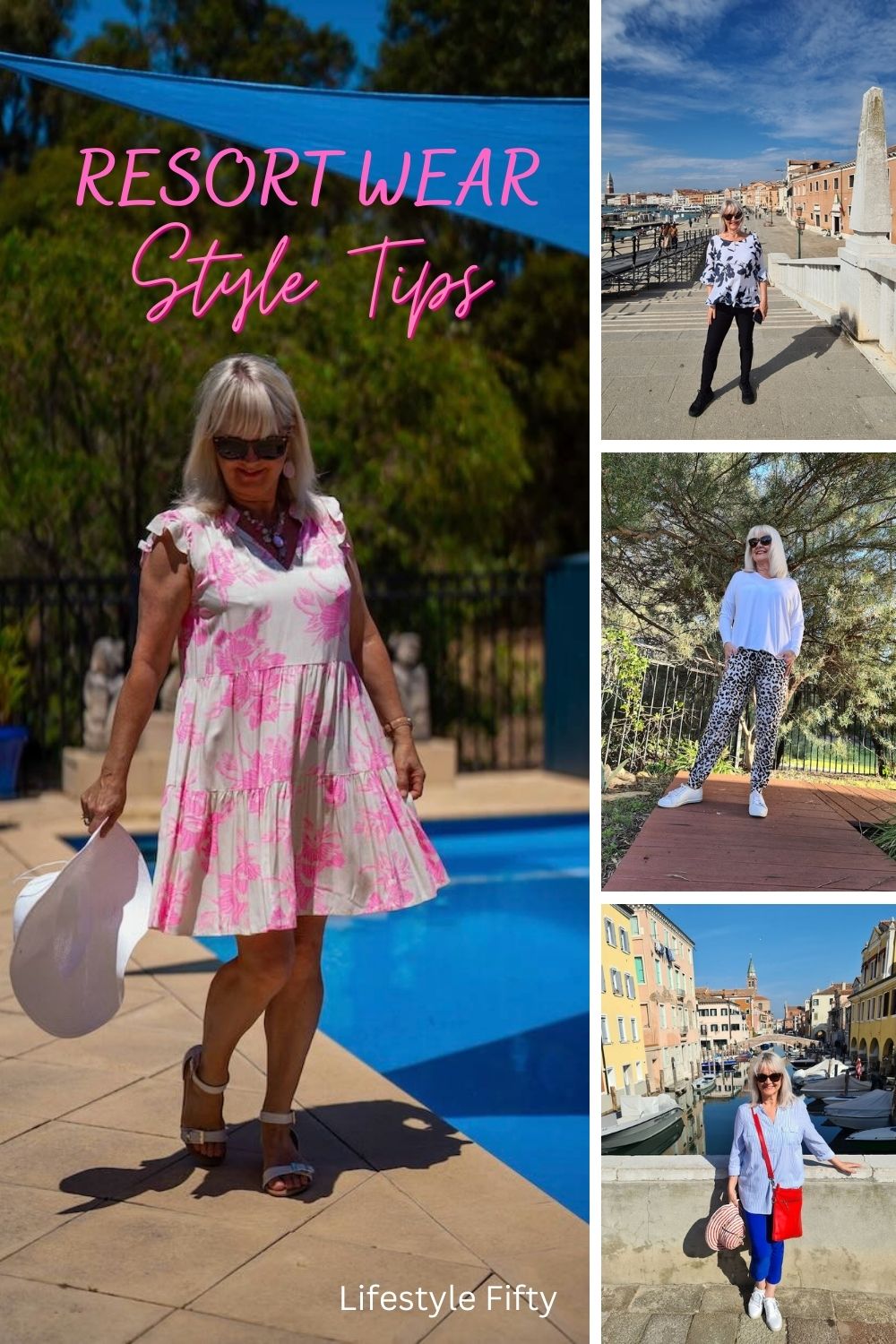 The Ultimate Guide to 50 Plus Women's Fashion
This is an ultimate guide to mature women's fashion, read the full post here: Fashion for women over the age of 50.
Best Dresses for Women Over 50 : Sizzle in These Styles
Fashion trends come and go, but the actual best dress styles are fairly dependable. Dresses to have handy and hanging in your closet include; a casual dress, an office dress, a semi-formal dress for a special event such as a dinner dance, a formal dress for weddings, a little black dress, an easy wear sundress and perhaps a look-at-me knee length cocktail dress.
How to Wear Long Skirts Without Looking Frumpy
Long skirts are so versatile, and so easy to wear, and you definitely should keep on wearing them after the age of 50. Looking for some long skirt outfit ideas that you can pull together to look super trendy, and feel super confident wearing? Read on about how to wear long skirts without looking frumpy!
How to Wear a Maxi Dress if you are Short and Curvy
I love maxi dresses. And I'm what might be considered short and curvy. You don't have to be tall and slim to wear a maxi dress. This post will help you discover the best maxi dresses for your shape and height.
How to Dress Younger and Shave Years off Your Age
How to dress younger than your age. We look at easy ways to shave years off the way you look, suggest fashion trends you can easily implement, and share sassy style tips to help you feel super confident. All without looking as if you're trying too hard.
How to Style Clothes You Already Have and Look Brand New
If you've ever asked yourself, "How can I restyle clothes I already own?" then, Go Girl, because you're halfway towards saving yourself some serious cash! How to style clothes you already have to look Ab FAB (without buying new clothes) is an art! We'll show you how!
How to Dress Well if You're Short : 19 Style Tips for Petite Women
Are you short? do you have a petite frame? If so, I'm betting that at some point you've found it difficult to find clothes that flatter you? This post how to dress well if you're short has tons of tips for petite women.
Perhaps you find that most clothing retailers only carry items in sizes that are either too large, and too billowy for you? The fashion struggles of being short go on and on! I know, because I'm under 5ft 4 inches. Get your outfits sorted with our comprehensive style guide – and avoid the most common style mistakes.
Pin this post for future reference!
Disclaimer: This post "Fashion Tips for Women Over 50" contains affiliate links from which I stand to earn a small commission but at no expense to you. Any gifted items are marked with an *. Lifestyle Fifty Website is a participant in the Amazon Services LLC Associates Program, an affiliate advertising program designed to provide a means for sites to earn advertising fees by advertising and linking to Amazon.com. Some images in this post may have been sourced, with permission from Salty Crush, Styling You the Label, and Adrift Clothing websites. Please read my full disclosure here.