When you're fifty plus and thinking of packing for a vacation I believe that it's imperative to think minimal!
If you take too many clothes away with you, and give yourself too much choice, I bet that you'll come home with unworn garments.
I also believe that too much choice makes it really hard to decide each day what to put on. And when you're on holiday you just want to get up and go, and make the most of every moment.
So how many clothes do you need to take on vacation, and what should you take? Read on!
If you're packing for a cruise, you might like to read this related post: What to wear on a Cruise.
A cruise holiday on a ship calls for quite a different packing list.
The footwear you choose might be very different for instance to what you'll take on a road trip – think non slip shoes for wearing around the deck, and comfy sneakers for shore excursions.
If you're going on a specific type of cruise you may need to pack a variety of clothes and shoes, for instance on a 7-day cruise to Alaska, the Final Frontier you will need lots of layers.
Also any kind of cruise be it a barge or canal cruise calls for smart resort wear during the day, and possibly some classic evening wear or a ballgown for larger cruise ship events.
Packing for a tropical holiday, you might like this post which includes a Packing List: What to Pack for Bali
Packing for an international holiday? You might find this post helpful: How to Pack for International Holidayl
Going on a coach tour in springtime – you might like this post: What to Pack for a Coach Tour
Going to the New Zealand? You might like : How to Pack for New Zealand
Going on a river cruise? Check out this post: What to Wear on a European Barge or River Cruise
Are you heading off into the blue yonder in a van or caravan? This is a must read! What to Pack if you're heading off in a Van
And finally, for those of you who like luxury, here's a Luxury Vacation Packing List
What to wear on vacation when you're fifty plus
Keep it simple or KISS, as they say.
Don't go out and buy something new that you think will fit the bill when in reality you know deep down that this style of garment really doesn't suit you.
For instance, if the trip away is going to include lots of walking you might be tempted, as I once was to buy hiking pants with a zip and button clasp at the waist.
I can't tell you how uncomfortable they are. They don't stretch as I bend and the wide bottom legs annoy me. But they are fast-drying, come down to my ankles and have zips just above the knee so that they can be converted into long shorts. So they do have benefits, but I hate them. They were also really expensive – which means I'm loath to chuck them out!
However, I own lots of quite inexpensive active wear pants which fit tight, stretch beautifully, have an elastic waistband and can be teamed up with long T-Shirts or blouses to cover my bum and tum. They seem to make me want to go out walking – don't ask me why! I feel energetic in them and sort of held together, and my muscles are keen to get going! I know it's odd, but that's how it is when you're fifty plus!
I'm sure that you have similar quirks and loves when it comes to your own clothes. Some would call this your own particular style, and maybe it is. Mostly it's wearing what makes you feel good and what you are comfortable in.
What I'm saying is, if you're fifty plus, you absolutely know what you like by now! So pack tried and tested garments that you know you'll like wearing and which you have already matched up with other items in your wardrobe.
On a more personal note – ditch the panty liners and pack a couple of pairs of washable leak proof panties – like these here.
Shoes for the fifty plus lifestyle
When you're over 50 I'm betting that your feet have done a lot of kilometres over the years. So it's time to take care of your trotters. Look after them. Pack good fitting and comfortable shoes that will take you anywhere.
Shoes to pack for a vacation include sandals that you can walk in, trainers that you can pace in, and going out shoes which will take you further than just from the restaurant to the car if you're going out somewhere nice at night.
I don't think there's any point in packing fancy shoes that pinch your feet just for the sake of it! Leave that to the twenty and thirty somethings who's feet are more robust and much younger.
Having said that, whilst you should pack comfy shoes, there's no need to pack ugly comfy shoes! Find a pair of trainers in bright funky colours, and sandals with leather uppers and supportive unders that look pretty with a dress.
For a little height you don't have to wear stillettos – how about small kitten heels or wedges? They look lovely with a skirt or a dress.
Holiday hairstyles for fifty plus
Some people think that when you're over 50 you should chop all your hair off short!
I say NOOOOO, you don't have to do this at all.
These days longer styles can be just as flattering as short styles, and you should go with whatever suits your face shape.
Sure short styles are easy – though not that easy. I don't know many people who can just get up and go with a short style unless it is super short.
Some women over 50 can carry off an ultra short pixie style very well, but many of us fifty plus women would probably say we like a little more hair action around chin level.
Any fussy styles which require hair rollers, heated irons and lots of tweaking and twirling are not suitable for vacations. Think of all the time you'll waste in the bathroom. You need to be in the pool or the sea, out of the pool, off for lunch, into the sea, and out for dinner.
Straight hair styles with bangs or a fringe are super easy if you can wear them. All you'll need to do is let them dry naturally, and then give a quick blow dry to neaten up the frings and ends.
Ditto with a bob hairstyle – try a messy bob because this gives you leaway with the time you want to spend styling it.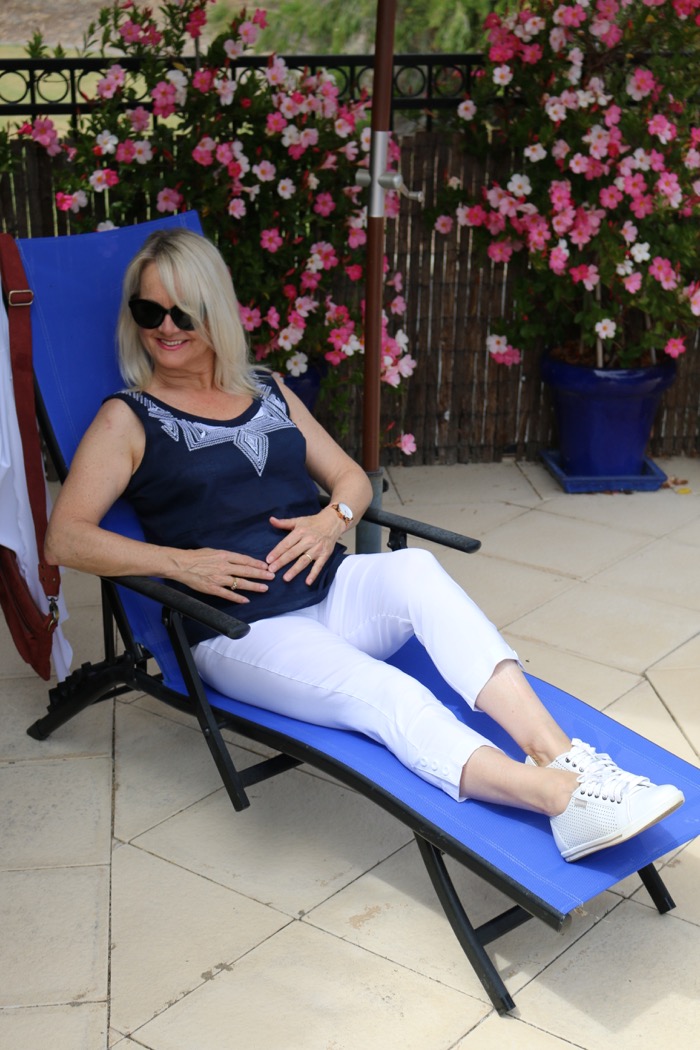 Fifty plus reader survey
Lifestyle Fifty readers contributed to an anonymous survey about holidays.
I asked readers where they'd next like to go on vacation (coming in a future post), and what they take with them on vacation.
When you're thinking about what to pack for a vacation, whether it be a 7 day trip, a weekend away, a cruise, an international holiday, or a road trip you should always start by thinking about the weather and where you're going. This will determine the base line for what to pack.
The answers from the survey were wide and varied.
How many clothes do you normally pack in your main suitcase for a vacation (not including pants, socks and bras)
40% of you said 10 – 15 items
45% of you said 16 – 20 items
10% of you said 21 – 30 items
5% of you gave other responses such as:
"Depends how long I'll be gone."
"Less than 10 items."
"Varies for summer or winter."
Favourite vacation wear
Another question posed was: "What is your favourite clothing for a vacation?"
35% of women said they would definitely take jeans and T shirts.
15% said they would take activewear.
10% said they would take a floaty dress.
15% said they would pack shorts and T Shirts.
5% said they would take skirts and blouses.
0% said they would take a comfy track suit.
Reader survey responses
In the "Other" responses, people said they would most likely pack …
"Black pants and bright tops."

"Linen trousers and shirts or dresses."

"Pants and T Shirts."

"Leggings and Sweatshirts or T Shirts."

"Leggings, skirts, pants (slacks) shirts, tops, cardigans, jackets as we usually are away in two seasons. Pieces that can be layered depending on weather conditions."

"Pants and nice tops."

Lifestyle Fifty readers in an anonymous survey.
Holiday clothes for fifty plus women
Check out some of the following easy to pack, easy to wear holiday clothes ideas.
Please Pin this Post – Happy Pinning!
Disclaimer: This post " Fifty plus – How many clothes do I need for a vacation," contains affiliate links from which I stand to earn a small commission but at no expense to you. Any gifted items are marked with an *. Lifestyle Fifty Website is a participant in the Amazon Services LLC Associates Program, an affiliate advertising program designed to provide a means for sites to earn advertising fees by advertising and linking to Amazon.com. Please read my full disclosure here.