Sponsored Post. 
What a week it's been, not only have we visited Peru and Santiago on the cruise, but I've been paying attention to my bones – and I think (and hope) that many of you reading this will have also been involved too.
Involved in what, I can hear some of you asking?
The Healthy Bones Action Week Fit, Fab & 50 Challenge!
An initiative by Dairy Australia to get us all thinking about living healthy lives with strong bones after the age of 50 and to remember that osteoporosis is largely preventable by taking three simple steps to protect our bones and overall health:
Increase daily calcium intake through dairy foods including milk, cheese and yoghurt.
Go for a walk or commit to some new form of regular exercise, in particular weight bearing exercise.
Spend time outdoors to get more vitamin D from safe sun exposure.
Healthy Bones Action Week Fit, Fab & 50 Challenge
If you've been championing the action week like me, you'll know that we've been trying to make sure we eat our 4 serves of dairy a day, find some minutes each day to do some simple weight bearing exercises, and get out in the open air for a (safe) dose of sunshine each day.
Are you signed up for the Lifestyle Fifty Newsletter (the link is in the sidebar – it's free, and it's easy)? If you are then you will have received some great tips and hints from Dairy Australia for diet and exercise in last week's newsletter.
Many of you know that I'm lucky to be on a World Cruise, so although it's been easy, in some ways, for me to join in the Challenge, it's also been tricky sometimes too – and I guess that's no different for you at home, on holiday, or wherever you've found yourself.
I hope though that during the week I've set myself some new habits, and hope that you have too 🙂
4 Serves a day
On board a ship of course everything is bought, cooked and prepared for you (don't hate me!) so eating my recommended 4 dairy serves a day hasn't been a barrier to completing the Healthy Bones Action Week Fit Fab & 50 Challenge, and it's set up a good structure and ideas for when I return home.
Obviously sometimes the challenge has been to know just how much cheese I've been eating in say a lasagne, or how much yoghurt there is in a sauce, so I've had to guess a little with serve sizes. But, I can vouch for the fact that I haven't put on weight.
If you're unsure of what a serve of dairy looks like, you can find out Here at Legendairy or read more Here on Lifestyle Fifty.
Weight Bearing Exercise
I've been going to the gym on board to do my weight bearing exercises – so that's been easy – as long as I've been disciplined. I did fail on two days to go to the gym because we were out on shore excursions, but I figured the extra walking and step climbing probably counted as my weight bearing exercise on those days.
I had hoped that one of my serves of dairy would be a milky cappuccino coffee each day (which it often was) and hoped even harder that lifting a large cup or mug to my lips would count as weight bearing exercise for the day – it didn't!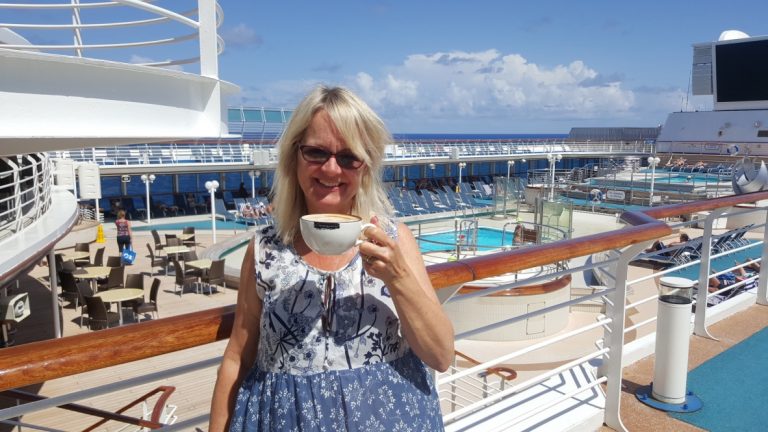 The other thing I've been really conscious about is walking up the stairs on the ship rather than taking the lift. And you know what – I feel much better for that. Even if I have to take off my shoes, I always take the stairs (if I'm wearing high heels for a formal night I carry them) – and if any of you have been on a cruise ship you'll know that with 14 decks, this can equate to quite a lot of stair climbing in a day.
I've also added in some light weights to my workouts too.
15 minutes of sunshine
Getting adequate Vitamin D from sunshine has only been tricky on cloudy days, otherwise I've been swimming or sitting on deck or walking around the promenade deck, and during our shore excursions getting some safe sunshine hasn't been a problem.
Dairy Diet
I've kept track of some of the things I've eaten this week (those meals which have included a serve of dairy) and I'll definitely be watching that I get enough dairy when I get home. In the past I've shunned cooking with cheese, and often had black coffee instead of milky coffee because I've thought that dairy was fattening and not so good for me.
Now I realise that, in recommended portion sizes, dairy is really good for me, not only for my bones, but also because it can help protect me against various diseases and dairy can also be beneficial in maintaining my weight.
Some of the things I've been eating during Healthy Bones Action Week
I've made sure that I eat 4 serves of dairy in one way or another each day. However, if I think the lasagne I'm eating has more cheese than the recommended amount then I've counted it as two serves. If I've had a big mug of coffee, I've counted that as two serves as well. If I feel I've fallen short, then I might grab two small slices of cheese with a couple of plain biscuits as a snack.
Breakfasts
Yoghurt and Fruit
Bircher Muesli with prunes
Muesli with milk
Special K Cornflakes with milk
Cheese and Vegemite on Toast
Porridge with milk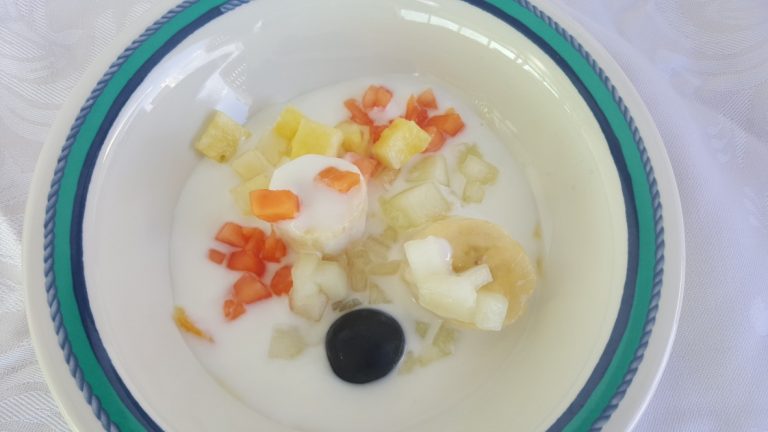 Lunches
Cheese and Salad Sandwich
Greek Salad with Feta Cheese
Quiche with salad
Bagel with Ricotta Cheese and Smoked Salmon, and side salad
Cheese Omelette with vegetables
Dinners
Lasagne
Alfredo Pasta
Classic Caesar Salad (with shavings of parmesan)
Lamb with yoghurt sauce
Eggplant Parmigiana
Cheese, biscuits, and crudités vegetable platter
Fish with white sauce
Snacks and Treats
Cappuccino coffees
Cheesecake
Tiramisu
Ice Cream
Baked Banana with Custard
How am I feeling?
Generally I'm feeling empowered because I'm making more of an effort to pay attention to what I'm eating, how I'm exercising and making sure to get out of the cabin, away from the computer into the sunshine too!
I'm not sure what effect eating 4 serves of dairy has had on my bones this week, but I really hope that if I continue to eat enough dairy, if I continue to do weight bearing exercise and get adequate Vitamin D from sunshine, that I will go skidding rebelliously to my grave one day as a bone-dense old lady who has not been hampered by osteoporosis!
What are your favourite dairy products – or do you have a favourite recipe to share that includes dairy?