If you're already a yogi, and want something new to wear to yoga then this post has you covered. Or perhaps it's your first time looking for a great yoga outfit and you want to know what to wear to yoga in a studio? Maybe you're looking for fresh yoga clothes to grab for your next yoga practice, then this post is for you too.
Must Know Yoga Attire Tips
Beyond that, if you're looking for the best choice of pants to wear to the gym, or the most comfortable stretchy gear for everyday, the best activewear or just the right outfit for an active day out (especially if you want some tummy control too )… then read on, because yoga pants are so so versatile!
The best yoga leggings, yoga tops and general yoga attire for a yoga session should offer good support for all your various yoga poses.
Whatever position you get into … crow pose, salute to the sun pose, and let's not forget the revealing downward dog your gear needs to work hard for you. And that goes for different classes too.
My favourite everyday performance shape-wear yoga pants do all this as well as hold me in – in all the right places. You can check them out here: Shaper Move Leggings Be aware they come in full length and 3/4 length. I'm wearing full length.
Why Buy Yoga Pants?
Whether you call them yoga pants or leggings – one thing's for sure – they are the ultimate choice, and go-to option for active women of any age to wear.
You want to buy the best yoga pants you can find; the right style for you, not only to feel great in, and look great in at a yoga studio, but also ones you'll get the most wear out of everyday too.
Even if you think, "Oh please no! Not active wear!"
It's an indisputable fact that the yoga pants and leggings trend has become a high street acceptable, and not just something to be worn at the gym.
I mean, right now I'm sitting at my computer wearing a wonderfully comfortable pair of yoga work pants, and taking a drink from my ever present water bottle! A great way to pleasantly think while writing this blog post.
I feel so comfortable in this kind of gear.
And I love that it makes me feel ready for a walk or my next yoga class, and because it's also shape wear (nicely disguising lumps and bumps) it means I could just pop on a blouse and head out to the shops too.
If you think about it – the way yoga pants and active wear are slowly and steadily taking over, anything's possible.
Who knows what work-wear will look like in 20 years time? Maybe our suited menfolk will be Googling how to choose the best yoga pants for work in a decade or so?
What to Wear to Yoga
If you're attending your first yoga class you might be worried about what kind of clothes to wear to create a good look.
You can't go wrong with yoga wear such as stretch leggings, tank tops and crop tops in breathable fabrics, especially if you're attending hot yoga classes in a heated room, when it's a good idea to always wear garments that wick sweat away from your body.
Long-sleeved tops from brands like Emamaco are great for any winter exercise, and any other type of yoga or gym classes too.
I love the crop top I'm wearing below for it's high neckline with a zip which can be zipped up in cold weather and unzipped if it's cooler.
Some people prefer to wear yoga shorts and loose tops, or yoga pants with a loose t-shirt, or a pair of leggings with a black crop top – there are so many different things you can choose to wear.
You should wear a good fitting bra, or a yoga top like the Elevate Sports Bra (pictured below) to give you as much support as possible because this will make a huge difference to your posture during your poses.
You need at least a couple of pairs of yoga outfits, because if you're working out in a studio regularly with others you really don't want to be wearing unwashed or sweaty clothes!
Ultimately though, you can wear clothing of any kind for yoga as long as you can move freely in it
You might choose any loose clothing, or short shorts and an old t-shirt. The important thing is that you wear comfortable clothes – in the right fabrics.
With a little bit of thought you can reap the physical benefits of restorative yoga while feeling totally confident in your gear.
So if you're looking for the best option when it comes to yoga attire, whether it's for vinyasa yoga, bickram yoga, hatha yoga, ashtanga yoga, yin yoga or any of the different styles of yoga out there, then do check out the suggestions and reviews further on in this blog post.
The Best Yoga Pants for Women
Without further ado let's check out …
Why yoga pants have become so popular.
The best yoga pants on the market.
How to choose yoga pants.
And the reasons why they should be an irreplaceable staple in your wardrobe – and not just reserved for doing yoga.
Yoga Pants are more than just active wear – in fact you could say they're a bit like the popular push up bra, but designed for your butt and tum.
And if you think they only come in the tight legged variety, then think again, because they come in many different forms: pants for workouts, for running, for yoga, for work and for going out.
The best yoga pants will give you good support and plenty of flexibility. They should be made of the right fabric that will not make you sweat.
Shapewear for Yoga – My Top Pics
I'm loving Emamaco's black shape wear leggings.
They are super high waisted and take me from the gym to the street.
They are now my personal preference when it comes to yoga attire, and my favourite pair of yoga pants.
They're fantastic shape wear because they stretch well, they hug me in all the right places, and for the final win – they don't attract dog fluff, or fluff of any kind off the floor.
They feel great on, and I have to say they slim me down too.
I really like the silky smooth feeling of the high waisted pants.
The creators at Emamaco say they spent over 12 months testing, breaking and innovating different fabrics and another 12 months engineering a high waistband that would never roll down.
And it doesn't – even when you're doing the downward dog or salute to the sun! My other yoga pants and leggings always seem to creep down as I exercise and I'm often caught tugging them up around my waist.
What the creators didn't realise at the time was that they'd created something amazing. Not only had they used the softest and strongest fabrics they could find, but they had created a garment that repelled dog hair, cat hair and most fluff in general.
I can vouch for that. I hate having to use one of those fluff extractor thingies to get hair off my clothes. Nothing attaches itself to my Emamaco leggings not even the shaggiest dog's hair.
"Our Best Selling Shaper Move Range is pet hair repellant, has a uniquely engineered waistband with built in compression that shapes the body accentuating the natural feminine curves. It is also designed to never (annoyingly) roll down. And best of all, there's no seam down the front – so no Camel Toe."

Emamaco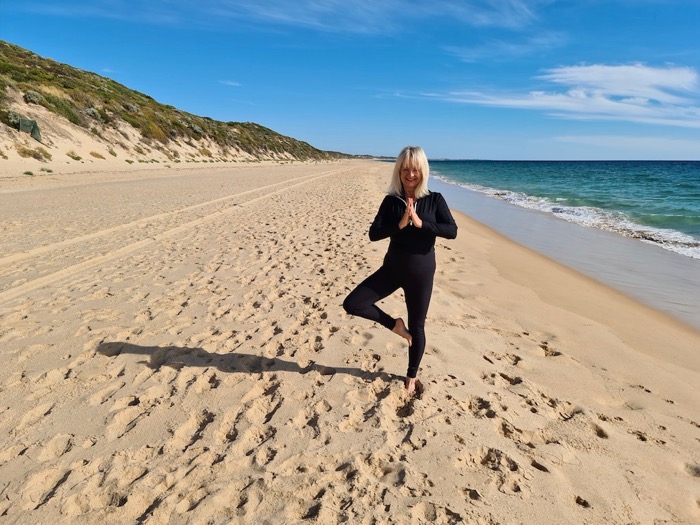 Frequently Asked Questions
What Size Should I Wear?
Check out the size chart for the Emamaco Sizing Guide Here, and if you have an in-between body type size, then do measure your hips as well. You'll find a video on the size chart about how to measure your hips. Personally I found the sizing is about right if you want a really snug fit. I'm a size 12 (UK/AUS) and have a Medium, but if you don't want a tight fit then if you're between sizes, go up a size.
What is the yoga clothing made of?
Emamaco shorts, leggings and tops are made of a uniquely engineered Supaflex material. It's soft, smooth and silky against your skin.
The material is light weight, moisture wicking and breathable.
Supaflex fabric gives compression support and prevents overheating.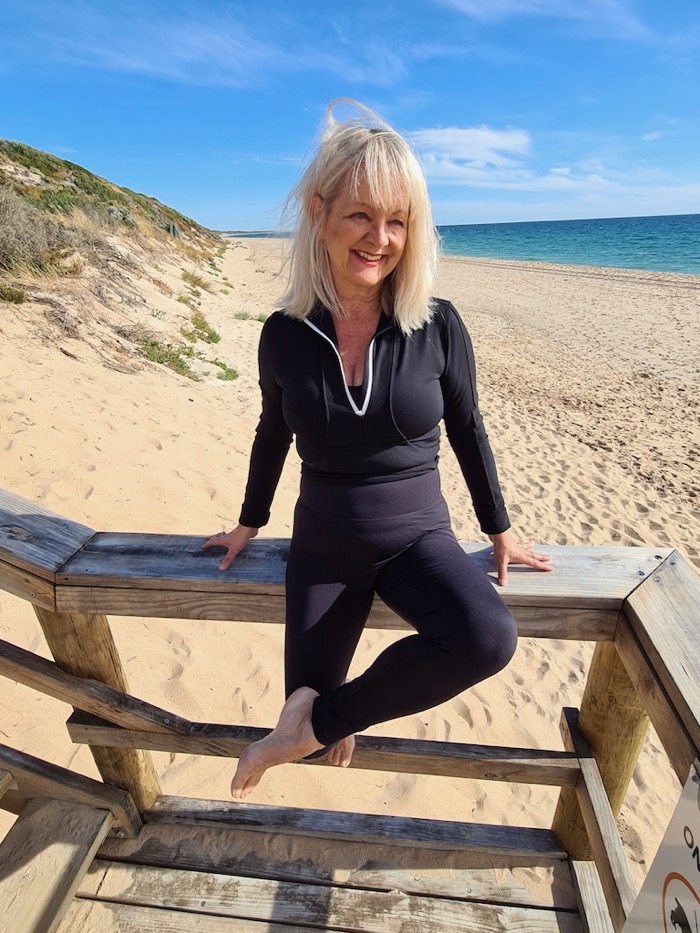 How do I care for my Emamaco garments?
Cold wash only
Do not soak
Do not tumble dry or iron
Do not use fabric softeners or bleach.
How do I wear Yoga Pants without showing underwear lines?
When it comes to panty lines, I've written a helpful post about the best underwear to avoid the visible panty line (VPL) with yoga pants: How to wear yoga pants without underwear lines and the best knickers to wear with yoga pants I believe are Seamless panties from Modibodi.
Yoga Pants with Built in Tummy Control
Perhaps you're looking for good tummy control?
My personal choice for exercise shape wear with good tummy control is from Emamaco. The tummy control is outstanding, and the way they hug your butt is also very flattering.
Then there are other yoga pants with built in tummy control. I'm loving these colourful high waisted yoga pants online which come in a variety of patterns and colours. They'd be great for the gym.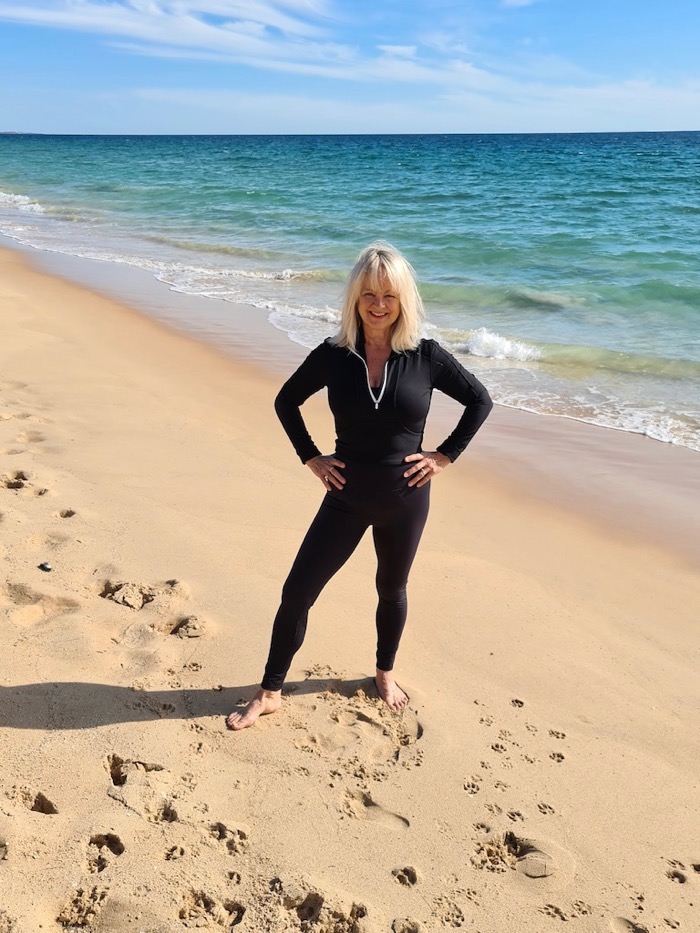 Why Are Yoga Pants so Popular?
Do you wonder why active wear has become fashionable rather than merely useful and utilitarian?
Well, the best yoga pants can make you feel comfortable, feel more confident, and make you appear slimmer.
There is absolutely no other item of clothing that can make you feel great about your figure than a pair of yoga pants.
As I always say: If you've got it. Flaunt it! Do not be shy girl whatever age you are. These type of pants can be worn by those of you who want to flaunt your curves, or disguise them. It's all about what you choose to wear with the pants.
Yoga pants should hug you in the right places, pull in your tum and bum, and they are super comfortable to wear.
I personally feel they are not only great sporting and walking wear, but can also be fabulous for everyday style if you're popping out to the shops.
Top Tips: How to Look Great in Yoga Pants
If you're wearing yoga pants to go out in, then make sure you choose a thicker pair of yoga leggings, ones that are not shiny and not see through at all.
The way to look good in yoga pants if you're wearing them for anything other than a workout is to think two things:
Keep it classy.
Protect your modesty.
There's nothing worse than seeing women wearing yoga pants that are so skin tight that they leave nothing to the imagination.
Do make a fashion statement by giving them a twist of style by …
Wearing a beautiful blouse that falls down and covers your bum.
Popping on long-sleeved shirts that can be turned up at the elbow.
Or choose a blouse that has floaty sleeves with a ruffle at the wrist – you can do this because the pants are tight, so the look can be balanced by a more frivolous top with a design frill.
If it's a sunny day then do wear a beautiful pair of sandals, a gorgeous hat and a big pair of sunglasses.
Trendy sneakers always go well with yoga pants.
Or in winter, cute ankle boots will give your look stand-out appeal.
Best Yoga Work Pants
You can wear yoga pants everywhere.
When it comes to yoga pants for work, choose a classy black pair and pair them with a crisp white blouse, pop on some ankle boots or wedge heels, add a scarf, and you're ready to go.
The best yoga work pants should fit really well and be made of a fabulous fabric that doesn't ball after a few washes.
Preferably you should look for pants which do not hug you too tight, that are a little more tailored for an office situation.
But if they are skin tight then wear a blouse that modestly covers your bum and tum, for decency in the office.
Yoga pants, Ponte Pants and leggings will always overpower tight skinny jeans when it comes to day time comfort and are possibly much better for our circulation to boot!
Yoga Pants Dress Pants
But what about a casual night out, what is your ideal choice of clothing? A tight fitting dress and high heels?
I'm guessing probably not always these days unless it's a special event.
I think we've all become more casual in our approach to going out attire and what we feel is acceptable.
I know my grandmother will be turning in her grave to hear me say that. I don't think she would approve of the more casual approach we often favour when it comes to getting ready for either a night out or the day ahead.
I'm pretty sure that many of you, like me, will have been out on the town both day and night wearing Ponte Pants or leggings and put a look together that's not only trendy but also really comfortable.
Yoga pants that look like dress pants are a super comfy, elegant option for a night out. I love these high rise straight leg, boardroom to bistro pants for all sorts of reasons – yoga dress pants.
Night Time : A snazzy take on the yoga pant idea is the Palazzo style which would be a fabulous style for a night out whilst still being supremely comfortable.
Check out these funky, stretchy, wide leg Palazzo style active wear pants in a variety of colours.
In fact if you are worried about tight fitting pants and have larger thighs, then Palazzo Pants (in different colours) are probably the best yoga pants for big thighs because they balance your body, and are very flattering for that area.
I'm in love with this gypsy boho ethnic yoga pant. I love the hippy style with its bell bottoms. These pants would look fabulous with a long white tunic top for sundowners on a yacht!
Bootcut Yoga Pants with pockets
Bootcut yoga pants can hold your tummy in and shape your legs in a very different way to the traditional legging type pants.
Take a look at these flattering bootcut yoga pants with pockets. Great for a casual night on the town or a barbecue with friends.
Yoga Pants or Leggings?
Yoga pants are in effect leggings.
Leggings are tight-fitting, stretchy pants that hug your legs quite tightly.
Leggings were once the apparel of choice for acrobats and dancers, before they became popular as high street fashion.
Yoga pants used to be loose fitting, often flared pants that were made for yoga enthusiasts.
Today the two styles have merged into one although leggings are likely to be made of a thinner weave, maybe less expensive, and are supremely suitable for wearing with long tunics or dresses over them.
Leggings might be cheaper to buy than yoga pants leggings probably because yoga pants are likely to be tighter and more durable.
Yoga pants are designed for more robust use, and are generally a bit thicker, serving as good workout pants for indoor and outdoor activities. They are popular for workouts because they are a trendier version of tracksuits, and because of their comfort, fit and flexibility.
Yoga leggings will often be longer than leggings.
You might also like these posts: What are Jeggings? And also: What are Treggings?
Best Yoga Pants for Travel – the perfect travel buddies.
The right clothes for the right occasion always make you feel good, and the good news is that yoga pants can take you effortlessly to work or social gatherings, but they are also efficient and non-demanding travel companions.
Some of the best yoga pants have hidden pockets – great for stashing your credit card and key locks.
For a yoga pants travel outfit – wear a longer blouse, add a pashmina shawl plus some trendy, wide fitting modern sneakers … and Voila … you're set for that long haul flight or long car journey.
High five to that!
Can I Wear Yoga Pants for Other Occasions?
You might need several pairs – you could be wearing different types, styles and colours of yoga pants for all or any of the following activities.
The practice of yoga
Gym classes
Strength training
Walking or jogging
Tennis
Coffee with friends
Travelling
Sunset drinks on a yacht
Sunday walks with your dog on the beach or in the forest
Doing the housework
Drinks on a Friday night
A quick dash to the shops to do the grocery shopping
What to keep in mind before choosing Yoga Pants
Regardless of what brand you choose, remember the fit of your yoga pants and how they make you feel, is the most crucial, so if you're buying online then check out the Most Popular Yoga Pants because they are popular for good reason.
Because yoga pants have become so popular you'll find them available in a wide variety of designs, styles, lengths, hip heights, and material.
Not to mention colours!
If you think active wear is mostly black, think again!
These days there is such a wide selection available and you'll be spoilt for choice.
However, to find great fitting yoga pants in the style and colour combinations you are going to love then you're going to have to make a few key decisions – and not just pick the first cheap pair you find on the rails at Target or somewhere similar.
Is your head buzzing?
Just keep these essential key points in mind before you shop.
The pants you choose should offer an amazing fit
Before you buy anything at all make sure the yoga pants you're considering meet a few specific requirements.
Oh, and definitely don't compromise on quality because you're probably going to wear and wash them a lot.
How to Choose Yoga Pants and get it right
Yoga pants are primarily designed for the purpose of meditation or a physical workout, so they obviously shouldn't be too tight in a cut-your-circulation-off way.
They should be made of a breathable and super comfortable material.
As a friend joked to me: "Yoga pants should make you feel lighter than a feather, as free as the wind, and as smooth as butter."
They should offer additional stability and support to the places you need it most – ie your tum and bum and thighs.
The design of your yoga pants should be such that they offer compression in the right places. However, too much compression and you will feel uncomfortable and constricted.
Try a high waisted pair of pants if you want to minimise the muffin top effect.
Block colours are best for work – particularly darker colours because you can match them with beautiful blouses.
Bright patterns are wonderful for the gym and all workouts.
Overall there needs to be a perfect balance between the amount of comfort they provide – and literally sucking your fat in – so the right compression is important.
Keep the waistband in mind
Personally, I love yoga pants with a wide waistband. The wider the yoga pants band, the happier your inner yogi will be. A wider waistband will better support your midsection region.
The design of the Yoga Pants
Once you've taken care of the fit then you should consider the design and colour of the product.
Choose yoga leggings based on your colour and pattern preference – be it minimal design pattern, solid colors, funky colors – and so on.
Remember designs are now a big factor of the yoga pants industry and you don't have to stick to plain black unless you want to.
Plain black palazzo pants are classy for going out, but you might prefer bright patterns for walking with friends or going to the gym.
Choose yoga pants with pockets if you need to carry keys around.
Some of The Best Yoga Pants To Buy Online
The Price of Yoga Pants
Price always matters, and you should definitely look for amazing deals and discounts, which is why I like shopping online. Look out for Best Sellers because people are buying these pants for good reason.
While seeking out the best deals always keep quality in mind too.
Don't choose something on the spur of the moment. You need to pick pants that will stand the test of time as well as look good on you, and which you're always going to feel comfortable wearing.
What are The benefits of Yoga Pants?
Everyone who has worn yoga pants, at least once in their life, knows how comfortable they can be. But that is not the only reason.
From being the perfect outfit to take a snooze in, or to get out of the door in a hurry – yoga pants have you covered.
They can help relieve stress
Yes, it might come to you as a surprise, but yoga pants can have that kind of power!
They can have a massive impact on the level of your stress because you are in all likelihood going to be more active throughout the day.
Wearing stretchy pants means you'll move more, maybe stretch more and feel more inclined to walk somewhere than drive or catch the bus. All great stress busters.
So if you are of an anxious disposition then switch to wearing yoga pants during the day.
And for 'le weekend' what could be more comfortable than a long baggy T-Shirt and a pair of yoga pants for lazing around in?
Umm, nothing.
No more worries about muffin tops
I often pop on my favourite pair of yoga pants before heading off for a Sunday brunch or a family get together.
Why?
Because they hold you in at all the right places, you can eat as much as you like without once having to worry about unbuttoning your pants to release an uncomfortably bulging muffin top!
Exercising becomes part of your day
If you're anything like me, then you can be a bit of a couch potato if given half a chance!
But if I have colourful yoga pants in my drawer of exercise clothes then I actually look forward to choosing a pair to wear, and don't dread the idea of workout gear.
If I get up in active wear, then I'm much more likely to remain active all day and not just for part of it.
So pop them on in the morning and you're set to take on the day in an active and engaged way without having to pack a bag to put in the boot of the car.
They are multifunctional comfort wear.
Be it summer, winter, autumn or spring – yoga pants can always be styled to suit the time of year and whatever you are doing.
You could wear a long slouchy black jacket over a smart white blouse with a black pair of yoga pants, and a trendy pair of ankle boots for a great winter look.
They can be good for your health
When you wear clothing that's too tight or restrictive it makes it difficult for you to feel at ease. Let alone breathe!
So you can go through the day feeling uncomfortable, anxious, stressed and wanting to sit down!
Skirts with tight waistbands or dresses that are skintight and make you feel as if you have to suck your tummy in, high heels and uncomfortably tight skinny jeans that you have to lie on the bed to zip up might all have their place in the fashion world – but pull on a pair of stretchy, well fitting yoga pants and a pair of sneakers, and not only will you feel immediately more comfy, but you'll also feel in a more active frame of mind.
Winning!
Adaptable for so many occasions
Wear them to breakfast, and go straight to your workplace.
Go jogging around the park or simply practice yoga in them.
Go from brunch to bistro, and enjoy yourself! Yoga pants are fun and fashionable.
From dressing them up to dressing them down, or wearing them just for their comfort factor – yoga pants really can do it all.
Best Yoga Pants Reviews
How to choose the best yoga pants might best be answered by the following reviews.
Browse through our list of some of the best yoga pants for women and take your pick.
Emamaco Shaper Move High Waisted Everyday Performance Pants
Shaper Move is designed for everyday to support you through any movements – without rolling down.
You'll find there's additional support built into the waistband so that the high waist stays put for more intensive movements.
Emamaco's Shaper Range is everyday activewear for all women. Combining Shape-wear with the high tech engineering of High Performance Activewear.
USED FOR:
Super High Waisted Everyday Performance Shape-wear, from GYM to STREET.
Wear for gruelling exercise, and the most relaxing hang sessions.
The fabric feels like the softest, most fragile silk but takes performance to the next level.
The shape hugs you like a second skin and lifts you as you move.
The cut has been redone countless times to the perfect minimalist shape.
MATERIAL – Emamaco Supaflex
– No Front Seams + No Side Seams
– Super High Waist
– Soft, Lightweight yarn for a buttery smooth second skin feel
– Breathable
– Compression for gym+studio
– Specialty stitching to prevent skin irritation
– Moisture Wicking
– 4 way stretch
Material composition: nylon/elastane
Pros –
Ultra high waistband
Amazing material
Moisture wicking
They are super soft and smooth.
Repels pet hair
Cons –
Due to the light colour of the twilight leggings and shorts it's recommend only to wear with nude colored underwear.
Not suitable for preganancy.
A moisture wicking, non-see through fabric that delivers buttery soft feel and unimaginable comfort.
Definitely one of the best yoga pants for travel. Also available in a wide variety of colour choices.
The high waistband will help conceal a bulging tummy.
Best yoga pants with pockets – These pants feature a hidden key pocket.
Pros –
Works wonders as shape wear or comfortable work-wear.
Designed to maximize easy and free movement.
Perfect for daily use and every type of workout.
Soft and stretchable fabric.
Chafe resistant.
Cons –
Plus size woman with an average height might face the problem of excessive leftover material.
This slim fit pair of yoga pants are undoubtedly the best yoga pants for work. They're designed keeping your need for style and comfort in mind. The fit of the pants guarantees to make you appear slimmer. Made out of stretchy fabric that is a blend of polyester and spandex.
Pros –
Delivers personalized design
Perfect for yoga and office
Highly comfortable.
Straight, slim fit.
Cons –
The leg tightness might be a little loose for some women.
Specifically designed for plus size curvy women, this pair of yoga pants is suitable for work and available in a myriad of choices. The highly elastic contour waistband offers all day comfort. It offers an impressive fit and will enable you to stay comfortable all day long regardless of what you are doing.
Pros –
Additional tummy control panel.
It isn't restrictive regardless of the extraordinary features that cradles your curves.
Functional, real, front pockets
Best yoga pants for plus size with extra wide elastic.
Cons –
The waistline can be a little high for some people.
Another highly comfortable pair of yoga pants that people are drooling over. Many consider these the best workout yoga pants as they are made from high quality fabric designed to remove moisture from your body, providing maximum comfort.
Features are elastic closure and non-see through fabric. They pack function, fashion, and performance. The fabric of the yoga pants is such that it will caress your figure gently and offer a streamlined look.
Pros –
Extremely comfortable
A value for money
The fabric contours the curves of the body
Perfect choice for workout sessions
Cons –
These are some of the choices for you to consider if you're looking for the best affordable yoga pants or the best yoga pants brand.
The premium quality material used to design these yoga pants makes them one of the best options.
Keep your phone and wallet safe in your pockets or stash your keys and other small valuables in the inner hidden pocket.
This yoga pant also comes with a wide waistband which will contour your curves and control your tummy.
Pros –
Amazing material
Smart design with pockets
They are super soft and smooth.
Cons –
A few customers have complained they're not true to its size.
The Best Yoga Pants to Buy : Yoga Pants Comparison


Emamaco
Baleaf
Rekucci
ODO-DOs
Bamans
Tung-lung
Fabric
Nylon/Elastane
Supaflex
Nylon Spandex or Cotton Spandex Poly-ester
Nylon Spandex
Nylon Spandex Poly-ester
Poly-ester Spandex
Poly-ester Polyurethane
Pockets
Some styles
Inner pockets
Front pockets
Out pocket
Side pocket
Side pocket
Tummy Control
Yes
Yes
Yes
Yes
Yes
Yes
So grab your yoga mat, your yoga towel, and a water bottle and away you go!
I hope this post has helped you in your quest about what to wear to yoga, and how to choose the best yoga pants.
Please let us know which your favourite brand is, so that we can add it to the list.
You might also like:
How to Wear Yoga Pants without Underwear Lines
The Benefits of Yoga as you age
How to Hide a Lower Belly Pooch
How to Wear Ponte Pants and Look a Million Dollars.
Pin this Post for Future Reference
Disclaimer: This post contains affiliate links from which I stand to earn a small commission (if you buy from them) at no cost to you. Lifestyle Fifty Website is a participant in the Amazon Services LLC Associates Program, an affiliate advertising program designed to provide a means for sites to earn advertising fees by advertising and linking to Amazon.com. Gifted products marked with *
Post first published Dec 4, 2019. Updated 7th April 2022.