When it comes to packing for a holiday I'm a bit of a ditherer. A pile of mostly unsuitable clothing gets dumped on the spare bed and over a couple of days pieces are eliminated until I have a capsule wardrobe of almost passable travel clothing.
Of course I'd like to get off a plane wearing kitten heels, dark glasses and a Prada ensemble (or similar) and have in my suitcase other stylish get-ups to see me emulating a Hollywood style icon as I swan in great gorgeousness through an exotic holiday.
Hollywood Style? I wish!
BUT real life's not really like that, is it?
If you're anything like me, you want to feel comfortable on journeys. When I trot into the arrivals hall after a long flight I want shoes that will be kind to my swollen feet and ankles. When I'm marching up a whole lot of steps to a fort look-out I don't want to get blisters, nor do I want clothing which is too tight or constricting over which my ample midriff hangs.
Dark glasses at the airport – hrmph! With my dodgy eyesight I need to see where I'm going when I reach the elevator with an overweight suitcase. And as for the designer wear, if there was any Dash in my stash, then it would be cossetted in my cupboard back home waiting for the 'right occasion'. I know, I know, we shouldn't do that, should we?
Trendy travel clothes to cross continents
So when W Lane invited me to choose some travel clothes as the basis of my going-out-togs for my trip around Europe I decided to challenge my aging and rather careless style outlook.
Yes, I braved taking my trendy daughter along with me, and she suggested that I base an outfit around a gorgeous lightweight (no need for ironing) jade jacket.
Jade! Ker-rikey! A bit bright wasn't it?
But what a great move it was. And the outfit was my go-to smart choice when I needed to spruce up a bit.
Why choose a show pony?
As a show pony piece it gave me the option to team it with both smart and casual items on holiday, and then when we returned from our Expat Explore adventure around Europe and the Bike Cruise in Croatia with Katarina,  I teemed it with lots of different things from a wider choice of clothes in my cupboard.
I found I could wear it with blue jeans, and skinny black jeggings, over a pretty summer dress which had the colour jade running through it, and I could wear it with my indigo cut-off pedal pushers. The colour goes really well with both navy and black.
Smart and oh-so-easy-to wear
I've become really fond of W Lane clothes because increasingly I find that they cater to older women who want to look smart but also demand a fair amount of ease about their clothing, and what I particularly like on the website is that if you select a particular item, then matching pieces will be suggested to go with it.
Here are some current items which I think would make great travel clothes and the colour Jade seems still very much 'in'.  Check out the W Lane Website for more options.
And below are a selection of tops that would maybe go well the black pants and the jackets above.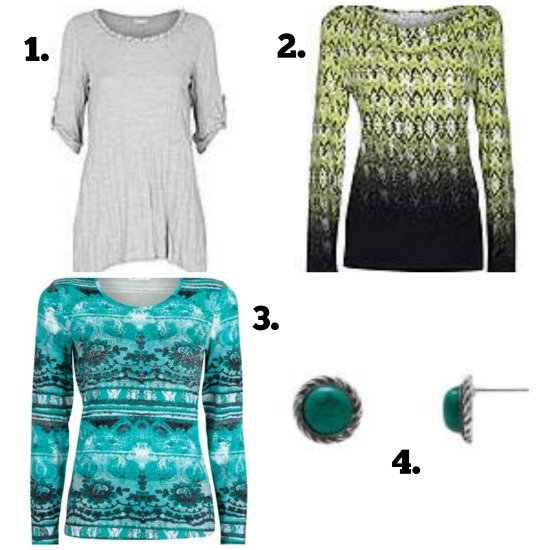 Adaptable travel clothing
The travelling outfit I chose from the Autumn range (for Spring in Europe) was smart and comfortable, so I wore it on lots of occasions including trotting around Paris, Dubrovnik, Prague and Venice, as you can see in the photos below.
Here's what I liked, and some tips that I hope you'll find helpful when you make your own choices.
The jade jacket* was the Wow factor, and got lots of compliments but it was easy to wear and didn't need ironing, so being rumpled up in my suitcase suited it perfectly!
The green and navy blouse* matched the jacket and teemed up with it stylishly. The sleeves are three quarter length which means my less than sleek upper arms were discreetly covered. It's slim fitting but not clingy which meant that a few holiday kilograms would not be a problem. Also, the cowl neckline was very flattering for spring and summer in Europe. Non-crease and I could wash it and just hang it up to dry.
The fitted jacquard pants in navy* are comfortable and also non-crease. Although they would have liked a bit of a spruce-up iron after washing, they didn't get one – I just folded them and placed them at the bottom of my suitcase under all the heavy items and they came out almost immaculate. I liked the fact that I could wear them with heels and ankle boots to dress up the outfit, but mostly (because we do SO much walking, up hill over dale, up clock towers, down mountainsides) I'm afraid to say that I made the complete style no-no and wore them with trainers much of the time because flats or ballet shoes just don't do our kind of daytime activity. But all due credit to those pants, they took it well 😉
The string of beads* were great to dress up the outfit if I wore it out at night.
5 Tips when choosing travel clothing
Base several looks around one show-stopping item.  The pistachio anorak in the photo above would be great for a winter look. You don't always have to wear the show stopping item, but when you're bored of your limited wardrobe on holiday I think it's nice to feel 'dressy' again.
Go for machine wash, non-iron, non crease clothing as far as possible.
Take along two or three tops, and a couple of different bottoms which will go with the Wow item.
Don't forget to accessorise. Beads and earrings in matching colours to the main coloured item give a nice sparkly look for night-time. Although I don't like scarves around my neck unless I'm cold, a scarf would be a good addition for day or night if you like wearing them.
Shoes – I'm all for comfort, so I have to say pack the kind of shoes that will suit your kind of activity on holiday. For me it was trainers, sandals and a pair of ankle boots with a tiny wedge heel.
For more great tips on packing please check out this guest post I wrote for Nikki at Styling You.
Over to you Lifestylers … I bet you've got some great tips of your own to add. See you in the comments!
Disclaimer – Items marked with a * were supplied for editorial consideration by W Lane.