I'd be lying if I said that casually throwing a few things in the suitcase last minute would be my style for the upcoming ProBlogger Conference at Surfer's Paradise in Queensland.
Because, well, cor blimey – there will be over 450 other bloggers attending (mostly female) along with speakers and presenters from all over the world.
I know that I don't want to feel too primped, tightly preened or worst, uncomfortable, but I don't want to look daggy either – as I do now. Oh if only you could see me at the computer!
So what to wear for a conference?
Finding something to wear that makes me feel confident and which is a bit … er … professional-looking is key. Although I've promised myself no beige and no black this year.
I don't want to compete with the many gorgeous trendsetting younger women who will be present, but I do want to keep the Lifestyle Fifty image side up. You know, "Funky and Fun!"
Which means a little planning has been necessary, along with some clear thought about what would look good, be stylish and also easy (read comfy) to wear.
To the rescue came W. Lane, a store which I've grown to love for its dependable, smart/casual styles, and I was invited to choose an outfit for the conference. I jumped at the chance knowing that the staff at my local store are always ready to assist me with putting a look together and provide fresh ideas to think about –  I also love how the website suggests which garments go well together too … like the ones below.
In the end my love of the colour jade continues! I chose the jade toggle jacket and the jungle print skirt which I'll be teaming up with a black top and black shoes.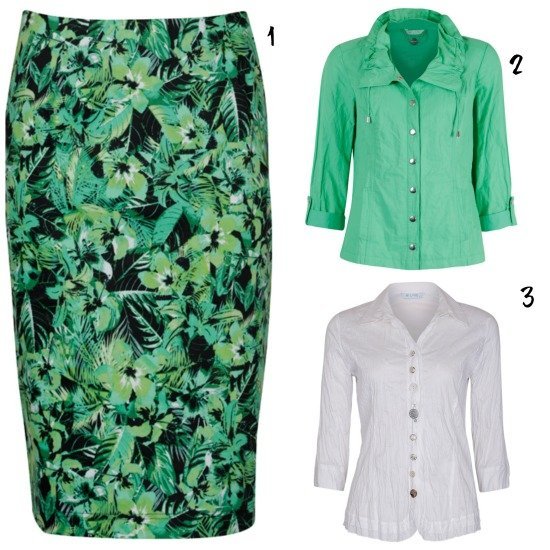 For shoes I  love the Airflex range from Betts because they are so comfortable, but also stylish.
No tarts trotters for me at this conference thank you, because my knobbly old feet are not going to divert my attention by screaming, 'Ow, they pinch! Argh the pain! No they're rubbing me! Ouch, off!  Hurting me!' at which point I generally end up shoe-less. No siree, these little lovelies will be comfortable for all day and all night wear.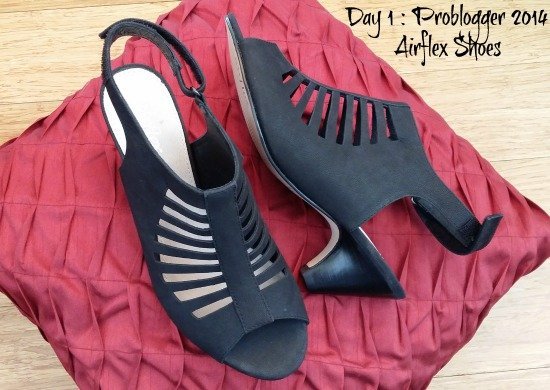 How to dress for a conference – Day 2.
A fitted shift dress from Roman in the UK will be my mainstay, along with some dainty little trotters from Airflex giving the look a glamorous pop – again stylish I hope, but comfortable too.
The shoes are delectable. They have little zips up the back which keep my feet nice and snug and the diamante on the straps is too gorgeous. I'm also thinking they'll be sweet with black pants for night-time too because the wedge heels will give me a bit of height and the sparkle a little glamour.
You  might also like: 7 style tips for dressing well over 50 and What to Expect at Blogging Conferences and Training Events
I'll also be needing a bag for my camera, iPad, note book, business cards and mobile.
I was delighted when Hedgren came to the party and suggested a trendy, highly functional, design-driven casual bag to take to the conference. And my lovelies, I have one to give away in a future competition. Stay tuned!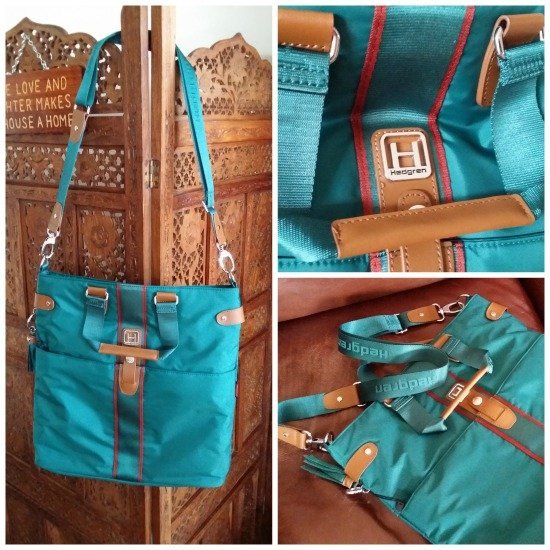 This Tote feels like it's going to be long-lasting and versatile ready to withstand the rigors of travel and being thrown around from plane to bus to conference. Hedgren bags are designed in Belgium and you'll be able to find them at selected major retailers including David Jones, Strandbags and Victoria Station.
I chose the Casual Chic Kaci in Storm which has urban good looks don't you think? It's big enough for all my 'stuff' (iPad, camera, phone, notepads, make-up etc) and I love the eye-catching colour and the leather details. I also like that it looks contemporary and feels really durable, plus the lightweight fabric is water repellent, and has tear-proof and slash-proof high-density webbing shoulder straps.
6 Tips : How to dress for a conference in Queensland
Ok so as ever I'm not the Oracle of stylish dressing. But here are some tips from my style searching.
Wear something that is comfortable and fits well. If you're pulling, tweaking or constantly having to tug your outfit about then you're not going to feel confident in it no matter how pretty it looks.
Professional, Boho, Vintage, Funky, Corporate, you decide on the look, but remember for an event like ProBlogger you're representing yourself and your blog. So dress how you want others to perceive your brand.
Try tailored black pants teamed with a crisp white (or coloured) blouse, comfortable black shoes and a well fitting jacket.
You can't go wrong with a simple shift dress and a pair of pretty shoes (pumps or wedges).
A well-fitting knee length skirt with a pretty blouse always looks neat and professional.
Remember that simple classic looks can be vamped-up at night with accessories like big chunky beads or colourful scarves and high heels.
Be comfortable but not daggy. You're going to be meeting lots of people and your goal is to learn and network, so consider the impression you want to make.
There's a fine line between being uniquely dressed and over-dressed or inappropriately dressed – so the really low cut blouse, or the pelmet mini, might not be de rigeur for daytime.
Think about the temperature. For instance, Queensland is likely to be hot, but the conference halls will be air conditioned – so a lightweight cardi or jacket is not a bad idea.
Disclaimer: Items marked with an * were gifted for editorial consideration. Prices correct at time of going to press.
Conference nailed? What do you think? Or what would you choose to wear to a conference or networking event?
SaveSave
SaveSaveSaveSave