Sponsored Post.
When I was growing up we could ride horses almost before we could walk, and our spare time was filled with ponies and gymkhanas and visiting our friends on farms.
My cousin is married to a dairy farmer in England, deep down in the lush green western corner of North Devon.
How to Incorporate Dairy into our Daily Diet
So I guess it's only natural that I've had a long association with dairy, and see it as a healthy and necessary part of my diet.
I can remember feeling so peeved when Mum allowed one of the foreign students (who we used to have staying with us over the summer holidays) a SECOND tub of yoghurt one morning. It was unheard of!
Flavoured yoghurts were new to our diets back in the early 70s when I was in my teens, and I loved them, but they were a luxury food and we were severely rationed.
For some people though incorporating dairy products into a daily diet might not be top of mind, so today I'm bringing you easy to remember tips and hints to think about when you're out and about, or doing your weekly meal planning and grocery shopping, to demonstrate just how versatile dairy can be.
Quirky Fact
Most people don't think that the milk in their coffee counts towards their daily serves. Choose a milky option like a latte or flat white and you've got half a serve right there. I've read that despite popular belief the caffeine doesn't get in the way of the calcium from the milk being absorbed by the body so you still get all the bone building benefits.
Once we're over 50 we need four serves of dairy a day to keep our bones healthy and our systems running on top form. Here's a post I wrote with more information about the size of serves and just how much dairy we should strive to eat a day.
Did you know?
Soft cheeses like brie and camembert are no higher in fat than everyday hard cheeses despite their creamy texture. So enjoy whichever you prefer adding to your salad or in your sandwich – all have the same health benefits, and not only help fill you up but they're packed with calcium and protein. For more dairy health benefits click Here.
Cottage cheese is a hero when it comes to low fat (ricotta isn't far behind it). Pop a tub into your grocery basket (like I do) and have it on Ryvita with tomatoes for lunch, or mixed with chopped chives on top of baked potatoes with dinner.
Festive Red and White Cheesey Salad
Watermelons are coming back into season in Australia and I love mixing crumbled feta cheese with chopped watermelon, mint and red onion as a salad. You can find the super easy recipe Here.
Ideas for every season
For healthy and inspirational ideas for every season, I've been enjoying The Dairy Kitchen Meal Planners, with dairy rich recipes which have been developed in conjunction with dietitians so you can feel good about enjoying every breakfast, lunch and dinner, knowing it's all part of a healthy balanced diet.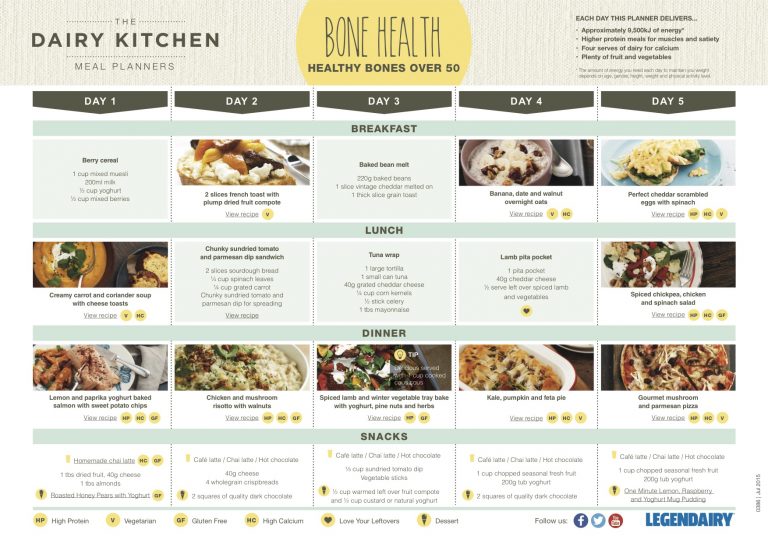 Here's an example of my dairy 'Day on a Plate'
Breakfast
1 cup mixed muesli
1⁄2 cup yoghurt
1⁄2 cup mixed berries – I used fresh blueberries below.
Lunch – Tuna Wrap
1 large tortilla
1 small can tuna
40g grated cheddar cheese
1⁄4 cup corn kernels
1⁄2 stick celery
1 tbs mayonnaise
Dinner – Spiced Lamb and Veggie Tray Bake with Yoghurt
Love this spiced lamb and vegetable tray bake with yoghurt, pine nuts and herbs. See below and Here's the Recipe.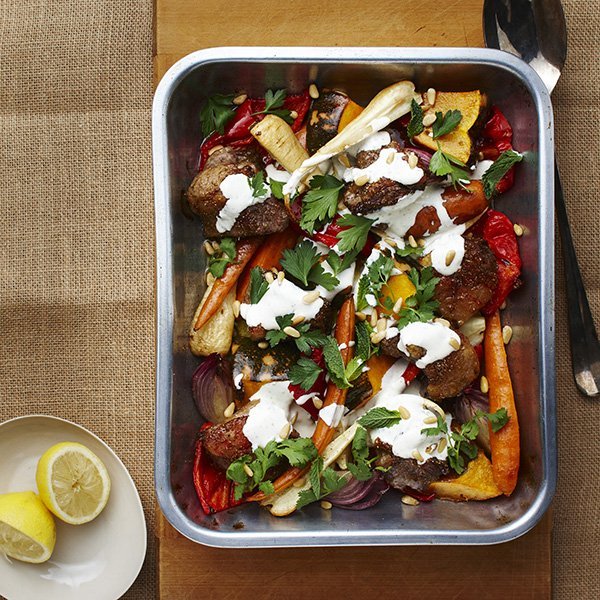 Snacks
A skinny flat white coffee without sugar.
Ryvita spread with cottage cheese and topped with sliced tomato or a small chunk of cheddar (40g) and an apple.
Down South on the Farm
Our current favourite go-to lunch at the moment is cheese with avocados because our friend owns an Avocado Farm in South West Australia and we're very lucky to sometimes be given fresh avos straight off the trees – Yum!
Avocado and Feta Toast
Here's an easy cheese and avocado recipe, great for brekkie or lunch from the Legendairy site.
Ingredients
1/4 avocado
1 teaspoon lemon juice
2 thick slices wholegrain toast
2 small tomatoes, sliced
20g Australian reduced fat feta cheese, crumbled
1 tablespoon shredded fresh basil
finely grated lemon rind, to taste
freshly ground black pepper, to taste
Method
1. Coarsely mash the avocado and lemon juice together.
2. Spread avocado on hot toast, top with tomato and sprinkle with feta and basil. Finely grate a small amount of lemon rind over the toasts and season with pepper.
Tips and Handy Hints
Try omitting the lemon and basil and sprinkling the toast with other flavourings such as: – dukkah – toasted sesame seeds – lemon pepper seasoning – za'atar spice – a sprinkling of cumin
Nutritional Information
Nutrients per serve:
Energy (kj) 897
Protein (g) 8.7
Fat, Total (g) 10.4  Saturated (g) 2.7
Carbohydrates (g) 19
Sugars (g) 3.39
Dietry Fibre (g) 4.78
Sodium (mg) 308
Calcium (mg) 84
Iron (mg) 1.6
As I'm always conscious about the amount of calories I'm consuming, I love that the Legendairy recipes provide nutritional information with the recipes. But what I have learned, is the importance of where the calories are coming from – whole foods, rather than junk foods is key.
Lifestyles, do you have any helpful or yummy tips to share with us for adding dairy into your diet?
Please  PIN the image below 🙂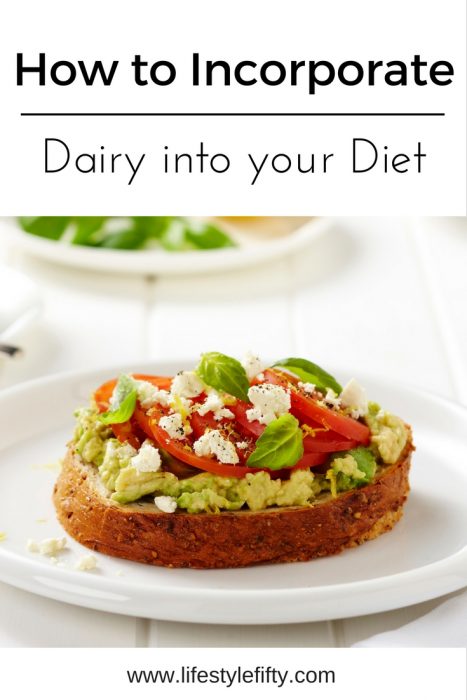 The Lovin' Life Linky

The Lovin' Life Team includes:
Lyndall from Seize the Day Project