Do you want to know how to look good on a budget and step out in style without breaking the bank?
Looking for ways to save money on clothes, skincare and makeup?
Want to know how to dress on a budget and still be in fashion?
Here are our best money saving tips to help you look good on a budget whatever your age.
How to Look Classy and Elegant on a Budget
We all need a little help when it comes to saving money, and that's why we've put together these tips.
You don't have to spend your whole paycheck in order to feel good about yourself!
These easy-to-follow tips will help you make the most of what you already have, as well as help save you money on what you need to buy to top up your wardrobe. Yes, you can keep some money in your wallet and not break the bank!
So if looking fabulous (without spending the children's inheritance) is important enough for you to be willing to spend some a little time learning how to shop on a budget, then you'll find there are plenty of savings waiting just around the corner.
Say goodbye to overspending. Say goodbye to underspending, tatty old clothes and shopping disaster buys.
Say goodbye to dry skin, and lack-lustre hair because you feel you have to spend a lot for products to make a difference.
Check out these money saving tips which will show you how to not only look good, but how to look fashionable on a limited budget.
Here's the checklist …
How to Look Good on a Budget Checklist – 27 Top Tips
Invest in a few key pieces of clothing – they will last longer and look better than cheaper options.
Remember it's not always how expensive an item of clothing is to buy, it's actually how many times you wear it that counts!
Avoid buying trendy items that you'll only wear once.
Buy clothes to fit your body type, not what's "in" this season.
Be mindful about the colors you choose for your wardrobe,
Don't buy too many bright colours or busy patterns.
Stick to a tight colour palette.
Purchase clothes in neutral colors, like white, black, navy, gray, or beige to form the basis of your capsule wardrobe.
Shop at stores like H&M and Target when looking for staples like jeans and t-shirts
Keep an eye out for sales on websites like Gilt, Rue La La, Nordstrom Rack, and Bloomingdale's Outlet Store
Find a good hairdresser and update your hairstyle but try an easy-to-care for cut that doesn't require too much maintenance.
Buy some inexpensive jewelry to spice up an old outfit – who cares if it's fake!
Add accessories like scarves, earrings, necklaces, and bracelets to make existing outfits more interesting.
Get your hair dyed professionally – it'll last longer, and look better than doing it yourself (plus no disasters!)
Dress nicely but inexpensively by shopping at stores like Forever 21, H&M, Nordstrom,or similar, for clothes that are trendy but not too expensive.
Wear makeup sparingly to avoid looking overdone – try using really natural colors – in turn this will mean you spend less money on makeup.
Buy makeup from popular but less expensive ranges. You'll find affordable alternatives to expensive beauty products like lipstick, foundation, mascara, etc at the supermarket, drugstore or pharmacy. Brands such as Maybelline, Rimmell, Garnier, and L'Oreal are often as good as more expensive designer brands.
Keep your nails manicured with DIY sessions at home and buy nail polish from the drugstore; when you're done painting them use an inexpensive topcoat for added shine and protection to help the varnish last longer.
Always buy clothes that fit you well and are flattering to your body type, rather than fashion one-offs that you might wear only a couple of times.
Shop at stores like Forever 21, H&M, or Target for affordable everyday clothing
Buy skincare products from the supermarket or drugstore instead of high-end brands – think Neutrogena, Neutrogena Hydro Boost Gel-Cream with Hyaluronic AcidOil of Olay, Garnier.
Use inexpensive hair products like shampoo and conditioner from the drugstore or pharmacy, rather than expensive styling products from a hair salon.
Do shop at thrift stores and Op-Shops.
Buy clothes that can be mixed and matched together so you can get more wear out of what you buy.
Buy clothing items on sale – many stores offer discounts especially for the end of season inventory.
Shop online at websites like Amazon where prices are often lower than retail stores.
Zara, Asos, Uniqlo are stylish brands with a finger on the fashion pulse – which won't break the bank.
Invest in a few pieces of clothing
Well made pieces of clothing in quality fabrics will last longer and look better than cheaper options.
It's important to remember that often the piece of clothing which costs $100 will last longer, and look better after numerous washes than the piece of clothing you buy for $25.
Ultimately it's not how expensive a garment is, but how many times you wear it that's important.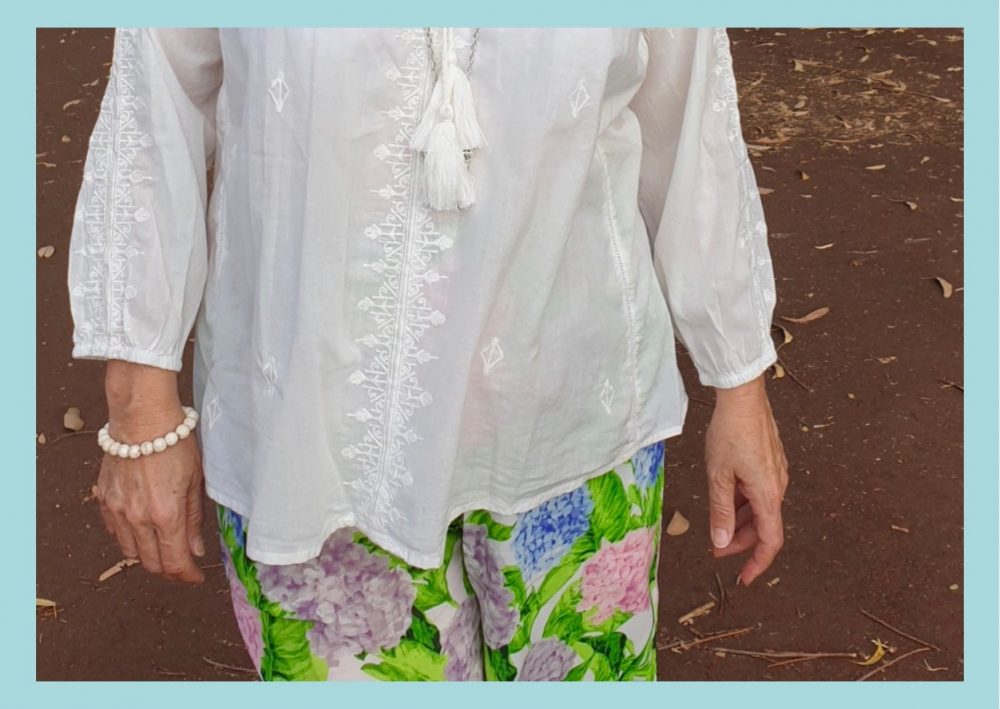 Avoid Buying Super Trendy Items
While you may want to look absolutely up-to-the-minute-fashionable, it's often better to stick with classic pieces of clothing that can be worn again and again.
If you do want to buy a fashionista garment then shop at brands like Zara which will not only have the latest fashions but also have a high turnover of styles at not-so-expensive prices.
Here are some lovely dresses online which you're sure to want to wear more than once, and which won't break the bank.
Buy Clothes to Fit Your Body Type
Always buy clothes that suit you, and your body type.
Every body is different. Fashions come and go, but your body is here to stay. So don't buy a high-fashion piece of clothing that really doesn't fit or suit you just because it's in fashion. You'll end up wearing it once and then discarding it to the back of the wardrobe.
Be Mindful About The Colours You Choose
Stick to a tight palette of colours for your capsule working wardrobe.
Don't buy too many bright or neon colours and busy patterns should be kept to a minimum because they are hard to match.
A neutral palette of colours in white, beige, navy, grey and black will serve you well as basics, and you can top up with a bright colour or pretty pattern here and there.
How to Save Money on Clothes.
Clothes that look expensive but aren't! These are your friends!
Choose your clothes stores wisely.
Stores like H & M, Nordstrom, Target, Zara, Asos, and Uniqlo all offer affordable staples, as well as some high fashion items that you can purchase on a budget.
If you're looking for good quality Australian clothes then try Styling You The Label.
Don't forget Op-Shops and Thrift Stores – you'll find great brands and good fabrics as well as the most delightful bargains in-store and online.
Don't discount Ponte Pants are a great staple for your wardrobe.
I love these Nordstrom Rack Ponte Pants and these NYDJ Ponte Pants from Bloomingdales.
On a Budget? Look Out For Sales
Keep an eye out for end of season or mid-year sales because you'll often get clothing at a much better price, even if it's not the exact piece you had in mind. Online try Nordstom Rack and Bloomingdale's Outlet Store for some great bargains.
Find a Good Hairdresser
A good hairdresser doesn't have to be the most expensive on the block. Find someone who understands you, your lifestyle and your hair needs and stick with them.
Remember if you're on a budget it's always better to get a good cut which is easy to maintain and won't need cutting or colouring too regularly.
Talk to your hairdresser for the best budget options to suit your face shape and the life you live.
Cheaper Hair Products
Don't buy the cheapest hair products as they could wreck your hair, but do try some of the well known supermarket and drugstore brands and see how they suit your hair.
I buy from the FUDGE range, which is not expensive, but which I love and which suits my hair needs.
Here's the shampoo I love – Fudge Clean Blond Violet Toning Shampoo
How to Look Fashionable on a Budget
Jazz Up Your Existing Garments!
Buy fake jewellery! It's so easy to dress up old outfits with gorgeous costume jewellery to look fabulous on a budget.
Also hunt out jewellery and scarves at Op-Shops and Thrift Stores. That way you have lots of great ways to make existing outfits look new.
MakeUp and Skincare on a Budget
Wear makeup sparingly to avoid looking overdone, and also so you don't use too much and spend too much.
Try using natural colours because this will mean you use less, but will look just as great.
You'll most likely find affordable beauty products like Maybeline, Rimmell, Garnier, L'Oreal, Neutrogena and Olay are just as good as the more expensive brands.
I love and use …
Garnier SkinActive BB Cream Anti-Aging Face Moisturizer
Olay Regenerist Micro-Sculpting Cream Face Moisturizer
Neutrogena Oil-Free Daily Facial Moisturizer with Broad Spectrum SPF 15 Sunscreena
L'Oreal Paris Magic Perfecting Base Face Primer by Studio Secrets Professional
Related Posts
How to style clothes you already have
How to Create a Capsule Wardrobe
Best Washable Leak Proof Underwear
Best Sleeves for Under Strappy Dresses
How to Dress for your Body Shape
Ultimate Guide to 50 Plus Women's Fashion
How Many Clothes do you Need – Results will Amaze You!
Pin for Pinterest – Happy Pinning!
Disclaimer: This post "How to Look Good on a Budget," contains affiliate links from which I stand to earn a small commission but at no expense to you. Any gifted items are marked with an *. Lifestyle Fifty Website is a participant in the Amazon Services LLC Associates Program, an affiliate advertising program designed to provide a means for sites to earn advertising fees by advertising and linking to Amazon.com. Please read my full disclosure here.