From Daggy to Dandy in No Time at all!
First of all let me be completely upfront. Kathy Marris does not look daggy – ever!  And today she's sharing 5 simple beauty tips about how to look great after 50 which she so effortlessly does.
But the title, 'From daggy to dandy in no time at all,' seemed so apt for the way many of us over 50s feel prior to, and after, paying our face and body a bit of attention before going out.
It seems to me a long time ago that I'd just drag a brush through my hair, and throw on whatever came to hand before I left the house for the day. But although these days
I find myself needing to make a bit more effort, sometimes it really is just a question of putting on something I feel good wearing, and a bit of lippy, to take me from feeling personally daggy to out and about dandy.
Kathy is a gorgeous 50-something woman who lives in Queensland, and we've been online friends for quite some years now. Kathy writes a fabulous blog called 50 Shades of Age which concentrates on travel, but includes humorous real life dilemmas we face as we get older too.
Today she shares her beauty routine which takes her from a natural outdoorsey look to ooh-la-la drop-dead-gorgeous.
Kathy's 5 simple beauty tips
1.  No matter where I go I always wear foundation with SPF 50 sunscreen. This not only evens out my skin tone and covers blemishes, but it protects my face from the harsh Queensland sun. I also always wear sunglasses outdoors to protect my eyes from the sun and from getting crows feet around my eyes.
2.  Wherever I go I always wear lipstick. It brightens up my face and makes me feel like I'm at the very least wearing some makeup.
3.  I have a regular 6 weekly visits to my hairdresser to keep the greys at bay, add some highlights to my hair and keep it styled. They do say that a woman's hair is her crowning glory! Same goes for my eyebrows – I keep them groomed and tinted as well.
4.  I like to keep my clothing fairly simple in mainly neutral colours and then accessorise  with jewellery, scarves, clutch purses and good quality shoes. I don't buy cheap and low quality clothing as it does look daggy. I prefer quality over quantity.
5.  To keep my skin looking young I cleanse my face daily with an aveno exfoliating facial cleanser, I use Clinique moisturiser, Clinique primer and Clinique foundation (with 50+ SPF).  Before bed I apply a Dermalogica night cream. For my hair I use Juice Shampoo and Conditioner that I purchase at the Hairdressers. Then I use Bhave styling cream prior to blowdrying my thick unruly hair.
From top to toe it takes me around one hour (if I need to wash and style my hair). Otherwise I can be out the door looking dandy in 45 minutes.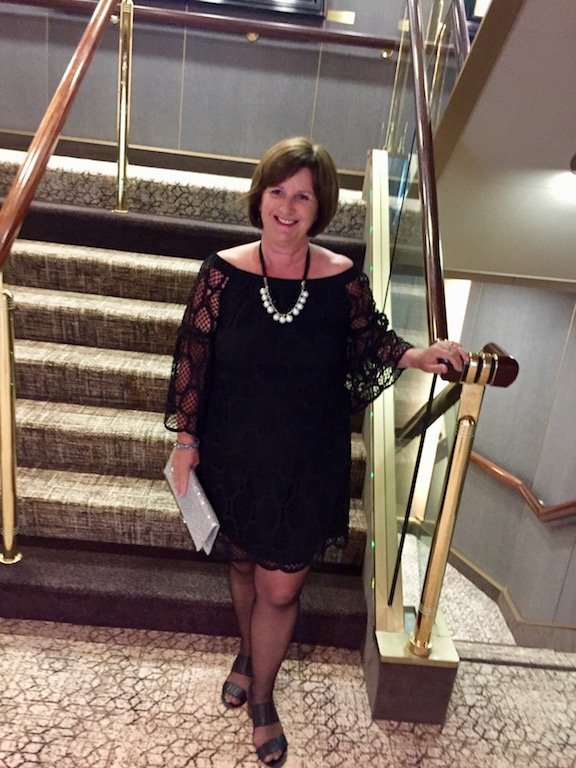 And oh my goodness – doesn't she look gorgeous!
A big thanks to Kathy for agreeing to share her beauty tips with us.
If you'd like to take part in this series, I'd love to hear from you. Please shoot me a message via the contact form.
Lifestyle Fifty Website is a participant in the Amazon Services LLC Associates Program, an affiliate advertising program designed to provide a means for sites to earn advertising fees by advertising and linking to Amazon.com. If you purchase a product from one of these links it will not cost you any more, but Lifestyle Fifty may earn a small commission.