Hands up who'd like to look a little bit younger? I don't mean 20 years younger because that would just be unnatural, and I don't know about you, but I'm far too squeamish to go under the knife. But how to look younger than you really are is attainable and today we look at 5 ways to help you achieve a more youthful glow.
If you're anything like me, you want to preserve what you've got, for as long as you can (and if that includes a bit of pickling with wine, then fine!)
How to look younger – just a little bit anyway
There are also times when I'd like to look a bit younger than I really am.
Sometimes I enjoy going out with people in their thirties and I meet a lot of bloggers around this age at various workshops and conferences, and I think to myself at first glance and chat: "Heck … WooHoo … Look, I'm not that much different!"
Ahem, of course I haven't got my specs on and we haven't got deep into any banter yet.
They know I'm older, and in reality I know I'm older too.
It's a case of … I often feel like I'm still 35, until I spend time with 35 year olds. We look different, we have different points of reference and we know different stuff. That's just how it is.
But watch and learn, watch and learn. There are a few tricks I've picked up from some of these smart young guns I call friends to share with you today.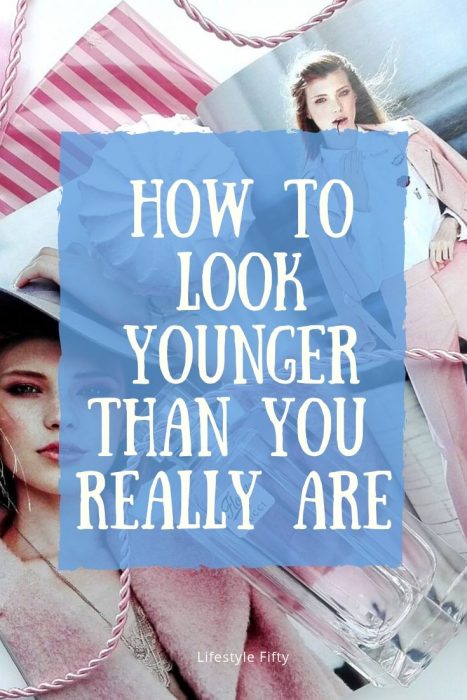 1. Be clever with your make-up
In my younger days make up was something I rarely used except perhaps to slap on in a novice way to go out somewhere special. Over the years I've become more savvy, and these days I can make-up my face in 5 minutes if necessary: Bronzer, Highlighter, Blusher, Concealer – hey I'm onto it 😉
At Problogger last year I was shown how to use concealer to its best effect. Don't just use it for your undereye circles. No, no no! You can dab it on the inner corners of your eyes, on the top of your top lip in the groove by the lip line, on the outer sides of your nostrils – and everything will sort of just well, lift up a bit.
If your eyebrows are diminishing or gone, or turned grey, then buy a good eyebrow pencil and learn how to draw them on.
Find the right colour lipstick for your skin colour, and don't choose something dark because it's aging. I love a peachy rose lipstick and a natural or pinky lip pencil to outline my lips.
A little bit of blush on the apples of your cheeks will help give you a more youthful look. I love Pure Colour Envy Sculpting Blush.
Bronzer is every woman's friend. This is the one I use all the time : Rimmel Bronzer
2. Choose colours that suit you
When we're young, we can really get away with anything. Most styles, most colours – I know I just didn't give a damn and mostly got away with it. Now though, the wrong colour or even shade of colour can drain my face and just make me look Bleuh. I'm beginning to understand which colours suit me, and trying to stick to a tighter palette, because when you get it right, you will look and feel 5 years younger.
You might like to check out my post on The Ultimate Guide to Fifty Plus Womens Fashion, and more fashion and style tips from professional blogger, author and fashion designer Nikki Parkinson in this post Clever Everyday Style Tips.
3. Use beauty products you love that work for you
I was an Oil of Olay girl for years. But I've come to realise life is too short to scrimp and save on your skin. I was introduced to some new products about a year ago, and to tell you the truth I was skeptical about their advantages.
Then over time I began to see a big difference in my skin. I won't say that all my lines disappeared, but the deep ones seemed less furrowed and my skin began to glow. Actually I still didn't believe it. Not until Dave took a photo of me one day and I almost outshone the field of tulips – I'd never seen my skin look so healthy. Sure, I hear you say, could have been the light, but there's more to it than that. When you know, you just know. No trick photography required.
I use NuSkin products – I've been using them for over 12 years and people often comment that my skin looks youthful even though I'm now over 60 years old!
My Favourite Face Products
For beautiful looking skin
4. Pay attention to your body
Sorry, but there's no way we should be losing weight quickly. Those "lose 5kgs in 5 days just in time for a bikini summer' type of articles I used to read in Cosmo or Cleo or whatever, are just not going to cut it at our age and you know why don't you?
Because you're not going to lose the weight from your ass or your tum, but from your cheeks (facial, silly) and your boobs. Then you're going to look all hollowed-out and witchey instead of slim and perky. So go slowly, eat well, do your exercise and cut down your portions – but don't crash diet EVER AGAIN. Promise?
Keep up your exercise or take up exercise gently. I walk for an hour every morning, and intersperse my walks with yoga, pilates and bicycling.
Go on an active weekend away with friends – walk and talk! Here's my best packing list for a 3 day trip to inspire you!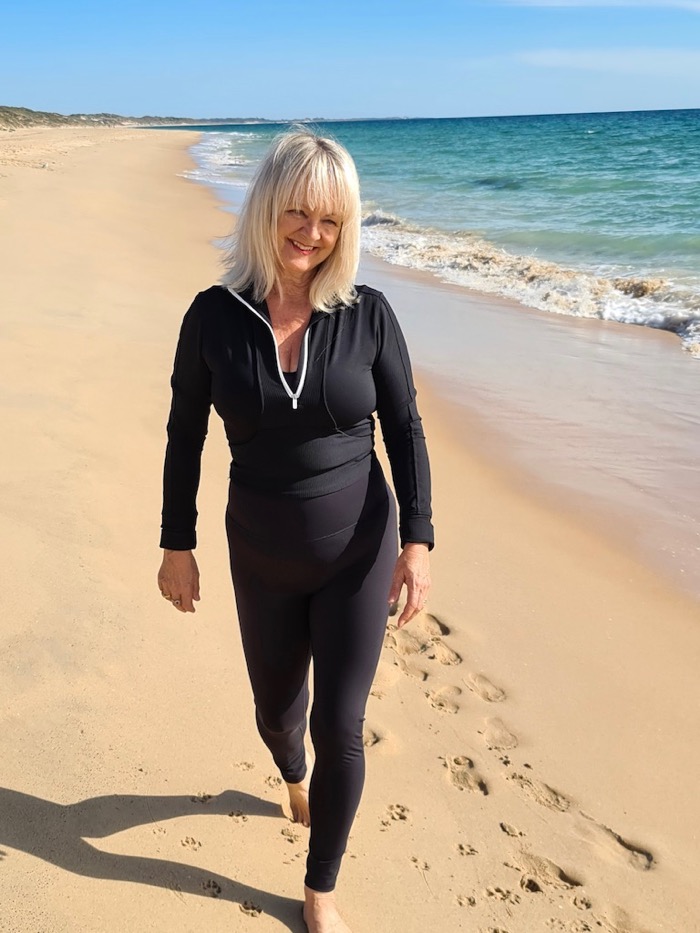 Our boobs aren't the only things that head south to the Bermuda triangle never to be found again. Our butts lose their peach like padding over time and yep, sag. There ain't no stopping gravity, dammit. So whenever possible look for pants and jeans with a bit of lycra in them because they'll give you a bit of support in that area.
Am I preaching to the converted here? Do you wear a good bra? Make sure you are wearing comfy, supportive bras and bras that fit well .
Do you lift those girls up in well engineered over-shoulder-boulder-holders as they used to be disparagingly referred to when I was growing up? Sizes vary, so don't get hung up on numbers. And if you were 36c for years, you could well be a 38d after fifty, because well, our shapes change. A good bra gives you a longer, leaner looking torso, and makes your waist look smaller.
Find a great pair of jeans – no matter what your age a great pair of jeans will make you look on trend and younger : Read … The Best Jeans for Women Over 50.
Don't stick to outdated styles that will never suit your body shape again, but do play around with clothes. Boho chic is never really out of fashion and the flowy styles suits most body types – check out this post for the ultimate guide about how to put it all together: Boho Chic Clothing to Make You Sizzle!
Top Tip: Don't forget that for dry confidence everyday you may need washable leak proof briefs. I love Modibodi. Check out the best washable incotinence underwear here or look at all the styles, and decide on your leak proof solutions at Modibodi underwear here.
And ultimately, try not to have too many clothes. Ironically too many clothes means you'll always look in your wardrobe and declare you have absolutely nothing to wear. True! Also, outdated fashions just outdate you too.
In this post I asked a cross section of women How Many Clothes Do You Really Need?
5. Hair today gone tomorrow
I used to have such a thick shock of long lustrous hair which is sadly getting thinner and coarser by the year. So it's imperative now, more than ever before to pay attention to cut and colour. Have your hair trimmed every six to eight weeks, religiously. If you need colour, then do it before you have roots or grey showing through – or if you want to go grey, then do, but get a great cut (regularly) to show it off.
Don't pull your hair back severely even though it's in vogue. Okay, if you pull it all back hard enough it can make you look as if you've had a facelift (I've tried) but actually a slicked back hairstyle is not going to suit you now you're older. Believe me, I looked like a haridan … If you want to wear your hair up in the heat or for a special do, then try a loose, relaxed style with some tendrils falling around your face.
Bobs can be hip don't you think? Either sharp clean lines which will draw attention to your eyes, or an angled cut perhaps, or a messy chunky layered bob with soft layers and a side fringe.
A good hairdresser will cut your fringe to a varied length which will give it a little bounce, so that it's not totally blunt (think school girl) which means cutting your own fringe to save some money is out of the question.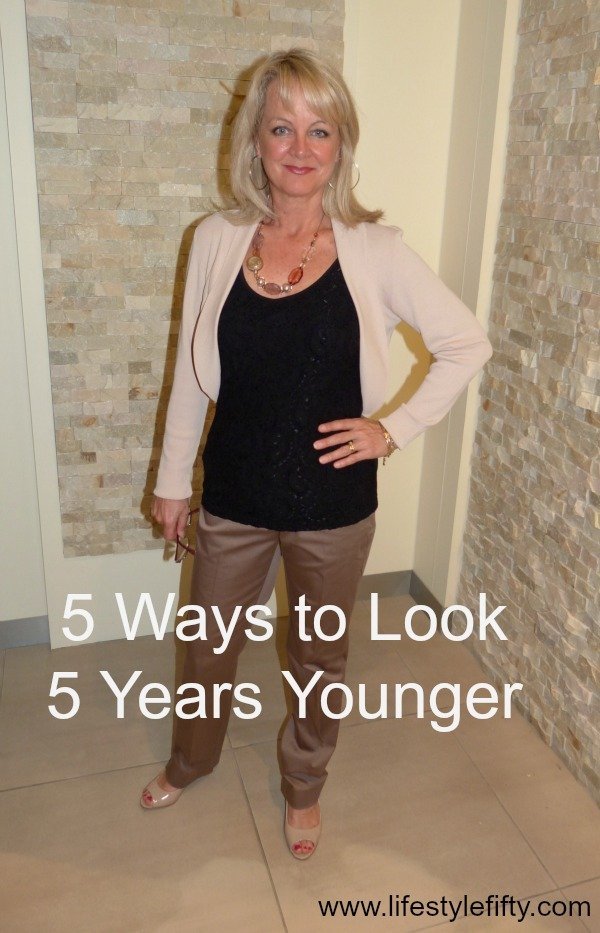 Try not to go for wispy anything. Our hair is thinning anyway, darlings, and thick hair is a sign of youth and smacks of fertility and vigour.
Long hair is not only for the young. These days many women wear their hair past their shoulders and the trick is to think about good cuts and layering. Soft graduated layers can soften your face (and hide a developing jowl) and generally flatter your face shape. How about a longish side swept fringe to go with your longer look? Tip: longer fringes are more flattering than short ones.
Flat hair will add years to your face. Ask your hairdresser how to get some volume into your blow dry – perhaps buy a good product like a volumising mousse with which you can spritz the roots before blow drying to add a nice bit of lift.
In this post I share more tips, advice and fashion for older women.
These are some of my favourite face products.
These are two helpful fashion posts: 9 Different Dress Types to Make You Look Amazing and The Best 57 Summer Dresses for Women Over 50.
I believe that Ponte Pants worn with long-line tops make for a very youthful silhouette. Check out this post How to Wear Ponte Pants and look a Million Dollars!
Too many clothes? A bursting closet is not a good way to feel good about your clothes! Declutter and gift some to a charity shop – here are 10 Best Online Thrift Shops on the internet to get you started.
Over to you
Join in! Why not sign up for our Newsletter for more tips and inspiration!
Do you have any tips for looking good or looking a little younger than you really are?
Pin this Post!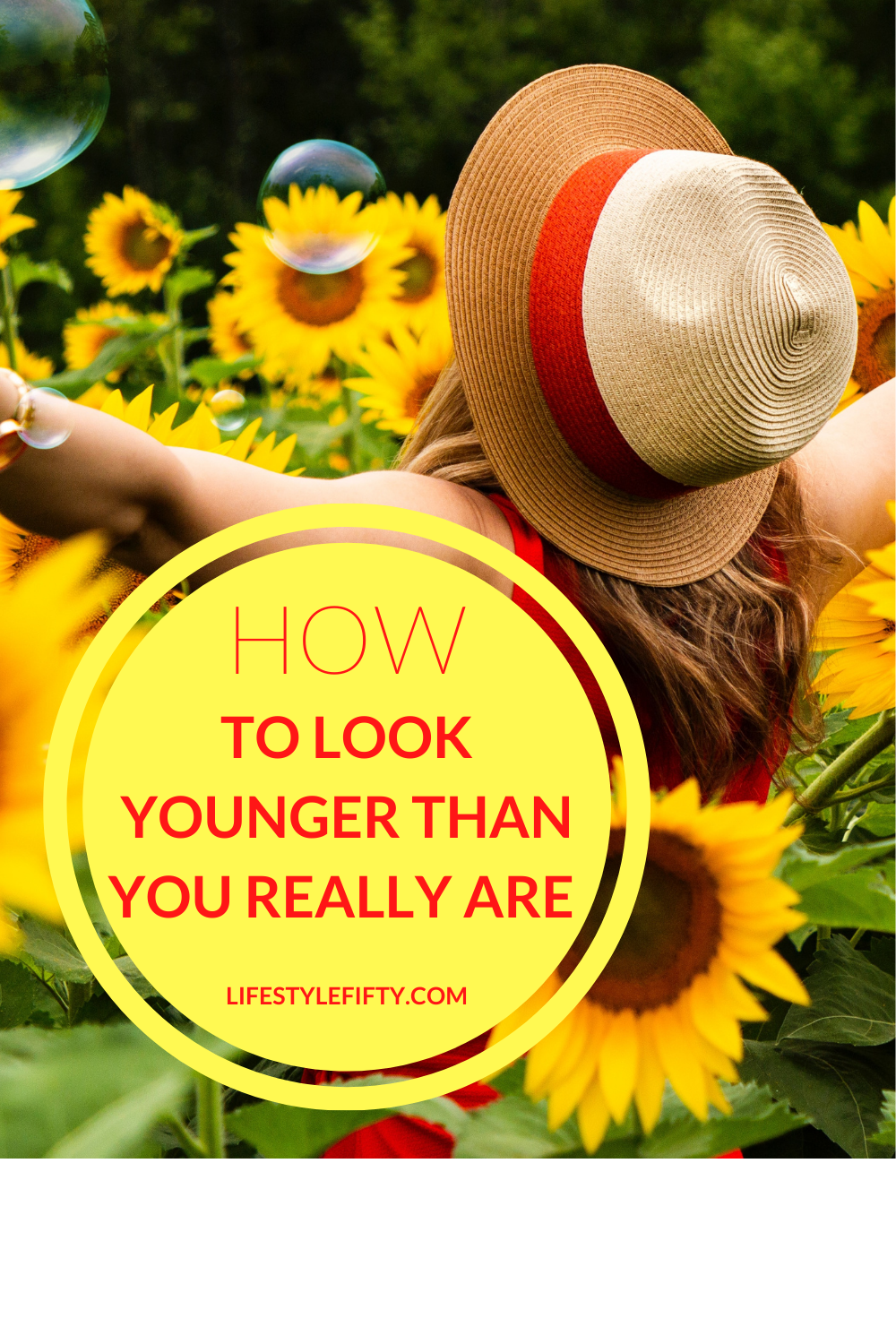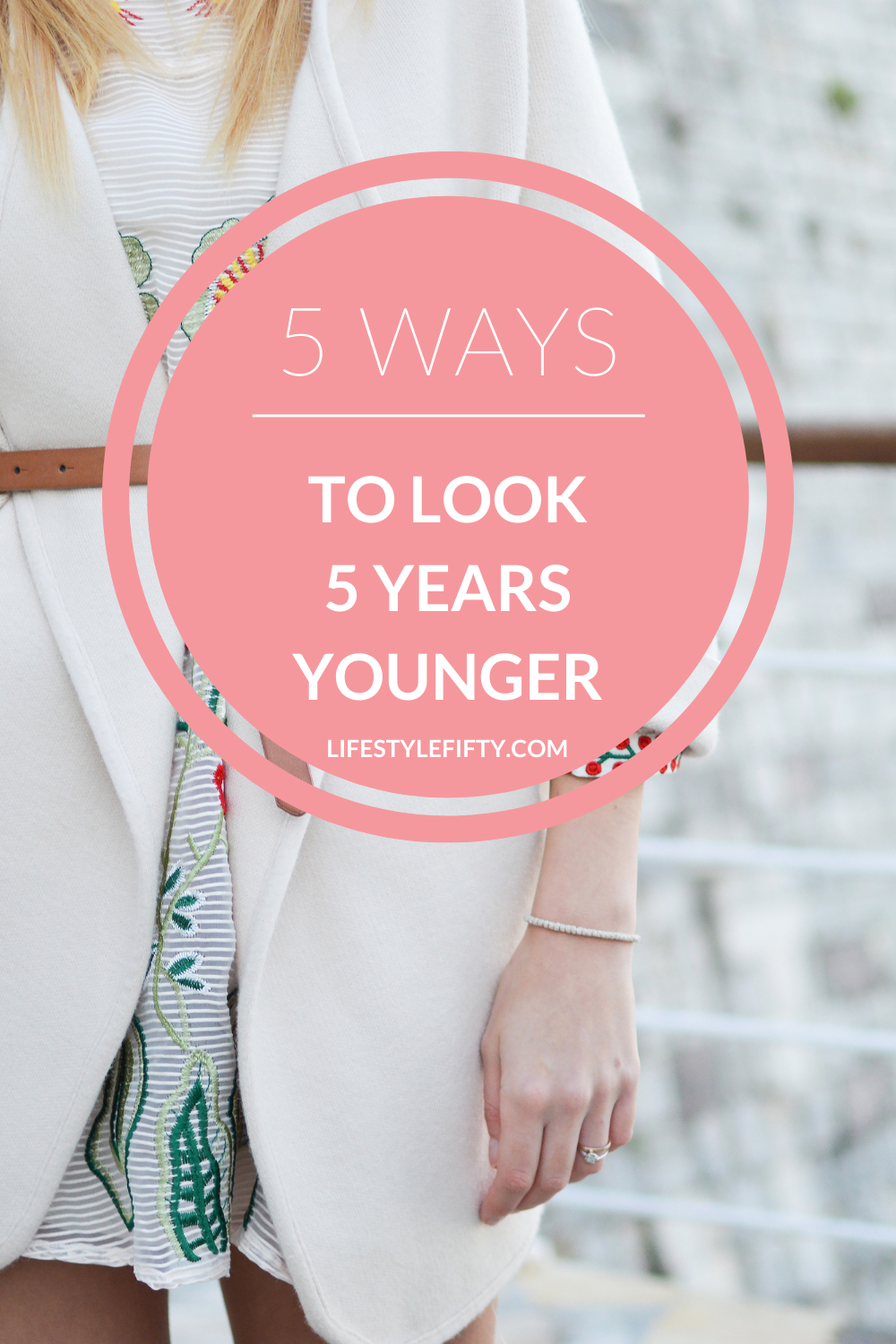 Disclaimer: This post "How to Look Stylish Everyday on a Budget," contains affiliate links from which I stand to earn a small commission but at no expense to you. Any gifted items are marked with an *. Lifestyle Fifty Website is a participant in the Amazon Services LLC Associates Program, an affiliate advertising program designed to provide a means for sites to earn advertising fees by advertising and linking to Amazon.com. Please read my full disclosure here.