If you haven't got a leather jacket in your wardrobe, then why not? They are stylish and versatile and they screech "attitude!" Today we'll look at how to wear a leather jacket with a dress, as well as various other hot trends, and leather jacket outfit ideas.
But why wear a leather jacket with a dress? Well, dresses are the epitome of femininity and leather jackets can be considered a little bit masculine. So pairing a leather jacket with a dress crosses all boundaries and shouts "Look at Me!" It gives you an edgy appearance, or it can make you look effortlessly classy. It will definitely characterise your personal style!
Keep reading to find some great outfit inspiration about out how to wear a leather jacket with a dress.
How to wear a leather jacket with a dress
Balance the overall look with ankle boots and a wide brimmed hat.
Don't be afraid to wear a flimsy, summer dress with a leather jacket – it's a fashion statement!
Do wear a short dress with a leather jacket and pop on some knee length or ankle boots to add attitude.
Don't button up your leather jacket – leave it open so that your dress is also the show pony in the overall look.
A brown leather jacket will go with almost any summer dress or winter dress.
Wear your leather jacket with aplomb – stand up tall, hold your head high and show off the leather jacket trend.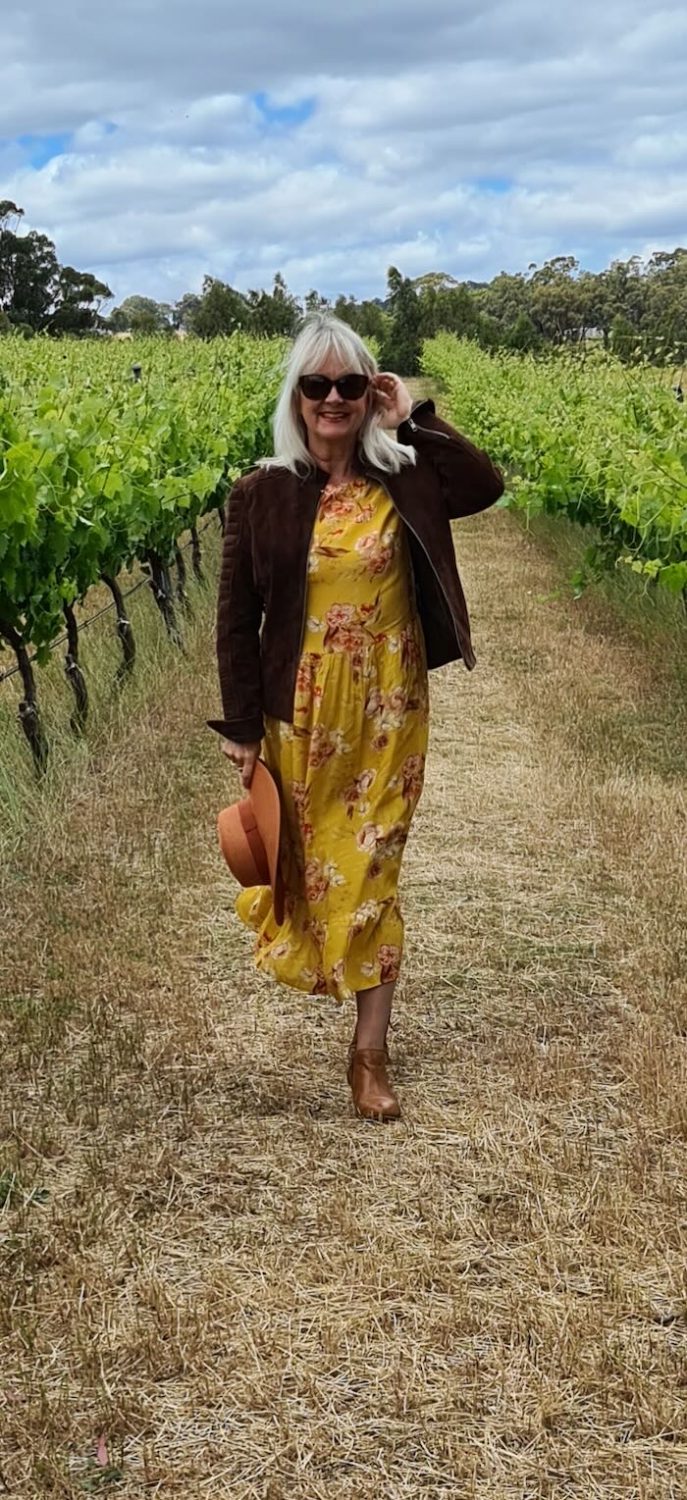 A leather jacket, whether it's hip length, or knee length is a classical garment to add to your wardrobe, and is the best choice if you're looking for an investment piece.
Good leather jackets are not cheap, but they don't date and they get more characterful the more you wear them.
A suede or leather jacket is a fabulous topper, and if you take good care of your jacket then it can last years and years and still look good.
Maxi dress with a leather jacket
Team a maxi dress with a pair of fashionable sneakers or boots and a dark leather jacket for a stylish look. You might also like this post: How to Wear a Maxi Dress if you are Short and Curvy.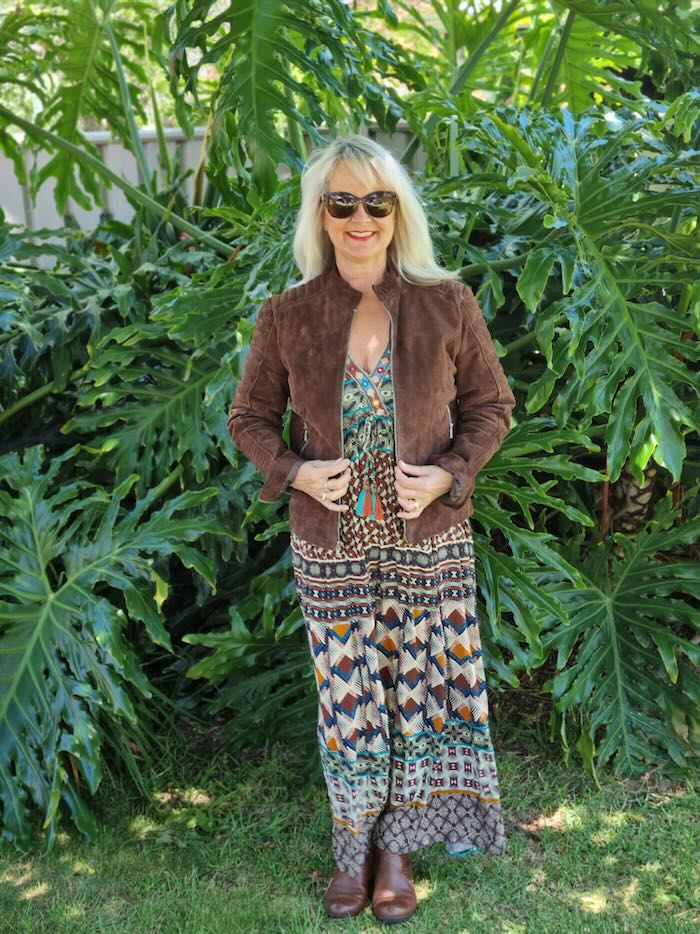 Remember what we always say about value for wear? If you purchase a leather jacket for $250 – $600 and you wear it hundreds of times, then it's not an expensive item. Purchase something faux for less, and within a year or two it might look tatty, and will land up in landfill. Not good.
A leather jacket is suitable for all occasions and events, it makes a fashionable statement, it's sturdy and it's durable.
Grab a leather jacket like mine! Check out this great range of Leather Jackets For Women!
Midi dress with a leather jacket
I love wearing feminie midi dresses with my tailored, lined, suede jacket. The * dress below is from the 3rd Story collection.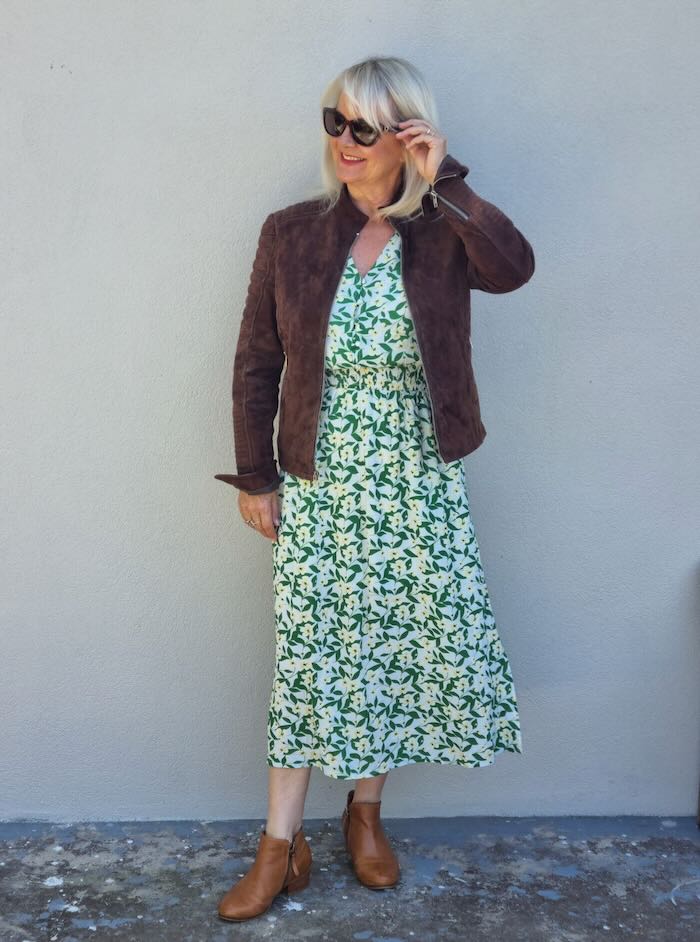 Outfit ideas for work or play with this season's hot leather trend
Maxi, midi and mini dresses look fabulous teamed with a leather jacket – it really is a hot trend that will never date.
Style up your favourite summer dress with a leather biker jacket and you'll be all set for cooler autumn or spring evenings, so getting more wear out of your hot-weather clothes during wintertime.
Floaty Boho maxi dresses are ideal partners for a block colour suede or leather jacket. You could tone things down with a classic brown or up the ante and go wild with pillar box red or sunshine yellow.
I love my cotton summer sleeveless sundress from Travel & Living Collection worn with white sneakers and a suede leather jacket. It also proves how to wear a dress in winter and still look fabulous!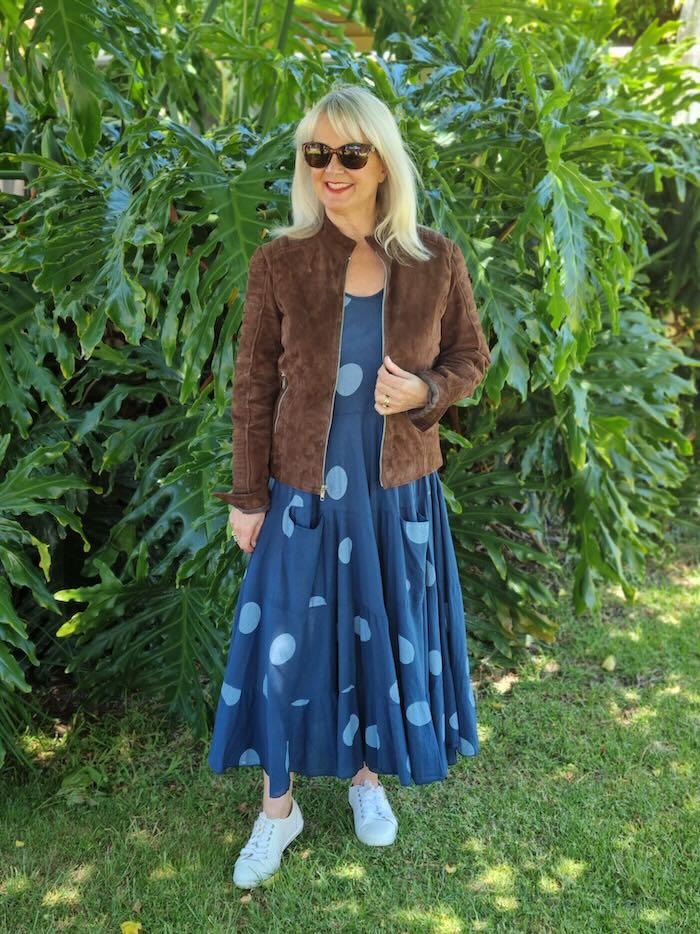 Why wear a leather jacket instead of any other kind of jacket?
As you enter the shoulder season and the weather turns from stable to a little unpredictable, a summer dress topped with a leather jacket can take you from warm to chilly without being sweaty.
Because it's a natural fabric, leather is actually really good at stabilising your body temperature. It feels cool against your skin, but also wards off the cold and keeps out the windchill.
The leather jacket look has been around for decades, and it's here to stay. Don't you love the smell of leather? I know I do. And the feel of it, so soft and smooth. While other woven jackets might fray or begin to look tatty over time, a leather jacket just becomes more distinguished as it ages and gets more comfortable the more you wear it.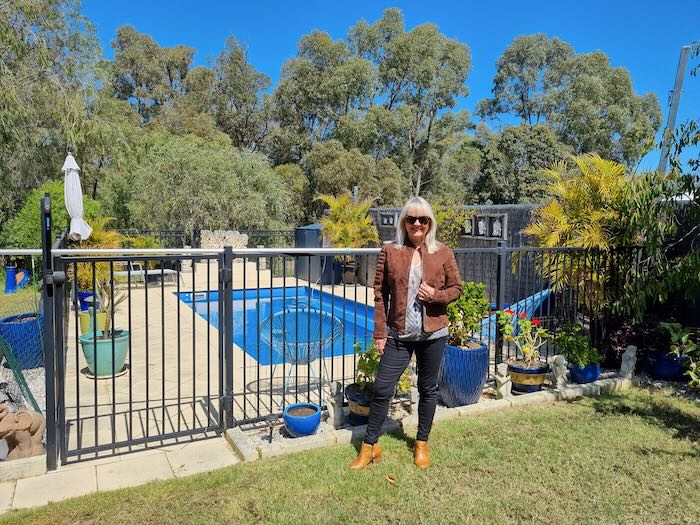 Leather jacket outfit Ideas
Of course leather jackets also look fab with skinny jeans, a mini skirt with knee boots, a midi skirt, blue jeans and a white tee or classic black pants and a black top.
Dress pants are the perfect match for a leather jacket because the overall look presents a more formal look but with a nod to fashion.
I wear skinny jeans throughout the year, and my suede jacket is a great top layer. I love the stylish, quilting detail on the sleeves and at the back of this jacket.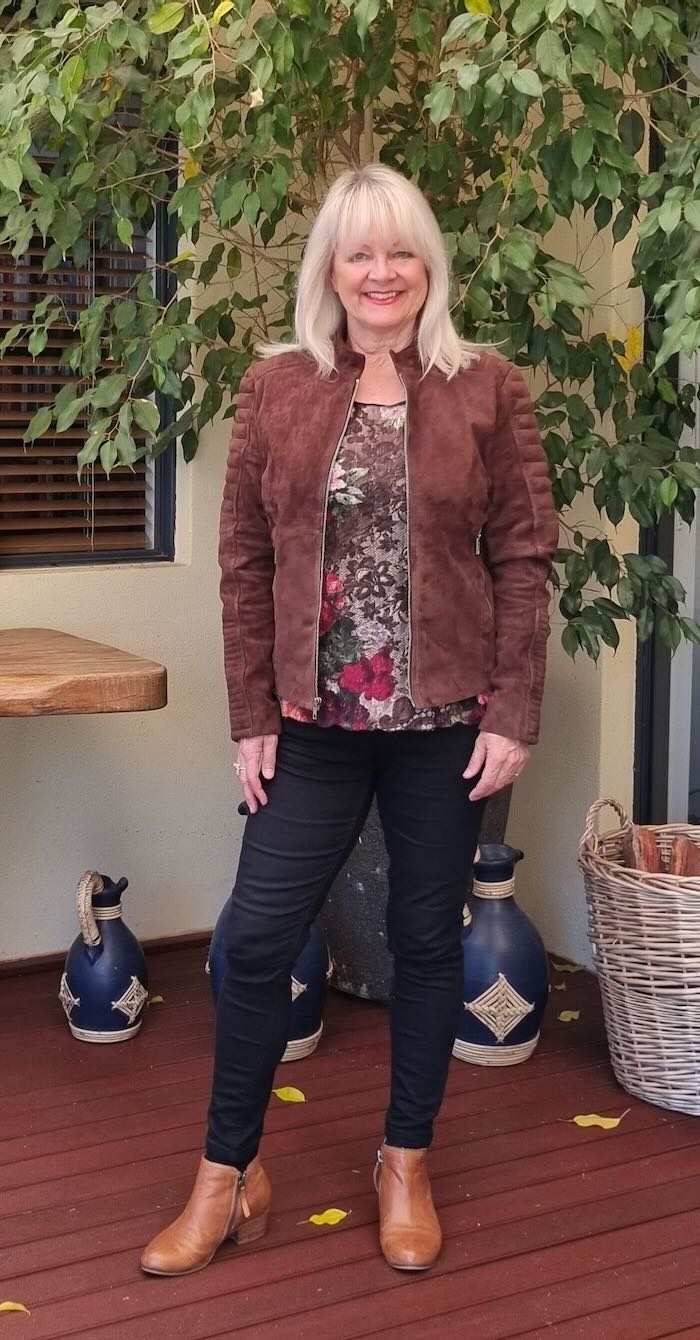 Leather jackets are the most versatile pieces, and a great wardrobe staple and if you can afford to then the easiest way to style a leather jacket is to have it in differents colors and styles so you can easily style-up lots of your fashion staples, and look super trendy. Whether you are looking to give more pazzaz and character to a short skirt and knee-high boots (go girl) or a simple top like a white t-shirt worn with black jeans, then the perfect combination could be a cropped black leather jacket and a pair of aviator sunglasses.
A black jacket can be worn with almost any dress, particularly if you wear the dress with black shoes or black boots. Just bear in mind that all-over black looks can look a bit Goth, so a good style tip if you don't want to look as if you've stepped right out of Halloween, is to wear silver jewellery, or a bright scarf as an accessory.
A brown jacket can break up an all black look and is a great option to black. It's a great piece to have in any brown shade whether it's more of a chestnut color, or depressed vintage.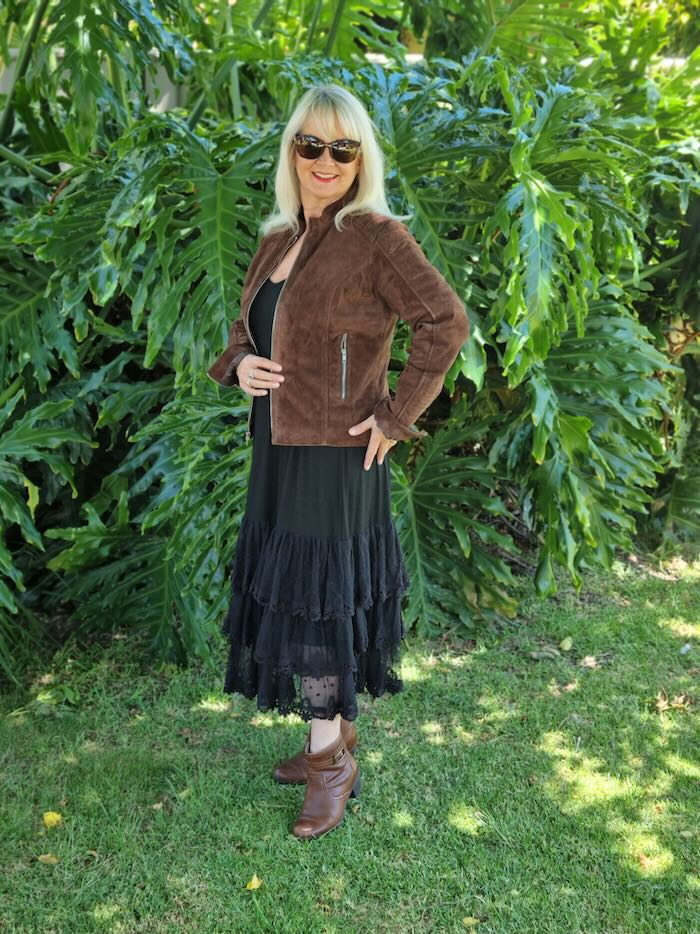 Favorite leather jacket – Find it here at The Jacket Maker
If you're looking for the perfect real leather jacket to wear for dressy occasions or just everyday, then head over and have a look at all the jacket deals here and have a look at all their fabulous different styles and colours that are available right now, or be inspired by real people and the different ways they've styled their jackets in the photo gallery.
You'll find some great styles – loads of them in fact – at affordable prices. So whether you're more interested in a casual look or a classic look I'm pretty certain you'll be sure to find several you like!
There are leather jackets to suit most body types, and whatever your body shape you'll surely find the right jacket for your everyday life. At the Jacket Maker they've got both casual occasions, cooler occasions and dressier events covered.
For the ultimate fit then consider choosing the bespoke option. You don't have to be present in person to choose this. It's all done online, via collaborative emails with a design consultant. You can choose not only how your jacket looks but also how many pockets there are, how many buttons, you can decide whether you need inside pockets for tech gadgets or your mobile phone, whether you need zips and accessories or you just want something plain and uncluttered.
How about a leather biker jacket, or a leather blazer, a cropped jacket, a white leather jacket, or a cute hip length jacket?
Video Review of Suede Leather Jacket
Check out my video review here …
Discover the Do's and Dont's of wearing a leather jacket
A leather jacket can be a timeless piece. So don't compromise on the quality. Rather pay a little more for something that is well made, with sturdy zips, a good lining, and great accessories. Shake the moths out of your wallet and buy something that's made from a beautiful leather rather than pay less for a faux leather jacket that won't stand the test of time.
Unlike other garments which can be put in the washing machine, tumble-dried and treated harshly, your leather jacket needs good care. Invest in a leather cleaner and follow the directions.
Leather jackets come in many different colors. Do buy a brightly colored leather jacket if you want to make a statement. Don't buy a brightly coloured jacket if you want it to go with lots of things. Black or brown are leather jacket staples and will go with many of your existing clothes and dresses. Whereas a bright red jacket can look absolutely stunning it might limit you to what you can wear it with.
Make sure your leather jacket fits well. This might seem obvious, but actually it's not. You may be tempted to buy a jacket that sits loosely, but a leather jacket that sits loosely is likely to make you look larger than you are, and it's not stylish. If at all possible get your leather jacket tailored to fit. We are not all standard S, M or Large. If you can't get one tailored then do find one which fits you around the waist, sits correctly on your shoulders and with sleeves that are neither too long or too short for your arms.
Different leather jacket styles
Probably the most popular leather jacket style is the biker. It's fitted and falls to about hip length. It has stylish zips, pockets, fairly large lapels, and a belt. It's a great way to start your leather love!
Bomber jackets are also a popular style. These generally have a short waist length, falling to about hip level with a gathered or ribbed waistband and matching cuffs.
Then there are styles such as Aviator jackets, trench coats, longer winter coats, leather blazers and leather vests.
Short dress with a leather jacket
I love how Jodie from A Touch of Style has styled this above the knee short dress with a blue leather jacket, and elegant knee length boots. Jodie has some wonderful styling tips on her blog. Do check it out!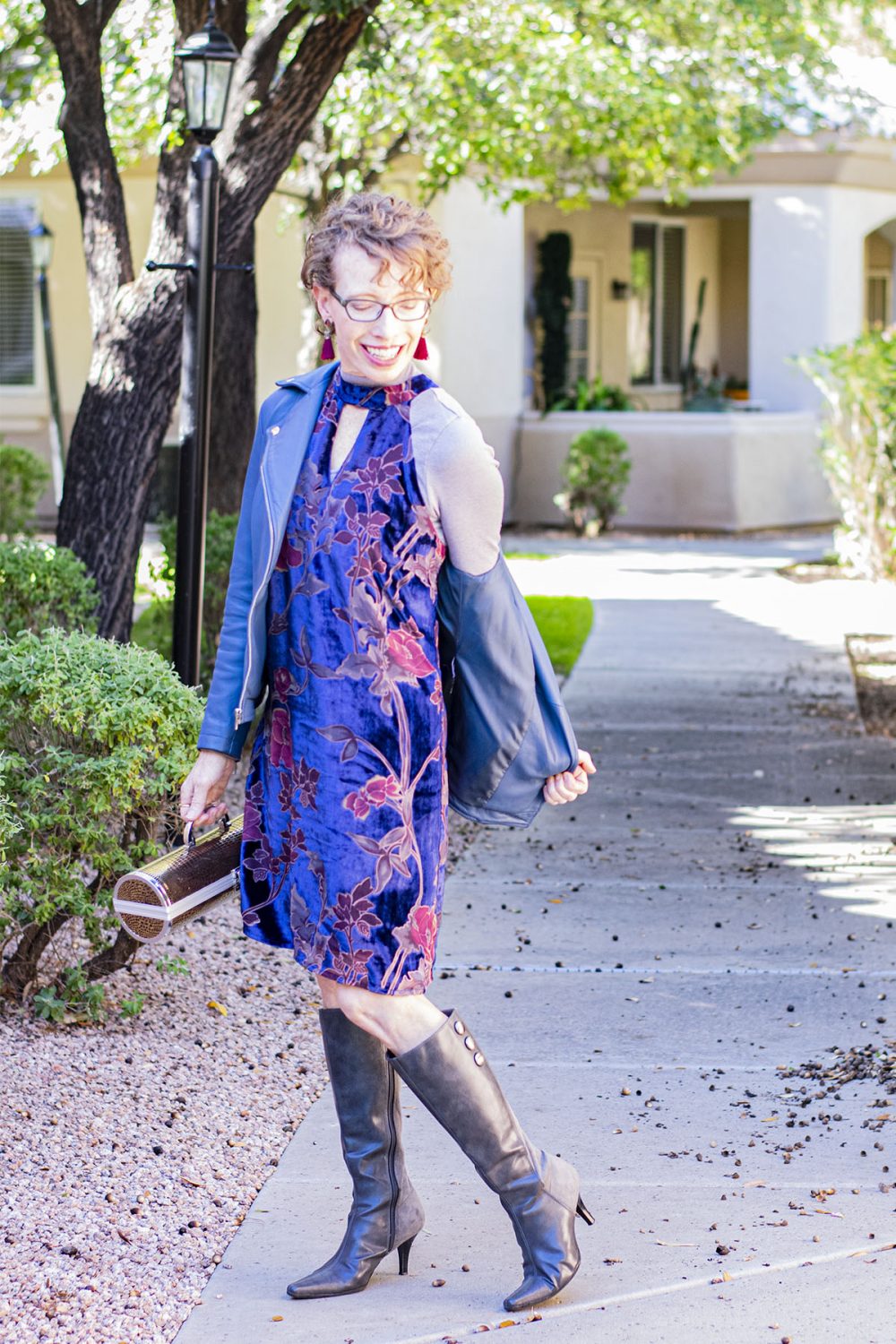 Make your life more colorful with a leather jacket like this one, and perhaps cutsomise it to fit your body type. You're just one click away from owning your own. fits your body type, just one click away from being at home with it.
Frequently Asked Questions
Is suede leather?
According to Wikipedia, suede has a fuzzy napped finish … "Because suede does not include the tough exterior skin layer, it is less durable, but softer, than the standard "full-grain" leather. Its softness, thinness, and pliability make it suitable for clothing and delicate uses; suede was originally used for women's gloves."
But leather and suede are both made from animal hides. Leather is smooth, while suede feels softer. The reason is because sude is the inner facing side of the hide and leather is the outer facing side.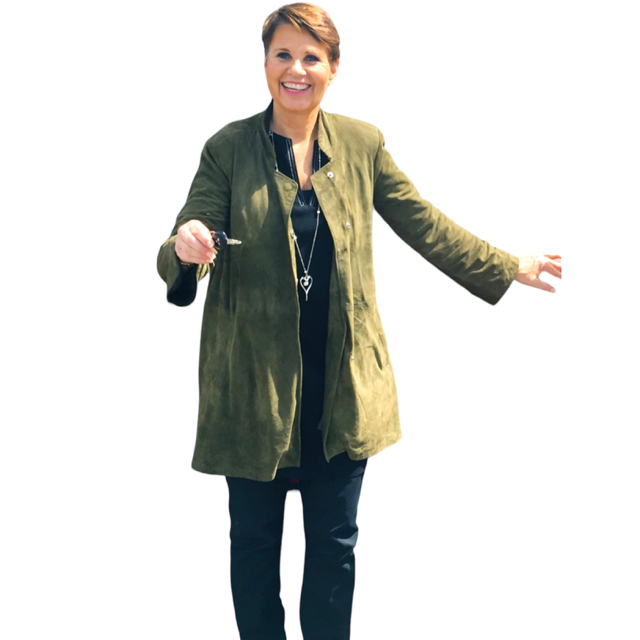 How can I tell real leather from fake leather?
The best way to tell if your leather jacket is real is to touch it and smell it. The leather should feel smooth and have a distinct leathery smell. If it smells in any way of chemicals then it's probably synthetic. If it's really shiny then it's probably not real leather. Also the price – real leather is much more expensive than faux leather.
What are the benefits of a leather jacket?
A leather jacket is both durable and timeless. It doesn't go out of fashion and it will age well. You don't need to wash it, just wipe it down and use a good leather conditioner. If you will be wearing it out in the rain, then do use a leather protector before your first wear to help make it waterproof.
Thanks for reading – Please Share!
I hope you've enjoyed this post, and if you have please Pin the image below, or Share the post on Social Media or even comment below. It all helps the blogging world go round! Thank you so much!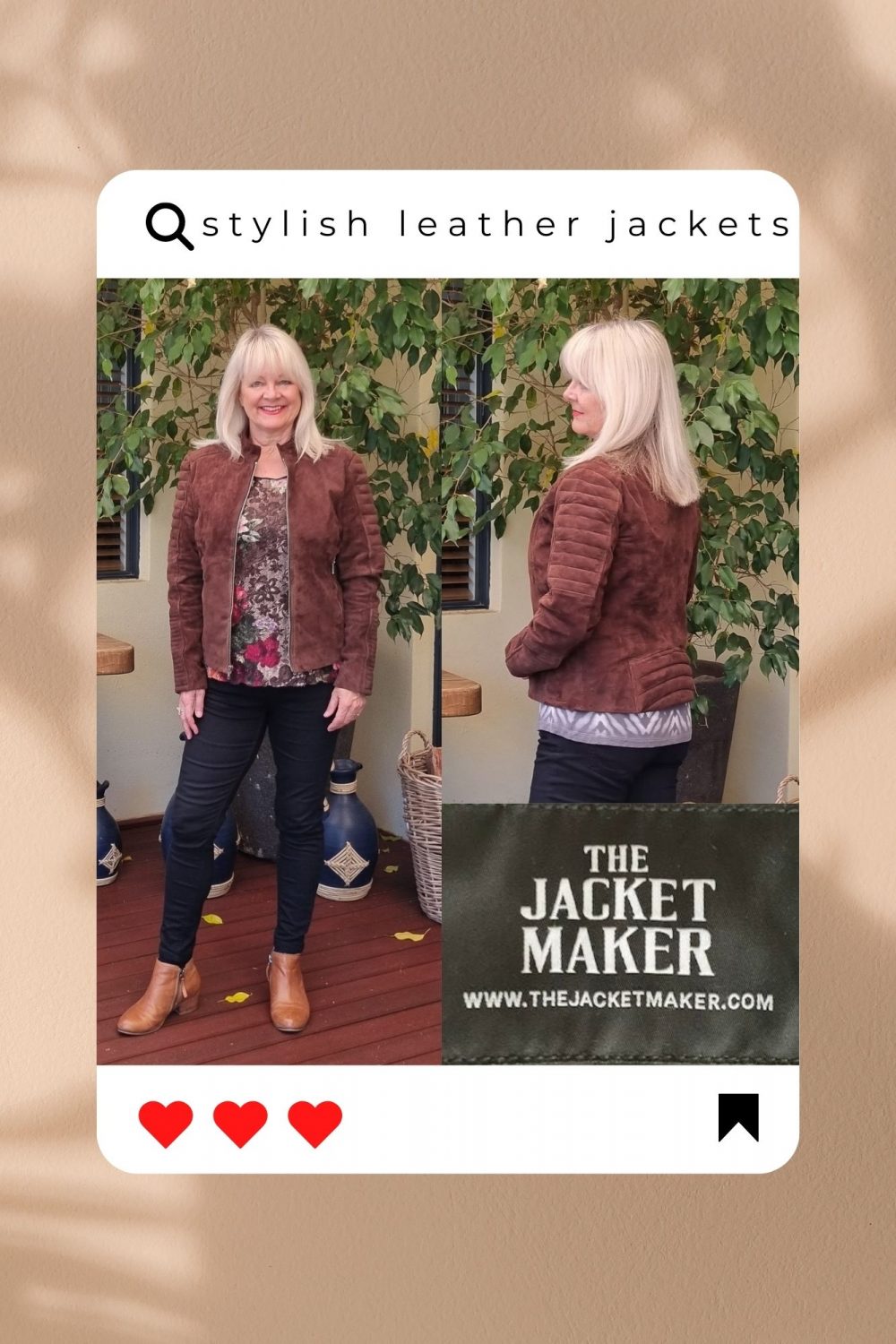 Further Outfit and Style Inspiration
How to Wear Ponte Pants and Look a Million Dollars
Best Dresses for Women Over 50
How to Wear Long Skirts without Looking Frumpy
Disclaimer: This post "How to Wear A Leather Jacket with a Dress," contains affiliate links from which I stand to earn a small commission but at no expense to you. Any gifted items are marked with an *. Lifestyle Fifty Website is a participant in the Amazon Services LLC Associates Program, an affiliate advertising program designed to provide a means for sites to earn advertising fees by advertising and linking to Amazon.com. Please read my full disclosure here.