Nearly everyday I'm inspired by women in some way. Their strength, their beauty, their creativity, their entrepreneurship and their ability to lead from the hip always makes me want to ask lots of questions to find out what makes them tick!
Today I'm interviewing a very inspiring 50+ woman, an artist who also runs glass art workshops.
How did I come across her?
Well you see, last Christmas I gave my hubby, an engineer who has a burgeoning and latent creativity, a glass fusing and slumping workshop as a Christmas present. Not only did he design and  create  some fantastic glass art, but we met Brenda Ellen, his lovely tutor.
We also bought a couple of lovely gifts at the gallery which showcases art work by a selection of talented Western Australian Glass Artists.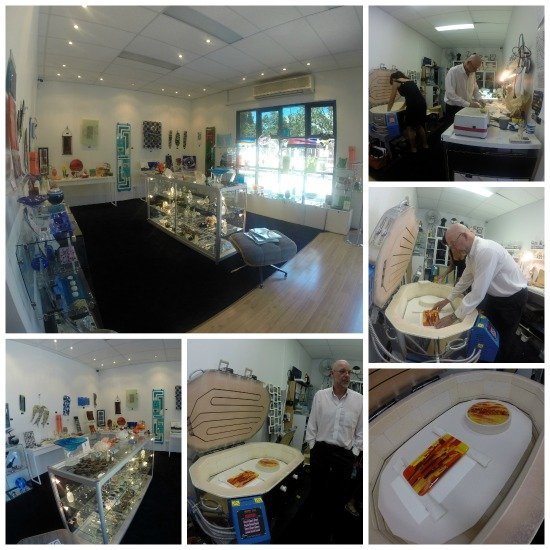 When Dave brought his art work home after the workshop I was stunned. His first ever attempt, and it was gorgeous. He'd designed the pieces around the colours of The Kimberley in North West Australia. What do you think?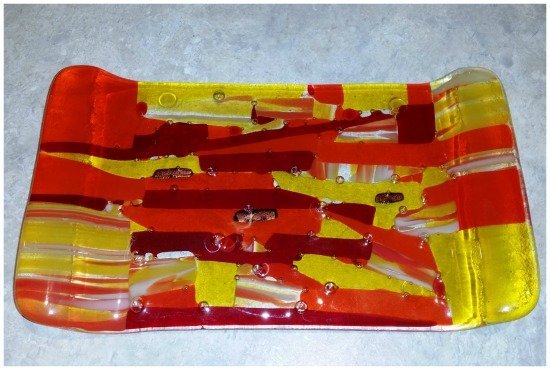 I couldn't wait to find out more about Brenda as she's so talented and entrepreneurial.
So today, it's over to Brenda Ellen from the chic and modern LAVA Gallery and Studio in Bunbury.
Inspiring Women – Brenda Ellen
How did you come to set up your glass studio?
Basically I made some hard personal changes in my life that made me realize I wanted to have no regrets about my life. The Gallery & Studio is the result of a 20 year dream that brewed for a long time.
Please can you tell us a little about the gallery and the classes you offer?
The focus of the LAVA Gallery & Studio is to inspire! I wanted to create a modern, chic and edgy Gallery with an urban vibe.
The Studio is a working studio connected to the Gallery. As the artist in residence, I teach and take on commissions for fused and architectural leadlights and stained glass. I share the methods involved in creating and making each art glass piece and also tell the stories behind the Artist's inspiration.
The classes I offer are in fusing and slumping glass, making art glass jewellery, leadlighting, glass mosaics and making Tiffany lampshades.
What brought you to regional Bunbury?
I came to  Bunbury in South West Australia as a result of regaining my identity and moving on with my life. I met a wonderful man who lives in Bunbury and after visiting the region a few times I soon fell in love with Bunbury as well.
I recognized that there was no 'art scene' for either locals or tourists in Bunbury, but I thought there was potential. One day, after having a coffee at DOME, I  saw a commercial space for lease. The rest is history. My dream was always to showcase Art Glass made exclusively by WA Glass Artists. My vision, to brand LAVA as a destination Gallery for exclusive art glass made by WA Artists, and have an open artist in residence studio.
I saw Bunbury as the perfect location, and it's so central to Perth and Margaret River.
What do you love about your life now?
I am living my dream. I get to share my passions with people each and every day. I love inspiring people with the glass and meeting people. Not to mention … I live in a beautiful part of Western Australia, life is good!
What is the most life changing or life challenging thing you've ever done?
Making dramatic personal changes in my life. Regaining and restoring my identity and staying focused on my goals.
What are some of the best things about being in your fifties?
Turning fifty was liberating for me. I decided to live the rest of my life in the now, with confidence and passion.
No one likes to age, yet having said that I believe I'm more physically, mentally and spiritually  alive now than I ever was when I was a young woman. I embrace every day and opportunity and want to live with no regrets.
What are you not looking forward to about aging?
Honestly, I try to not worry about getting older. It's natural and what happens to all of us. The only concern I might have would be health issues.
What would you say your dress 'style' is these days? And does being stylish and fashionable rank high in your life? Do you have a favourite brand of clothing?
My dress style is something that people comment on, mostly because I am a mature woman who works as an artist and they say that I'm always dressed to go out. It is not a conscious thing I do, it's just who I am and what I do. I love wearing fashionable clothes and high heels, even in my studio.  I like to dress the way I feel comfortable, not what might be expected.  My 'style' has no real name just stylish and fashionable. I love jewellery and accessories and can be very diverse with 'style'
If I were to be honest I would say yes, being stylish and fashionable does rank high in my life. I consider my wardrobe and extension of my artistic expression.
What do you do to keep fit?
Keeping fit is a priority in my life. I love to run, do adventure sport and my interest is paddling surf skis. I enjoy yoga and Pilates and believe in a 'healthy body, healthy mind'.
What one piece of advice do you have for women over fifty?
Wow, now that's a big question. For me being fifty represents my life journey. I have made honest choices and decisions and try to live in the now with passion and honesty. So the advice I might offer would be to be honest and true to you first!
As women we have so much to offer. We are wives, partners, mothers,lovers,, career women, mediators, friends and confidants. We are emotional and sensitive and see the world in so many facets.
Value yourself and surround yourself with positive people. Every day is special so wear that expensive perfume, slip into that dress and those shoes, share YOU with the world at large, and share your beautiful wise knowing smile.
 What is your favourite quotation?
My favourite quotation is: 'The best way to predict the future is to create it.' Peter Drucker
What would you like to achieve?
Art Glass has been my life and passion for 23 years. I love to transform life into glass, capturing emotion that changes with light. Restoring the built environment into a living art-scape flooded with light and colour.
My desire is to perpetually grow, inspire and be inspired. I enjoy teaching, motivating and sharing my passions professionally.
My goal with LAVA is to create a unique art space showcasing Western Australian glass artists in an intimate, inspiring and relaxed setting. I want to offer the South West and Bunbury a place to learn about a beautiful and engaging art form.
Workshops
Regular workshops and courses are run at the Studio and are designed for anyone who has an interest in being creative with glass. All courses are on the LAVA website and include fusing glass, making jewellery, lead-lighting, glass mosaics and creating beautiful Tiffany lampshades. 
Thank you Brenda! Your story and your insights have definitely inspired me today.
How about you Lifestylers?

By the way, if you have a story to tell, or know of anyone else who has an inspiring story, please get in touch 🙂
Until next time,