If you're looking for a small group tour, on a small boat, that takes in some of the gems of Northern Italy on a scenic cruise, then a 6 night luxury river cruise vacation aboard La Bella Vita with European Waterways is something very special.
7 days in Italy experiencing travel at its slowest, meandering along the Po River (Taglio di Po) and the Bianco Canal on a luxury hotel barge savouring superb Italian cuisine and fine wines – what could be more relaxing I wondered?
Why Go on a Barge Cruise in Italy?
But why go on a barge cruise in Italy my friends asked me? It might be relaxing, but don't you want to see much more?
I had every confidence that the northern Italy river cruise with European Waterways would be a unique cruise, going to places not on the Instagram selfie trail. And specifically that this would be a sophisticated vacation, on an elegant boat – definitely not an all-fall-down party boat, or swarming with kids.
A maximum of 20 guests (often less) are accommodated onboard and looked after by an English speaking crew of around 6 – 10 people, on an old working barge that has been luxuriously refurbished as a floating hotel. You also enjoy the knowledge of a friendly tour director, who is an expert guide.
Fabulous traditional cuisine of the area is prepared by an onboard chef.
We were taken on various shore excursions guided by a local expert, introduced to fine wines and cheeses from around Italy, exposed to the local culture, and we explored famous landmarks in the region of Veneto. How about learning more about the Doge's Palace, San Marco Square (famous Saint Mark's Square) or wandering the cobbled streets of romantic Mantua?
Visiting locations less travelled in the region of Veneto, the region of Emilia-Romagna, and the region of Lombardy was inspiring and educational. And there were some special (almost secret) places to discover such as the Island of Pellestrina and the stately home, Villa Ca'Zen, which are located off quiet moorings – that larger, major cruise lines just can't get to.
(And major cruise lines are currently unable to cruise to Venice. Italy barred huge ships from using the Giudecca canal to enter Venice's historic centre in July 2021.)
However, La Bella Vita can moor waterside right in Venice, and at other quiet moorings along route.
Canal Boats in Italy and Venice
While there are a selection of boats, small crafts and gondolas that cruise the smaller canals in Italy, La Bella Vita is larger and takes advantage of the fact that as a hotel barge it can cruise along the Po River and the Canal Bianco for days at a time. In this respect it is both a canal barge and a river boat, and perfect for Venice!
Cruise Itinerary
The European Waterways' Po river cruises begin in the beautiful Venetian Lagoon (Laguna Veneta) and then head east towards Mantua (or vice versa).
Sometimes the route will be along the Canal Bianco, dependent upon water levels in the Po. Whichever route you travel you're assured of an intriguing optional excursion at each mooring (included in the overall price).
Cruise Excursions
There's a shore excursion each day (more about this in my travel diary further on in this post).
Excursions might be a guided walking tour of a city like Ferrara, or a guided tour of the Doge's Palace in Venice followed by free time and perhaps a leisurely walk to St Mark's Square or the Rialto Bridge along the fabulous Grand Canal.
Highlights – European Barge Cruise Italy
The Italian Renaissance Cruise is a cruise tour to delight your senses and your taste buds. I've come to realise that barge cruises in Europe with European Waterways are designed to incorporate the cultural, the sensory and the unexpected.
Not only is there plenty of time to sit on the upper deck, read a good book or just watch the breathtaking landscape unfold around you, but there is also ample time to take in some of the highlights (and small towns) of the Veneto Region with a local guide.
This luxurious Italian river cruise offers a deep dive into Italian culture. I felt while slow-travelling in this way, that there could be no better way to savour the delights of the region.
Obvious highlights for me are being able to experience delicious cuisine, explore historic cities, and also witness spectacular views and unique architecture but specifically they include …
Mooring waterside in Venice near the Naval Museum and close to all the historic sights.
Tours of beautiful Venice including the Castello area, Doge's Palace and St Mark's Square.
A scenic cruise on the Canal of the Orphans passing picturesque lagoon islands.
Sunset and an aperitivo on Isla Pellestrina.
A boat trip and then free time in Chioggia to explore its pretty canals and its Roman, Etruscan and Byzantine history. Oh, and let's not forget the intriguing fish market!
A short tour of the 17th Century stately home grounds of Villa Ca'Zen – and a rather grand dinner.
A private visit to the gracious, historic wine estate of Villa Widmann-Borletti.
A guided tour of fascinating Ferrara.
A magnificent cruise in the lake leading into Mantua.
A guided tour of the awe-inspiring Ducal Palace and gardens in Mantua.
A night at the opera onboard La Bella Vita.
The Captain's Farewell Dinner on board La Bella Vita.
We were plunged into the culture of Italy; among other cultural excursions we visited Murano, a Venetian Island known for glass making, and toured the Renaissance gardens of the Bagnoli Estate before sampling fine wines during an in depth wine tasting.
Transfers and Inclusions
At the time of writing, the following applied:-
Local transfers are included to and from the hotel barge, and range from around 15 minutes to around 90 minutes depending on the cruise direction.
On board there is an open bar 24/7 and all wines, alcoholic and non alcoholic beverages served during the cruise are included. Excursions and admittance fees (as per the itinerary) and the services of around 7 – 9 crew, and use of barge facilities (which include bicycles) are also included in the price.
The overall price includes 6 nights and all meals on board created by the on-board chef.
Jo's Travel Diary – European River Cruise Italy
I hope you enjoy my personal travel journal from 7 days in Italy on a hotel barge.
Day 1 – Venice River Cruise
We arrived in Venice late at night and found a taxi driver who spoke just enough English to get us to our hotel in Mestre – even though we had forgotten the address (stashed in a suitcase somewhere!)
We stayed at the Best Western Bologna in Mestre, and at lunchtime the next day we were met by the fabulous and super friendly crew from European Waterways and treated to sparkling wine and a meet and greet with our new hotel barge cruising friends.
La Bella Vita was docked nearby, and soon we were introduced to the whole crew, and then we were off cruising along the Giudecca Canal past some of Venice's most famous monuments. It was all incredibly exciting and so atmospheric – the canal was bustling with boats and water ferries.
Wow! This was a pinch me moment! We were in Venice! One of the most romantic cities in the world! We stood on deck hugging each other – totally absorbed by the scenes in front of us and around us.
The Captain moored La Bella Vita on the waterfront near the Naval Museum in Castello, a vibrant area which is less touristy, and an area of Venice where many Venetians still live.
One section of Castello borders the more touristy St. Mark's Square, which gets much more crowded.
It's such a picturesque and laid-back area with lots of casual bars where locals seemed to stop in for a quick glass of wine or an Aperol Spritz.
After a gorgeous sunset, we hopped back on board La Bella Vita to sip an aperitivo – a gorgeous Aperol Spritz with chef prepared canapes before a cordon bleu dinner! Yum!
Can't wait for tomorrow!!
Day 2 – Isla Pellestrina
I slept like a log in our delightful cabin and woke up to a sunny day and a slap-up brekkie in the barge saloon.
Then we were whisked off on a guided walking tour of the Castello area and on through a labrynth of alleyways to the more crowded area near Piazza San Marco.
We were fast tracked into the magnificent Doge's Palace like VIP's (thank you European Waterways ) so avoiding the long queus. The Doge's Palace is quite magnificeent, and was the seat of the government of Venice for centuries as well as the home of the Doges.
Then began a fascinating tour delving into the sights and stories of Venice's history – tortuous tales, derring do, grand opulence and awe inspiring stories.
Lunch on board La Bella Vita was just sumptuous, enjoyed with a lovely glass of Rose, before an exciting whizz to Murano on a water taxi.
Watching a master glass maker at work was amazing, so too were the incredible artefacts for sale in the showroom. Venetian glass is just so pretty. Be warned, you will be guided out through the impressive sales area where incredible pieces of art, and collections are for sale amongst more everyday items such as glassware. Don't forget your credit card!
Then we enjoyed a late afternoon cruise along the Canal of the Orphans, passing rustic fishing huts on stilts and small lagoon islands that once housed leper colonies, monastries and orphans.
Soon we came to our next overnight stop – a quiet spot on the outer edge of the Venetian lagoon – San Pietro in Volta on Isla Pellestrina. The long strip that is Pellestrina island separates the Venetian Lagoon from the Adriatic Sea.
Here nature treated us to a most sensational sunset while European Waterways hosted us to a Venetian aperitivo and tasty canapes at a typical local 'bacaro' close to the water's edge.
The lagoon shimmered, other worldly, mill pond calm while the sun bade us a flambouyant retreat. This simple happy hour in a place rarely visited by tourists, will remain in my memory forever.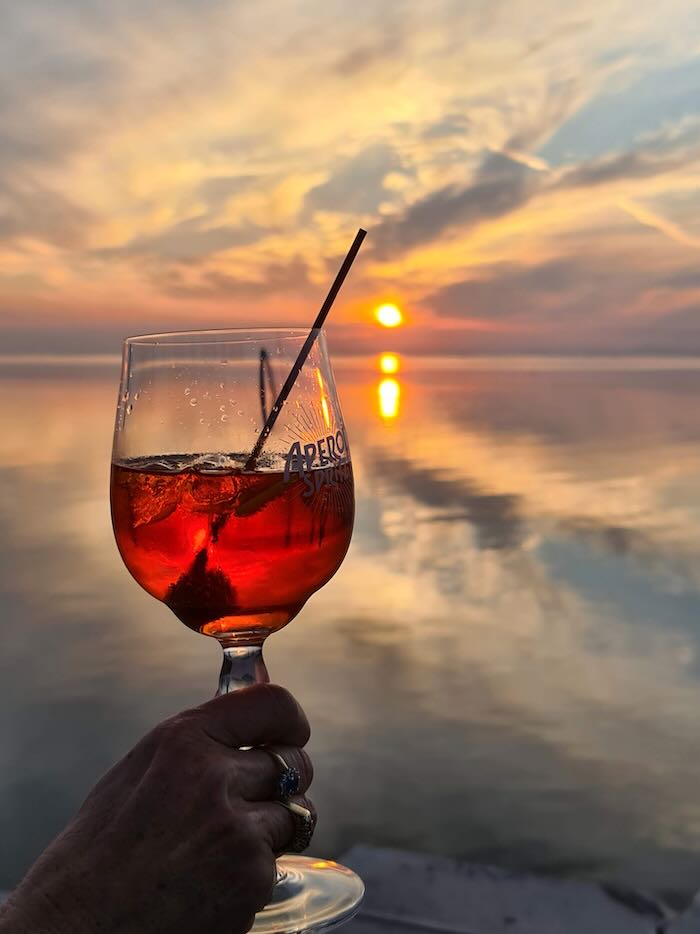 Then it was a short amble through the village until we were back on board for a cordon bleu dinner and some fabulous Italian wines.
"Pellestrina is an island in northern Italy, forming a barrier between the southern Venetian Lagoon and the Adriatic Sea, lying south west of the Lido. The island is 11 kilometres long and has since the eighteenth century been bounded to its seaward side by large embankments."

Wikipedia
Day 3 – Chioggia and Tenuta Ca'Zen
First up after brekkie, we were told there was a 'surprise.' This turned out to be a short hop on a traditional fishing boat, a bright red 'bragozzo', with a jolly Captain and even jollier music! (You can find a short video on my Instagram reel) or watch here:
Why not Pin this image to a travel board?
There was much laughter and joy as we sailed towards Chioggia, city of Goldoni's plays and now an Italian seaside resort.
What can I say, except, wish you could all have been with us!
It was such a beautiful town, quiet in places, bustling in others, exuding an ethos of la dulce vite! Well, there were people sitting at colourful streetside pavement cafes sipping Aperol at 11 30am. Definitely my kind of place
The town's centre is dissected by a canal and we strolled over ancient bridges exploring Chioggia's prettty streets, which unlike Venice had a much more lived-in feel. It also felt steeped in the ancient, and there was history at every turn.
We visited the amazing fish market which houses a squillion different fish caught from the bottom of the lagoon or the Adriatic sea, and then we strolled this way and that just soaking up the friendly ambiance of this beautiful town.
After a long slow lunch back on board La Bella Vita we relaxed in the saloon as we cruised to our next destination.
Then we hopped up on deck as we passed through a tranquil nature reserve with flamingos and water birds.
After our time in Chioggia we had a long lazy cruise, encountering one lock, until we reached our peaceful mooring at Taglio di Po in the heart of the Po Delta.
Here we had some time to take in the scene and the quiet mooring by the riverbank – just us and a few old rowing boats. The setting couldn't have been more idyllic.
In the evening we were driven a couple of kilometres along a rutted road to the beautiful Tenuta Ca'Zen, a private stately home.
We drove into a wooded entry where hidden amongst tall trees we came to the delightful rust coloured 17th Century villa. The property is composed of a main house, a hushed private chapel, stable, cottages and large barn house, which was built in the 1800's by Maria Adelaide Avanzo's great grandfather.
The villa is large, rather than rambling, homely rather than palatial.
We were treated to a walk around the grounds by Maria, such a gracious and welcoming hostess.
We ambled along a gravel driveway to the chapel, and when the sun was over the yard arm Maria organised an aperitif in the courtyard along with a delicious selection of antipasta.
We enjoyed a glass of prosecco and a chat with Maria's mother, Elaine Westropp Bennet, originally from southern Ireland, who married an Italian. She related her story about how she came to live here in the 1960's. Now she and her daughter Maria run the premises as a luxury, historical B & B and offer the chapel for weddings.
The villa was built by the Zen family, a patrician Venetian family who owned the Po Delta. Lord Byron once a guest of Teresa, the young wife of an elderly past owner Marchese Alessandro Guiccioli, had a passionate affair with Byron.
Byron wrote 'Stanzas to the Po' for, or about Teresa. The first stanza reads:
"River, that rollest by the ancient walls,

Where dwells the lady of my love, when she

Walks by thy brink, and there perchance recalls

A faint and fleeting memory of me."

Lord Byron
Our dinner, in what seemed to be the great hall, was prepared by the 67 year old home chef, and it was a fabulous three course meal – the outstanding course for me being the roast guinea fowl caught fresh on the property.
We were plied with red wine from the estate, and afterwards glasses of grappa and limoncello, which made for a lively evening.
Earlier when we had returned to our rooms to shower, we found a lovely touch. On our bed a description and letter from Maria Avanzo welcoming us to her home, and later when we went to bed we found small rolled up scrolls of paper tied up with ribbon, which were copies of Lord Byron's poem Stanzas to the Po.
And so another magical day came to an end.
Day 4 – Adria Archeology and Wine
The next day, moored at Adria we were transported by mini bus to visit to a large archaeological museum called Museo Archeologico Nazionale di Adria which brought into sharp focus the passage of time and how ancient civilisations lived and worked before us. It revealed the city's enormous history as a settlement and trading post for Villanovans, Etruscans, Greeks and Romans.
Fascinating artefacts, amber jewellery, fine pottery and dehumanisations from various digs in the Po Delta and river area were displayed in a compact museum. Some dated back to the 6th Century BC. Wow just wow!
Lunch on board and then we were whisked off to Bagnoli Estate by mini bus for a tour of the wine estate. Wine, rice and grains have been produced on the estate for over 1,000 years.
We toured the Renaissance gardens and wine cellars of the 17th Century Villa Widmann Borletti and enjoyed a private tasting of their estate grown vintages. We learned that this winery has been supplying Venetian society for centuries.
We tasted 4 different wines all made from the same grape known as Friularo. A sparkling blanc de noir, a red reserve (a manly wine I thought – all cigar box and pepper), a late harvest (very nicely Berry flavoured) and a lovely (not so) sweet wine.
We were mini-bussed back to La Bella Vita which was now moored at Zelo. Then it was time for an aperitif at the bar and dinner in the saloon.
Another brilliant day comes to a classic close.
Day 5 – Ferrara
Up bright and early for the sunrise – always a treat.
Our fabulous 7 day itinerary taking us through centuries of Italian history continued at Ferrara, the city who's soul was born in the Renaissance.
Not only does Ferrara have its roots in ancient times but the whole historic center is a UNESCO World Heritage Site due to its 9kms of defensive walls and well preserved Renaissance buildings and palaces. It's also well known thanks to the powerful Este family, The House of Este who ruled Ferrara for centuries – and then of course there was the notorious Lucrezia Borgia who married Alfonso I in 1505.
If any of you have watched the series The Borgia's (I'm going to watch it again!) then this city will definitely appeal to you too.
Ferrara is on the southern shores of the Po River about 87kms south of Venice. Situated below sea level it's seen massive flooding and a major disaster in 1951 saw a large part of the population of this area flee to other countries as they were disheartened not only by the ravages of World War II and the economy at the time, but also the continuous, disastrous floods. We stood by flood level markers and were amazed to see that the flood of 1951 level appeared to be at least two stories high above us.
We wandered along cobbled streets, visited shady Piazza's set between high antiquated walls, and were awed by the prominent buildings erected by the Renaissance rulers, the Este family.
We were guided around the exterior of the imposing medieval Este Castle (Castello Estense 1385) and across it's wide moat.
Afterwards we walked to the National Art Gallery at Palazzo dei Diamanti which dates back to 1493 and features interesting, diamond shaped building blocks.
Our guide took us on to the Romanesque Ferrara cathedral and the Jewish ghetto, hardly a ghetto now, more a thriving hub of shops and cafes with a Jewish Synagogue. There were wonderful clothes shops, shoe shops and quirky lifestyle emporiums that I would have loved to look around, but our guide moved swiftly through!
We were regaled with stories about Lucrezia Borgia and saw where she once lived. We saw how the unique local bread is twisted in a form that is said to resemble the locks of her hair.
Another interesting story was about Lord Byron, a chap who we are coming to realise, definitely got around in these parts! He wrote the Lament of Tasso in 1817 based on the legend of Tasso's tragic love for Leonora d'Este and in it describes his imprisonment in the madhouse.
Within Ferrara's ancient city walls there are a plethora of other historical buildings including a university which was founded in 1391 and the cathedral which dates back to 1135.
In 1570 there was an earthquake and another in 2012 as well as blanket bombs in World War II which damaged many historical structures around the epicentre, including one of the towers of the castle – and these previous devastations are still a challenge for restoration initiatives.
Our evening aboard La Bella Vita included a big surprise!
An evening at the Opera! With a little audience participation and operatic karaoke thrown in! (Which I can't post – you'll have to do this trip yourself!)
A night of so much talent, joy and side-splitting laughter we'll never forget!
Day 6 – Mantua
For our last full day with European Waterways we woke to scenes that seemed straight out of an Impressionist painting.
Thick fog was rising off the river, and the sun lay low like an orange globe over the Po, casting dappled light over the surrounding wetlands.
We had breakfast as we traversed one of the three 12th Century artifical lakes that were designed to protect the walled city. Cruising towards Mantua colonies of white swans glided past the barge, and the river scenes were idyllically pretty.
Our final cruise had a dramatic approach to Mantua which is well worth watching from the top deck.
Mantua was home to the poet Virgil, and artists Mantegna and Donatello, and is in a captivating lakeside setting.
Mantua's origins go back to Etruscan times, but the city's power wealth and accomplishments came to prominence when it was ruled by the Gonzaga dynasty coinciding with the golden years of the Italian renaissance.
There is so much to see, and learn, and the city is easy to walk around.
Mantua is actually surrounded by 3 artificial lakes, and is situated in the northern Italian region of Lombardy.
Dave and I walked into the town through a park, along the river, taking a deep breath as we stepped onto the zebra crossing to cross the main road to walk into the old city. Soon we were treading on the cobbled streets made up of river pebbles dating back to the 15th Century.
We visited the Ducal Palace, a sprawling castle with more than 500 rooms. It's the 6th largest palace in Europe, a group of buildings dating back to between the 14th and 17th centuries, built mainly by the noble family of Gonzaga.
Mantua displays neo-classical and baroque architecture, portrayed in the 14thC Ducal Palace which has around 500 rooms and around 15 gardens and courtyards, a museum, basilica and theatre.
The intricate frescoes, Gallery of Mirrors and exquisite Rivers Room, and 12,000 paintings and sculptures all created a Grand Finale to our Italian Renaissance adventure.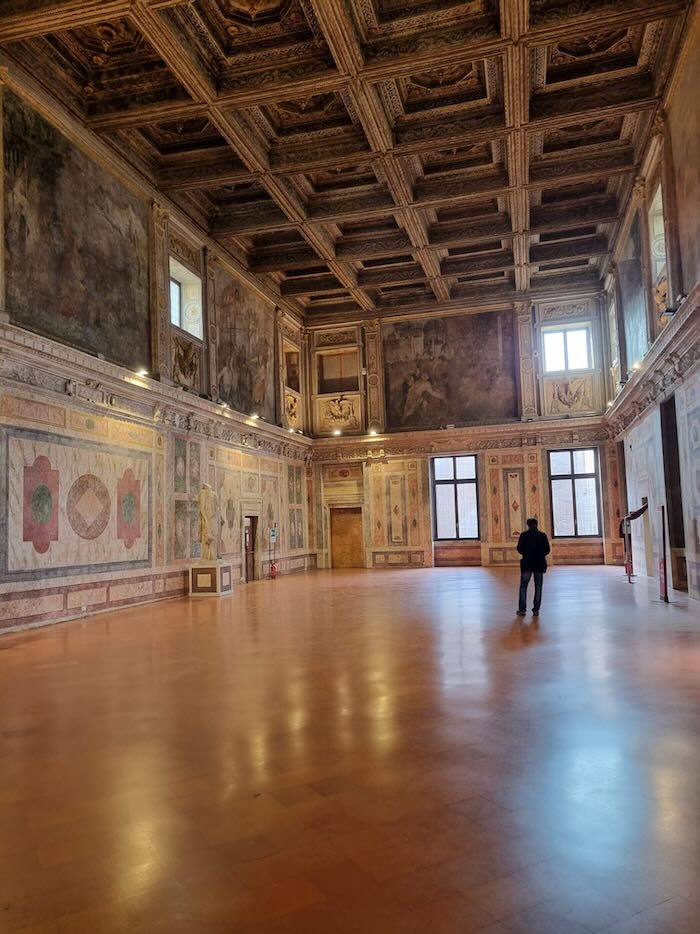 The buildings and rooms are connected by corridors, galleries and gardens. There's a church within it's walls, and even a suspended Italian garden. The palace was one Wow after another. The rooms, the opulence, the ancient tapestries depicting scenes from the bible, the paintings, sculptures, and the frescoes, so much to take in.
We strolled through the vibrant and historic Piazza Sordello, and Piazza Erbe stopping for a cafe Americano.
It was fun just watching the world go by – and a chocolate festival set up! It was hard to resist the eats and treats on offer, and I realised how quickly I would put on weight if I lived in Italy.
After lunch on board, when we were treated to probably the best Prosecco I've ever tasted, as well as a tasty Italian risotto, followed by crumble cake, not to mention a selection of antipasto and cheese that made us want to pack it all up and ship it home to Australia, we were taken by the comfortable European Waterways minibus to meet our guide.
Historical fact after fact kept on coming! We were impressed by the history of the most ancient church in the city, Rotonda di San Lorenzo, which dates back to the 11th Century and we were told it probably stands on the site of a Roman temple.
Intriguing Facts about Mantua
Our guide Stefano took us to the magnificent San Pietro Cathedral and we visited the Basilica Sant' Andrea where he explained it's claimed that some of the blood of Christ is kept in a chalice in the crypt.
The story goes that a Roman soldier, who speared Jesus's side at the crucifixion, had collected some dirt from around the cross containing the blood of Christ, and brought it to Mantua.
Mantua is also known for its significant role in the history of Opera.
Giuseppe Verdi's famous opera Rigoletto is set in Mantua and the central character of the opera, the court jester, Rigoletto is said to have been inspired by a small villa standing close to the cathedral.
But Mantua also has an artistic side. It's also home to artists Donatello and Mantegna as well as the poet Virgil.
Tonight would be our last night on board La Bella Vita. Boo!
But we still had the Captain's Farewell Dinner to look forward to.
Everyone dressed up to the nines, and a fabulous evening was had by all.
Day 7 – Back to Venice
On the final morning there was time for one short last walk before breakfast and then a minibus transfer back to Venice where those of us who had booked one last night in the city could relax for the afternoon.
The Barge – La Bella Vita
At the time of writing …
European Waterways barge cruises La Bella Vita is a stylish passenger vessel that can accommodate 20 passengers. There's a bar area with a piano, a spacious dining room with louvre doors that open to afford great views as you cruise the waterways, and a sundeck with ample shaded seating, where bicycles are also stored.
Standard cabins are cosy and compact, but with ample hanging and drawer room for a week's worth of clothes. Each has an ensuite shower-room – it's small but adequate and comes with amenities replenished daily.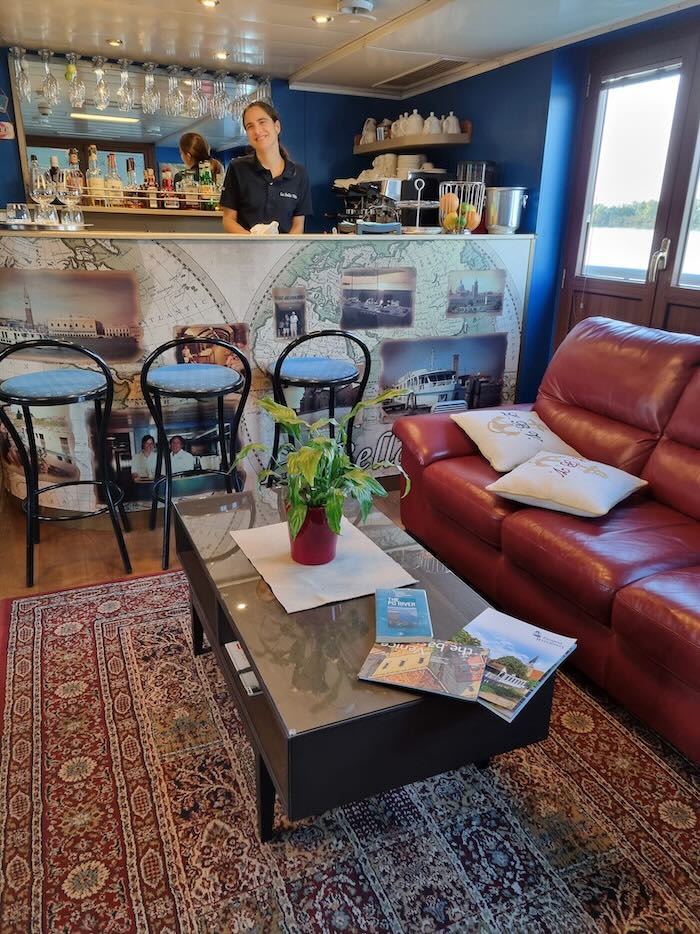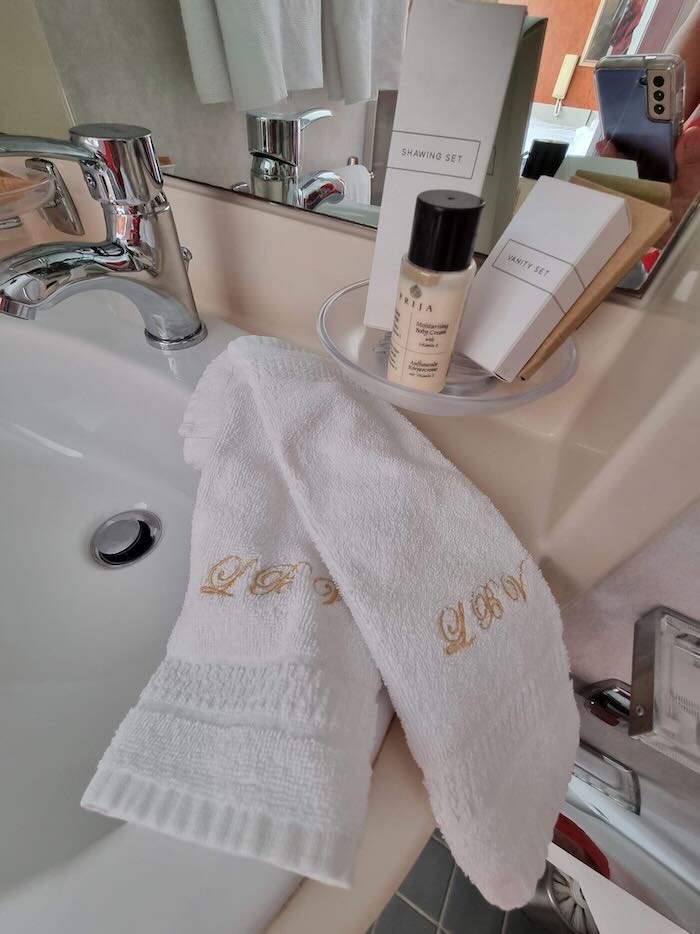 The hotel barge is staffed by a small crew, who we found were always friendly, charming and committed to service.
Gourmet lunches and dinners focussed on regional dishes and seasonal produce, with well curated wine pairings.
All meals, drinks and excursions are covered in the fare. The only thing you need cash for is a tip for the crew at the end, and personal spending money when you are ashore.
If you're looking for an exclusive and really gentle cruise, visiting historic places less travelled, quaffing fine wines and enjoying gourmet food, then this small hotel barge trip in Italy with English speaking crew could fit the bill.
Frequently Asked Questions
Will I have to sit at a table with others?
Yes, you will. But the nature of the cruise is immersive and you will easily make new friends. Most people who book a luxury barge cruise like this are interested in the food, wine and culture of the places you are visiting and you'll have lots to talk about. I've done two cruises and have made wonderful friends we still keep in touch with.
Are tips included?
No they are not. Tipping around 5% of your fare in cash at the end of the cruise to the Captain or Cruise Director will be shared amongst the crew.
Can I travel solo?
Yes. And do check with European Waterways – sometimes they offer great discounts on solo fares.
Can I charter the whole barge?
Yes, if you don't want to sit with strangers at mealtimes then why not charter the whole barge for a group of friends or special family occasion!
You can find out more on the European Waterways website.
You Might Also Like:
13 Things You'll Love about a Barge Cruise in France
10 Reasons to Go on A Barge Cruise in Italy
Luxury Barge Cruise in France – Champagne Itinerary Part 1
Champagne Itinerary – Part 2
News Interviews and a Barge Cruises in France
Princess Cruises Alaska : 7 Day Cruise – What you Need to Know
Disclaimer: This post "Luxury Italy River Cruise," may contain affiliate links from which I stand to earn a small commission but at no expense to you. I was a guest of European Waterways but all opinions are my own. Any gifted items are marked with an *. Lifestyle Fifty Website is a participant in the Amazon Services LLC Associates Program, an affiliate advertising program designed to provide a means for sites to earn advertising fees by advertising and linking to Amazon.com. Please read my full disclosure here.