My mother died when she was 90 years old, but right up until she couldn't dress herself anymore she always dressed with style, and had great taste in clothes. When I turned 50 she said that life after 50 would be different.
She said that in all likelihood my body shape would change, that my energy would become less over the ensuing years, and that it was important to consider about how you presented to the world as you got older, especially with regard to fashion.
How to dress well would have a lot to do with feeling confident as you age, she told me.
Now I look back on her advice, and the way she dressed after the age of 50 until she died, and I realise how much I learnt from her about dressing well, and feeling confident as I get older.
When she died and my sister and I began sorting out her clothes, I walked into my mum's bedroom one day, and opened the wardrobe feeling tearfull and nostalgic about the days when I would come to her for fashion advice and try on her clothes for inspiration.
I looked at all her clothes that she had left behind and reminisced about how much time we had spent together in this room.
I touched a necklace on her dressing tale and it reminded me of the day she told me to wear necklaces with dresses so my collarbones were visible.
I spotted a cocktail dress that she had always said I could take home to Australia, and felt doubly tearful that I couldn't now thank her for it.
I found some clothes that I'd always loved – a dress and a hip-hugging jacket – and tried them on in front of the mirror. Mum might not be here anymore but looking at myself in these clothes made me feel like she was still guiding me from somewhere up above.
Mum's clothes always fitted her perfectly and she always dressed the part. Certainly there were no Boho Style maxi dresses or modern loose kaftan styles for her neither were there mini skirts nor Madonna look-alike-garments!
The colours she wore always complimented each other, and she had a propensity for blue, in all its variations. She would always say to me, stick to the colours you love and those that bring life to your appearance.
Overall, she knew what suited her, what colours looked best on her, and she always looked just so stylish not just on special occasions either – dressing well was part of who she was in her life after 50.
13 Things My Mother Taught Me about Dressing Well and Feeling Confident
Wear colors that suit you to make your skin look healthy and bright.
Get a few highlights in your hair to add some life and dimension
Keep up with current fashion trends, but never wear anything your teenage daughter might wear.
Use makeup sparingly so it doesn't look like you're trying too hard.
Take care of yourself – eat well, and exercise regularly (do something you love) so you feel good about yourself inside and out.
Don't give up on fashion just because you're older – if the style is right for you then go for it!
Wear clothes that are flattering on your body
Make sure you have a good haircut to make you feel confident
Take care of your skin – wear sunscreen, drink lots of water, moisturize daily
Keep up with grooming – trim nails, brush teeth twice a day, shave hairy armpits and legs!
Have a regular manicure and pedicure.
Get enough sleep – it's essential for looking refreshed in the morning.
Eat well-balanced meals, at regular intervals, that give you energy throughout the day.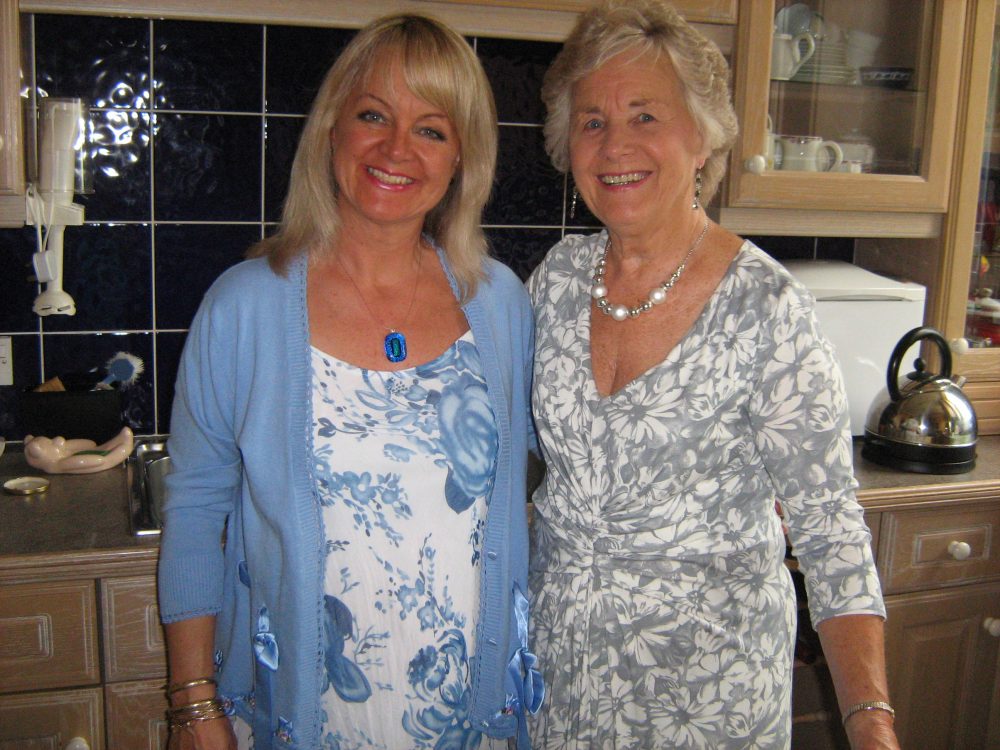 Dressing Well is better than Cosmetic Surgery
My Mum would always say, "Wear clothes that fit you."
I know that sounds obvious but Mum would say, forget tummy tucks and any other cosmetic intervention, just keep at a healthy weight and wear clothes that fit you.
She went on to say that it's always better to buy something slightly looser than something too tight, as you are likely to wear the larger clothes more – because you won't feel as if you're spilling out of them. And she used to say life was too short to go on a starvation diet to lose weight!
My mother would say don't try too hard. When she was dressing for a special occasion she still didn't go over the top. She didn't dress to impress, but she did dress to be noticed in a good way. She always went for the classic look and she would say you can't go wrong with navy blue and classic jewellery.
Mum would always say that dressing for your shape is very important, and while one store might stock clothes that look great on you, another store might not.
She said be dubious about wearing horizontal stripes, always wear clothes that flatter you, don't wear trousers that are too tight or too loose, avoid frilly clothes, wear v-necks or scoop necks to elongate your overall look, and always make sure your legs are brown (fake tan will do- although she liked sunbaking!) if you're wearing a dress or skirt without tights.
She would say dressing well is not always about what you wear but how you wear it. She would say that a smile and a lovely laugh were more important than all the clothes in the world.
Mum wasn't very good at wearing all the clothes in her wardrobe. She definitely only wore about 20% of her clothes 80% of the time, and I think many of us are guilty of this.
My mum loved her jewellery and she wore items that went beautifully with each outfit, whether it was costume jewellery or fine jewellery for evening events. She knew that accessories like jewellery and scarves could make or break a look.
What she liked was that I took pride in my appearance, that I used to try, even if I got it horribly wrong sometimes. I look back at some of my teenage photos and cringe!
But she would take me clothes shopping and slowly by osmosis I learnt from her.
She also advocated the less-is-more dressing philosophy – not an easy thing for many women to grasp when they are in their twenties!
She liked dressing up, but not in clothes that made her look like a teenager. There was always something very sophisticated and elegant about her handbags, jewellery, and shoes: they were grown-up and age appropriate.
She always said that dressing well is the best anti-aging remedy. I think she was right on that one!
She taught me how to dress stylishly without looking too try-hard and she encouraged me to wear colour when I was in my 20s – blues suited her complexion, but bright pinks suited mine, not that I ever listened to her back then!
She taught me that dressing for the occasion is important and that various protocols should always be adhered to. If it's a Black Tie event, it's a black tie event and you should wear an evening gown and don't stretch the rules, she would say.
She was right, of course. I learnt what dressing for the occasion meant early on in life, although it wasn't until after she passed away that I really came to appreciate her wisdom. Now dressing well is one of my top five priorities before I leave the house.
In reality, these days, dressing up or dressing down is not a major issue, and in the modern world we can veer between both depending on our mood or occasion.
However, that doesn't mean dressing down should equate to not caring about what you wear – Mum was never daggy.
Make Up After 50
My Mum said that make-up should enhance the way your face looks, and not cover your face like a mask. I think she wore more makeup when she was a young woman but after 50 she adopted a classy, minimal make-up routine.
She was skilful at making up her face, and I remember that when she was around 60 all she used was a light foundation, a brush of bronzer, a rosy blusher, a touch of blue eyeshadow and a rose lipstick.
Her advice for me on make-up was not to cake on the foundation, like many women do these days – just put enough to balance out your skin and hide any blotches.
Though after one too many teenage parties I admit that I was the one who taught her how to put concealer under your eyes so that you don't have dark circles!
Mum liked Estee Lauder make-up and perfume (when she could afford it!)
Best Hairstyles After 50
She always wanted me to cut my long hair saying that long hair over the age of 40 was ageing. Of course I never listened to her on that one!
She liked to wear her hair cropped short, and with a light perm. But it was a trendy cut and perm, not an old lady curl with blue rinse.
One day when she was around 70, she came back from the hairdresser's stating that a coloured mousse looked great on her hair! Through all her later years she went to the hairdresser once a week and always looked a very trendy Gran.
Mum used to say that for the best hairstyles over the age of 50 , one should look to the stars for inspiration and she loved leafing through celebrity magazines when she was at the hairdressers, or waiting for an appointment in doctors or dentists waiting rooms!
I think a great hairstyle is one of the first things you can do to make yourself look younger. I know hair styles are about personal preference, but there are some general guidelines too.
The biggest thing is not to style your hair in a way that hides what you consider your best features.
A side part can be very flattering if your hair is thinning on top, as it hides the parting and gives fullness to an area that lacks bounce. For those who have a rounder face, a center or low side part can be a great way to achieve a balanced look.
Following Mum's Example to Dress Well After 50
Mum was a woman of the post-war world. Her mother's heyday was in the roaring twenties, but Mum was brought up in the austere years after the Second World War.
She left school at 16 and did a secretarial course before working for a race-horse trainer. Then she got married and had me, shortly followed by my sister.
When Mum was young, being a working woman was unheard of or at least frowned upon by society. You were expected to stay home with the kids and be a good housewife while your husband brought home the bacon for you both.
How times have changed!
But in those days money was scarce and my Mum never had much money to spend on clothes, yet in old black and white photos I have of her she always dressed well and looked fabulous. I'm not sure how she did it, because we were pretty poor when I was growing up.
My Mum has been my fashion inspiration. There has been so much shared laughter and so many great times together in various fashion store's changing rooms. I can't count them all!
We loved shopping together, and I learnt from her how to at least endeavour to look good and dress well. She always looked elegant in whatever she wore; whether it was a simple pair of trousers or glamorous evening attire.
She taught me that it doesn't matter what you wear as long as you feel comfortable in it, but she also instilled the importance of looking your best every day!
Overall, my mother always wore what she wanted, loved clothes shopping, and looked fabulous.
What did your mum teach you about life after 50?