Planning for Christmas should be fun, not a chore. If you're looking for some easy Christmas side dishes to add to the main event these two, simple to prepare recipes will have you rocking the Christmas boat.
In Australia we often have a salad lunch on Christmas day because the weather is generally hot. We'll probably be sitting around in swimsuits and sarongs, or if we're lucky, a new summer frock.
We might accompany barbecued prawns and cold meats, such as left over ham or turkey, with delicious fresh salads using seasonal produce, and we'll most probably crack open a bottle of Champas too.
My fave easy Christmas side dishes for lunch
I've featured these two recipes before on the blog, but I thought I'd publish them again today in case you're planning your Christmas delights. They're two of my favourite Christmas lunch recipes, and I really hope you're going to enjoy them too.
The first is an impressive, but easy to create Nordic recipe I learnt at a cooking class held by chef Michael Elfwing at Cape Lodge in Margaret River, Western Australia. It's delicious and ideally suited for a celebration brunch.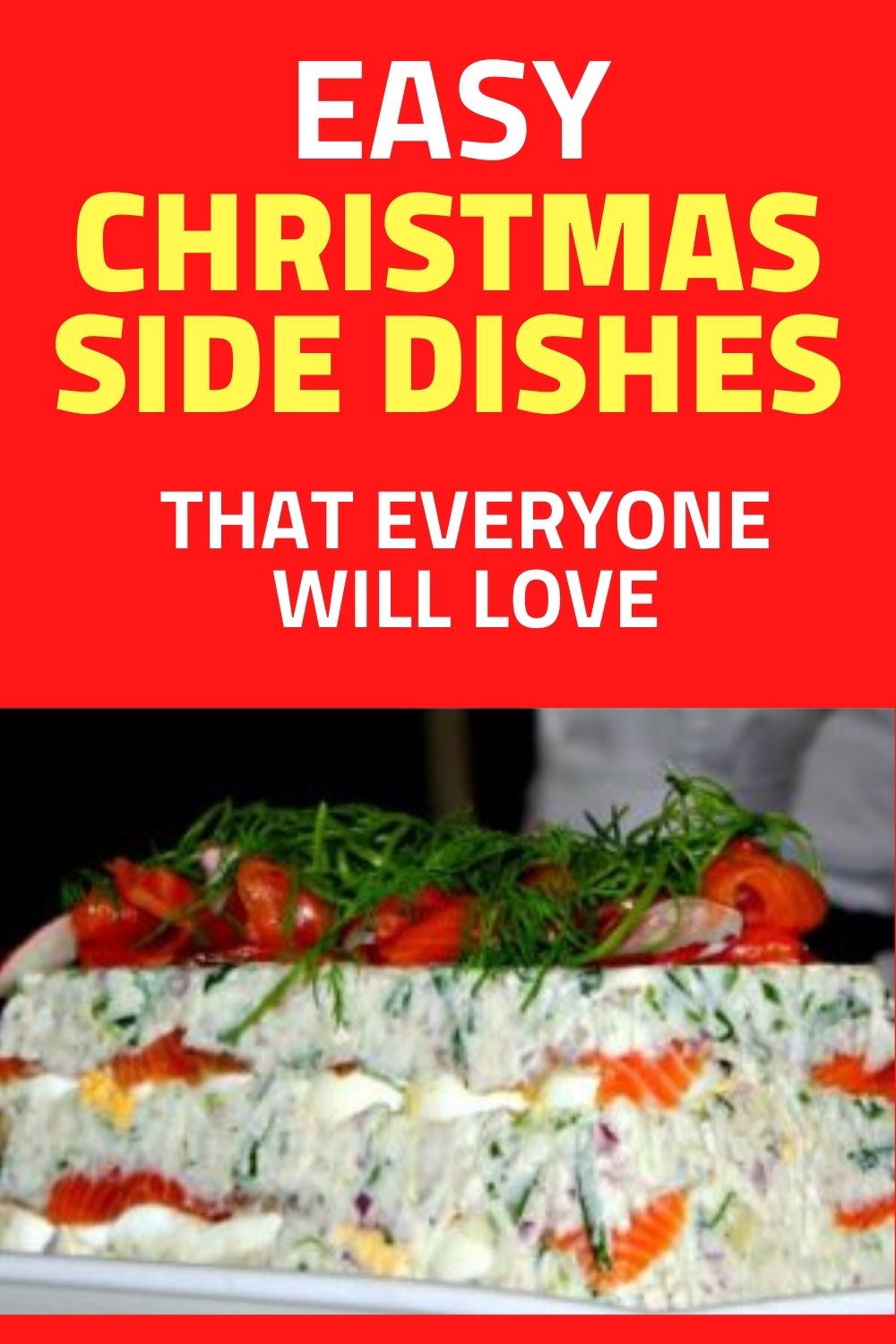 Potato Terrine with Salmon
Prep time : 30 Minutes
Serves : 10
Ingredients
1kg Chat potato
400gm sour cream (you can half the sour cream and add either creme fraiche or yoghurt)
3pcs Red onion
5-7pcs spring onion
50gm Dill
25gm chives
6 hard boiled eggs
Salt and white pepper
400gm smoked salmon slices (optional)
Salad leaves, red radishes, celery, cucumber
Here's What to do
Boil the Chat potato in their skins in salted water with dill stems and a small knob of butter. Let the potato cool down completely in the fridge (this can be done the day in advance.)
Cut the red onion into fine cubes, slice the spring onions and chives finely, chop the dill tips.
Mix the sour cream and creme fraiche, the onions and herbs, season with salt and white pepper.
Slice the eggs into thin slices
When the potato is cold crush it with your hands to release the starch and make it creamy, stir in the sour cream mix and mix well.
Line a loaf tin or cake mold with glad wrap.
Layer the potato mix with the smoked salmon slices and sliced eggs. First and last layers should be the potato mix, and there should be two layers of eggs, and three of salmon.
Leave to set in fridge.
Then turn cake tin upside down and ease the 'loaf' onto a plate.
Make a salad of the salad leaves, red radishes, celery and cucumber, arrange on top of the potato terrine.
This recipe was created by chef Michael Elfwing from Cape Lodge in the Margaret River region. For more about Cape Lodge then you might also like: Perth Weekend Getaways : Cape Lodge, Margaret River.
A Festive Salad
It's all very well being festively plump over the Christmas season, but as we know it's hard to lose the weight come January. So here's one of my favourite, very healthy, Christmassy looking salads.
I love this salad because it's a little bit different, it's easy to prepare, and it makes a lovely accompaniment to cold meats or even prawns on the barbie at Christmas.
I think it looks really festive because of the vibrant red, green and white colours, and while the flavours are fresh it's full of goodness and healthy too.
Fresh Watermelon Salad with Feta
Serves 8 – 10
Prep Time: 10 minutes
Ingredients
1kg seedless watermelon, cut into about 3cm or 4cm cubes (large enough not to go squishy, small enough to be bite sized).
260g Lebanese Cucumbers (2 – 3) de-seeded and sliced thinly (I sometimes use English cucumbers, de seeded and cut into cubes)
6 green onions (shallots) sliced into thin circular cubes
One quarter of a cup of fresh mint
125g feta cheese (crumbled – not too finely)
2 tablespoons lemon juice (fresh if possible)
Decorate with fresh mint sprigs when you serve
Here's what to do
Toss the watermelon, onion, cucumber and chopped mint into a large bowl.
Mix gently being careful not to smash the watermelon.
Put the mixture onto a large platter and then sprinkle on the crumbled feta.
Drizzle lemon juice over the salad.
Decorate with mint sprigs.
(Refrigerate and eat within two days as the melon goes watery. Not suitable for freezing.)
More Recipes on Lifestyle Fifty
Afternoon Delight – Cacao Balls
Do you have a favourite brunch recipe for Christmas you'd like to share Lifestylers? Scroll on down to the comments and tell us do!
Please PIN this post if you've enjoyed the recipes!