We've just had the privilege of holidaying on a luxury barge cruise in France, travelling through the Champagne region with European Waterways.
Quaffing champagne, guzzling gourmet food, discovering historic towns, exploring fantastic chateaux, and being awed by memorable battle spots was the essence of the week long trip, but so too was meandering gently along rivers and canals just watching the world go by.
Barge holidays in France are not a new mode of travel, and have over the years become extremely popular.
Here's the low-down of what you might expect if you book a similar barge tour with European Waterways, a company established in 1974 which offers luxury cruises in 9 countries across Europe in a fleet of 17 vessels.
Need a reason to book a barge cruise? Check out my post 13 Things You'll Love about a Barge Cruise in France and discover why this is one of the best luxury barge cruises in France. Read the second part of the itinerary in Why You Should Go Barging in France, and also
Read an interview with Nick from European Waterways here: News, Interviews and Barge Cruises in France to find out more about the history of luxury French barge cruises.
And we're off to France!
What an exciting morning! On a sunny dat at the end of May we pulled up outside St Pancras station in a taxi ready to kick off our barging cruise with European Waterways along the River Marne in the Champagne Region of France.
The River Marne flows from Epernay to Paris and meanders through the bucolic countryside of the Champagne region. We were looking forward to cruising aboard the luxury barge Panache for 6 languid days, discovering vineyards and champagne estates, and we were told to expect some glorious scenery.
Dave and I had reconnected the day before at the very comfortable, and convenient Radisson Blue Edwardian Hotel on Bath Road, just minutes from Heathrow airport. Dave had just landed at Heathrow after a long haul journey from Western Australia, and I'd come up from North Devon on a six hour journey by coach, after spending time with family.
We were both pretty tired. But soon tensions began to slip away as the massive planning and preparation anxieties that inevitably surface before embarking on major trips began to dissipate as we sipped our early morning coffees under the arched glass roof of the St Pancras station beneath the big station clock.
We were on our way to a barging adventure. Something neither of us had ever experienced before.
We boarded the sleek Eurostar train without any hitches, and a couple of hours later arrived at the bustling Gare du Nord in Paris.
Paris for the afternoon
A quick taxi ride through the centre of Paris took us to the very grand Westminster Hotel (recommended if you like history and discreet opulance) located in the heart of Paris, where we dropped our luggage for safekeeping, and headed out to find a cafe for lunch.
We walked to L'Opera Garnier and, in the shadow of this magnificent building, found an intimate, quintessential Parisienne restaurant with pavement seats positioned to 'watch the world go by.' And when I say pavement seats, I mean pavement seats as it wouldn't take much for a hungry passer by to steal a chip if you weren't paying attention!
As we enjoyed tasty salads and local produce with a glass of French wine, we both agreed it was a great way to start our week's travel in France.
At 4.00pm we were warmly met by Florian, our cruise director.
After being introduced to our 6 fellow travellers, who hailed from different parts of America, we drove through the centre of Paris to the luxury Hotel Barge Panache moored on the River Seine.
Luxury Barge Cruise in France Begins
Florian, we soon found out, is multilingual and well travelled, with a great interest and knowledge of the history and culture of the region we would be travelling through.
We were then met by the smiling and attentive crew; Regina, Diane, Judith, Arnie and Andre.
They served us canapes and champagne and toasted our arrival too.
Bubbling with excitement for the trip ahead, we were shown to our luxurious cabins. Our suitcases had already been whisked to our cabins and were waiting for us on arrival below deck.
Dinner was served at 7.30pm by our accomplished private chef for the week, Arnie, who hails from Latvia.
Meals aboard Panache are taken around a long table, and on that first evening, we got to know all our fellow travellers pretty well.
Gastronomic Dining Experience
Dining aboard La Panache is a gourmet experience and we were told that each night we would be indulged with a menu comprising of an entree, a main, a cheese course and dessert. At each meal 2 new wines would be introduced – a white and a red.
The menu on our first night consisted of a warm, mild goat's cheese with cherry and sun-dried tomatoes, tiny bits of bacon and a delicious dressings …
… followed by duck breast in a red wine jus with purple and orange carrot puree …
a cheese board …
and to die for chocolate mousse.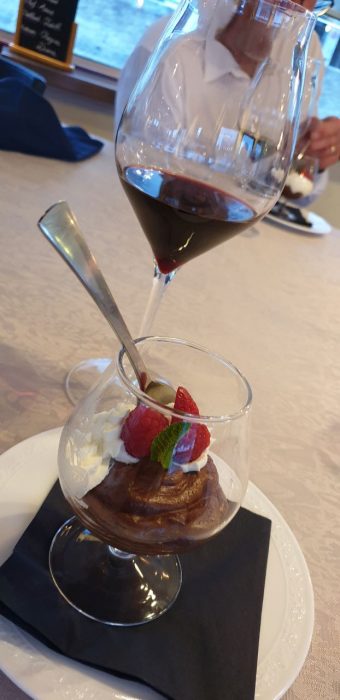 As we ate, we cruised along the River Seine as far as the recently fire damaged Notre Dame Cathedral …
… and then turned back towards our mooring, arriving at the Eiffel Tower, in perfect time at the stroke of 10pm for the sparkling illumination. The tower erupted into a fairytale light display which took our breath away.
At around 11.30pm we finally turned in for the night. Our well appointed and comfortable cabin was calling. The bed had been turned down, the blinds drawn, there were chocolates on the pillow and the bedside lights turned to dim.
Ahh bliss!
Luxury Barge Cruise in France – Day 2 – Meaux
We were up early the next morning as we wanted to be on deck by 7am for the cruise through Paris along the River Seine towards the River Marne.
We gazed long at the intricate wrought iron lattice work that is the Eiffel Tower as it loomed large above and then cruised on through old Paris in drizzling rain, past the haunting shell of Notre Dame Cathedral gutted by fire, and the Louvre, and all the ancient buildings of riverside Paris that have stood through the ages, all with their own stories to tell.
Breakfast was a gastronomic affair, with a plethora of pastries, cold meats and cheeses, a vast bowl of lovely fresh fruit, yoghurts and a main of smoked salmon and scrambled egg. Divine.
By mid morning we had reached the River Marne and navigated through our first lock.
Read more about The Secrets of the River Marne
The weather was by now fair and we stood on deck watching the world and the riverbank go by. Various small villages with villagers cycling the river path or just going about their daily lives flashed past, so too large, small and indeterminate houses of many architectural styles.
Plus, we noticed small cafe-restaurants jutting out over the river and idly wondered what it would be like to return one day and perhaps for a while live the village life here.
We passed the time in desultory fashion chatting with fellow passengers on deck, enjoying the scenery or sitting in the lounge reading, until lunchtime when Arnie cooked up a storm for us to enjoy.
Wild asparagus wrapped in ham, mullet with orange couscous and a delicious sauce all accompanied with white and red wine, followed by delicious cheeses of the region.
But we were careful not to overindulge in fine French wine for Florian, our cruise director, had advised that we should be ready by 2.30pm for our first excursion … to Meaux.
A short drive took us through rolling green countryside peppered with rape seed and wheat fields.
Musee de la Grande Guerre
We arrived at the Musee de la Grande Guerre just a few kilometres outside the town of Meaux. It's a fascinating museum dedicated to World War One with an incredible array of artefacts from the war.
It was built in 2011 on the historical site of the first Battle of the Marne, and it owes its existence to a historian, Jean Pierre Verney who spent more than 40 years collecting around 50,000 objects and documents form all over the world that related to the history of World War 1.
We spent a sobering couple of hours here mulling over the futility of war and honouring those who had given their lives, as well as acknowledging that here was the place where the Germans were stopped in their tracks from advancing on Paris, just 35kms away.
The quaint town of Meaux
Afterwards we had a short time to explore the quaint town of Meaux with its imposing cathedral Saint Etiennee, the sylvan Jardin Bossuet, and ancient outbuildings dating back to the 13th Century.
Florian then gathered his flock and safely drove us back to Panache, which was now moored at a different spot in Meaux. After gin and tonics and whisky sours, expertly shaken by Regina, we enjoyed a gastronomic three course dinner.
Luxury Barge Cruise in France – Day 3
Moored at a quiet spot in Meaux we awoke to the sound of birdsong, with swans swimming past our cabin window.
We rose for a nice warm coffee to wake us up, and Dave went for a stroll along the river while I started writing Instagram posts, by which time breakfast was served.
Our garrulous group chatted about the day ahead, not only about our expectations for the excursion to the chateau today, but also our many and varied interpretations of yesterday, along with a colourful array of insights about our lives in America and Australia.
One of the nice things about a cruise like this is the people you meet and our fellow cruisers are a delightfully varied, entertaining, friendly, and merry crew.
Chateau de Vaux Le Vicomte
At 9.15am sharp we were all present and correct, and Florian drove us along highways and byways for around 45 minutes until we came to the largest private estate listed as a Historic Monument in France, the Chateau de Vaux Le Vicomte.
Walking into this impressive castle was awe inspiring. It's scale, majesty and balance breathtaking. Soaring into the blue sky now filled with brooding cumulus clouds, we wondered what stories might unfold today from within its vast walls.
This chateau, we were told, was the inspiration for its bigger sister Versailles, and despite being the fantastic and successful culmination of work carried out by three of the greatest artists of the Grand Siecle it has its own tragic and torrid tale to tell.
In 1656, Nicolas Fouquet, general prosecutor of the parliament of Paris and superintendent of the finances, started building the Chateau de Vaux-le-Vicompte. It was to be the envy of noblemen everywhere and a fabulous example of culture, art and fine living created by the architect Louis Le Vau, the head gardener Andre Le Notre and the painter and decorator Charles Le Brun,
Nicolas, who was only 26 years old, hosted lavish parties, but soon suspicion began to surround his excessive lifestyle and his magnificent chateau with its expansive and very beautiful gardens.
On August 16th, 1661 he hosted a fabulous soiree to honour Louis XIV but afterwards, the King chose not stay in the designated apartment set out for him but asked to return to Fontainbleu instead.
On September 5th 1661 Nicolas Fouquet was arrested by d'Artagnan, one of the three Musketeers, and in 1664 he was condemned to life imprisonment, dying in 1680 interned in the fortress of Pignerol.
Inside the baroque Chateau the rooms and apartments have been renovated to include lavish decor and period furniture. A warren of large and small rooms, of state rooms, a music room, reading room, games room and a huge subterranean kitchen decked out with old copper pots, a huge range and artefacts of the time.
Afterwards we had just enough time to explore the manicured formal gardens, again a tribute to great garden design and absolutely mind glowingly opulent too.
Wow. So much built and designed for so few. "It's no wonder, there was a revolution in France," somebody quipped.
What a wonderful experience it had been. Just jaw-droopingly incredible and a real insight into how life in the noble lane was once lived in France.
Soon we were again in the minibus, and we were whisked through pretty countryside and charming villages back to the barge, where Regina, as always the perfect hostess welcomed us with ice lattes before another lavish lunch.
A fabulous soup, chicken and chestnuts, followed by fruit crumble – in essence. But you need Arnie to explain all the cordon bleu intricacies and embellishments which went into making this (yet another) delicious and decadent meal.
Food is an integral part of a European Waterways barge experience, with mealtimes that are expected to be cherished. Our chef Arnie, was not only an accomplished cook but also a culinary educator who explained how he had prepared and cooked the food, also detailing the local ingredients he used and where they had been sourced. From our hostesses, Diana and Regina we learned about the grapes, terroir, and wine producers of the region as well as about the various French cheeses served at the end of each meal.
After lunch in the sunshine we sat around on deck, watching the world go by.
Time passed swiftly as we were chatting and putting the world to rights, before a quiet hour in our luxury cabins to siesta.
Then we cruised on to a peaceful spot along the river near Saacy-sur-Marne.
For the next instalment, and Days 4 to 7, please check Champagne Cruise Part 2
European Waterways : Rates and Cruises
Prices for a 6 night luxury barge cruise in France aboard hotel barge Panache includes all gourmet meals, fine wines, daily escorted excursions, local transfers and an open bar for the duration of the cruise. Full barge charters are also available for families and groups. Find out current rates and cruises here: European Waterways: Tel: UK 01753 598555 or Toll Free from Australia 1 -800-828-050.
Disclaimer: I travelled as a guest of European Waterways.