Sponsored Post – Why I go for a mammogram screening every two years.

Every two years I trot off for a free mammogram, and I count myself so very lucky.
Firstly – it's free! Isn't that wonderful? For over 20 years, BreastScreen WA has provided a free breast cancer screening service for women over 40.
But mostly I go because I feel comfortably protected.
It's all part of my Lovin' Life.
Why? Because a screening mammogram is performed on women with no breast symptoms for the purpose of detecting breast cancer at an early stage before it can be felt or noticed – and it's said that breast screening mammograms may detect up to 90% of breast cancers.
Is it painful?
I'm going to tell you the truth, and let you know what a wimp I am.
Let's start with needles (of which there are none at a mammogram screening.)
You see whenever I need to give a blood sample, show me the needle and chances are I'll faint, even though it really doesn't hurt. So when I first went for a mammogram I thought it would hurt,  and I'd probably go all queasy just thinking about it.
I mean, mention having your boobs placed between two metal plates which squash them as flat as possible and surely everyone would say, "Ouch! No thank you very much!"
But in reality, I've never found it painful. Nor do I dread going at all.
Of course it does seem as if a hungry monster has clamped your girls into its cold hard mouth for a moment or two, but apart from a bit of pinching for a few seconds before the radiographer releases the plates, I don't find it really hurts.
I've also found the radiographers and receptionists at BreastScreen WA to be really friendly and helpful. They've always been aware that they're dealing with a very sensitive and private part of me and have shown the utmost respect, decorum and kindness when I've visited.
Different Breast Check Options
I'm not sure about elsewhere in Australia or wherever you are in the world, but in WA we have different options for breast screening so that we can attend a facility close to where we live.
We can either go to a BreastScreen WA clinic or we can book up to visit one of the mobile facilities in regional areas.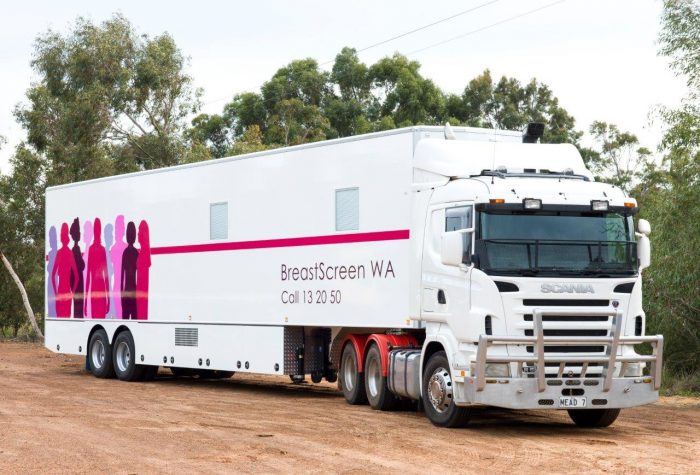 It's made very easy for us, and we get a reminder every two years when our screening is due again.
"One in eight women in Australia will develop breast cancer in their lifetime, so it is important that all women aged 50-74 years have a screening mammogram," Prof. Liz Wylie, BreastScreen WA's Medical Director said.
Let's get down to some facts about mammogram screening.
In Western Australia, BreastScreen WA provides over 120,000 screening mammograms each year to Western Australian women over the age of 40. The benefit from screening mammography is greatest for women aged 50 to 74 years old.
Nilda Eisen from Joondanna has been having mammograms with BreastScreen WA since 1994. After having a breast cancer detected in 2011 she credits the service with saving her life. Nilda recommends that all eligible women should take advantage of the free screening.
"It's fast, free and could save your life and in my experience the ladies that work there are always professional and respectful," said Nilda.
According to BreastScreen WA …
Women in Australia have a 1 in 8 risk of developing breast cancer in their lifetime.
The risk of breast cancer increases with age.
A mammogram may detect up to 90% of breast cancers.
Screening mammograms may detect a very small cancer, as small as a grain of rice before you or your doctor can feel it.
Breast cancer cannot be prevented, but the earlier a breast cancer is detected the better the chance of successful treatment
Over 75% of breast cancers occur in women over 50 years of age.
How often should you have a mammogram?
The advice from BreastScreen WA is every two years.
Note: There are some cancers that cannot be detected by screening mammograms. See your GP / family doctor promptly if you notice any unusual changes in your breasts.
Is having a mammogram harmful?
BreastScreen WA say there's evidence to suggest the benefits of breast screening outweigh the risks, and that the benefit of getting an early diagnosis and treatment for breast cancer is far bigger than the risk of the small amount of radiation received during a mammogram.
BreastScreen WA
BreastScreen WA was one the first breast screen services in Australia to have online bookings for its clients allowing women to book an appointment 24/7.
For more information, and for online bookings Contact BreastScreen WA  or find out more on Facebook Breast Screen WA or ring 13 20 50.
In order to help women manage their busy lives, BreastScreen WA uses text message appointment reminders and social media is recognised as an important tool for health messages.
Thank You to BreastScreen WA for the facts and figures provided in this post.
This post is provided for general information only. You should always obtain personal professional medical advice about anything to do with your health and wellbeing, and not rely on tips provided on Lifestyle Fifty.
Do you have regular breast screenings? 
Do you know of anyone who's life has been saved by a mammogram screening?
Let us know in the comments why you're Lovin' Life this week won't you?