It's not everyday that you get to meet one of the most famous health and fitness gurus in Australia, but recently, at the Perth Fitness Expo I had the chance to sidle up to the gorgeous Michelle Bridges.
I'd been watching her give a fitness presentation and afterwards I asked if she'd be kind enough to answer some of my burning questions about health and fitness and she said Yes!
Michelle doesn't need a lot of introduction. She's an Australian personal trainer, author of several books and a TV personality. She was born in 1970 and has recently had her first baby. She's also a trainer on the Australian version of  The Biggest Loser TV series, and a few weeks ago in partnership with Woolworths, Michelle brought out a new range of nutritious frozen meals called Delicious Nutritious.
At the Expo I was in awe of her vitality and loved some of the inspirational tips she gave us for sticking to our fitness goals.
"You are in control," she said. "Don't put roadblocks in your way on your journey to fitness. Getting fit often starts well but then you think up excuses. Get the roadblocks out of your way."

On Self sabotage: "The world can't wait to give you an excuse. If you don't have enough already! And why? Because it takes the responsibility away from you. You'll tell yourself things like I don't deserve it, I'm not good enough, it all comes from a place of fear – I'm scared, I'm not good enough. All of that … It's nothing but self-sabotage."

"Sport taught me lots of life lessons – discipline, commitment, and how to be a team player while striving to be a star performer."
And while listening to her presentation other questions formed in my mind, which I had to quickly write down in my notebook to ask her later, because, well, my brain 😉
You might also like to have a squizz at my own, err non-expert health and fitness routine in the archives here … How to keep fit and healthy (my unscientific routine)
Michelle Bridges Health and Fitness Tips for Looking and Feeling Great
Here's what Michelle has to say …
Q: You look fabulous – what sort of exercise routine, and amount of time, does it take to look this good?
"I aim to train everyday knowing I'll stick to about 5 to 6 sessions a week. Each training session goes for between 45 to 90 minutes. My short sessions are getting in and go for it. And the longer ones have more warm up and mobility work within them. I don't see it as a time waste or takes me away from my day. Instead, it's a mindset shift. The investment is just that, an investment in the now and future."
Q: For an everyday woman over the age of 50, what would you suggest is the minimum time a day she should be exercising for general good health?
"I would take a look at the above! It's the same. Ok, so depending on where you are at physically you might dial down the intensity, or even the time spent, which is fine! But where you win in this game is consistency.
By being consistent, having a planned routine and build on a habit, this is where you are the ultimate winner! Each training session is like putting money in the bank. Eventually, over time, the account looks healthy! I repeat, every session doesn't have to be tough, or even in the gym. But you take a moment most days to invest in your physical, mental and spiritual health through movement. In fact, the older we get the more paramount this is."
Q: What sort of exercise should we be doing?
"I always recommend first and foremost make sure some of your training is something you love. Surfing, tennis, ten pin bowling, golf or whatever floats your boat. This is so important for mental health. Then, alongside that there should be some strength training which is critical at any age, but of the utmost importance as we age.
Be sure to inject a little bit of cardio into these sessions, either through bursts of intensity with higher reps with the weights or throwing in some jogs, stair walks, cross trainer, skipping or rowing. Something that will spike your heart rate! I love injecting work which also incorporates agility, side to side movement, balance and jumping. Jumping for some can be the danger zone, so that will be dependent on the individual."
Q: How can we stop sabotaging our good intentions?
"It's in your head! It's ALL in your head. For many it's an ongoing practice to be consistently overriding the annoying voices in your head that you've been listening to for years and allowed them to get out of control. The stories, the fairy tales, the blame game, the victim, the excuses etc. It can be a battle to combat them. Action equals achievement.
Excuses take away the pain. Action equals empowerment. Excuses offer a get out jail free ticket. The problem is it's never free. The pain of never really achieving what you would like to stays with you, gnawing away at you. It's ok and completely normal to have the wheel fall off now and again. But learn from it and move on. Get your head around why you think you do it to yourself. Is it because you are scared you will fail?
Gosh, how many success stories have a million fails? Heaps! Failure is inevitable! We all fail. But it's in the fail that we grow, develop strength, understand what's important to us, become better, and learn!
Our fails are our biggest opportunities. They take us to the next level. If we are prepared to dig in and work through them rather than roll over and say "I'm out". It's all in your power."
Q: Should we be eating differently now to when we were younger?
"As much as I understand fully that we need different things at different ages, when it comes to mindset, exercise and nutrition I feel that it's across the board quite similar for all ages. Yes, there are some exercises you need to dial back on as we get older but everything else is the same.
Just because we are older, does it mean we have done the personal investigation on ourselves and understood our road blocks? Most probably not, just because we are older should we be eating differently to when we were younger, I personally don't think so, provided you were eating well in your younger years and not living on soft drink and doughnuts.
Overall regardless of age or gender we all need to be eating for higher nutrition. Whole Foods, real foods, less processed, less sugar, And in many cases smaller portions."
Q: How can we keep nutrition on track when we're busy?
"I'm a realist! I understand that it's almost impossible to cook from scratch every night. And often I can get to a point after a 14 hour day where I think "ok, it's my training or my nutrition that suffers here, which one is it going to be?"
That's when my Delicious Nutritious range has been a god send for me. Sometimes I can't be all over my grocery shopping or my fridge runs dry, and rather than skipping my workout to go get groceries and start cooking, I will then utilise the convenience for what it is and still keep my nutrition on track as well."
 Q: If you could offer 3 Tips about sensible weight loss what would they be?
"1. Get real. Do a checklist on your nutrition, preferably over a week. It will soon become apparent as to why you might not have been able to shift the extra kilos. Those extra unneeded snacks, those treats which seem to be almost daily, the alcohol, the big meals out, the hidden sugars in what you might have thought to be a healthy meal, say in a breakfast cereal and the milky sugary coffees.

2. Now take a look at how much you sit on your butt. Also take a real look at the old "but I move around a lot during the day!" protest. Unless you are a busy waitress in a large restaurant with long shifts, you probably aren't really moving enough to warrant those large portions and high calorie low nutrition foods. It's time to get real with your activity and exercise. Move more in your everyday life and also add some more formal exercise into your week. Whether it's a jog with a mate, a game of tennis, a dance class, a PT session, it all makes a difference!

3. Why do I want this? This is the stuff that will get you out of bed in the morning. This is the stuff that will have you say no to pizza night. This is the stuff which will help you walk away when they bring out the cake. This is the stuff that will get your butt out the door. Because this is the stuff that really matters to you! No one else, just you. And that's cool!"
Q: Juices or Smoothies? Do you recommend either and why?
"I occasionally make my own juices and smoothies. Here's the thing. I don't extract.
Everything I put in my blender stays in there, all the fibre and goodness. I tend to use more vegetables than fruit. Lots of greens and I don't make truckloads of the stuff, just enough for me or me and a friend."
Questions from Lifestyle Fifty readers
Before I went to the Expo, I asked Lifestyle Fifty readers on Facebook if they had anything they wanted to ask Michelle…
Q: What is the best diet for weight loss?
"My first question would be why? And then, what do you want? And then, why do you struggle? And then, can you tell me where your road blocks are? And then why do you keep your roadblocks? How are they serving you? What do you get out of keeping your roadblocks on the books?
After we get through all that, hopefully with some gut wrenching honesty and some tears, I would say a diet which is high in whole food, real foods. Very minimal processed food, or at least processed food which you understand what's in it and that these foods are simply for convenience when life sometimes gets hectic. Check that you are not eating like a 7ft male lumberjack, or even a 6ft one. Pull out a lot of the crap that's clearly holding you back and take back the power."
Q: What foods might help prevent fluid building up in my legs?
"Highly processed foods, soft drinks, fast food, junk food, alcohol should be eliminated or dialed down substantially. Try upping your water intake. Increase green leafy veg, increase fibre. Whole food which has had minimal human handling is always best and will definitely help."
Q: What are the best low impact exercises for toning arms, legs and tums?
"Body weight or actual weighted exercises are best for toning and shaping. Squats, lunges, push ups, shoulder presses and core work. Strength training, I believe, is the fountain of youth! They work! And they work very very well. There are so many great exercises out there online; you've only got to Google them. Or even better see a personal trainer to be given proper form and technique. Be consistent and be in it for the long term. The real question here is will you do them?"
Q: Is the saying "an apple a day keeps the doctor away" really valid?
"Yeah, I reckon it is! The humble apple is an amazing piece of food. They are a good source of energy and fibre. They taste yummy and are happy in a lunch box or handbag! Plus, compared to all the ridiculous expensive, high sugar, calorie dense, no nutrition, money making snack products you are being told you need to have by big businesses who are only concerned about the bottom line….? It's a no brainer!"
Q: How can I sleep better?
"Go to bed early! Turn off the TV and turn off the computer. Limit your caffeine to one in the morning, or less even. Exercise; eat less sugar and more whole foods. Make sure you are not too hot. Get some quality curtains. Cut down your alcohol. Learn to meditate. If you can safely go for a walk at night rather than watching mindless TV do it!"
Q: Why is it so darn hard to lose weight after 50?
"Yes your body changes, it changes throughout your whole life. However, we can still work towards being the best we can be at whatever age we are at by choosing to eat clean and well and giving our body's the daily activity it needs to thrive and flourish.
Sure, compared to when we were 25, it isn't the same piece of equipment, which is why it needs to be nourished, nurtured and cared for, challenged and occasionally pushed. It also means we have to grow up and can no longer eat like a teenager whose parents have gone away for the weekend!"
Michelle's Top Quote
"Find your WHY. What do you want for yourself and WHY? Socrates said "the unexamined life is not worth living" I believe the examination should continue. As you change your wants and desires change, your philosophy changes. Your belief system may change. If it hasn't changed that's ok, but when was the last time you tested your life philosophies and theories? Do you know them to be true or have they been passed onto you by others and you have just taken them on as gospel? When was the last time you checked in, took another point of view, stepped outside of you and challenged yourself?"

Michelle's New Product
"I've partnered with Woolworths to create Delicious Nutritious a range of frozen, delicious and nutritious meals that are easy to cook, healthy and tasty

Each Delicious Nutritious option is a complete, balanced meal for one containing three serves of your daily vegetables, a good source of protein and healthy grains and all less than 450 calories, making it easy to enjoy nutritious food! The range will be available in the freezer aisle at most Woolworths stores from the end of October.

Healthy never tasted so good!"
Thank You!
I'd like to say a very big THANK YOU to Michelle Bridges for taking the time out from her hectic schedule to answer my questions with great thought and in such depth. I was super amped that a celebrity would find this much time to respond. Publicity Pics of Michelle were supplied by One Green Bean, others are my own.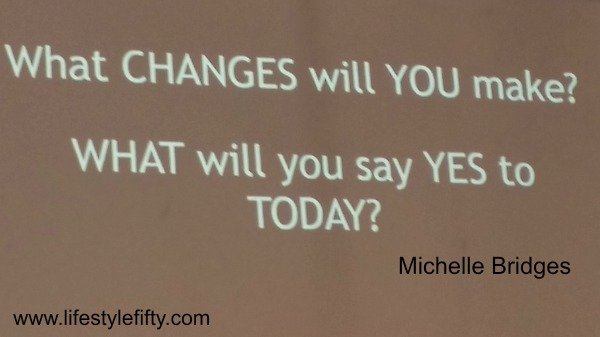 So why not tell us in the comments … What was your top takeaway from Michelle's tips and advice, or feisty Lifestylers, what changes will you make and say YES to today?