I've tried juicing and after a while felt it wasn't really for me, but now I've truly found my soul blending mate in the form of a NutriBullet.
Why I love my NutriBullet
What I love about the NutriBullet apart from the fabulous smoothies, is the science behind it. The thing is you see, it has a complicated sounding Nutrient Extraction mechanism to break down fruits, vegetables, nuts, seeds, and other plant foods into their most absorbable state.
It's a bit different to juicers (which don't break down the pulp) and different to blenders, which don't have the mechanism to break down the cell walls of fibrous plant foods, to release vitamins and minerals. So you can put in raw chopped up vegetables, fruits, nuts, seeds, and any superfood you have to hand and the NutriBullet will magically transform them into fabulous liquid fuel for your body.
The NutriBullet reduces the fiber, pulp, seeds, and skins into a really smooth texture, so that you have a digestible, easily absorbable smoothie and you should get the highest nutrition the food you put into it can offer.
For me, that spells Healthy.
Really you're only inhibited by your own imagination or taste. We've tried lots of recipes not only from the handy accompanying recipe book but also from just making them up ourselves. Beetroot and spinach and apple was pretty interesting.
I've been drinking one NutriBlast smoothie a day – I pack mine with kale, or spinach, fruits like passion fruit, berries, and pineapple, yoghurt, milk and seeds and so before I even reach lunchtime I know that I've had my fruit and veggie serves for the day. I love that.
And you can come up with some crazy colours!
What's more it's easy to assemble and not difficult to clean (that point is pretty mammoth for me). The compact base sits on the sideboard ready to go and to tell you the truth, I quite like getting up in the morning these days (I am so not morning person) … just so I can get my fix of a fresh NutriBullet smoothie.
Tip: You could chop up the fruit you want to use and pop it in zip lock bags – freeze in convenient portions so they're all ready to pop in the juicer.
Did I tell you that you can also make super-doopa soups and sauces too? Well, maybe that's for a later post when winter is in full swing.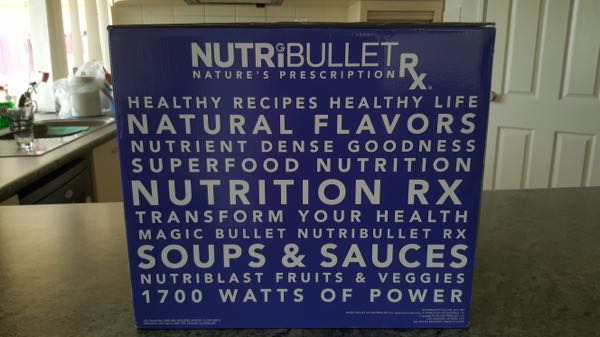 To Buy – Click on image
Products I'm Loving this month
What an innovative range of jewellery I've just discovered. I'm a little bit all over these quirky and very individual PunkyB jewellery* sets.
Below I'm wearing a wooden russet necklace with matching earrings which added a beautiful pop of colour to my Sunday lunch outfit the other day.
At Punky B, the accent is very much on creating fashion jewellery that is feminine and elegant, and I adore the colours.
I think the ivory and gold has a bit of attitude and would look great on my daughter and her young friends, but I can see one my environmental-friendly friends in the muted blue wooden ensemble with the chunky bracelet, above.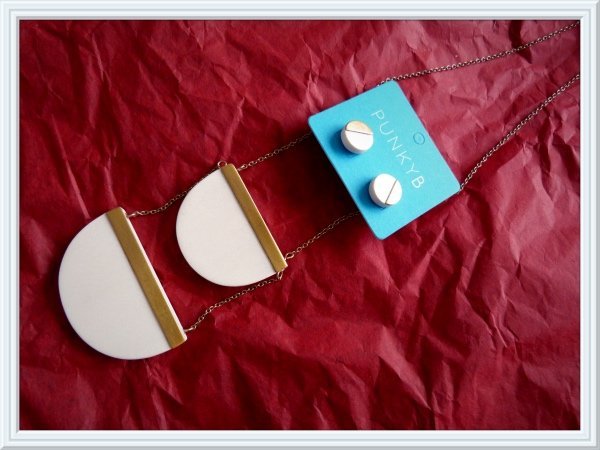 Aboriginal Art Scarves
These beautiful art silk scarves* from Mainie are a melding of two artisan traditions: Aboriginal art from Australia's Red Centre and luxurious silks from the fabled Silk Cities of China. They are pure silk and exquisitely distinctive.
Each piece comes beautifully boxed with an authentication card telling you about the artwork and artist. They have a luxuriously soft feel and the colours are fabulous.
Pictured are the Women's Ceremony Scarf, and Water Bird. They would make lovely gifts for anyone wanting something just a little bit exclusive and different.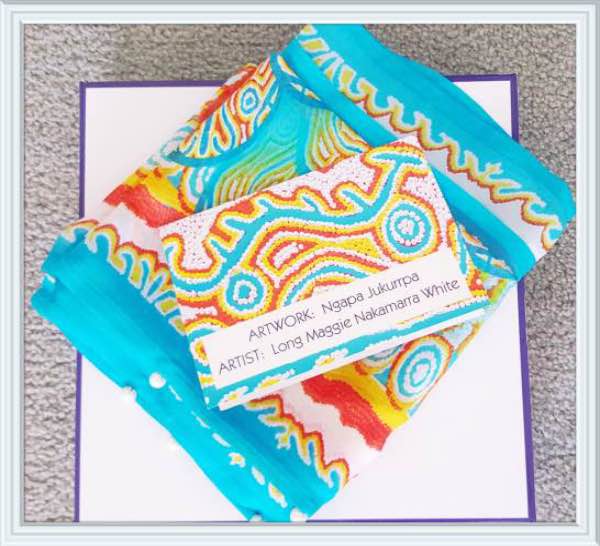 Products were gifted for editorial consideration as per Disclaimer. There are affiliate links in this post from which I stand to earn a small commission but at no cost to you. Lifestyle Fifty Website is a participant in the Amazon Services LLC Associates Program, an affiliate advertising program designed to provide a means for sites to earn advertising fees by advertising and linking to Amazon.com.