I've been having a lovely time in England visiting family and friends. We've laughed, cried, chewed the proverbial cud, slurped ice creams, walked in beautiful national parks, visited old towns and stayed up way too late drinking wine in an attempt to chat about everything possible under the sun before I head home to Perth.
Living so far away in Australia makes me treasure moments spent with loved ones overseas and I drink up every moment. Then of course when I'm home I'm looking for ways to stay connected via phone and internet.
Stay Connected, Live a Healthier Lifestyle
It's a  known fact that people who remain connected socially as they age are more likely to live longer and stay healthier than those who don't. Some go as far to say that close friendships and a support network are better than a general tonic if you need a boost. Think of how you feel after a good old laugh with a friend … great huh?
You might also like this post: 5 Surprising things about Ageing.
Perhaps the lyrics to a song I remember from my childhood are true: People who need people are the luckiest people in the world. Do you remember that song?
Don't become isolated or lonely
If you engage with a network of friends, family, neighbours, peers or colleagues it's obvious that you'll keep socially and emotionally connected, and more active too probably … much better than allowing yourself to become isolated and lonely, which breeds its own problems.
In the absence of real life engagement, I try my best to stay connected via the internet. I know this isn't ideal, so when I'm in need of a chat with loved ones or friends I pick up the  telephone when I can. There's nothing like hearing someone's voice and being able to hear the inflections in their tone as well as share in their laughter.
Optus Family Sharing
On the mobile phone front, I'm with Optus. I've been with them for over 4 years and to tell you the truth I've been really happy with their services and haven't thought about changing providers. Their service has always been great and at a great price too.
What I like too is that the Optus mission is to help Australians to live better and smarter. As part of this, they're keen to help Australian households maximise their data usage and better manage their bills.
Different needs
So often family members from young to old have different needs when it comes to mobile plans and what they want from them. Most  likely though they all want as much value as possible for what they're paying for. I know I'm always looking at ways to maximise use and limit wastage, and Optus have been helpful in tweaking my plan to achieve this as well as offering some free international calling minutes.
Anyway, Optus have on offer a great plan called  Family Sharing, a mobile plan built for households so that everyone in the family can share and maximise their data. With Optus Family Sharing plans, you can maintain 'data stability' in the household by consolidating plans into one bill.
Optus Family Sharing Benefits
Everyone has different data needs; some use it more than others so why not combine all the mobile plans in your home to make the most of your data? It lets you pool separate mobile plans together on one bill and share the data.
There are no ongoing costs for Family Sharing, and you can combine and share as many new My Plan Plus or SIM-only plans as you'd like (subject to standard credit approvals, of course).
Each family member can connect up to five devices, like SIM-ready tablets, and take advantage of the shared data – there's just a one-off $5 set-up fee for each of these additional devices.
You can share the data across your family to help avoid wastage and give more data to those who need it most.
With Family Sharing the whole family gets unlimited standard national talk and text so you can all stay in touch.
It's simple to track your family's usage via My Account or the My Optus app. Optus will also  send you alerts so you can stay in control of your spend.
Tired of dealing with multiple phone bills? You'll see everything on just one bill.
How does it work?
Here's an example of say, a family of four's mobile plans and the combined data they could have between them to share if they switched to Family Sharing.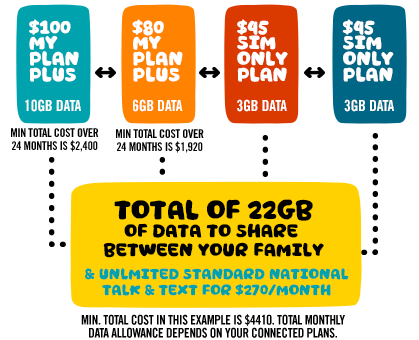 Why did Optus come up with a Family Sharing plan?
Optus conducted research to find out what people really wanted from their mobile plans and discovered the following:-
52% of households in Australia have three or more mobile plans
Most Australian family households (72%) have concerns about their current mobile phone plans
Over one fifth (22%) complain that data use is a problem with some household members going over their data limit while others use very little
More than a quarter (27%) of parents regularly argue with their children about how much time they spend on their mobile devices
Young families (80%) are the most likely to see the merit in combining all of their household mobile plans together. Parents highlight the following reasons:

The convenience of having a single bill (43%)
The money it would save (38%)
The ability to share their unused data with their children (34%)
The ability to keep tabs on their children's mobile usage (19%)
The Findings
They found out that the overwhelming majority of those in family households (70%) would like to combine all of their mobile plans together. If you'd like to find out all about the Family Sharing Plan, it's all Here on Optus.
So Lifestylers, would you consider sharing your thoughts with me?
How do you stay connected with family and friends?
Write, phone or email?
If you have a mobile phone, do you go over your data limit each month or not?
Would sharing data across the family help your case – for instance my hubby is on the internet much less than me and I'd love to tap into his unused data!
Do your children use more internet data, and you use less?
Would it be useful for you to have unlimited national standard calls and texts?
Would a Family Sharing plan be useful for you do you think?
Please do tell in the comments section and let me know your thoughts. Your email won't be shared, but I'd love to write about the results.
Disclaimer: This post is sponsored by Optus.  I've been an Optus customer for over 4 years and it's a service I'm happy to promote.