Personal style is something you own. It's unique to you. You can work on it, adapt it, enhance it. Finding your style is up to you.
You know the days when you're rocking your own personal style don't you? Mostly because you feel really confident in what you're wearing, and you just feel right.
It's like the stars have aligned. The colours you're wearing make your complexion shine, your eyes twinkle, and the outfit you're wearing gives you amazing confidence. Take note – these are the times you have truly taken on a style of your own.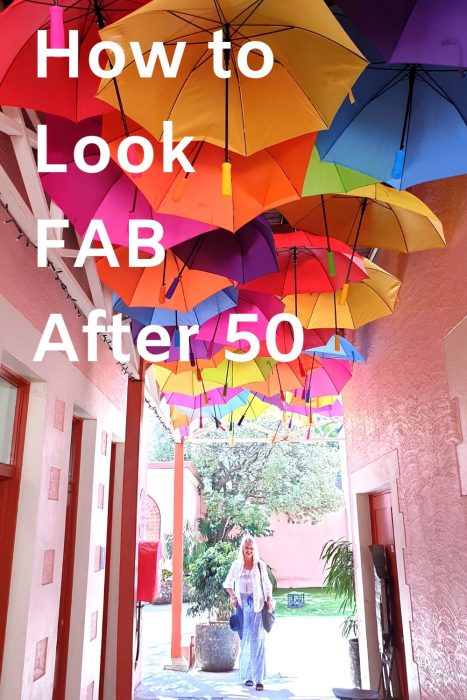 The Elements of Personal Style
But personal style isn't gifted at birth, not at all. It's something that you work towards over the years and it's something that changes as you age.
Your intrinsic personal style after 50 is probably going to be quite different to your style at 20, 30 or 40.
I believe one's personal style can be as dramatic or discreet as you wish, and you should always play to your strengths.
I also think that you need to be on the look out for signs of what I like to call 'repeat offenders' in your wardrobe.
You know, those items which appear again and again – perhaps long floaty dresses which might suggest a personal hippy style, or a collection of striped blouses which might lean towards Parisienne chic, or jeans and T's that suggest country casual.
Don't deny the personal style that you have, perhaps unwittingly, been building in your wardrobe. Rather refine it and work with it, and develop it further. Add a few accoutrements and accessories and just rock looking fabulous after 50.
Of course if everything in your wardrobe is terribly dated, then ditch the old clothes and revamp your essential style into a more modern version.
Along the way, you might like to take on board some of the following personal style tips that will help you look amazing in your fifties and beyond.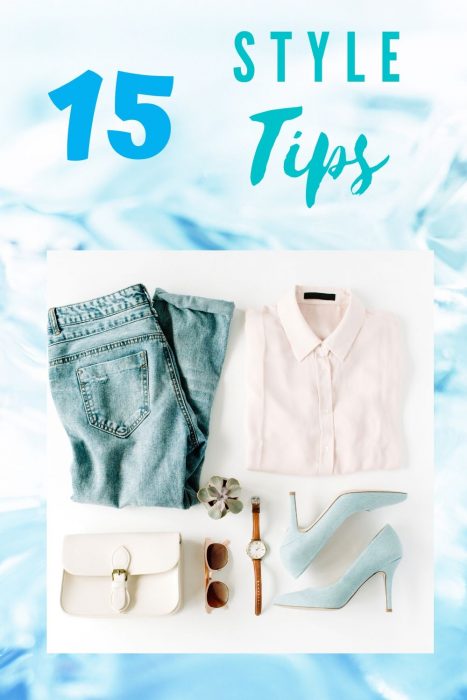 15 Tips to Enhance your Personal Style
Enhance your personal style with these 15 top tips. Go from daggy to delightful and get out of the door looking like a million dollars without even trying.
Be Discreet
Don't be flashy or trashy when you're over 50. Aim to be sophisticated, not cheap.
Wear classy clobber in good fabrics.
Buy discreet jewellery, classy pieces, interesting costume jewellery – Leave the great big bling to the young, hip youngsters.
Watch the time
Nothing is more sophisticated or stylish when it comes to accessories than a really nice watch. Go for a classic, go for understated, go for gold, silver or leather straps.
Try MVMT for Her. I love their watches.
Mine is in rose gold below.
Sunnies and Sunshine
Not only are sunnies necessary to protect your eyes from bright sunshine (and UV) they are of course a fashion statement.
Try MVMT for Her sunglasses – I really dig the rose gold
And while on the subject of sunshine – always wear a moisturiser with a sunblock. I always use (and adore) the NuSkin range.
Be a bag lady (in a good way)
You probably don't need countless handbags cluttering up your wardrobe. One good, functional leather bag for daytime, a small back pack for travelling, and a small black or silver clutch for night time should do it.
Check out my recent post with details of some gorgeous
Australian designed leather bags.
The secrets of shape wear
If you live in a cool climate, shape wear is a fantastic way of smoothing out lumps and bumps and giving you a sleeker look. Can't bear feeling trussed up like a chicken? Then make sure your bra and pants fit well and don't dig into you.
Bra Time
Get fitted girls. Get fitted. Our boobs and our body shape changes with the years. Over 50s fashion relies on some shape basics – basically you're clothes will look better on you if you can hold up that which is going down!
What was once a 34C could very well be a 36D bust by the time you reach mid-life. It might also be suffering from, shall we say, a bit of droop.
Don't take your bra size for granted, don't guess, don't squeeze and pinch. Just get thee to a good store and get professionally fitted.
Bras – Bras – Bras – Read more about how to fit your bra Here.
And our Ultimate Guide to buying the best bra online.
Buy a white shirt blouse
When it comes to classic personal style, a white shirt blouse is your best friend. Wear it with smart black or navy pants, or with jeans to add some panache to your everyday, turn up the colour and add a scarf or a long string of pearls. Buy one with a tie waist and three quarter length sleeves for an ultra chic look.
Buy a wrap dress
I really believe we should all have a wrap dress in our wardrobe. This is a forgiving style of dress for any age, and looks elegant and stylish on most body shapes.
This cap sleeve Lark & Ro wrap dress also comes in an array of other colours. Check out the reviews and customers photos – it truly is a lovely dress and flattering for all shapes and sizes.
Best Jeans
Women over 50 don't need the cut knee look. It's not as if you've ripped your jeans skateboarding. Ripped jeans look slightly pretentious on anyone over 40.
Go for dark denim if you want to look a little more sophisticated, or light denim for a beachy look. Dark denim will give the benefits of making your look slimmer. High waisted jeans are back in fashion, and if you get a great fit it means you can do away with the muffin top spilling over the waistband.
Read this post before you buy:
All you need to know about jeans.
Then for a nice 15% discount at Crazy4Jeans online, use the code JO15 at checkout :
Click here to see all the styles and buy at discount.
Colour is your friend
Oh fashion over 50 you certainly challenge us though.
As we age we lose our luminosity. Our skin loses its youthful glow, our eyes fade, our hair turns to grey.
So there's nothing like a adding a pop of colour on your body, or on your cheeks and lips to add a touch of radiance.
If you love jade, wear it. Bright blues, then wear them. Love Fuschia? Buy a gorgeous blouse and team it with white pants.
Balance colours, and be careful if you are wearing top to bottom block colour – you might be better off breaking it up one block colour with a different colour bag or scarf.
But don't be afraid of colour. You'll get lots of advice to stick to beige, navy, brown or black, to play it safe when if comes to fashion over 50.
My advice is to go for colour. If you really want to do the beige thing, then add a pop of colour with a bright scarf, or lippy or handbag. Please don't fade into the furniture.
Get a Mani and Pedi
Good grooming might be boring, but actually is your other BFF when it comes to great style over 50.
It's not always possible, or right to worry if your nails look great, but it certainly helps if you want to feel good about the way you look when you leave the house.
Know your body type
Our bodies change with the years. Fat gets re-deposited, what once was not there suddenly appears as a muffin top and thighs become bigger and more crepey.
Personal Style Body Shape Quizz
Books you'll Love about finding your style
Trinny and Susannah Body Shape Bible
Save your soles – Fundamental Footwear Style
For women over the age of 50, comfort becomes supremely important. Believe me. For most of us it's true. I used to trot to work in high heels when I was younger and think nothing of it. Now even a short dash to the supermarket is painful if I'm not thinking comfort.
I choose … Frankie4 or Planet Shoes, Earth Origins or other well chosen, comfortable flat shoes that support and cradle because I believe in saving my soles these days.
Fifties Fashion – Don't do the Demis
Demis Roussos that is. Remember him? Whatever size you are, try to wear fitted clothes to suit you.
You may not wish to wear a fitted top and bottoms, but go for one or the other that defines your shape rather than just swamping you. Kaftans and all well and good for the beach or very hot days, but a pretty dress with a more fitted bodice and a floaty bottom may be more flattering for a night out.
Peplums
I love a peplum top or peplum on a dress. It hides all manner of sins going on around my tummy. It nips you in at the right spot and flares out over the rest. Winning.
Prints or Block Colours
If you're a Royal watcher, you'll see that Royalty very rarely wear prints. They nearly always block colours, which look striking and bold and make them stand out in a crowd. I think block colours look classy and unfussy, but there's nothing wrong with a pretty print. Go for beautiful prints, rather than just any old print. Really think about the statement you're making with the design – own it and love it.
Personal Style Online
Some of my favourite places to shop online when you're over 50.
Vivid International – use code JO15 for 15% discount
Katies
Video: Trinny Woodall's Wardrobe and Style Tips
This post contains gifted merchandise, and affiliate links from which I stand to earn a small commission (if you buy from them) at no cost to you. Lifestyle Fifty Website is a participant in the Amazon Services LLC Associates Program, an affiliate advertising program designed to provide a means for sites to earn advertising fees by advertising and linking to Amazon.com.